Abstract
A significant number of new members of the genus Vitivirus have been identified recently, mainly due to the advent of high-throughput sequencing (HTS). Grapevine virus I (GVI), which was identified in New Zealand in 2018, is one of these viruses. RNAseq HTS analysis of a Greek grapevine (cv. Daphnia), revealed the presence of a GVI-like isolate (D2-1/19). Sequence analysis confirmed the classification of D2-1/19 as GVI. However, both sequence and phylogenetic data exhibited high levels of variability between D2-1/19 and the previously characterized GVI isolates. This study provides the full-length sequence of a divergent GVI isolate, adding knowledge to the limited information available about this recently identified virus.
Access options
Buy single article
Instant access to the full article PDF.
USD 39.95
Price includes VAT (USA)
Tax calculation will be finalised during checkout.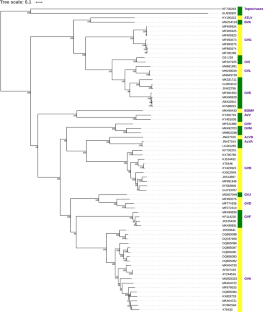 References
1.

Adams M, Candresse T, Hammond J, Kreuze J, Martelli G, Namba S, Pearson MN, Ryu KH, Saldarelli P, Yoshikawa N (2012) Family Betaflexiviridae. In: King AMQ, Adams MJ, Carstens EB, Lefkowitz EJ (eds) Virus taxonomy: ninth report of the international committee on taxonomy of viruses. Springer, New York, pp 920–941

2.

Blouin AG, Chooi KM, Warren B, Napier KR, Barrero RA, MacDiarmid RM (2018) Grapevine virus I, a putative new vitivirus detected in co-infection with grapevine virus G in New Zealand. Arch Virol 163(5):1371–1374

3.

Darriba D, Taboada GL, Doallo R, Posada D (2012) jModelTest 2: more models, new heuristics and parallel computing. Nat Methods 9(8):772

4.

Debat H, Zavallo D, Luna F, Moyano S, Asurmendi S, Gomez-Talquenca S (2019) First report of grapevine virus E infecting grapevine in Argentina. J Plant Pathol 101(4):1221–1222

5.

Diaz-Lara A, Brisbane RS, Aram K, Golino D, Al Rwahnih M (2019) Detection of new vitiviruses infecting grapevine in California. Arch Virol 164(10):2573–2580

6.

Guindon S, Dufayard JF, Lefort V, Anisimova M, Hordijk W, Gascuel O (2010) New algorithms and methods to estimate maximum-likelihood phylogenies: assessing the performance of PhyML 3.0. Syst Biol 59(3):307–321

7.

Katoh K, Rozewicki J, Yamada KD (2019) MAFFT online service: multiple sequence alignment, interactive sequence choice and visualization. Brief Bioinform 20(4):1160–1166

8.

Letunic I, Bork P (2019) Interactive Tree Of Life (iTOL) v4: recent updates and new developments. Nucleic Acids Res 47(W1):W256–W259

9.

Maree HJ, Blouin AG, Diaz-Lara A, Mostert I, Al Rwahnih M, Candresse T (2020) Status of the current vitivirus taxonomy. Arch Virol 165(2):451–458

10.

Minafra A, Mawassi M, Goszczynski D, Saldarelli P (2017) Grapevine vitiviruses. Grapevine viruses: molecular biology, diagnostics and management. Springer, Cham, pp 229–256

11.

Nakaune R, Toda S, Mochizuki M, Nakano M (2008) Identification and characterization of a new vitivirus from grapevine. Arch Virol 153(10):1827

12.

Panailidou P, Lotos L, Olmos A, Ruiz-Garcia AB, Morán F, Orfanidou CG, Sassalou C-L, Katis NI, Maliogka VI (2019) First Report of Grapevine virus E and Grapevine virus F in Grapevine in Greece. Plant Dis 103(6):1440

13.

Rasool S, Naz S, Rowhani A, Diaz-Lara A, Golino DA, Farrar KD, Al Rwahnih M (2019) Survey of grapevine pathogens in Pakistan. J Plant Pathol 101(3):725–732

14.

Sambrook JJ, Russel DW (2001) Molecular cloning: a laboratory manual. Cold Spring Harbor Laboratory Press, Cold Spring Harbor

15.

Selmi I, Lehad A, Pacifico D, Carimi F, Mahfoudhi N (2017) First report of grapevine virus E and grapevine virus F in Tunisian grapevines. J Plant Pathol 99(2):533
Ethics declarations
Conflict of interest
All authors declare that no conflict of interest exists.
Additional information
Publisher's Note
Springer Nature remains neutral with regard to jurisdictional claims in published maps and institutional affiliations.
Handling Editor: Ioannis E. Tzanetakis.
Electronic supplementary material
Below is the link to the electronic supplementary material.
About this article
Cite this article
Lotos, L., Ruiz-García, A.B., Panailidou, P. et al. The complete genome sequence of a divergent grapevine virus I isolate naturally infecting grapevine in Greece. Arch Virol 165, 3003–3006 (2020). https://doi.org/10.1007/s00705-020-04762-9
Received:

Accepted:

Published:

Issue Date: