Abstract
The complete nucleotide sequence of a new member of the family Potyviridae, which we propose to name "Arachis virus Y" (ArVY), is reported from forage peanut plants (Arachis pintoi) exhibiting virus-like symptoms. The ArVY positive-sense RNA genome is 9,213 nucleotides long and encodes a polyprotein with 2,947 amino acids that is predicted to be cleaved into 10 mature proteins. The complete single open reading frame (ORF) of ArVY shares 47% and 34% nucleotide and amino acid sequence identity, respectively, with the closest related virus, soybean yellow shoot virus. Electron microscopic analysis revealed elongated viral particles typical of those found in plant cells infected with potyviruses.
This is a preview of subscription content, log in to check access.
Access options
Buy single article
Instant access to the full article PDF.
US$ 39.95
Price includes VAT for USA
Subscribe to journal
Immediate online access to all issues from 2019. Subscription will auto renew annually.
US$ 199
This is the net price. Taxes to be calculated in checkout.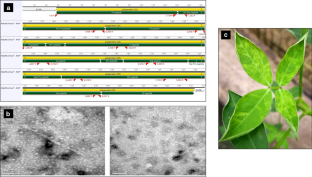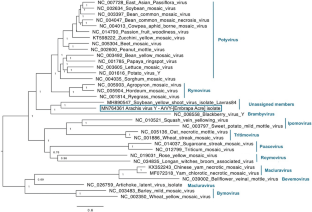 References
1.

Purcino HMA, Viana MCM, Freire FM, Macedo GAR, Simões JC Mascarenhas MHT, Karia CC, Andrade RP (2004) Adaptabilidade e característica nutricionais de acesso de Arachis pintoi às condições edafoclimáticas do cerrado de Minas Gerais. IOP Publishing PhysicsWeb. http://sbz.org.br/new/pt/documentos–anais-das-reuniões. Accessed 26 May 2019

2.

Miranda CHB, VIeira A A, Cadisch G (2003) Determinação da fixação biológica de nitrogênio no amendoim forrageiro (Arachis spp.) por intermédio da abundância natural de 15N. Rev Bras Zootec 32:1859–1865. https://doi.org/10.1590/S1516-35982003000800008

3.

Gonçalves RC, Macedo PEF, Vallim JH, Lopes JSA, Nogueira SR (2014) Manual de identificação de doenças e fungos em Arachis spp. Embrapa Acre, Rio Branco (ISSN 0104-9046)

4.

dos Anjos JRN, Kitajima EW, Charchar MJ, Marinho VLA (1998) Infeccão natural de Arachis pintoi por Peanut mottle virus no Brasil Central. Fitopatol Bras 23:71–74

5.

Mituti T, Cortezi D, Nunes CL et al (2005) Identificação de um isolado de carlavirus em Arachis repens Handro. Fitopatol Bras 30:187

6.

Sánchez PAG, Mesa HJ, Montoya MM (2016) Next generation sequence analysis of the forage peanut (Arachis pintoi) virome. Revista Facultad Nacional de Agronomía, Medellín 69:7881–7891. https://doi.org/10.15446/rfna.v69n2.59133

7.

ICTV (2020) Current taxonomy release. https://talk.ictvonline.org/taxonomy. Accessed 30 Apr 2020

8.

Adams MJ, Antoniw JF, Fauquet CM (2005) Molecular criteria for genus and species discrimination within the family Potyviridae. Arch Virol 150:459–479. https://doi.org/10.1007/s00705-004-0440-6

9.

Wylie SJ, Adams M, Chalam C et al (2017) ICTV Virus Taxonomy Profile: Potyviridae. J Gen Virol 98:352–354. https://doi.org/10.1099/jgv.0.000740

10.

Kitajima E, Nome C (1999) Microscopia electronica em virologia vegetal. In: Campo DM, Lenardon SL (eds) Métodos para detectar patógenos sistêmicos. Instituto Nacional de Tecnologia Agropecuaria, Córdoba, pp 59–86

11.

Blawid R, Silva JMF, Nagata T (2017) Discovering and sequencing new plant viral genomes by next-generation sequencing: description of a practical pipeline. Ann Appl Biol 170:301–314. https://doi.org/10.1111/aab.12345

12.

Untergasser A, Cutcutache I, Koressaar T, Ye J et al (2012) Primer3—new capabilities and interfaces. Nucleic Acids Res 40:e115. https://doi.org/10.1093/nar/gks596

13.

Ronquist F, Teslenko M, van der Mark P et al (2012) MrBayes 3.2: efficient Bayesian phylogenetic inference and model choice across a large model space. Syst Biol 61:539–542. https://doi.org/10.1093/sysbio/sys029

14.

Olspert A, Chung BYW, Atkins JF et al (2015) Transcriptional slippage in the positive-sense RNA virus family Potyviridae. EMBO Rep 16:995–1004. https://doi.org/10.15252/embr.201540509

15.

Figueira AR, Geraldino-Duarte P, Nuñez AMP, van Lent J, Galvino-Costa SBF, Farman M, Goodin MM (2019) Characterization of soybean yellow shoot virus, a new member of the family Potyviridae infecting soybean plants in Brazil. Plant Dis 103:1172–1180. https://doi.org/10.1094/PDIS-06-18-1067

16.

Susaimuthu J, Tzanetakis LE, Gergerich E, Martin R (2008) A member of a new genus in the Potyviridae infects Rubus. Virus Res 131:145–150. https://doi.org/10.1016/j.virusres.2007.09.001

17.

Revers F, Garcıa JA (2015) Molecular biology of potyviruses. Adv Virus Res 92:101–199

18.

Gibbs AJ, Hajizadeh M, Ohshima K, Jones RA (2020) The potyviruses: an evolutionary synthesis is emerging. Viruses 12(2):132. https://doi.org/10.3390/v12020132

19.

Seo J, Kwak H, Kim MK et al (2017) The complete genome sequence of a novel virus, bellflower veinal mottle virus, suggests the existence of a new genus within the family Potyviridae. Arch Virol 162:2457–2461. https://doi.org/10.1007/s00705-017-3374-5

20.

Rose H, Döring I, Vetten HJ et al (2019) Complete genome sequence and construction of an infectious full-length cDNA clone of celery latent virus—an unusual member of a putative new genus within the Potyviridae. J Gen Virol 100:308–320. https://doi.org/10.1099/jgv.0.001207

21.

Yang K, Ran M, Li Z et al (2018) Analysis of the complete genomic sequence of a novel virus, areca palm necrotic spindle-spot virus, reveals the existence of a new genus in the family Potyviridae. Arch Virol 163:3471–3475. https://doi.org/10.1007/s00705-018-3980-x

22.

Jover-Gil S, Beeri A, Fresnillo P et al (2018) Complete genome sequence of a novel virus, classifiable within the Potyviridae family, which infects passion fruit (Passiflora edulis). Arch Virol 163:3191–3194. https://doi.org/10.1007/s00705-018-3983-7
Acknowledgements
The authors wish to thank Steve Wylie and F. Murilo Zerbini for critical review of the manuscript and helpful suggestions on taxonomy. This study was partially funded by Coordenação de Aperfeiçoamento de Pessoal de Nível Superior—Brazil (CAPES)—Financial Code 001; Associação para o Fomento à Pesquisa de Melhoramento de Forrageiras (Unipasto); Fundação de Amparo à Pesquisa do Estado de São Paulo—Fapesp (2017/18910-4) and Conselho Nacional de Desenvolvimento Científico e Tecnológico (CNPq, no. 146898/2016-8). RKS, JAMR and EWK are CNPq research fellows.
Additional information
Publisher's Note
Springer Nature remains neutral with regard to jurisdictional claims in published maps and institutional affiliations.
Handling editor: Ioannis E. Tzanetakis.
Electronic supplementary material
Below is the link to the electronic supplementary material.
About this article
Cite this article
Pantoja, K.F.C., de Jesus Boari, A., Rossitto De Marchi, B. et al. Arachis virus Y, a new potyvirid from Brazilian forage peanut (Arachis pintoi). Arch Virol (2020). https://doi.org/10.1007/s00705-020-04742-z
Received:

Accepted:

Published: