Abstract
In clinical virome research, whole-genome/transcriptome amplification is required when starting material is limited. An improved method, named "template-dependent multiple displacement amplification" (tdMDA), has recently been developed in our lab (Wang et al. in BioTechniques 63:21–25. https://doi.org/10.2144/000114566, 2017). In combination with Illumina sequencing and bioinformatics pipelines, its application in virome sequencing was explored using a serum sample from a patient with chronic hepatitis C virus (HCV) infection. In comparison to an amplification-free procedure, virome sequencing via tdMDA showed a 9.47-fold enrichment for HCV-mapped reads and, accordingly, an increase in HCV genome coverage from 28.5% to 70.1%. Eight serum samples from acute patients liver failure (ALF) with or without known etiology were then used for virome sequencing with an average depth at 94,913x. Both similarity-based (mapping, NCBI BLASTn, BLASTp, and profile hidden Markov model analysis) and similarity-independent methods (machine-learning algorithms) identified viruses from multiple families, including Herpesviridae, Picornaviridae, Myoviridae, and Anelloviridae. However, their commensal nature and cross-detection ruled out an etiological interpretation. Together with a lack of detection of novel viruses in a comprehensive analysis at a resolution of single reads, these data indicate that viral agents might be rare in ALF cases with indeterminate etiology.
Access options
Buy single article
Instant access to the full article PDF.
USD 39.95
Price excludes VAT (USA)
Tax calculation will be finalised during checkout.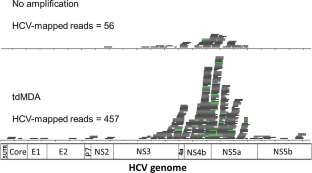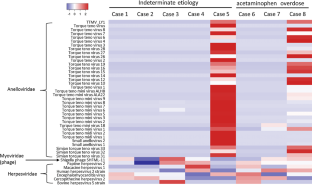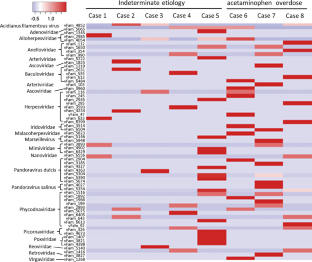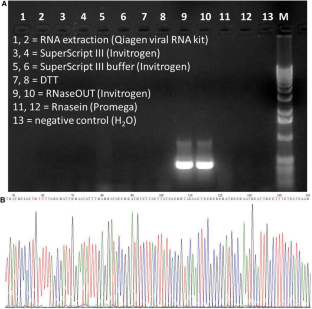 References
Handley SA (2016) The virome: a missing component of biological interaction networks in health and disease. Genome Med 8:32. https://doi.org/10.1186/s13073-016-0287-y

Mokili JL, Rohwer F, Dutilh BE (2012) Metagenomics and future perspectives in virus discovery. Curr Opin Virol 2:63–77. https://doi.org/10.1016/j.coviro.2011.12.004

Houldcroft CJ, Beale MA, Breuer J (2017) Clinical and biological insights from viral genome sequencing. Nat Rev Microbiol 15:183–192. https://doi.org/10.1038/nrmicro.2016.182

Fu GK, Xu W, Wilhelmy J, Mindrinos MN, Davis RW, Xiao W, Fodor SP (2014) Molecular indexing enables quantitative targeted RNA sequencing and reveals poor efficiencies in standard library preparations. Proc Natl Acad Sci USA 111:1891–1896. https://doi.org/10.1073/pnas.1323732111

Nelson JR (2014) Random-primed, Phi29 DNA polymerase-based whole genome amplification. Curr Protoc Mol Biol. https://doi.org/10.1002/0471142727.mb1513s105(Unit 15.13)

Harismendy O, Ng PC, Strausberg RL, Wang X, Stockwell TB, Beeson KY, Schork NJ, Murray SS, Topol EJ, Levy S, Frazer KA (2009) Evaluation of next generation sequencing platforms for population targeted sequencing studies. Genome Biol 10:R32. https://doi.org/10.1186/gb-2009-10-3-r32

Pan X, Durrett RE, Zhu H, Tanaka Y, Li Y, Zi X, Marjani SL, Euskirchen G, Ma C, Lamotte RH, Park IH, Snyder MP, Mason CE, Weissman SM (2013) Two methods for full-length RNA sequencing for low quantities of cells and single cells. Proc Natl Acad Sci USA 110:594–599. https://doi.org/10.1073/pnas.1217322109

Wang W, Ren Y, Lu Y, Xu Y, Crosby SD, Di Bisceglie AM, Fan X (2017) Template-dependent multiple displacement amplification for profiling human circulating RNA. Biotechniques 63:21–27. https://doi.org/10.2144/000114566

Butt AN, Swaminathan R (2008) Overview of circulating nucleic acids in plasma/serum. Ann N Y Acad Sci 1137:236–242. https://doi.org/10.1196/annals.1448.002

Ganger DR, Rule J, Rakela J, Bass N, Reuben A, Stravitz RT, Sussman N, Larson AM, James L, Chiu C, Lee WM, Acute Liver Failure Study Group (2018) Acute liver failure of indeterminate etiology: a comprehensive systematic approach by an expert committee to establish causality. Am J Gastroenterol 113:1319–1328. https://doi.org/10.1038/s41395-018-0160-2

Schmieder R, Edwards R (2011) Quality control and preprocessing of metagenomic datasets. Bioinformatics 27:863–864. https://doi.org/10.1093/bioinformatics/btr026

Langmead B, Salzberg SL (2012) Fast gapped-read alignment with Bowtie 2. Nat Methods 9:357–359. https://doi.org/10.1038/nmeth.1923

Guo Y, Dai Y, Yu H, Zhao S, Samuels DC, Shyr Y (2017) Improvements and impacts of GRCh38 human reference on high throughput sequencing data analysis. Genomics 109:83–90. https://doi.org/10.1016/j.ygeno.2017.01.005

Pruitt KD, Tatusova T, Maglott DR (2007) NCBI reference sequences (RefSeq): a curated non-redundant sequence database of genomes, transcripts and proteins. Nucleic Acids Res 35(Database issue):D61–D65. https://doi.org/10.1093/nar/gkl842

Lloyd-Price J, Mahurkar A, Rahnavard G et al (2017) Strains, functions and dynamics in the expanded Human Microbiome Project. Nature 550:61–66. https://doi.org/10.1038/nature23889

Kuiken C, Yusim K, Boykin L, Richardson R (2005) The Los Alamos HCV Sequence Database. Bioinformatics 21:379–384. https://doi.org/10.1093/bioinformatics/bth485

Wang W, Zhang X, Xu Y, Weinstock GM, Di Bisceglie AM, Fan X (2014) High-resolution quantification of hepatitis C virus genome-wide mutation load and its correlation with the outcome of peginterferon-alpha2a and ribavirin combination therapy. PLoS One 9:e100131. https://doi.org/10.1371/journal.pone.0100131

Li H, Handsaker B, Wysoker A, Fennell T, Ruan J, Homer N, Marth G, Abecasis G, Durbin R, 1000 Genome Project Data Processing Subgroup (2009) The sequence alignment/map format and SAMtools. Bioinformatics 25:2078–2079. https://doi.org/10.1093/bioinformatics/btp352

Wang W, Zhang X, Xu Y, Di Bisceglie AM, Fan X (2013) Viral categorization and discovery in human circulation by transcriptome sequencing. Biochem Biophys Res Commun 436:525–529. https://doi.org/10.1016/j.bbrc.2013.05.139

Bankevich A, Nurk S, Antipov D et al (2012) SPAdes: a new genome assembly algorithm and its applications to single-cell sequencing. J Comput Biol 19:455–477. https://doi.org/10.1089/cmb.2012.0021

Niu B, Fu L, Sun S, Li W (2010) Artificial and natural duplicates in pyrosequencing reads of metagenomic data. BMC Bioinform 11:187. https://doi.org/10.1186/1471-2105-11-187

Novichkov PS, Ratnere I, Wolf YI, Koonin EV, Dubchak I (2009) ATGC: a database of orthologous genes from closely related prokaryotic genomes and a research platform for microevolution of prokaryotes. Nucleic Acids Res 37(Database issue):D448–D454. https://doi.org/10.1093/nar/gkn684

Johnson LS, Eddy SR, Portugaly E (2010) Hidden Markov model speed heuristic and iterative HMM search procedure. BMC Bioinform 11:431. https://doi.org/10.1186/1471-2105-11-431

Skewes-Cox P, Sharpton TJ, Pollard KS, DeRisi JL (2014) Profile hidden Markov models for the detection of viruses within metagenomic sequence data. PLoS One 9:e105067. https://doi.org/10.1371/journal.pone.0105067

Grazziotin AL, Koonin EV, Kristensen DM (2017) Prokaryotic Virus Orthologous Groups (pVOGs): a resource for comparative genomics and protein family annotation. Nucleic Acids Res 45(Database issue):D491–D498. https://doi.org/10.1093/nar/gkw975

Finn RD, Coggill P, Eberhardt RY et al (2016) The Pfam protein families database: towards a more sustainable future. Nucleic Acids Res 44(D1):D279–D285. https://doi.org/10.1093/nar/gkv1344

Ren J, Ahlgren NA, Lu YY, Fuhrman JA, Sun F (2017) VirFinder: a novel k-mer based tool for identifying viral sequences from assembled metagenomic data. Microbiome 5:69. https://doi.org/10.1186/s40168-017-0283-5

Benson G (1999) Tandem repeats finder: a program to analyze DNA sequences. Nucleic Acids Res 27:573–580. https://doi.org/10.1093/nar/27.2.573

Lu Y, Xu Y, Di Bisceglie AM, Fan X (2013) Comprehensive cloning of patient-derived 9022-bp amplicons of hepatitis C virus. J Virol Methods 191:105–112. https://doi.org/10.1016/j.jviromet.2013.04.010

Carver T, Harris SR, Otto TD, Berriman M, Parkhill J, McQuillan JA (2013) BamView: visualizing and interpretation of next-generation sequencing read alignments. Brief Bioinform 14:203–212. https://doi.org/10.1093/bib/bbr073

Zhao S, Guo Y, Sheng Q, Shyr Y (2014) Heatmap3: an improved heatmap package with more powerful and convenient features. BMC Bioinform 15(Suppl 10):16. https://doi.org/10.1186/1471-2105-15-S10-P16

Reinhardt JA, Baltrus DA, Nishimura MT, Jeck WR, Jones CD, Dangl JL (2009) De novo assembly using low-coverage short read sequence data from the rice pathogen Pseudomonas syringae pv. oryzae. Genome Res 19:294–305. https://doi.org/10.1101/gr.083311.108

Biagini P (2009) Classification of TTV and related viruses (anelloviruses). Curr Top Microbiol Immunol 331:21–33

Allander T, Emerson SU, Engle RE, Purcell RH, Bukh J (2001) A virus discovery method incorporating DNase treatment and its application to the identification of two bovine parvovirus species. Proc Natl Acad Sci USA 98:11609–11614. https://doi.org/10.1073/pnas.211424698

Spandole S, Cimponeriu D, Berca LM, Mihăescu G (2015) Human anelloviruses: an update of molecular, epidemiological and clinical aspects. Arch Virol 160:893–908. https://doi.org/10.1007/s00705-015-2363-9

Niel C, Saback FL, Lampe E (2000) Coinfection with multiple TT virus strains belonging to different genotypes is a common event in healthy Brazilian adults. J Clin Microbiol 38:1926–1930

Lee WM (2008) Etiologies of acute liver failure. Semin Liver Dis 28:142–152. https://doi.org/10.1055/s-2008-1073114

Lee WM, Squires RH Jr, Nyberg SL, Doo E, Hoofnagle JH (2008) Acute liver failure: summary of a workshop. Hepatology 47:1401–1415. https://doi.org/10.1002/hep.22177

Leventhal TM, Gottfried M, Olson JC, Subramanian RM, Hameed B, Lee WM, Acute Liver Failure Study Group (2019) Acetaminophen is undetectable in plasma from more than half of patients believed to have acute liver failure due to overdose. Clin Gastroenterol Hepatol. https://doi.org/10.1016/j.cgh.2019.01.040(Epub ahead of print)

Somasekar S, Lee D, Rule J, Naccache SN, Stone M, Busch MP, Sanders C, Lee WM, Chiu CY (2017) Viral surveillance in serum samples from patients with acute liver failure by metagenomic next-generation sequencing. Clin Infect Dis 65:1477–1485. https://doi.org/10.1093/cid/cix596
Acknowledgements
This work was supported by the US National Institutes of Health (NIH) Grants AI117128 (X.F.) and AI139835 (X.F.) and a seed Grant from the Saint Louis University Liver Center (X.F.). The ALFSG was supported by U01 DK58369. Special acknowledgment is given to all the patients, families, coordinators and PI's that participated in this network, 1998-2019.
Ethics declarations
Conflict of interest
The authors have no conflict of interest to declare with respect to this manuscript.
Additional information
Handling Editor: Carolina Scagnolari.
Publisher's Note
Springer Nature remains neutral with regard to jurisdictional claims in published maps and institutional affiliations.
Electronic supplementary material
Below is the link to the electronic supplementary material.
About this article
Cite this article
Ren, Y., Xu, Y., Lee, W.M. et al. In-depth serum virome analysis in patients with acute liver failure with indeterminate etiology. Arch Virol 165, 127–135 (2020). https://doi.org/10.1007/s00705-019-04466-9
Received:

Accepted:

Published:

Issue Date:

DOI: https://doi.org/10.1007/s00705-019-04466-9