Abstract
Here we describe the identification and genetic characterization of a porcine hepe-astrovirus, or bastrovirus, obtained from feces from pigs in the United States. The genome of the new bastrovirus is 5,955 nt long and contains two open reading frames (ORFs). ORF1 encodes a protein containing three domains, viral methyltransferase, RNA helicase and RNA-dependent RNA polymerase (RdRp), and is closely related to the RdRp of hepatitis E virus. The ORF2 protein shares similarities with the astrovirus capsid precursor protein. Although structural features of bastroviruses may resemble those of astroviruses, distinct characteristics of the newly identified bastrovirus include the presence of an RNA helicase domain in ORF1 and the lack of ORF1b. In addition to genetic characterization, screening of 368 porcine samples (oral fluids, oral swabs or fecal swabs) collected in the United States (US) using a porcine-bastrovirus-specific real-time PCR assay revealed that 31% of those samples were positive. These results suggest a broad distribution of bastroviruses in the swine population in the US. This represents the first description of bastrovirus in swine in the US.
Access options
Buy single article
Instant access to the full article PDF.
USD 39.95
Price excludes VAT (USA)
Tax calculation will be finalised during checkout.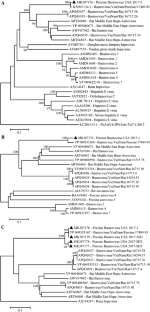 References
Cortez V, Meliopoulos VA, Karlsson EA et al (2017) Astrovirus Biology and Pathogenesis. Annu Rev Virol. https://doi.org/10.1146/annurev-virology-101416-041742

Shimizu M, Shirai J, Narita M, Yamane T (1990) Cytopathic astrovirus isolated from porcine acute gastroenteritis in an established cell line derived from porcine embryonic kidney. J Clin Microbiol 28:201–206

ICTV (2018) Virus taxonomy: 2018 release. ICTV 1:18

Xiao CT, Giménez-Lirola LG, Gerber PF et al (2013) Identification and characterization of novel porcine astroviruses (PAstVs) with high prevalence and frequent co-infection of individual pigs with multiple PAstV types. J Gen Virol. https://doi.org/10.1099/vir.0.048744-0

Padmanabhan A, Hause BM (2016) Detection and characterization of a novel genotype of porcine astrovirus 4 from nasal swabs from pigs with acute respiratory disease. Arch Virol. https://doi.org/10.1007/s00705-016-2937-1

Boros Á, Albert M, Pankovics P et al (2017) Outbreaks of neuroinvasive astrovirus associated with encephalomyelitis, weakness, and paralysis among weaned pigs. Emerg Infect Dis, Hungary. https://doi.org/10.3201/eid2312.170804

Arruda B, Arruda P, Hensch M et al (2017) Porcine astrovirus type 3 in central nervous system of swine with polioencephalomyelitis. Emerg Infect Dis 23:2097. https://doi.org/10.3201/eid2312.170703

Blomström A-L, Ley C, Jacobson M (2014) Astrovirus as a possible cause of congenital tremor type AII in piglets? Acta Vet Scand 56:82. https://doi.org/10.1186/s13028-014-0082-y

Jiang B, Monroe SS, Koonin EV et al (1993) RNA sequence of astrovirus: distinctive genomic organization and a putative retrovirus-like ribosomal frameshifting signal that directs the viral replicase synthesis. Proc Natl Acad Sci 90:10539–10543. https://doi.org/10.1073/pnas.90.22.10539

Mendez E, Arias, CF. Astroviridae. (2013) In: Knipe DM, Howley PM (eds.) Fields Virology. Chapter 21. 6th ed. Lippincott Williams and Wilkins. p 609

Oude Munnink BB, Cotten M, Canuti M et al (2016) A novel astrovirus-like RNA virus detected in human stool. Virus Evol 2:1. https://doi.org/10.1093/ve/vew005

Yinda CK, Ghogomu SM, Conceição-Neto N et al (2018) Cameroonian fruit bats harbor divergent viruses, including rotavirus H, bastroviruses, and picobirnaviruses using an alternative genetic code. Virus Evol 4:1. https://doi.org/10.1093/ve/vey008

Reuter G, Boros Á, Tóth Z et al (2018) Detection of a novel RNA virus with hepatitis E virus-like non-structural genome organization in amphibian, agile frog (Rana dalmatina) tadpoles. Infect Genet Evol 65:112–116. https://doi.org/10.1016/j.meegid.2018.07.029

Hause BM, Collin EA, Anderson J et al (2015) Bovine rhinitis viruses are common in US cattle with bovine respiratory disease. PLoS One 10:e121998. https://doi.org/10.1371/journal.pone.0121998

Meier-Stephenson V, Mrozowich T, Pham M, Patel TR (2018) DEAD-box helicases: the Yin and Yang roles in viral infections. Biotechnol Genet Eng Rev 34:3–32. https://doi.org/10.1080/02648725.2018.1467146

Saitou N, Nei M (1987) The neighbor-joining method: a new method for reconstructing phylogenetic trees. Mol Biol Evol 4:406–425

Kumar S, Stecher G, Tamura K, Dudley J (2016) MEGA7: molecular evolutionary genetics analysis version 70 for bigger datasets downloaded from. Mol Biol Evol 30:2725–2729. https://doi.org/10.1093/molbev/msw054
Funding
This study was funded by the USDA National Institute of Food and Agriculture (Grants SD00H517-14 and SD00R518-14).
Ethics declarations
Conflict of interest
The authors declare that they have no conflict of interest.
Ethical approval
This article does not contain any studies with human participants or animals performed by any of the authors.
Additional information
Handling Editor: Andrew Edwin Firth.
Publisher's Note
Springer Nature remains neutral with regard to jurisdictional claims in published maps and institutional affiliations.
Electronic supplementary material
Below is the link to the electronic supplementary material.
About this article
Cite this article
Bauermann, F.V., Hause, B., Buysse, A.R. et al. Identification and genetic characterization of a porcine hepe-astrovirus (bastrovirus) in the United States. Arch Virol 164, 2321–2326 (2019). https://doi.org/10.1007/s00705-019-04313-x
Received:

Accepted:

Published:

Issue Date:

DOI: https://doi.org/10.1007/s00705-019-04313-x