Abstract
The distribution of hepatitis C virus (HCV) genotypes/subtypes varies among different populations. Here, we investigated HCV infection and its genotype distribution in injection drug users (IDUs) in Guangdong Province of China. A total of 318 IDUs from two prisons were recruited. The genotypes/subtypes of HCV in IDUs were determined by phylogenetic analysis using E1 and/or NS5B gene sequences. Our previous data on blood donors (BDs) with no history of drug use were used as control population data for comparison. Our results showed that the prevalence of HCV 3b (20.9% vs. 3.6%, P = 3.4E-9) and 6a (57.0% vs. 39.8%, P = 1.2E-5) was higher in IDUs than in BDs. In contrast, the prevalence of HCV 1b (43.4% vs. 5.6%, P = 9.8E-23) in BDs was higher than in IDUs. Phylogeographic analysis indicated that HCV 3b migrated from Yunnan to Guangdong Province and became endemic, with further transmission to other regions of China. The trend of HCV 3b dissemination in China in IDUs requires further attention, and a strategy for prevention and therapy is needed.
Access options
Buy single article
Instant access to the full article PDF.
US$ 39.95
Tax calculation will be finalised during checkout.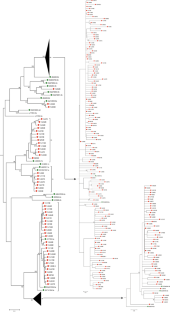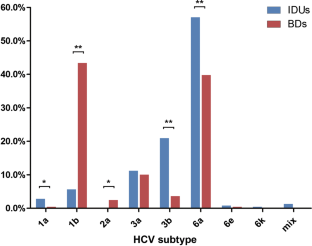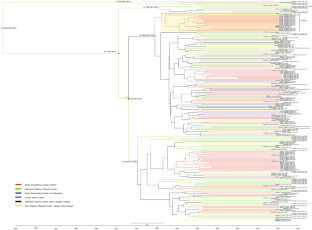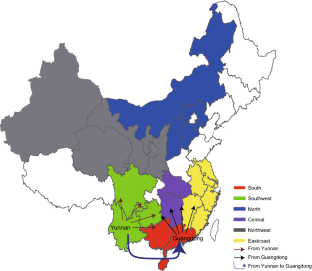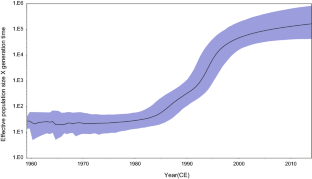 References
1.

Mohd Hanafiah K, Groeger J, Flaxman AD, Wiersma ST (2013) Global epidemiology of hepatitis C virus infection: new estimates of age-specific antibody to HCV seroprevalence. Hepatology 57:1333–1342

2.

Chen YS, Li L, Cui FQ, Xing WG, Wang L, Jia ZY, Zhou MG, Gong XH, Wang FZ, Zheng H, Luo HM, Bi SL, Wang N, Yang WZ, Liang XF (2011) A sero-epidemiological study on hepatitis C in China. Zhonghua liu xing bing xue za zhi 32:888–891

3.

National Institutes of Health (2002) NIH consensus statement on management of hepatitis C: 2002. NIH Consen State Sci Statement 19:1–46

4.

Strader DB, Wright T, Thomas DL, Seeff LB, American Association for the Study of Liver D (2004) Diagnosis, management, and treatment of hepatitis C. Hepatology 39:1147–1171

5.

Abrignani S, Houghton M, Hsu HH (1999) Perspectives for a vaccine against hepatitis C virus. J Hepatol 31(Suppl 1):259–263

6.

Prince AM, Shata MT (2001) Immunoprophylaxis of hepatitis C virus infection. Clin Liver Dis 5:1091–1103

7.

Smith DB, Bukh J, Kuiken C, Muerhoff AS, Rice CM, Stapleton JT, Simmonds P (2014) Expanded classification of hepatitis C virus into 7 genotypes and 67 subtypes: updated criteria and genotype assignment web resource. Hepatology 59:318–327

8.

Pybus OG, Markov PV, Wu A, Tatem AJ (2007) Investigating the endemic transmission of the hepatitis C virus. Int J Parasitol 37:839–849

9.

Pybus OG, Barnes E, Taggart R, Lemey P, Markov PV, Rasachak B, Syhavong B, Phetsouvanah R, Sheridan I, Humphreys IS, Lu L, Newton PN, Klenerman P (2009) Genetic history of hepatitis C virus in East Asia. J Virol 83:1071–1082

10.

Adinolfi LE, Gambardella M, Andreana A, Tripodi MF, Utili R, Ruggiero G (2001) Steatosis accelerates the progression of liver damage of chronic hepatitis C patients and correlates with specific HCV genotype and visceral obesity. Hepatology 33:1358–1364

11.

Peng JS, Wang X, Liu MQ, Zhou DJ, Gong J, Xu HM, Chen JP, Zhu HH, Zhou W, Ho WZ (2008) Genetic variation of hepatitis C virus in a cohort of injection heroin users in Wuhan, China. Virus Res 135:191–196

12.

Garten RJ, Lai S, Zhang J, Liu W, Chen J, Vlahov D, Yu XF (2004) Rapid transmission of hepatitis C virus among young injecting heroin users in Southern China. Int J Epidemiol 33:182–188

13.

Samimi-Rad K, Nasiri Toosi M, Masoudi-Nejad A, Najafi A, Rahimnia R, Asgari F, Shabestari AN, Hassanpour G, Alavian SM, Asgari F (2012) Molecular epidemiology of hepatitis C virus among injection drug users in Iran: a slight change in prevalence of HCV genotypes over time. Arch Virol 157:1959–1965

14.

Saha K, Firdaus R, Biswas A, Mukherjee A, Sarkar K, Chakrabarti S, Sadhukhan PC (2014) Transmission dynamics of hepatitis C virus among intra venous drug users in the border state of Manipur, India. Infect Genet Evol 24:57–67

15.

Bao YP, Liu ZM, Lu L (2010) Review of HIV and HCV infection among drug users in China. Curr Opin Psychiatr 23:187–194

16.

Shepard CW, Finelli L, Alter MJ (2005) Global epidemiology of hepatitis C virus infection. Lancet Infect Dis 5:558–567

17.

Backmund M, Reimer J, Meyer K, Gerlach JT, Zachoval R (2005) Hepatitis C virus infection and injection drug users: prevention, risk factors, and treatment. Clin Infect Dis 40(Suppl 5):S330–S335

18.

Alter MJ, Moyer LA (1998) The importance of preventing hepatitis C virus infection among injection drug users in the United States. J Acquir Immune Deficien Syndrom Human Retrovirol 18(Suppl 1):S6–S10

19.

Gong T, Zhao X, Luo Y, Hong Y, Li S, Fu X (2016) Distribution of hepatitis C virus genotypes in volunteer blood donors from Chengdu, China. Arch Virol 161:1873–1882

20.

Ye Y et al (2013) Molecular epidemiology of hepatitis C virus among different groups of people in the province of Fujian, China. Arch Virol 158(3):611–618

21.

Qi Y, Chen Q, Hao F, Wan Z, Guo H, Lu R, Mao L, Du H, Lu J, Zhang C (2016) Subtype distribution of hepatitis C virus in Jiangsu, China. J Med Virol 88:498–505

22.

Rong X, Xu R, Xiong H, Wang M, Huang K, Chen Q, Li C, Liao Q, Huang J, Xia W, Luo G, Ye X, Zhang M, Fu Y (2014) Increased prevalence of hepatitis C virus subtype 6a in China: a comparison between 2004–2007 and 2008–2011. Arch Virol 159:3231–3237

23.

Fu Y, Xia W, Wang Y, Tian L, Pybus OG, Lu L, Nelson K (2010) The seroprevalence of hepatitis C virus (HCV) among 559,890 first-time volunteer blood donors in China reflects regional heterogeneity in HCV prevalence and changes in blood donor recruitment models. Transfusion 50:1505–1511

24.

Lu L, Nakano T, He Y, Fu Y, Hagedorn CH, Robertson BH (2005) Hepatitis C virus genotype distribution in China: predominance of closely related subtype 1b isolates and existence of new genotype 6 variants. J Med Virol 75:538–549

25.

Fu Y, Qin W, Cao H, Xu R, Tan Y, Lu T, Wang H, Tong W, Rong X, Li G, Yuan M, Li C, Abe K, Lu L, Chen G (2012) HCV 6a prevalence in Guangdong province had the origin from Vietnam and recent dissemination to other regions of China: phylogeographic analyses. PLoS One 7:e28006

26.

Chen M, Ma Y, Chen H, Luo H, Dai J, Song L, Yang C, Mei J, Yang L, Dong L, Jia M, Lu L (2015) Multiple introduction and naturally occuring drug resistance of HCV among HIV-infected intravenous drug users in yunnan: an origin of China's HIV/HCV epidemics. PLoS One 10:e0142543

27.

Lu L, Wang M, Xia W, Tian L, Xu R, Li C, Wang J, Rong X, Xiong H, Huang K, Huang J, Nakano T, Bennett P, Zhang Y, Zhang L, Fu Y (2014) Migration patterns of hepatitis C virus in China characterized for five major subtypes based on samples from 411 volunteer blood donors from 17 provinces and municipalities. J Virol 88:7120–7129

28.

Huang K, Chen J, Xu R, Jiang X, Ma X, Jia M, Wang M, Huang J, Liao Q, Shan Z, Dailey C, Song X, Lu L, Li C, Rong X, Zhang M, Fu Y (2018) Molecular evolution of hepatitis C virus in China: A nationwide study. Virology 516:210–218

29.

Wu T, Xiong L, Wang F, Xu X, Wang J, Lin F, Li C, Lu L, Zhou Y (2016) A unique pattern of HCV genotype distribution on Hainan Island in China revealed by evolutionary analysis. Cell Physiol Biochem 39:316–330

30.

Lu L, Tong W, Gu L, Li C, Lu T, Tee KK, Chen G (2013) The current hepatitis C virus prevalence in China may have resulted mainly from an officially encouraged plasma campaign in the 1990s: a coalescence inference with genetic sequences. J Virol 87:12041–12050

31.

Zhou YH, Yao ZH, Liu FL, Li H, Jiang L, Zhu JW, Zheng YT (2012) High prevalence of HIV, HCV, HBV and co-infection and associated risk factors among injecting drug users in Yunnan province, China. PLoS One 7:e42937

32.

Grebely J, Page K, Sacks-Davis R, van der Loeff MS, Rice TM, Bruneau J, Morris MD, Hajarizadeh B, Amin J, Cox AL, Kim AY, McGovern BH, Schinkel J, George J, Shoukry NH, Lauer GM, Maher L, Lloyd AR, Hellard M, Dore GJ, Prins M, In CSG (2014) The effects of female sex, viral genotype, and IL28B genotype on spontaneous clearance of acute hepatitis C virus infection. Hepatology 59:109–120

33.

Yee LJ (2004) Host genetic determinants in hepatitis C virus infection. Genes Immun 5:237–245

34.

Fu Y, Wang Y, Xia W, Pybus OG, Qin W, Lu L, Nelson K (2011) New trends of HCV infection in China revealed by genetic analysis of viral sequences determined from first-time volunteer blood donors. J Viral Hepat 18:42–52

35.

Ju W, Yang S, Feng S, Wang Q, Liu S, Xing H, Xie W, Zhu L, Cheng J (2015) Hepatitis C virus genotype and subtype distribution in Chinese chronic hepatitis C patients: nationwide spread of HCV genotypes 3 and 6. Virol J 12:109

36.

Zhang Z, Yao Y, Wu W, Feng R, Wu Z, Cun W, Dong S (2013) Hepatitis C virus genotype diversity among intravenous drug users in Yunnan Province, Southwestern China. PLoS One 8:e82598

37.

Beyrer C, Razak MH, Lisam K, Chen J, Lui W, Yu XF (2000) Overland heroin trafficking routes and HIV-1 spread in south and south-east Asia. Aids 14:75–83

38.

Jacobson IM, Gordon SC, Kowdley KV, Yoshida EM, Rodriguez-Torres M, Sulkowski MS, Shiffman ML, Lawitz E, Everson G, Bennett M, Schiff E, Al-Assi MT, Subramanian GM, An D, Lin M, McNally J, Brainard D, Symonds WT, McHutchison JG, Patel K, Feld J, Pianko S, Nelson DR, Study P, Study F (2013) Sofosbuvir for hepatitis C genotype 2 or 3 in patients without treatment options. N Engl J Med 368:1867–1877

39.

Cochrane A, Searle B, Hardie A, Robertson R, Delahooke T, Cameron S, Tedder RS, Dusheiko GM, De Lamballerie X, Simmonds P (2002) A genetic analysis of hepatitis C virus transmission between injection drug users. J Infect Dis 186:1212–1221

40.

Kanwal F, Hoang T, Kramer JR, Asch SM, Goetz MB, Zeringue A, Richardson P, El-Serag HB (2011) Increasing prevalence of HCC and cirrhosis in patients with chronic hepatitis C virus infection. Gastroenterology 140(1182–1188):e1181

41.

Shi XL, Ren QH, Zhu ZY, Qu DM, Ji Y, Peng DH, Ni SQ (1999) Hepatitis C virus infection in blood donors in the People's Republic of China. Transfusion 39:913

42.

Nguyen NH, Vutien P, Trinh HN, Garcia RT, Nguyen LH, Nguyen HA, Nguyen KK, Nguyen MH (2010) Risk factors, genotype 6 prevalence, and clinical characteristics of chronic hepatitis C in Southeast Asian Americans. Hepatol Int 4:523–529

43.

Sacks-Davis R, Aitken CK, Higgs P, Spelman T, Pedrana AE, Bowden S, Bharadwaj M, Nivarthi UK, Suppiah V, George J, Grebely J, Drummer HE, Hellard M (2013) High rates of hepatitis C virus reinfection and spontaneous clearance of reinfection in people who inject drugs: a prospective cohort study. PLoS One 8:e80216
Funding
This study was funded by a grant from the Weigao Fund of the Chinese Society of Blood Transfusion (No. CSBT-WG-2018-08), a grant from the National Natural Science Foundation of China (No. 81772208), and funding for the Key Medical Laboratory of Guangzhou from the Key Medical Disciplines and Specialties Program of Guangzhou, Guangdong, China.
Ethics declarations
Conflict of interest
The authors declare that they have no conflict of interest.
Ethical approval
All procedures performed in this study involving human participants were in accordance with the 1964 Helsinki declaration and its later amendments or comparable ethical standards. This study was approved by the Medical Ethics Committee of Guangzhou Blood Center.
Informed consent
All of the participants were duly informed about this study, and written informed consent was obtained from each participant.
Additional information
Publisher's Note
Springer Nature remains neutral with regard to jurisdictional claims in published maps and institutional affiliations.
Handling Editor: Michael Carpenter.
Electronic supplementary material
Below is the link to the electronic supplementary material.
Phylogenetic tree based on NS5B sequences (H77 nt positions 8276-8615) of HCV isolates from IDUs. Green and red circles indicate reference sequences and sequences from IDUs from this study, respectively. Branches of HCV 6a and 3b isolates are expanded on the right. Bootstrap analysis values (>70%) are displayed on the branches.The bars at the base of the figure show the scale in nucleotide substitution per site (EPS 10831 kb)
Mixed-infection phylogeny estimated from E1 (A, H77 nt positions 738-1313) and NS5B (B, H77 nt positions 8256-8641) fragments. Red, green and pink circles represent sequences of YJ244, YJ264 and YJ478 clones, repectively (EPS 3769 kb)
About this article
Cite this article
Wang, M., Liao, Q., Xu, R. et al. Hepatitis C virus 3b strains in injection drug users in Guangdong Province, China, may have originated in Yunnan Province. Arch Virol 164, 1761–1770 (2019). https://doi.org/10.1007/s00705-019-04260-7
Received:

Accepted:

Published:

Issue Date: