Abstract
Dengue virus (DENV) infection is a worldwide public health problem, which can cause severe dengue hemorrhagic fever (DHF) and life-threatening dengue shock syndrome (DSS). There are currently no anti-DENV drugs available, and there has been an intensive search for effective anti-DENV agents that can inhibit all four DENV serotypes. In this study, we tested whether vivo-morpholino oligomers (vivo-MOs), whose effect on DENV infection has not previously been studied, can inhibit DENV infection. Vivo-MOs were designed to target the top of 3' stem-loop (3' SL) in the 3' UTR of the DENV genome and tested for inhibition of DENV infection in monkey kidney epithelial (Vero) cells and human lung epithelial carcinoma (A549) cells. The results showed that vivo-MOs could bind to a DENV RNA sequence and markedly reduce DENV-RNA, protein, and virus production in infected Vero and A549 cells. Vivo-MOs at a concentration of 4 µM could inhibit DENV production by more than 104-fold when compared to that of an untreated control. In addition, vivo-MOs also inhibited DENV production in U937 cells and primary human monocytes. Therefore, vivo-MOs targeting to the 3' SL in the 3' UTR of DENV genomes are effective and have the potential to be developed as anti-DENV agents.
This is a preview of subscription content, log in to check access.
Access options
Buy single article
Instant access to the full article PDF.
US$ 39.95
Price includes VAT for USA
Subscribe to journal
Immediate online access to all issues from 2019. Subscription will auto renew annually.
US$ 199
This is the net price. Taxes to be calculated in checkout.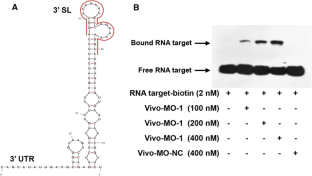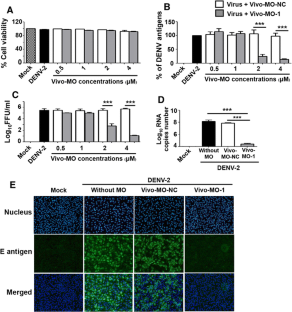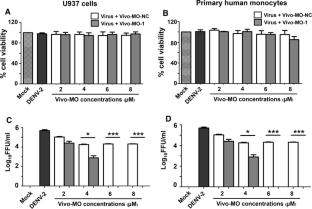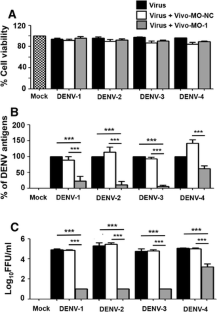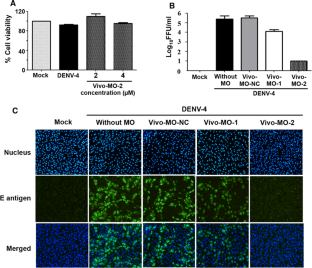 References
1.

Bhatt S, Gething PW, Brady OJ, Messina JP, Farlow AW, Moyes CL, Drake JM, Brownstein JS, Hoen AG, Sankoh O, Myers MF, George DB, Jaenisch T, Wint GR, Simmons CP, Scott TW, Farrar JJ, Hay SI (2013) The global distribution and burden of dengue. Nature 496:504–507

2.

Capeding MR, Tran NH, Hadinegoro SR, Ismail HI, Chotpitayasunondh T, Chua MN, Luong CQ, Rusmil K, Wirawan DN, Nallusamy R, Pitisuttithum P, Thisyakorn U, Yoon IK, van der Vliet D, Langevin E, Laot T, Hutagalung Y, Frago C, Boaz M, Wartel TA, Tornieporth NG, Saville M, Bouckenooghe A, Group CYDS (2014) Clinical efficacy and safety of a novel tetravalent dengue vaccine in healthy children in Asia: a phase 3, randomised, observer-masked, placebo-controlled trial. Lancet 384:1358–1365

3.

Dechtawewat T, Songprakhon P, Limjindaporn T, Puttikhunt C, Kasinrerk W, Saitornuang S, Yenchitsomanus PT, Noisakran S (2015) Role of human heterogeneous nuclear ribonucleoprotein C1/C2 in dengue virus replication. Virol J 12:14

4.

Holden KL, Stein DA, Pierson TC, Ahmed AA, Clyde K, Iversen PL, Harris E (2006) Inhibition of dengue virus translation and RNA synthesis by a morpholino oligomer targeted to the top of the terminal 3' stem-loop structure. Virology 344:439–452

6.

Kakumani PK, Ponia SS, Rajgokul KS, Sood V, Chinnappan M, Banerjea AC, Medigeshi GR, Malhotra P, Mukherjee SK, Bhatnagar RK (2013) Role of RNA interference (RNAi) in dengue virus replication and identification of NS4B as an RNAi suppressor. J Virol 87:8870–8883

7.

Kaptein SJ, Neyts J (2016) Towards antiviral therapies for treating dengue virus infections. Curr Opin Pharmacol 30:1–7

8.

Kinney RM, Huang CY, Rose BC, Kroeker AD, Dreher TW, Iversen PL, Stein DA (2005) Inhibition of dengue virus serotypes 1 to 4 in vero cell cultures with morpholino oligomers. J Virol 79:5116–5128

9.

Lebleu B, Moulton HM, Abes R, Ivanova GD, Abes S, Stein DA, Iversen PL, Arzumanov AA, Gait MJ (2008) Cell penetrating peptide conjugates of steric block oligonucleotides. Adv Drug Deliv Rev 60:517–529

10.

Leela SL, Srisawat C, Sreekanth GP, Noisakran S, Yenchitsomanus PT, Limjindaporn T (2016) Drug repurposing of minocycline against dengue virus infection. Biochem Biophys Res Commun 478:410–416

11.

Li YF, Morcos PA (2008) Design and synthesis of dendritic molecular transporter that achieves efficient in vivo delivery of morpholino antisense oligo. Bioconjug Chem 19:1464–1470

12.

Low JG, Sung C, Wijaya L, Wei Y, Rathore AP, Watanabe S, Tan BH, Toh L, Chua LT, Hou Y, Chow A, Howe S, Chan WK, Tan KH, Chung JS, Cherng BP, Lye DC, Tambayah PA, Ng LC, Connolly J, Hibberd ML, Leo YS, Cheung YB, Ooi EE, Vasudevan SG (2014) Efficacy and safety of celgosivir in patients with dengue fever (CELADEN): a phase 1b, randomised, double-blind, placebo-controlled, proof-of-concept trial. Lancet Infect Dis 14:706–715

13.

Marwick C (1998) First "antisense" drug will treat CMV retinitis. JAMA 280:871

14.

Morcos PA, Li Y, Jiang S (2008) Vivo-Morpholinos: a non-peptide transporter delivers Morpholinos into a wide array of mouse tissues. Biotechniques 45:613–614, 616, 618 passim

15.

Moulton JD, Jiang S (2009) Gene knockdowns in adult animals: PPMOs and vivo-morpholinos. Molecules 14:1304–1323

16.

Nazmi A, Dutta K, Basu A (2010) Antiviral and neuroprotective role of octaguanidinium dendrimer-conjugated morpholino oligomers in Japanese encephalitis. PLoS Negl Trop Dis 4:e892

17.

Panya A, Bangphoomi K, Choowongkomon K, Yenchitsomanus PT (2014) Peptide inhibitors against dengue virus infection. Chem Biol Drug Des 84:148–157

18.

Panya A, Sawasdee N, Junking M, Srisawat C, Choowongkomon K, Yenchitsomanus PT (2015) A peptide inhibitor derived from the conserved ectodomain region of DENV membrane (M) protein with activity against dengue virus infection. Chem Biol Drug Des 86:1093–1104

19.

Poungpair O, Bangphoomi K, Chaowalit P, Sawasdee N, Saokaew N, Choowongkomon K, Chaicumpa W, Yenchitsomanus PT (2014) Generation of human single-chain variable fragment antibodies specific to dengue virus non-structural protein 1 that interfere with the virus infectious cycle. MAbs 6:474–482

20.

Rattanaburee T, Junking M, Panya A, Sawasdee N, Songprakhon P, Suttitheptumrong A, Limjindaporn T, Haegeman G, Yenchitsomanus PT (2015) Inhibition of dengue virus production and cytokine/chemokine expression by ribavirin and compound A. Antiviral Res 124:83–92

21.

Raviprakash K, Liu K, Matteucci M, Wagner R, Riffenburgh R, Carl M (1995) Inhibition of dengue virus by novel, modified antisense oligonucleotides. J Virol 69:69–74

22.

Sabchareon A, Wallace D, Sirivichayakul C, Limkittikul K, Chanthavanich P, Suvannadabba S, Jiwariyavej V, Dulyachai W, Pengsaa K, Wartel TA, Moureau A, Saville M, Bouckenooghe A, Viviani S, Tornieporth NG, Lang J (2012) Protective efficacy of the recombinant, live-attenuated, CYD tetravalent dengue vaccine in Thai schoolchildren: a randomised, controlled phase 2b trial. Lancet 380:1559–1567

23.

Saokaew N, Poungpair O, Panya A, Tarasuk M, Sawasdee N, Limjindaporn T, Chaicumpa W, Yenchitsomanus P (2014) Human monoclonal single-chain antibodies specific to dengue virus envelope protein. Lett Appl Microbiol 58:270–277

24.

Sharma VK, Sharma RK, Singh SK (2014) Antisense oligonucleotides: modifications and clinical trials. Medchemcomm 5:1454–1471

25.

Stein DA, Huang CY, Silengo S, Amantana A, Crumley S, Blouch RE, Iversen PL, Kinney RM (2008) Treatment of AG129 mice with antisense morpholino oligomers increases survival time following challenge with dengue 2 virus. J Antimicrob Chemother 62:555–565

26.

Subramanya S, Kim SS, Abraham S, Yao J, Kumar M, Kumar P, Haridas V, Lee SK, Shultz LD, Greiner D, Manjunath N, Shankar P (2010) Targeted delivery of small interfering RNA to human dendritic cells to suppress dengue virus infection and associated proinflammatory cytokine production. J Virol 84:2490–2501

27.

Suttitheptumrong A, Khunchai S, Panaampon J, Yasamut U, Morchang A, Puttikhunt C, Noisakran S, Haegeman G, Yenchitsomanus PT, Limjindaporn T (2013) Compound A, a dissociated glucocorticoid receptor modulator, reduces dengue virus-induced cytokine secretion and dengue virus production. Biochem Biophys Res Commun 436:283–288

28.

Tan CW, Chan YF, Quah YW, Poh CL (2014) Inhibition of enterovirus 71 infection by antisense octaguanidinium dendrimer-conjugated morpholino oligomers. Antiviral Res 107:35–41

29.

Tricou V, Minh NN, Van TP, Lee SJ, Farrar J, Wills B, Tran HT, Simmons CP (2010) A randomized controlled trial of chloroquine for the treatment of dengue in Vietnamese adults. PLoS Negl Trop Dis 4:e785

30.

Vaughn DW, Green S, Kalayanarooj S, Innis BL, Nimmannitya S, Suntayakorn S, Endy TP, Raengsakulrach B, Rothman AL, Ennis FA, Nisalak A (2000) Dengue viremia titer, antibody response pattern, and virus serotype correlate with disease severity. J Infect Dis 181:2–9

31.

Wang QY, Patel SJ, Vangrevelinghe E, Xu HY, Rao R, Jaber D, Schul W, Gu F, Heudi O, Ma NL, Poh MK, Phong WY, Keller TH, Jacoby E, Vasudevan SG (2009) A small-molecule dengue virus entry inhibitor. Antimicrob Agents Chemother 53:1823–1831

32.

Wen W, He Z, Jing Q, Hu Y, Lin C, Zhou R, Wang X, Su Y, Yuan J, Chen Z, Yuan J, Wu J, Li J, Zhu X, Li M (2015) Cellular microRNA-miR-548g-3p modulates the replication of dengue virus. J Infect 70:631–640

33.

Yin Z, Chen YL, Schul W, Wang QY, Gu F, Duraiswamy J, Kondreddi RR, Niyomrattanakit P, Lakshminarayana SB, Goh A, Xu HY, Liu W, Liu B, Lim JY, Ng CY, Qing M, Lim CC, Yip A, Wang G, Chan WL, Tan HP, Lin K, Zhang B, Zou G, Bernard KA, Garrett C, Beltz K, Dong M, Weaver M, He H, Pichota A, Dartois V, Keller TH, Shi PY (2009) An adenosine nucleoside inhibitor of dengue virus. Proc Natl Acad Sci USA 106:20435–20439

34.

Zhou H, Janghra N, Mitrpant C, Dickinson RL, Anthony K, Price L, Eperon IC, Wilton SD, Morgan J, Muntoni F (2013) A novel morpholino oligomer targeting ISS-N1 improves rescue of severe spinal muscular atrophy transgenic mice. Hum Gene Ther 24:331–342

35.

Limjindaporn T, Panaampon J, Malakar S, Noisakran S, Yenchitsomanus PT (2017) Tyrosine kinase/phosphatase inhibitors decrease dengue virus production in HepG2 cells. Biochem Biophys Res Commun. 483(1):58–63
Acknowledgements
This work was supported by a Mahidol University Grant (R15610004) and the Thailand Research Fund (TRF IRG 5980006). PP was supported by a TRF-Royal Golden Jubilee (RGJ) Ph.D. Scholarship (PHD/0367/2552). PYo was supported by Siriraj Graduate and Thesis Scholarships. MJ and PY were supported by Chaloemprakiat Grants, Faculty of Medicine Siriraj Hospital, Mahidol University. The funders had no role in study design, data collection and analysis, decision to publish, or preparation of the manuscript.
Ethics declarations
Ethical approval
The use of human peripheral blood mononuclear cells (PBMCs) from healthy donors was ethically approved by the Siriraj Institutional Review Board, Faculty of Medicine Siriraj Hospital, Mahidol University.
Additional information
Handling Editor: Zhongjie Shi.
About this article
Cite this article
Phumesin, P., Junking, M., Panya, A. et al. Vivo-morpholino oligomers strongly inhibit dengue virus replication and production. Arch Virol 163, 867–876 (2018). https://doi.org/10.1007/s00705-017-3666-9
Received:

Accepted:

Published:

Issue Date: