Abstract
A new virus was isolated from a bellflower (Campanula takesimana) plant showing veinal mottle symptoms, and its complete genome sequence was determined. The viral genome consists of a positive-sense single-stranded RNA of 8,259 ribonucleotides. Electron microscopic observation revealed that the viral genome is packaged as a filamentous particle with an average length of approximately 760 nm. BLAST searches of protein databases showed that the encoded polyprotein has a maximum amino acid sequence identity of 34.1% (with 95% coverage) to that of the isolate AD of Chinese yam necrotic mosaic virus (CYNMV; genus Macluravirus). Phylogenetic analysis and comparison of the encoded amino acid sequences with those of other viruses demonstrated that the identified virus shows minimal sequence similarity to known viruses and should therefore be considered a member of a new genus in the family Potyviridae. The name bellflower veinal mottle virus (BVMoV) is proposed for this new virus.
Access options
Buy single article
Instant access to the full article PDF.
US$ 39.95
Tax calculation will be finalised during checkout.
Subscribe to journal
Immediate online access to all issues from 2019. Subscription will auto renew annually.
US$ 119
Tax calculation will be finalised during checkout.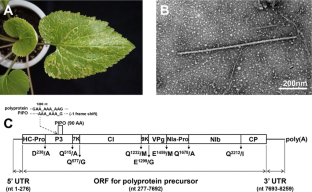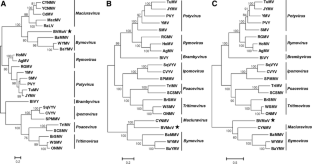 References
1.

Adams MJ, Antoniw JF, Fauquet CM (2005) Molecular criteria for genus and species discrimination within the family Potyviridae. Arch Virol 150:459–479

2.

International Committee of Taxonomy of Viruses (2015) Virus taxonomy: 2015 release. http://www.ictvonline.org/virusTaxonomy.asp. Accessed 11 April 2016

3.

Kondo T, Fujita T (2012) Complete nucleotide sequence and construction of an infectious clone of Chinese yam necrotic mosaic virus suggest that macluraviruses have the smallest genome among members of the family Potyviridae. Arch Virol 157:2299–2307

4.

Kumar S, Stecher G, Tamura K (2016) MEGA7: Molecular Evolutionary Genetics Analysis Version 7.0 for bigger datasets. Mol Biol Evol 33:1870–1874

5.

Schelhorn SE, Fischer M, Tolosi L, Altmuller J, Nurnberg P, Pfister H, Lengauer T, Berthold F (2013) Sensitive detection of viral transcripts in human tumor transcriptomes. PLoS Comput Biol 9:e1003228

6.

Seo JK, Kang M, Kwak HR, Kim MK, Kim CS, Lee SH, Kim JS, Choi HS (2015) Complete genome sequence of motherwort yellow mottle virus, a novel putative member of the genus Torradovirus. Arch Virol 160:587–590

7.

Seo JK, Kwak HR, Lee YJ, Kim J, Kim MK, Kim CS, Choi HS (2015) Complete genome sequence of bellflower vein chlorosis virus, a novel putative member of the genus Waikavirus. Arch Virol 160:3139–3142

8.

Shulkina TV, Gaskin JF, Eddie WMM (2003) Morphological studies toward an improved classification of Campanulaceae s. str. Ann Mo Bot Gard 90:576–591
Acknowledgements
This research was supported in part by grants from the Agenda Program (PJ011306) funded by the Rural Development Administration of Korea and the Intramural Support Program (1403-20160062) funded by Seoul National University.
Ethics declarations
Conflict of interest
The authors declare that they have no conflict of interest.
Ethical approval
This article does not contain any studies with human participants or animals performed by any of the authors.
Electronic supplementary material
Below is the link to the electronic supplementary material.
About this article
Cite this article
Seo, JK., Kwak, HR., Kim, MK. et al. The complete genome sequence of a novel virus, bellflower veinal mottle virus, suggests the existence of a new genus within the family Potyviridae . Arch Virol 162, 2457–2461 (2017). https://doi.org/10.1007/s00705-017-3374-5
Received:

Accepted:

Published:

Issue Date:
Keywords
Amino Acid Sequence Identity

High Amino Acid Sequence Identity

Filamentous Particle

Ground Cover Plant

Minimal Sequence Identity