Abstract
Harbour porpoises (Phocoena phocoena) are the most prevalent cetaceans in the North Sea. The fecal viral flora of 21 harbour porpoises stranded along the Dutch coastline was analyzed by a metagenomics approach. Sequences of a novel cetacean mastadenovirus, designated harbour porpoise adenovirus 1 (HpAdV-1), were detected. The sequence of a 23-kbp genomic region, spanning the conserved late region, was determined using primer walking. Phylogenetic analysis indicated that HpAdV-1 is most closely related to bottlenose dolphin adenovirus and clusters with Cetartiodactyla adenoviruses. The prevalence of HpAdV-1 was low (2.6%) based on targeted PCR-screening of the intestinal contents of 151 harbour porpoises stranded between 2010 and 2013.
This is a preview of subscription content,
to check access.
Access this article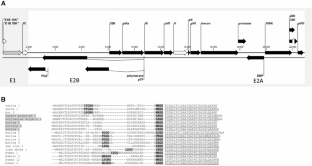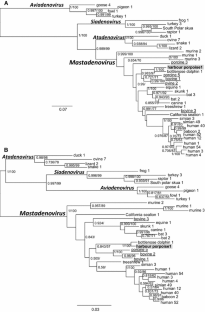 References
Read AJ (1999) Harbour porpoise—Phocoena phocoena (Linneaus, 1758). In: Ridgway SH, Harrison R (eds) Handbook of marine mammals, vol 6: the second book of dolphins and the porpoises, pp 323–356

Geelhoed SCV, Scheidat M, van Bemmelen RSA, Aarts G (2013) Abundance of harbour porpoises (Phocoena phocoena) on the Dutch Continental Shelf, aerial surveys in July 2010–March 2011. Lutra 56:45–57

Hammond PS, Berggren P, Benke H, Borchers DL, Collet A, Heide-Jorgensen MP, Heimlich S, Hiby AR, Leopold MF, Oien N (2002) Abundance of harbour porpoise and other cetaceans in the North Sea and adjacent waters. J Appl Ecol 39:361–376

Scheidat M, Verdaat H, Aarts G (2012) Using aerial surveys to estimate density and distribution of harbour porpoises in Dutch waters. J Sea Res 69:1–7

Leopold MF, Begeman L, van Bleijswijk JD, Ijsseldijk LL, Witte HJ, Gröne A (2015) Exposing the grey seal as a major predator of harbour porpoises. Proc Biol Sci 282:20142429. doi:10.1098/rspb.2014.2429

Jauniaux T, Petitjean D, Brenez C, Borrens M, Brosens L, Haelters J, Tavernier T, Coignoul F (2002) Post-mortem findings and causes of death of harbour porpoises (Phocoena phocoena) stranded from 1990 to 2000 along the coastlines of Belgium and Northern France. J Comp Pathol 126:243–253. doi:10.1053/jcpa.2001.0547

Siebert U, Wünschmann A, Weiss R, Frank H, Benke H, Frese K (2001) Post-mortem findings in harbour porpoises (Phocoena phocoena) from the German North and Baltic Seas. J Comp Pathol 124:102–114. doi:10.1053/jcpa.2000.0436

Wright AJ, Maar M, Mohn C, Nabe-Nielsen J, Siebert U, Jensen LF, Baagoe HJ, Teilmann J (2013) Possible causes of a harbour porpoise mass stranding in Danish waters in 2005. PLoS One 8:e55553. doi:10.1371/journal.pone.0055553

Wünschmann A, Siebert U, Frese K, Weiss R, Lockyer C, Heide-Jorgensen MP, Müller G, Baumgärtner W (2001) Evidence of infectious diseases in harbour porpoises (Phocoena phocoena) hunted in the waters of Greenland and by-caught in the German North Sea and Baltic Sea. Vet Rec 148:715–720

Kuiken T, Baker J (1991) Guidelines for the post-mortem examination of cetaceans. Anonymous Zoological Society of London. Zoological Society of London, London, UK, pp 1–39

van den Brand JM, van Leeuwen M, Schapendonk CM, Simon JH, Haagmans BL, Osterhaus AD, Smits SL (2012) Metagenomic analysis of the viral flora of pine marten and European badger feces. J Virol 86:2360–2365. doi:10.1128/JVI.06373-11

van Leeuwen M, Williams MM, Koraka P, Simon JH, Smits SL, Osterhaus AD (2010) Human picobirnaviruses identified by molecular screening of diarrhea samples. J Clin Microbiol 48:1787–1794. doi:10.1128/JCM.02452-09

Benko M, Harrach B (2003) Molecular evolution of adenoviruses. Curr Top Microbiol Immunol 272:3–35

Davison AJ, Benko M, Harrach B (2003) Genetic content and evolution of adenoviruses. J Gen Virol 84:2895–2908. doi:10.1099/vir.0.19497-0

Harrach B, Benkö M, Brown M, Davison AJ, Echavarría M, Hess M, Jones,M.S., Kajon,A., Lehmkuhl,H.D., Mautner,V., Mittal SK, Wadell G (2012) Family—Adenoviridae. In: King AMQ, Lefkowitz E, Adams MJ, Carstens EB (eds) Virus taxonomy—Ninth Report of the International Committee on Taxonomy of Viruses, 9th edn. Elsevier, London, pp 124–141

Berk AJ (2013) Chapter 55—Adenoviridae. In: Knipe DM, Howley PM (eds) Fields virology, 6th edn. Lippincott Williams & Wilkins, Baltimore, pp 1704–1731

Britt JO Jr, Nagy AZ, Howard EB (1979) Acute viral hepatitis in California sea lions. J Am Vet Med Assoc 175:921–923

Inoshima Y, Murakami T, Ishiguro N, Hasegawa K, Kasamatsu M (2013) An outbreak of lethal adenovirus infection among different otariid species. Vet Microbiol 165:455–459. doi:10.1016/j.vetmic.2013.04.013

Rubio-Guerri C, Garcia-Parraga D, Nieto-Pelegrin E, Melero M, Alvaro T, Valls M, Crespo JL, Sanchez-Vizcaino JM (2015) Novel adenovirus detected in captive bottlenose dolphins (Tursiops truncatus) suffering from self-limiting gastroenteritis. BMC Vet Res 11:53. doi:10.1186/s12917-015-0367-z

Standorf K, Cortes-Hinojosa G, Venn-Watson S, Rivera R, Archer LL, Wellehan JFXJ (2017) Phylogenetic analysis of the first cetacean adenovirus genome (MH08-032) suggests coevolution with the Cetartiodactyla (GenBank JN377908.1) (unpublished results)

Khatri A, Both GW (1998) Identification of transcripts and promoter regions of ovine adenovirus OAV287. Virology 245:128–141 ([pii]: S0042-6822(98)99136-X)

Penzes JJ, Menendez-Conejero R, Condezo GN, Ball I, Papp T, Doszpoly A, Paradela A, Perez-Berna AJ, Lopez-Sanz M, Nguyen TH, van Raaij MJ, Marschang RE, Harrach B, Benko M, San Martin C (2014) Molecular characterization of a lizard adenovirus reveals the first atadenovirus with two fiber genes and the first adenovirus with either one short or three long fibers per penton. J Virol 88:11304–11314. doi:10.1128/JVI.00306-14

Ruzindana-Umunyana A, Imbeault L, Weber JM (2002) Substrate specificity of adenovirus protease. Virus Res 89:41–52 ([pii]: S0168170202001119)

Rusvai M, Harrach B, Banrevi A, Evans PS, Benko M (2000) Identification and sequence analysis of the core protein genes of bovine adenovirus 2. Virus Res 70:25–30 ([pii] S016817020000201X)

Thompson JD, Gibson TJ, Plewniak F, Jeanmougin F, Higgins DG (1997) The CLUSTAL_X windows interface: flexible strategies for multiple sequence alignment aided by quality analysis tools. Nucleic Acids Res 25:4876–4882 ([pii]: gka797)

Abascal F, Zardoya R, Posada D (2005) ProtTest: selection of best-fit models of protein evolution. Bioinformatics 21:2104–2105 ([pii]: bti263)

Guindon S, Dufayard JF, Lefort V, Anisimova M, Hordijk W, Gascuel O (2010) New algorithms and methods to estimate maximum-likelihood phylogenies: assessing the performance of PhyML 3.0. Syst Biol 59:307–321. doi:10.1093/sysbio/syq010

Smith AW, Skilling DE (1979) Viruses and virus diseases of marine mammals. J Am Vet Med Assoc 175:918–920

Smith AW, Skilling DE, Benirschke K, Albert TF, Barlough JE (1987) Serology and virology of the bowhead whale (Balaena mysticetus L.). J Wildl Dis 23:92–98

De Guise S, Lagace A, Beland P, Girard C, Higgins R (1995) Non-neoplastic lesions in beluga whales (Delphinapterus leucas) and other marine mammals from the St Lawrence Estuary. J Comp Pathol 112:257–271

Boisserie JR, Lihoreau F, Brunet M (2005) The position of Hippopotamidae within Cetartiodactyla. Proc Natl Acad Sci USA 102:1537–1541 ([pii]: 0409518102)

Reddy PS, Idamakanti N, Zakhartchouk AN, Baxi MK, Lee JB, Pyne C, Babiuk LA, Tikoo SK (1998) Nucleotide sequence, genome organization, and transcription map of bovine adenovirus type 3. J Virol 72:1394–1402
Acknowledgements
This report was only possible thanks to the efforts made in finding and securing harbour porpoise carcasses by the volunteers of the Dutch stranding network, including the organizations and institutes involved. We thank Dr. Sal Frasca for histopathologic examination of the North American harbour porpoise.
Ethics declarations
Harbour porpoise necropsies were funded by the Dutch Ministry of Economic Affairs (Grant Number 140000353). All authors declare that they have no conflict of interest. All applicable International, National, and/or Institutional Guidelines for the care and use of animals were followed.
Electronic supplementary material
Below is the link to the electronic supplementary material.
About this article
Cite this article
van Beurden, S.J., IJsseldijk, L.L., van de Bildt, M.W.G. et al. A novel cetacean adenovirus in stranded harbour porpoises from the North Sea: detection and molecular characterization. Arch Virol 162, 2035–2040 (2017). https://doi.org/10.1007/s00705-017-3310-8
Received:

Accepted:

Published:

Issue Date:

DOI: https://doi.org/10.1007/s00705-017-3310-8
Keywords