Abstract
We characterized the genome of a densovirus, tentatively called human CSF-associated densovirus 1 (HuCSFDV1), in cerebrospinal fluid (CSF) from a human case of encephalitis with antibodies against the N-methyl D-aspartate receptor. The presence of the viral genome in CSF was independently confirmed. This virus, which is proposed to be a member of a new species in the genus Iteradensovirus of the subfamily Densovirinae, showed the typical two ORFs encoding nonstructural and structural proteins with low-level identities of 22 and 16 % to the closest known densovirus relative. No other eukaryotic viral sequences were detected using deep sequencing. The replication and pathogenicity in humans of this virus, which belongs to a viral subfamily whose members are only known to replicate in invertebrates, remain to be demonstrated. Alternative explanations for the detection of densovirus DNA in CSF are discussed.
Access options
Buy single article
Instant access to the full article PDF.
USD 39.95
Price excludes VAT (USA)
Tax calculation will be finalised during checkout.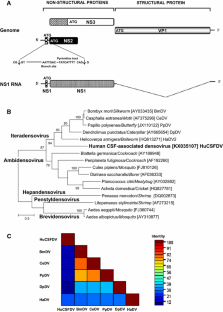 References
Armangue T, Titulaer MJ, Malaga I, Bataller L, Gabilondo I, Graus F, Dalmau J (2013) Pediatric anti-N-methyl-d-aspartate receptor encephalitis-clinical analysis and novel findings in a series of 20 patients. J Pediatr 162(850–856):e852

Bergoin M, Tijssen P (2000) Molecular biology of Densovirinae. Contrib Microbiol 4:12–32

Carlson J, Suchman E, Buchatsky L (2006) Densoviruses for control and genetic manipulation of mosquitoes. Adv Virus Res 68:361–392

Cotmore SF, Agbandje-McKenna M, Chiorini JA, Mukha DV, Pintel DJ, Qiu J, Soderlund-Venermo M, Tattersall P, Tijssen P, Gatherer D, Davison AJ (2014) The family Parvoviridae. Arch Virol 159:1239–1247

Dalmau J, Tuzun E, Wu HY, Masjuan J, Rossi JE, Voloschin A, Baehring JM, Shimazaki H, Koide R, King D, Mason W, Sansing LH, Dichter MA, Rosenfeld MR, Lynch DR (2007) Paraneoplastic anti-N-methyl-d-aspartate receptor encephalitis associated with ovarian teratoma. Ann Neurol 61:25–36

Dalmau J, Gleichman AJ, Hughes EG, Rossi JE, Peng X, Lai M, Dessain SK, Rosenfeld MR, Balice-Gordon R, Lynch DR (2008) Anti-NMDA-receptor encephalitis: case series and analysis of the effects of antibodies. Lancet Neurol 7:1091–1098

Fediere G, Li Y, Zadori Z, Szelei J, Tijssen P (2002) Genome organization of Casphalia extranea densovirus, a new iteravirus. Virology 292:299–308

Ge X, Li Y, Yang X, Zhang H, Zhou P, Zhang Y, Shi Z (2012) Metagenomic analysis of viruses from bat fecal samples reveals many novel viruses in insectivorous bats in China. J Virol 86:4620–4630

Gilbert GJ (2014) Herpes simplex virus-1 encephalitis can trigger anti-NMDA receptor encephalitis: case report. Neurology 82:2041

Gleichman AJ, Spruce LA, Dalmau J, Seeholzer SH, Lynch DR (2012) Anti-NMDA receptor encephalitis antibody binding is dependent on amino acid identity of a small region within the GluN1 amino terminal domain. J Neurosci 32:11082–11094

Hewson I, Button JB, Gudenkauf BM, Miner B, Newton AL, Gaydos JK, Wynne J, Groves CL, Hendler G, Murray M, Fradkin S, Breitbart M, Fahsbender E, Lafferty KD, Kilpatrick AM, Miner CM, Raimondi P, Lahner L, Friedman CS, Daniels S, Haulena M, Marliave J, Burge CA, Eisenlord ME, Harvell CD (2014) Densovirus associated with sea-star wasting disease and mass mortality. Proc Natl Acad Sci USA 111:17278–17283

Ilyina TV, Koonin EV (1992) Conserved sequence motifs in the initiator proteins for rolling circle DNA replication encoded by diverse replicons from eubacteria, eucaryotes and archaebacteria. Nucleic Acids Res 20:3279–3285

Leypoldt F, Titulaer MJ, Aguilar E, Walther J, Bonstrup M, Havemeister S, Teegen B, Lutgehetmann M, Rosenkranz M, Magnus T, Dalmau J (2013) Herpes simplex virus-1 encephalitis can trigger anti-NMDA receptor encephalitis: case report. Neurology 81:1637–1639

Li L, Victoria JG, Wang C, Jones M, Fellers GM, Kunz TH, Delwart E (2010) Bat guano virome: predominance of dietary viruses from insects and plants plus novel mammalian viruses. J Virol 84:6955–6965

Liu H, Fu Y, Xie J, Cheng J, Ghabrial SA, Li G, Peng Y, Yi X, Jiang D (2011) Widespread endogenization of densoviruses and parvoviruses in animal and human genomes. J Virol 85:9863–9876

Liu K, Li Y, Jousset FX, Zadori Z, Szelei J, Yu Q, Pham HT, Lepine F, Bergoin M, Tijssen P (2011) The Acheta domesticus densovirus, isolated from the European house cricket, has evolved an expression strategy unique among parvoviruses. J Virol 85:10069–10078

Ng TF, Willner DL, Lim YW, Schmieder R, Chau B, Nilsson C, Anthony S, Ruan Y, Rohwer F, Breitbart M (2011) Broad surveys of DNA viral diversity obtained through viral metagenomics of mosquitoes. PloS One 6:e20579

Oh J, Byrd AL, Park M, Kong HH, Segre JA (2016) Temporal stability of the human skin microbiome. Cell 165:854–866

Phan TG, Kapusinszky B, Wang C, Rose RK, Lipton HL, Delwart EL (2011) The fecal viral flora of wild rodents. PLoS Pathog 7:e1002218

Phan TG, Mori D, Deng X, Rajidrajith S, Ranawaka U, Fan Ng TF, Bucardo-Rivera F, Orlandi P, Ahmed K, Delwart E (2015) Small circular single stranded DNA viral genomes in unexplained cases of human encephalitis, diarrhea, and in untreated sewage. Virology 482:98–104

Shi C, Liu Y, Hu X, Xiong J, Zhang B, Yuan Z (2015) A metagenomic survey of viral abundance and diversity in mosquitoes from Hubei province. PloS One 10:e0129845

Sivaram A, Barde PV, Kumar SR, Yadav P, Gokhale MD, Basu A, Mourya DT (2009) Isolation and characterization of densonucleosis virus from Aedes aegypti mosquitoes and its distribution in India. Intervirology 52:1–7

Suzuki Y, Barik TK, Johnson RM, Rasgon JL (2015) In vitro and in vivo host range of Anopheles gambiae densovirus (AgDNV). Sci Rep 5:12701

Tamura K, Stecher G, Peterson D, Filipski A, Kumar S (2013) MEGA6: molecular evolutionary genetics analysis version 6.0. Mol Biol Evol 30:2725–2729

Venkatesan A, Benavides DR (2015) Autoimmune encephalitis and its relation to infection. Curr Neurol Neurosci Rep 15:3

Walker JE, Saraste M, Runswick MJ, Gay NJ (1982) Distantly related sequences in the alpha- and beta-subunits of ATP synthase, myosin, kinases and other ATP-requiring enzymes and a common nucleotide binding fold. EMBO J 1:945–951

Wang J, Zhang J, Jiang H, Liu C, Yi F, Hu Y (2005) Nucleotide sequence and genomic organization of a newly isolated densovirus infecting Dendrolimus punctatus. J Gen Virol 86:2169–2173

Wang M, Marin A (2006) Characterization and prediction of alternative splice sites. Gene 366:219–227

Wickstrom R, Fowler A, Cooray G, Karlsson-Parra A, Grillner P (2014) Viral triggering of anti-NMDA receptor encephalitis in a child—an important cause for disease relapse. Eur J Paediatr Neurol 18:543–546

Woo PC, Lau SK, Teng JL, Tsang AK, Joseph M, Wong EY, Tang Y, Sivakumar S, Bai R, Wernery R, Wernery U, Yuen KY (2014) Metagenomic analysis of viromes of dromedary camel fecal samples reveals large number and high diversity of circoviruses and picobirnaviruses. Virology 471–473:117–125

Xu P, Cheng P, Liu Z, Li Y, Murphy RW, Wu K (2012) Complete genome sequence of a monosense densovirus infecting the cotton bollworm, Helicoverpa armigera. J Virol 86:10909

Yu Q, Tijssen P (2014) Iteradensovirus from the Monarch Butterfly. Danaus plexippus plexippus, Genome announcements 2

Zhou C, Zhang S, Gong Q, Hao A (2015) A novel gemycircularvirus in an unexplained case of child encephalitis. Virol J 12:197
Acknowledgments
We acknowledge NHLBI Grant R01 HL105770 to E.L.D, the Blood Systems Research Institute, and NIH/NCATS Colorado CTSA Grant Number UL1 TR001082 for support. The contents are the authors' sole responsibility and do not necessarily represent official NIH views.
Ethics declarations
Funding
This study was funded by NHLBI Grant R01 HL105770 and NIH/NCATS Colorado CTSA Grant Number UL1 TR001082.
Conflict of interest
All authors declare that there is no conflict of interest.
Ethical approval
All procedures performed in studies involving human participants were in accordance with the ethical standards of the institutional and/or national research committee and with the 1964 Helsinki declaration and its later amendments or comparable ethical standards.
Informed consent
Informed consent was obtained from all individual participants included in the study.
About this article
Cite this article
Phan, T.G., Messacar, K., Dominguez, S.R. et al. A new densovirus in cerebrospinal fluid from a case of anti-NMDA-receptor encephalitis. Arch Virol 161, 3231–3235 (2016). https://doi.org/10.1007/s00705-016-3002-9
Received:

Accepted:

Published:

Issue Date:

DOI: https://doi.org/10.1007/s00705-016-3002-9
Keywords