Abstract
We conducted a viral metagenomics study in diarrheic free-ranging wolves in Portugal, revealing for the first time the presence of reassortant picobirnaviruses. These viruses shared identical capsid segments together with diverse RNA-dependent RNA polymerase segments. Even though causality between these picobirnaviruses and diarrhea could not be established, the study nonetheless confirms for the first time that wolves are a potential reservoir for picobirnaviruses, which might play a role as enteric pathogens.
Access options
Buy single article
Instant access to the full article PDF.
US$ 39.95
Tax calculation will be finalised during checkout.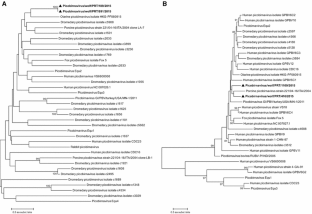 References
1.

Malik YS, Kumar N, Sharma K, Dhama K, Shabbir MZ, Ganesh B et al (2014) Epidemiology, phylogeny, and evolution of emerging enteric Picobirnaviruses of animal origin and their relationship to human strains. BioMed Res Int 2014:780752. doi:10.1155/2014/780752

2.

Pereira HG, Fialho AM, Flewett TH, Teixeira JM, Andrade ZP (1988) Novel viruses in human faeces. Lancet 2(8602):103–104

3.

Ganesh B, Masachessi G, Mladenova Z (2014) Animal picobirnavirus. Virus Dis 25(2):223–238. doi:10.1007/s13337-014-0207-y

4.

Matthijnssens J, Heylen E, Zeller M, Rahman M, Lemey P, Van Ranst M (2010) Phylodynamic analyses of rotavirus genotypes G9 and G12 underscore their potential for swift global spread. Mol Biol Evol 27(10):2431–2436. doi:10.1093/molbev/msq137

5.

Novel Swine-Origin Influenza AVIT, Dawood FS, Jain S, Finelli L, Shaw MW, Lindstrom S et al (2009) Emergence of a novel swine-origin influenza A (H1N1) virus in humans. N Engl J Med 360(25):2605–2615. doi:10.1056/NEJMoa0903810

6.

Banyai K, Martella V, Bogdan A, Forgach P, Jakab F, Meleg E et al (2008) Genogroup I picobirnaviruses in pigs: evidence for genetic diversity and relatedness to human strains. J Gen Virol 89(Pt 2):534–539. doi:10.1099/vir.0.83134-0

7.

Álvares F (2004) Status and conservation of the Iberian wolf in Portugal. Wolf Print 20:4–6

8.

Godinho R, Lopez-Bao JV, Castro D, Llaneza L, Lopes S, Silva P et al (2015) Real-time assessment of hybridization between wolves and dogs: combining noninvasive samples with ancestry informative markers. Mol Ecol Resour 15(2):317–328. doi:10.1111/1755-0998.12313

9.

Conceição-Neto N, Zeller M, Lefrere H, De Bruyn P, Beller L, Deboutte W et al (2015) Modular approach to customise sample preparation procedures for viral metagenomics: a reproducible protocol for virome analysis. Sci Rep 5:16532. doi:10.1038/srep16532

10.

Martella V, Elia G, Buonavoglia C (2008) Canine distemper virus. The Veterinary clinics of North America Small animal practice 38(4):787–797, vii–viii. doi:10.1016/j.cvsm.2008.02.007

11.

Mech LD, Boitani L (2003) Wolves: behavior, ecology, and conservation. University of Chicago Press, Chicago

12.

Tamura K, Stecher G, Peterson D, Filipski A, Kumar S (2013) MEGA6: molecular evolutionary genetics analysis version 6.0. Mol Biol Evol 30(12):2725–2729. doi:10.1093/molbev/mst197
Acknowledgments
We thank the ACHLI (Association for the Conservation of the Iberian Wolf Habitat) for funding wolf sampling, D. Castro (CTM/CIBIO) for genetic analysis of wolf scats, and D. Cadete, J. Bernardo and S. Pinto for conducting the scat survey. NCN was supported by the Institute for the Promotion of Innovation through Science and Technology in Flanders (IWT Vlaanderen). KCY was supported by the Interfaculty Council for Development Cooperation (IRO) from the KU Leuven. SR and RG were supported by 'Fundacão para a Ciência e a Tecnologia (FCT, Portugal) (SFRH/BD/12291/2003 and IF/00564/2012, respectively).
Ethics declarations
Conflict of interest
The authors declare no conflict of interest.
Ethical approval
Wolf monitoring and sampling was approved by the "National Authority for Nature Conservation (ICNF)" in Portugal.
Additional information
N. Conceição-Neto and J. R. Mesquita contributed equally to this work.
About this article
Cite this article
Conceição-Neto, N., Mesquita, J.R., Zeller, M. et al. Reassortment among picobirnaviruses found in wolves. Arch Virol 161, 2859–2862 (2016). https://doi.org/10.1007/s00705-016-2987-4
Received:

Accepted:

Published:

Issue Date:
Keywords
Enteric Pathogen

Canine Distemper Virus

Capsid Gene

Reassortment Event

Acute Watery Diarrhea