Abstract
Drug resistance mutations in the Pol gene of human immunodeficiency virus 1 (HIV-1) are one of the critical factors associated with antiretroviral therapy (ART) failure in HIV-1 patients. The issue of resistance to reverse transcriptase inhibitors (RTIs) in HIV infection has not been adequately addressed in the Indian subcontinent. We compared HIV-1 reverse transcriptase (RT) gene sequences to identify mutations present in HIV-1 patients who were ART non-responders, ART responders and drug naive. Genotypic drug resistance testing was performed by sequencing a 655-bp region of the RT gene from 102 HIV-1 patients, consisting of 30 ART-non-responding, 35 ART-responding and 37 drug-naive patients. The Stanford HIV Resistance Database (HIVDBv 6.2), IAS-USA mutation list, ANRS_09/2012 algorithm, and Rega v8.02 algorithm were used to interpret the pattern of drug resistance. The majority of the sequences (96 %) belonged to subtype C, and a few of them (3.9 %) to subtype A1. The frequency of drug resistance mutations observed in ART-non-responding, ART-responding and drug-naive patients was 40.1 %, 10.7 % and 20.58 %, respectively. It was observed that in non-responders, multiple mutations were present in the same patient, while in responders, a single mutation was found. Some of the drug-naive patients had more than one mutation. Thymidine analogue mutations (TAMs), however, were found in non-responders and naive patients but not in responders. Although drug resistance mutations were widely distributed among ART non-responders, the presence of resistance mutations in the viruses of drug-naive patients poses a big concern in the absence of a genotyping resistance test.
Access options
Buy single article
Instant access to the full article PDF.
US$ 39.95
Tax calculation will be finalised during checkout.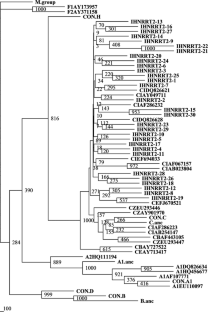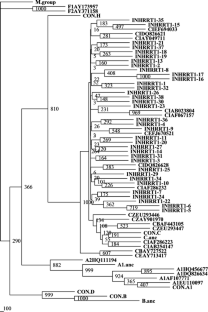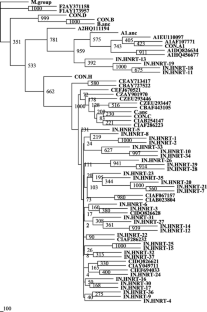 References
1.

World Health Organization (WHO)– HIV/AIDS Fact Sheet, Updated November (2014). http://www.who.int/mediacentre/factsheets/fs360/en/

2.

National AIDS Control Organisation (NACO), Ministry of health and Family Welfare (2014) Annual report. http://www.naco.gov.in/upload/2014%20mslns/NACO_English%202013-14.pdf

3.

Sinha S, Ahmad H, Shekhar RC, Kumar N, Dar L, Samantaray JC, Sharma SK, Bhargava A, Pandey RM, Mitsuyasu RL, Fahey JL (2012) Prevalence of HIV drug resistance mutations in HIV type 1 isolates in antiretroviral therapy naïve population from northern India. AIDS Res Treat. doi:10.1155/2012/905823

4.

Mocroft A, Vella S, Benfield TL, Chiesi A, Miller V, Gargalianos P, d'Arminio Monforte A, Yust I, Bruun JN, Phillips AN, Lundgren JD (1998) Changing patterns of mortality across Europe in patients infected with HIV-1. EuroSIDA Study Group. Lancet 352:1725–1730. doi:10.1016/S0140-6736(98)03201-2

5.

Law MG, Li Y, McDonald AM, Cooper DA, Kaldor JM (2000) Estimating the population impact in Australia of improved antiretroviral treatment for HIV infection. AIDS 14:197–201

6.

Markowitz M (2000) Resistance, fitness, adherence and potency: mapping the paths to virologic failure. JAMA 283:250–251. doi:10.1001/jama.283.2.250

7.

Bennett DE, Camacho RJ, Otelea D, Kuritzkes DR, Fleury H, Kiuchi M, Heneine W, Kantor R, Jordan MR, Schapiro JM, Vandamme AM, Sandstrom P, Boucher CA, van de Vijver D, Rhee SY, Liu TF, Pillay D, Shafer RW (2009) Drug resistance mutations for surveillance of transmitted HIV-1 drug-resistance: 2009 update. PLoS One 4:1–8. doi:10.1371/journal.pone.0090710

8.

Richman DD, Morton SC, Wrin T, Hellmann N, Berry S, Shapiro MF, Bozzette SA (2004) The prevalence of antiretroviral drug resistance in the United States. AIDS 18:1393–1401. doi:10.1097/01.aids.0000131310.52526.c7

9.

Little SJ, Holte S, Routy JP, Daar ES, Markowitz M, Collier AC, Koup RA, Mellors JW, Connick E, Conway B, Kilby M, Wang L, Whitcomb JM, Hellmann NS, Richman DD (2002) Antiretroviral-drug resistance among patients recently infected with HIV. N Engl J Med 347:385–394. doi:10.1056/NEJMoa013552

10.

Girardi E (2003) Epidemiology aspects of transmitted HIV drug resistance. Scand J Dis Suppl 106:17–20

11.

Kantor R, Katzenstein DA, Efron B, Carvalho AP, Wynhoven B, Cane P, Clarke J, Sirivichayakul S, Soares MA, Snoeck J, Pillay C, Rudich H, Rodrigues R, Holguin A, Ariyoshi K, Bouzas MB, Cahn P, Sugiura W, Soriano V, Brigido LF, Grossman Z, Morris L, Vandamme AM, Tanuri A, Phanuphak P, Weber JN, Pillay D, Harrigan PR, Camacho R, Schapiro JM, Shafer RW (2005) Impact of HIV-1 subtype and antiretroviral therapy on protease and reverse transcriptase genotype: results of a global collaboration. PLoS Med 2:325–337. doi:10.1371/journal.pmed.0020112

12.

Kandathil AJ, Kannangai R, Varghese R, Pulimood SA, Rupali A, Sridharan G, Grant P, Pillay D, Abraham OC (2009) Drug resistant mutations detected by genotypic drug resistance testing in patients failing therapy in clade C HIV-1 infected individuals from India. Indian J Med Microbiol 27:231–236. doi:10.4103/0255-0857.53205

13.

Saini S, Bhalla P, Gautam H, Baveja UK, Pasha ST, Dewan R (2012) Resistance-associated mutations in HIV-1 among patients failing first-line antiretroviral therapy. J Int Assoc Physicians AIDS Care (Chic) 11:203–209. doi:10.1177/1545109711421217

14.

Lall M, Gupta RM, Sen S, Kapila K, Tripathy SP, Paranjape RS (2008) Profile of primary resistance in HIV-1-infected treatment-naive individuals from Western India. AIDS Res Hum Retroviruses 24:987–990. doi:10.1089/aid.2008.0079

15.

World Health Organization (2010) Antiretroviral therapy for HIV infection in adults and adolescents, recommendations for a public health approach. 2010 revision. http://apps.who.int/iris/bitstream/10665/44379/1/9789241599764_eng.pdf

16.

National AIDS Control Organisation (NACO), Ministry of health and Family Welfare (2008) National guidelines on second line ART for adults and adolescents

17.

Stanford Drug Resistance Database. http://hivdb.stanford.edu

18.

REGA algorithm version 8.02. http://www.kuleuven.ac.be/rega/cev/links or http://www.rega.kuleuven.be/cev/

19.

Johnson VA, Calvez V, Gunthard HF, Paredes R, Pillay D, Shafer RW, Wensing AM, Richman DD (2013) Update of the drug resistance mutations in HIV-1. Top Antivir Med 21:6–14

20.

French ANRS (National Agency for AIDS Research) AC11 resistance group (2012) HIV-1 genotypic drug resistance interpretations algorithms. http://www.hivfrenchresistance.org/hivfrenchres.pdf. Accessed September, 2012

21.

REGA HIV-1 subtyping tool-version 2.0. http://dbpartners.stanford.edu/RegaSubtyping. Accessed 20 Aug 2012

22.

Felsenstein J (1993) PHYLIP package (v3.69). http://evolution.genetics.washington.edu/phylip/getme.html. Accessed 07 July 2012

23.

Lima VD, Gill VS, Yip B, Hogg RS, Montaner JS, Harrigan PR (2008) Increased resilience to the development of drug resistance with modern boosted protease inhibitor-based highly active antiretroviral therapy. J Infect Dis 198:51–58. doi:10.1086/588675

24.

Danel C, Moh R, Chaix ML, Gabillard D, Gnokoro J, Diby CJ, Toni T, Dohoun L, Rouzioux C, Bissagnene E, Salamon R, Anglaret X (2009) Two-months-off, four-months-on antiretroviral regimen increases the risk of resistance, compared with continuous therapy: a randomized trial involving West African adults. J Infect Dis 199:66–76. doi:10.1086/595298

25.

Elmi Abar A, Jlizi A, Darar HY, Kacem MA, Slim A (2012) HIV-1 drug resistance genotyping from antiretroviral therapy (ART) naive and first-line treatment failures in Djiboutian patients. Diagn Pathol 7:138. doi:10.1186/1746-1596-7-138

26.

Sen S, Tripathy SP, Patil AA, Chimanpure VM, Paranjape RS (2007) High prevalence of human immunodeficiency virus type 1 drug resistance mutations in antiretroviral treatment-experienced patients from Pune, India. AIDS Res Hum Retroviruses 23:1303–1308. doi:10.1089/aid.2007.0090

27.

Descamps D, Flandre P, Calvez V, Peytavin G, Meiffredy V, Collin G, Delaugerre C, Robert-Delmas S, Bazin B, Aboulker JP, Pialoux G, Raffi F, Brun-Vézinet F (2000) Mechanisms of virologic failure in previously untreated HIV-infected patients from a trial of induction-maintenance therapy. Trilege (Agence Nationale de Recherches sur le SIDA 072) Study Team. JAMA 283:205–211. doi:10.1001/jama.283.2.205

28.

Havlir DV, Hellmann NS, Petropoulos CJ, Whitcomb JM, Collier AC, Hirsch MS, Tebas P, Sommadossi JP, Richman DD (2000) Drug susceptibility in HIV infection after viral rebound in patients receiving indinavir-containing regimens. JAMA 283:229–234. doi:10.1001/jama.283.2.229

29.

Ji J, Loeb LA (1994) Fidelity of HIV-1 reverse transcriptase copying a hypervariable region of the HIV-1 env gene. Virology 199:323-330. Fidelity of HIV-1 reverse transcriptase copying a hypervariable region of the HIV-1 env gene. Virology 199:323–330. doi:10.1006/viro.1994.1130

30.

Keulen W, Back NK, van Wijk A, Boucher CA, Berkhout B (1997) Initial appearance of the 184Ile variant in lamivudine-treated patients is caused by the mutational bias of human immunodeficiency virus type 1 reverse transcriptase. J Virol 71:3346–3350

31.

Deshpande A, Recordon-Pinson P, Deshmukh R, Faure M, Jauvin V, Garrigue I, Lafon ME, Fleury HJ (2004) Molecular characterization of HIV type 1 isolates from untreated patients of Mumbai (Bombay), India, and detection of rare resistance mutations. AIDS Res Hum Retroviruses 20:1032–1035. doi:10.1089/aid.2004.20.1032

32.

Azam M, Malik A, Rizvi M, Rai A (2014) Trends of drug-resistance-associated mutations in the reverse transcriptase gene of HIV type 1 isolates from North India. Arch Virol 159:719–725. doi:10.1007/s00705-013-1889-y

33.

Vidya M, Saravanan S, Uma S, Kumarasamy N, Sunil SS, Kantor R, Katzenstein D, Ramratnam B, Mayer HK, Suniti S, Balakrishnan P (2009) Genotypic HIV type-1 drug resistance among patients with immunological failure to first-line antiretroviral therapy in south India. Antivir Ther 14:1005–1009. doi:10.3851/IMP1411

34.

Cozzi-Lepri A, Ruiz L, Loveday C, Phillips AN, Clotet B, Reiss P, Ledergerber B, Holkmann C, Staszewski S, Lundgren JD (2005) Thymidine analogue mutation profiles: factors associated with acquiring specific profiles and their impact on the virological response to therapy. Antivir Ther 10:791–802

35.

De Luca A, Giambenedetto SD, Trotta MP, Colafigli M, Prosperi M, Ruiz L, Baxter J, Clevenbergh P, Cauda R, Perno CF, Antinori A (2007) Improved interpretation of genotypic changes in the HIV-1 reverse transcriptase coding region that determine the virological response to didanosine. J Infect Dis 196:1645–1653. doi:10.1086/522231

36.

Vallabhaneni S, Chandy S, Heylen E, Ekstrand ML (2013) Evaluation of WHO immunologic criteria for treatment failure: implications for detection of virologic failure, evolution of drug resistance and choice of second-line therapy in India. J Int AIDS Soc. doi:10.7448/IAS.16.1.18449

37.

Kandathil AJ, Kannangai R, Abraham OC, Rupali P, Pulimood SA, Verghese VP, Grant P, Pillay D, Sridharan G (2009) The frequency of HIV-I drug resistance mutations among treatment-naive individuals at a tertiary care centre in south India. Int J STD AIDS 20:522–526. doi:10.1258/ijsa.2008.008403

38.

Arora SK, Gupta S, Toor JS, Singla A (2008) Drug resistance-associated genotypic alterations in the pol gene of HIV type 1 isolates in ART-naive individuals in North India. AIDS Res Hum Retroviruses 24:125–130. doi:10.1089/aid.2007.0156

39.

Shulman NS, Machekano RA, Shafer RW, Winters MA, Zolopa AR, Liou SH, Hughes M, Katzenstein DA (2001) Genotypic correlates of a virologic response to stavudine after zidovudine monotherapy. J Acquir Immune Defic Syndr 27:377–380

40.

Coakley E, Gillis J, Hammer S (2000) Phenotypic and genotypic resistance patterns of HIV-1 isolates derived from individuals treated with didanosine and stavudine. AIDS 14:9–16

41.

Van Vaerenbergh K, Van Laethem K, Albert J, Boucher CA, Clotet B, Floridia M, Gerstoft J, Hejdeman B, Nielsen C, Pannecouque C, Perrin L, Pirillo MF, Ruiz L, Schmit JC, Schneider F, Schoolmeester A, Schuurman R, Stellbrink HJ, Stuyver L, Van Lunzen J, Van Remoortel B, Van Wijngaerden E, Vella S, Witvrouw M, Yerly S, De Clercq E, Destmyer J, Vandamme AM (2000) Prevalence and characteristics of multinucleoside-resistant HIV-1 among European patients receiving combinations of nucleoside analogues. Antimicrob Agents Chemother 44:2109–2117. doi:10.1128/AAC.44.8.2109-2117.2000

42.

Deshpande A, Jauvin V, Magnin N, Pinson P, Faure M, Masquelier B, Aurillac-Lavignolle V, Fleury HJ (2007) Resistance mutations in subtype C HIV type 1 isolates from Indian patients of Mumbai receiving NRTIs plus NNRTIs and experiencing a treatment failure: resistance to AR. AIDS Res Hum Retroviruses 23:335–340. doi:10.1089/aid.2006.0183

43.

Hanna GJ, Johnson VA, Kuritzkes DR, Richman DD, Brown AJ, Savara AV, Hazelwood JD, D'Aquila RT (2000) Patterns of resistance mutations selected by treatment of human immunodeficiency virus type 1 infection with zidovudine, didanosine, and nevirapine. J. Infect. Dis 181:904–911. doi:10.1086/315329

44.

Maiga A, Descamps D, Morand-Joubert L, Malet I, Derache A, Cisse M, Koita V, Akonde A, Diarra B, Wirden M, Tounkara A, Verlinden Y, Katlama C, Costagliola D, Masquelier B, Calvez V, Marcelin AG (2010) Resistance-associated mutations to etravirine (TMC-125) in antiretroviral-naive patients infected with non-B HIV-1 subtypes. Antimicrob Agents Chemother 54:728–733. doi:10.1128/AAC.01335-09

45.

Gallego O, Briones C, Corral A, Soriano V (2000) Prevalence of novel lamivudine-resistant genotypes (E44D/A, V118I) in naive and pre-treated HIV-infected individuals. J Acquir Immune Defic Syndr 25:95–96

46.

Hertogs K, Bloor S, De Vroey V, van Den Eynde C, Dehertogh P, van Cauwenberge A, Sturmer M, Alcorn T, Wegner S, van Houtte M, Miller V, Larder BA (2000) A novel HIV-1 RT mutational pattern confers phenotypic lamivudine resistance in the absence of mutation M184V. Antimicrob Agents Chemother 44:568–573. doi:10.1128/AAC.44.3.568-573.2000

47.

Chaturbhuj DN, Hingankar NK, Srikantiah P, Garg R, Kabra S, Deshmukh PS, Jadhav SD, Thorat SR, Datkar SR, Mehta P, Ingole N, Mathur M, Ramachandran A, Haldar P, Reddy DC, Bachani D, Rao S, Tripathy SP, Paranjape RS (2010) Transmitted HIV drug resistance among HIV-infected voluntary counseling and testing centers (VCTC) clients in Mumbai, India. AIDS Res Hum Retroviruses 26:927–932. doi:10.1089/aid.2010.0032

48.

Downing R, Pieniazek D, Hu DJ, Biryahwaho B, Fridlund C, Rayfield MA, Sempala SD, Lal RB (2000) Genetic characterization and phylogenetic analysis of HIV-1 subtype C from Uganda. AIDS Res Hum Retroviruses 16:815–819. doi:10.1089/088922200308819

49.

Kumar M, Jain SK, Pasha ST, Chattopadhya D, Lal S, Rai A (2006) Genomic diversity in the regulatory nef gene sequences in Indian isolates of HIV type 1: emergence of a distinct subclade and predicted implications. AIDS Res Hum Retroviruses 22:1206–1219. doi:10.1089/aid.2006.22.1206
Acknowledgments
We sincerely thank the Council of Scientific and Industrial Research (CSIR), New Delhi, Government of India, for providing financial support to conduct this study (vide grant number 27(0236)/10/EMR-II).
Ethics declarations
Conflict of interest
The authors declare that they have no conflict of interest.
About this article
Cite this article
Misbah, M., Roy, G., Shahid, M. et al. Comparative analysis of drug resistance mutations in the human immunodeficiency virus reverse transcriptase gene in patients who are non-responsive, responsive and naive to antiretroviral therapy. Arch Virol 161, 1101–1113 (2016). https://doi.org/10.1007/s00705-016-2760-8
Received:

Accepted:

Published:

Issue Date:
Keywords
Human Immunodeficiency Virus

Drug Resistance Mutation

Responsive Patient

Nonresponsive Patient

Reverse Transcriptase Gene