Abstract
Rotavirus vaccines work better in developed countries than in developing countries, leading to the question of whether the circulating strains are different in these two settings. In 2008, a clinical trial of the pentavalent rotavirus vaccine was performed in Nha Trang, Vietnam, in which the efficacy was reported to be 64 %. Although samples were collected independently from the clinical trial, we examined faecal specimens from children hospitalised for rotavirus diarrhoea and found that G3P[8] and G1P[8] were co-dominant at the time of the clinical trial. The aim of this study was to explore whether they were divergent from the strains circulating in the developed countries where the vaccine efficacy is high. Two G3P[8] and two G1P[8] strains that were regarded as representatives based on their electropherotypes were selected for full-genome sequencing. The genotype constellation was G1/G3-P[8]-I1-R1-C1-M1-A1-N1-T1-E1-H1. All but the VP4 genes, one of which belonged to the emerging P[8]b genotype (OP354-like VP4), clustered into one or more lineages/alleles with the strains circulating in developed countries, with ≥97.5 % nucleotide sequence identity. Additionally, 10 G1 and 12 G3 VP7 sequences as well as 31 VP4 sequences were determined. No amino acid differences were observed between the Vietnamese strains and strains in the developed countries that were likely to have affected the neutralisation specificity of their VP7 and VP4. In conclusion, apart from prevalent P[8]b VP4, virtually no differences were observed between the predominant strains circulating in Vietnam at the time of the clinical trial and the strains in the developed countries; hence, the lower vaccine efficacy was more likely to be due to factors other than strain divergence.
This is a preview of subscription content, log in to check access.
Access options
Buy single article
Instant access to the full article PDF.
US$ 39.95
Price includes VAT for USA
Subscribe to journal
Immediate online access to all issues from 2019. Subscription will auto renew annually.
US$ 199
This is the net price. Taxes to be calculated in checkout.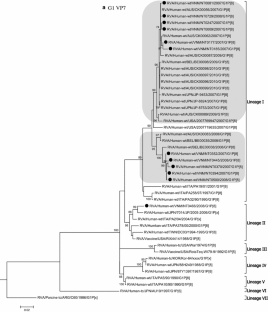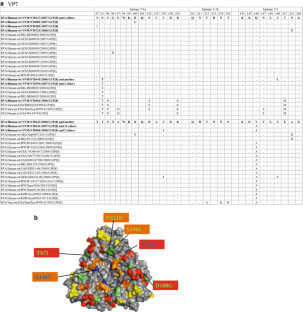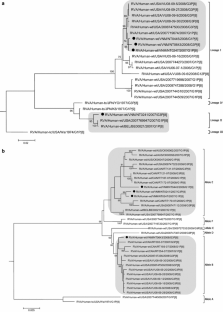 References
1.

Ahmed K, Anh DD, Nakagomi O (2007) Rotavirus G5P[6] in child with diarrhea, Vietnam. Emerg Infect Dis 13:1232–1235

2.

Aoki ST, Settembre EC, Trask SD, Greenberg HB, Harrison SC, Dormitzer PR (2009) Structure of rotavirus outer-layer protein VP7 bound with a neutralizing Fab. Science 324:1444–1447

3.

Arista S, Giammanco GM, De Grazia S, Ramirez S, Lo Biundo C, Colomba C, Cascio A, Martella V (2006) Heterogeneity and temporal dynamics of evolution of G1 human rotaviruses in a settled population. J Virol 80:10724–10733

4.

Armah GE, Sow SO, Breiman RF, Dallas MJ, Tapia MD, Feikin DR, Binka FN, Steele AD, Laserson KF, Ansah NA, Levine MM, Lewis K, Coia ML, Attah-Poku M, Ojwando J, Rivers SB, Victor JC, Nyambane G, Hodgson A, Schodel F, Ciarlet M, Neuzil KM (2010) Efficacy of pentavalent rotavirus vaccine against severe rotavirus gastroenteritis in infants in developing countries in sub-Saharan Africa: a randomised, double-blind, placebo-controlled trial. Lancet 376:606–614

5.

Babji S, Kang G (2012) Rotavirus vaccination in developing countries. Curr Opin Virol 2:443–448

6.

Banyai K, Laszlo B, Duque J, Steele AD, Nelson EA, Gentsch JR, Parashar UD (2012) Systematic review of regional and temporal trends in global rotavirus strain diversity in the pre rotavirus vaccine era: insights for understanding the impact of rotavirus vaccination programs. Vaccine 30(Suppl 1):A122–A130

7.

Bar-Zeev N, Kapanda L, Tate JE, Jere KC, Iturriza-Gomara M, Nakagomi O, Mwansambo C, Costello A, Parashar UD, Heyderman RS, French N, Cunliffe NA (2015) Effectiveness of a monovalent rotavirus vaccine in infants in Malawi after programmatic roll-out: an observational and case-control study. Lancet Infect Dis 15:422–428

8.

Braeckman T, Van Herck K, Meyer N, Pircon JY, Soriano-Gabarro M, Heylen E, Zeller M, Azou M, Capiau H, De Koster J, Maernoudt AS, Raes M, Verdonck L, Verghote M, Vergison A, Matthijnssens J, Van Ranst M, Van Damme P (2012) Effectiveness of rotavirus vaccination in prevention of hospital admissions for rotavirus gastroenteritis among young children in Belgium: case-control study. Brit Med J 345:e4752

9.

Clarke E, Desselberger U (2015) Correlates of protection against human rotavirus disease and the factors influencing protection in low-income settings. Mucosal Immunol 8:1–17

10.

Correia JB, Patel MM, Nakagomi O, Montenegro FM, Germano EM, Correia NB, Cuevas LE, Parashar UD, Cunliffe NA, Nakagomi T (2010) Effectiveness of monovalent rotavirus vaccine (Rotarix) against severe diarrhea caused by serotypically unrelated G2P[4] strains in Brazil. J Infect Dis 201:363–369

11.

Cunliffe NA, Gondwe JS, Graham SM, Thindwa BD, Dove W, Broadhead RL, Molyneux ME, Hart CA (2001) Rotavirus strain diversity in Blantyre, Malawi, from 1997 to 1999. J Clin Microbiol 39:836–843

12.

Do LP, Nakagomi T, Nakagomi O (2014) A rare G1P[6] super-short human rotavirus strain carrying an H2 genotype on the genetic background of a porcine rotavirus. Infect Genet Evol 21:334–350

13.

Dormitzer PR, Nason EB, Prasad BV, Harrison SC (2004) Structural rearrangements in the membrane penetration protein of a non-enveloped virus. Nature 430:1053–1058

14.

Dormitzer PR, Sun ZY, Wagner G, Harrison SC (2002) The rhesus rotavirus VP4 sialic acid binding domain has a galectin fold with a novel carbohydrate binding site. EMBO J 21:885–897

15.

Esparza-Aguilar M, Gastanaduy PA, Sanchez-Uribe E, Desai R, Parashar UD, Richardson V, Patel M (2014) Diarrhoea-related hospitalizations in children before and after implementation of monovalent rotavirus vaccination in Mexico. Bull World Health Organ 92:117–125

16.

Estes MK, Rotaviruses Greenberg HB (2013) In: Knipe DM, Howley PM et al (eds) Fields virology, 6th edn. Wolters Kluwer Health/Lippincott Williams & Wilkins, Philadelphia, PA, pp 1347–1401

17.

Field EJ, Vally H, Grimwood K, Lambert SB (2010) Pentavalent rotavirus vaccine and prevention of gastroenteritis hospitalizations in Australia. Pediatrics 126:e506–e512

18.

Gentsch JR, Glass RI, Woods P, Gouvea V, Gorziglia M, Flores J, Das BK, Bhan MK (1992) Identification of group A rotavirus gene 4 types by polymerase chain reaction. J Clin Microbiol 30:1365–1373

19.

Gentsch JR, Laird AR, Bielfelt B, Griffin DD, Banyai K, Ramachandran M, Jain V, Cunliffe NA, Nakagomi O, Kirkwood CD, Fischer TK, Parashar UD, Bresee JS, Jiang B, Glass RI (2005) Serotype diversity and reassortment between human and animal rotavirus strains: implications for rotavirus vaccine programs. J Infect Dis 192(Suppl 1):S146–S159

20.

Giambiagi S, Gonzalez Rodriguez I, Gomez J, Burrone O (1994) A rearranged genomic segment 11 is common to different human rotaviruses. Arch Virol 136:415–421

21.

Gouvea V, Glass RI, Woods P, Taniguchi K, Clark HF, Forrester B, Fang ZY (1990) Polymerase chain reaction amplification and typing of rotavirus nucleic acid from stool specimens. J Clin Microbiol 28:276–282

22.

Gunasena S, Nakagomi O, Isegawa Y, Kaga E, Nakagomi T, Steele AD, Flores J, Ueda S (1993) Relative frequency of VP4 gene alleles among human rotaviruses recovered over a 10-year period (1982-1991) from Japanese children with diarrhea. J Clin Microbiol 31:2195–2197

23.

Gurgel RQ, Alvarez Ade J, Rodrigues A, Ribeiro RR, Dolabella SS, Da Mota NL, Santos VS, Iturriza-Gomara M, Cunliffe NA, Cuevas LE (2014) Incidence of rotavirus and circulating genotypes in Northeast Brazil during 7 years of national rotavirus vaccination. PLoS One 9:e110217

24.

Isegawa Y, Nakagomi O, Nakagomi T, Ueda S (1992) A VP4 sequence highly conserved in human rotavirus strain AU-1 and feline rotavirus strain FRV-1. J Gen Virol 73(Pt 8):1939–1946

25.

Iwata S, Nakata S, Ukae S, Koizumi Y, Morita Y, Kuroki H, Tanaka Y, Shizuya T, Schodel F, Brown ML, Lawrence J (2013) Efficacy and safety of pentavalent rotavirus vaccine in Japan: a randomized, double-blind, placebo-controlled, multicenter trial. Hum Vaccin Immunother 9:1626–1633

26.

Le VP, Chung YC, Kim K, Chung SI, Lim I, Kim W (2010) Genetic variation of prevalent G1P[8] human rotaviruses in South Korea. J Med Virol 82:886–896

27.

Madhi SA, Cunliffe NA, Steele D, Witte D, Kirsten M, Louw C, Ngwira B, Victor JC, Gillard PH, Cheuvart BB, Han HH, Neuzil KM (2010) Effect of human rotavirus vaccine on severe diarrhea in African infants. N Engl J Med 362:289–298

28.

Matthijnssens J, Ciarlet M, Heiman E, Arijs I, Delbeke T, McDonald SM, Palombo EA, Iturriza-Gomara M, Maes P, Patton JT, Rahman M, Van Ranst M (2008) Full genome-based classification of rotaviruses reveals a common origin between human Wa-Like and porcine rotavirus strains and human DS-1-like and bovine rotavirus strains. J Virol 82:3204–3219

29.

Matthijnssens J, Ciarlet M, McDonald SM, Attoui H, Banyai K, Brister JR, Buesa J, Esona MD, Estes MK, Gentsch JR, Iturriza-Gomara M, Johne R, Kirkwood CD, Martella V, Mertens PP, Nakagomi O, Parreno V, Rahman M, Ruggeri FM, Saif LJ, Santos N, Steyer A, Taniguchi K, Patton JT, Desselberger U, Van Ranst M (2011) Uniformity of rotavirus strain nomenclature proposed by the Rotavirus Classification Working Group (RCWG). Arch Virol 156:1397–1413

30.

McDonald SM, McKell AO, Rippinger CM, McAllen JK, Akopov A, Kirkness EF, Payne DC, Edwards KM, Chappell JD, Patton JT (2012) Diversity and relationships of cocirculating modern human rotaviruses revealed using large-scale comparative genomics. J Virol 86:9148–9162

31.

My PV, Rabaa MA, Donato C, Cowley D, Phat VV, Dung TT, Anh PH, Vinh H, Bryant JE, Kellam P, Thwaites G, Woolhouse ME, Kirkwood CD, Baker S (2014) Novel porcine-like human G26P[19] rotavirus identified in hospitalized paediatric diarrhoea patients in Ho Chi Minh City. Vietnam. J Gen Virol 95:2727–2733

32.

Nagashima S, Kobayashi N, Paul SK, Alam MM, Chawla-Sarkar M, Krishnan T (2009) Characterization of full-length VP4 genes of OP354-like P[8] human rotavirus strains detected in Bangladesh representing a novel P[8] subtype. Arch Virol 154:1223–1231

33.

Nakagomi T, Cuevas LE, Gurgel RG, Elrokhsi SH, Belkhir YA, Abugalia M, Dove W, Montenegro FM, Correia JB, Nakagomi O, Cunliffe NA, Hart CA (2008) Apparent extinction of non-G2 rotavirus strains from circulation in Recife, Brazil, after the introduction of rotavirus vaccine. Arch Virol 153:591–593

34.

Nakagomi T, Nakagomi O, Dove W, Doan YH, Witte D, Ngwira B, Todd S, Duncan Steele A, Neuzil KM, Cunliffe NA (2012) Molecular characterization of rotavirus strains detected during a clinical trial of a human rotavirus vaccine in Blantyre. Malawi. Vaccine 30(Suppl 1):A140–A151

35.

Nei M, Kumar S (2000) Molecular evolution and phylogenetics. Oxford University Press, Oxford, New York

36.

Nguyen TA, Hoang LP, Pham LD, Hoang KT, Okitsu S, Mizuguchi M, Ushijima H (2008) Use of sequence analysis of the VP4 gene to classify recent Vietnamese rotavirus isolates. Clin Microbiol Infect 14:235–241

37.

Pietsch C, Schuster V, Liebert UG (2011) A hospital based study on inter- and intragenotypic diversity of human rotavirus A VP4 and VP7 gene segments, Germany. J Clin Virol 50:136–141

38.

Richardson V, Parashar U, Patel M (2011) Childhood diarrhea deaths after rotavirus vaccination in Mexico. N Engl J Med 365:772–773

39.

Roy S, Esona MD, Kirkness EF, Akopov A, Kyle McAllen J, Wikswo ME, Cortese MM, Payne DC, Parashar UD, Gentsch JR, Bowen MD (2014) Comparative genomic analysis of genogroup 1 (Wa-like) rotaviruses circulating in the USA, 2006-2009. Infect Genet Evol 28:513–523

40.

Santos N, Hoshino Y (2005) Global distribution of rotavirus serotypes/genotypes and its implication for the development and implementation of an effective rotavirus vaccine. Rev Med Virol 15:29–56

41.

Suzuki Y, Glazko GV, Nei M (2002) Overcredibility of molecular phylogenies obtained by Bayesian phylogenetics. Proc Natl Acad Sci USA 99:16138–16143

42.

Tamura K, Stecher G, Peterson D, Filipski A, Kumar S (2013) MEGA6: molecular evolutionary genetics analysis version 6.0. Mol Biol Evol 30:2725–2729

43.

Tamura T, Nishikawa M, Anh DD, Suzuki H (2010) Molecular epidemiological study of rotavirus and norovirus infections among children with acute gastroenteritis in Nha Trang, Vietnam, December 2005-June 2006. Jpn J Infect Dis 63:405–411

44.

Tate JE, Burton AH, Boschi-Pinto C, Steele AD, Duque J, Parashar UD (2011) 2008 estimate of worldwide rotavirus-associated mortality in children younger than 5 years before the introduction of universal rotavirus vaccination programmes: a systematic review and meta-analysis. Lancet Infect Dis 12:136–141

45.

Velasquez DE, Parashar UD, Jiang B (2014) Strain diversity plays no major role in the varying efficacy of rotavirus vaccines: an overview. Infect Genet Evol 28:561–571

46.

Vesikari T, Karvonen A, Prymula R, Schuster V, Tejedor JC, Cohen R, Meurice F, Han HH, Damaso S, Bouckenooghe A (2007) Efficacy of human rotavirus vaccine against rotavirus gastroenteritis during the first 2 years of life in European infants: randomised, double-blind controlled study. Lancet 370:1757–1763

47.

Vesikari T, Matson DO, Dennehy P, Van Damme P, Santosham M, Rodriguez Z, Dallas MJ, Heyse JF, Goveia MG, Black SB, Shinefield HR, Christie CD, Ylitalo S, Itzler RF, Coia ML, Onorato MT, Adeyi BA, Marshall GS, Gothefors L, Campens D, Karvonen A, Watt JP, O'Brien KL, DiNubile MJ, Clark HF, Boslego JW, Offit PA, Heaton PM (2006) Safety and efficacy of a pentavalent human-bovine (WC3) reassortant rotavirus vaccine. N Engl J Med 354:23–33

48.

Wang YH, Pang BB, Ghosh S, Zhou X, Shintani T, Urushibara N, Song YW, He MY, Liu MQ, Tang WF, Peng JS, Hu Q, Zhou DJ, Kobayashi N (2014) Molecular epidemiology and genetic evolution of the whole genome of G3P[8] human rotavirus in Wuhan, China, from 2000 through 2013. PLoS One 9:e88850

49.

Wang YH, Zhou X, Ghosh S, Zhou DJ, Pang BB, Peng JS, Hu Q, Kobayashi N (2011) Prevalence of human rotavirus genotypes in Wuhan, China, during 2008-2011: changing trend of predominant genotypes and emergence of strains with the P[8]b subtype of the VP4 gene. Arch Virol 156:2221–2231

50.

World Health Organisation (2013) Rotavirus vaccines. WHO position paper: January 2013. Wkly Epidemiol Rec 88:49–64

51.

Zaman K, Dang DA, Victor JC, Shin S, Yunus M, Dallas MJ, Podder G, Vu DT, Le TP, Luby SP, Le HT, Coia ML, Lewis K, Rivers SB, Sack DA, Schodel F, Steele AD, Neuzil KM, Ciarlet M (2010) Efficacy of pentavalent rotavirus vaccine against severe rotavirus gastroenteritis in infants in developing countries in Asia: a randomised, double-blind, placebo-controlled trial. Lancet 376:615–623

52.

Zeller M, Heylen E, Damanka S, Pietsch C, Donato C, Tamura T, Kulkarni R, Arora R, Cunliffe N, Maunula L, Potgieter C, Tamim S, Coster S, Zhirakovskaya E, Bdour S, O'Shea H, Kirkwood CD, Seheri M, Nyaga MM, Mphahlele J, Chitambar SD, Dagan R, Armah G, Tikunova N, Van Ranst M, Matthijnssens J (2015) Emerging OP354-like P[8] rotaviruses have rapidly dispersed from Asia to other continents. Mol Biol Evol 32:2060–2071

53.

Zeller M, Patton JT, Heylen E, De Coster S, Ciarlet M, Van Ranst M, Matthijnssens J (2012) Genetic analyses reveal differences in the VP7 and VP4 antigenic epitopes between human rotaviruses circulating in Belgium and rotaviruses in Rotarix and RotaTeq. J Clin Microbiol 50:966–976
Acknowledgments
This study was in part supported by Grants-in-aid for scientific research from the Ministry of Health, Labour and Welfare of Japan, as well as a Grant from Japan Initiative for Global Research Network on Infectious Diseases from Japan Agency for Medical Research and Development, AMED.
Ethics declarations
Conflict of interest
The authors have no conflicts of interest to declare regarding this study.
Electronic supplementary material
Below is the link to the electronic supplementary material.
About this article
Cite this article
Do, L.P., Doan, Y.H., Nakagomi, T. et al. Molecular characterisation of wild-type G1P[8] and G3P[8] rotaviruses isolated in Vietnam 2008 during a vaccine trial. Arch Virol 161, 833–850 (2016). https://doi.org/10.1007/s00705-015-2706-6
Received:

Accepted:

Published:

Issue Date:
Keywords
Identical Amino Acid Sequence

Predominant Strain

Rotarix

High Nucleotide Sequence Identity

Genotype Constellation