Abstract
The complete genome sequence of a new virus isolated from a bellflower (Campanula takesimana) plant was determined. The genome of this virus is composed of monopartite single-stranded RNA of 11,649 nucleotides in length. BLAST searches of protein databases showed that the encoded polyprotein has a maximum amino acid sequence identity of 42 % (with 99 % coverage) to the polyprotein of the isolate Orissa of rice tungro spherical virus (RTSV; genus Waikavirus). Phylogenetic analysis strongly supports that the identified virus is a member of a new species of the genus Waikavirus. The name bellflower vein chlorosis virus (BVCV) is proposed for this new virus.
Access options
Buy single article
Instant access to the full article PDF.
US$ 39.95
Tax calculation will be finalised during checkout.
Subscribe to journal
Immediate online access to all issues from 2019. Subscription will auto renew annually.
US$ 119
Tax calculation will be finalised during checkout.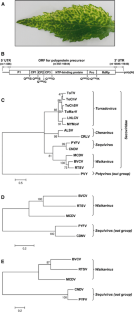 References
1.

Adams MJ, Lefkowitz EJ, King AM, Bamford DH, Breitbart M, Davison AJ, Ghabrial SA, Gorbalenya AE, Knowles NJ, Krell P, Lavigne R, Prangishvili D, Sanfacon H, Siddell SG, Simmonds P, Carstens EB (2015) Ratification vote on taxonomic proposals to the International Committee on Taxonomy of Viruses (2015). Arch Virol 160:1837–1850

2.

Lee YJ, Kwak HR, Lee YK, Kim MK, Choi HS, Seo JK (2015) Complete genome sequence of yacon necrotic mottle virus, a novel putative member of the genus Badnavirus. Arch Virol 160:1139–1142

3.

Reddick BB, Habera LF, Law MD (1997) Nucleotide sequence and taxonomy of maize chlorotic dwarf virus within the family Sequiviridae. J Gen Virol 78:1165–1174

4.

Sanfacon H, Wellink J, Le Gall O, Karasev A, van der Vlugt R, Wetzel T (2009) Secoviridae: a proposed family of plant viruses within the order Picornavirales that combines the families Sequiviridae and Comoviridae, the unassigned genera Cheravirus and Sadwavirus, and the proposed genus Torradovirus. Arch Virol 154:899–907

5.

Schelhorn SE, Fischer M, Tolosi L, Altmuller J, Nurnberg P, Pfister H, Lengauer T, Berthold F (2013) Sensitive detection of viral transcripts in human tumor transcriptomes. PLoS Comput Biol 9:e1003228

6.

Seo JK, Kang M, Kwak HR, Kim MK, Kim CS, Lee SH, Kim JS, Choi HS (2015) Complete genome sequence of motherwort yellow mottle virus, a novel putative member of the genus Torradovirus. Arch Virol 160:587–590

7.

Shen P, Kaniewska M, Smith C, Beachy RN (1993) Nucleotide sequence and genomic organization of rice tungro spherical virus. Virology 193:621–630

8.

Tamura K, Stecher G, Peterson D, Filipski A, Kumar S (2013) MEGA6: molecular evolutionary genetics analysis version 6.0. Mol Biol Evol 30:2725–2729

9.

Thole V, Hull R (1998) Rice tungro spherical virus polyprotein processing: identification of a virus-encoded protease and mutational analysis of putative cleavage sites. Virology 247:106–114

10.

Verma V, Dasgupta I (2007) Sequence analysis of the complete genomes of two Rice tungro spherical virus isolates from India. Arch Virol 152:645–648
Acknowledgments
This research was supported by a Grant from the Agenda Program (PJ011306), funded by the Rural Development Administration of Korea.
Additional information
J.-K. Seo and H.-R. Kwak contributed equally to this work.
About this article
Cite this article
Seo, JK., Kwak, HR., Lee, Yj. et al. Complete genome sequence of bellflower vein chlorosis virus, a novel putative member of the genus Waikavirus . Arch Virol 160, 3139–3142 (2015). https://doi.org/10.1007/s00705-015-2606-9
Received:

Accepted:

Published:

Issue Date:
Keywords
Cucumber Mosaic Virus

Amino Acid Sequence Identity

Rice Tungro Spherical Virus

Ground Cover Plant

Maize Chlorotic Dwarf Virus