Abstract
Chronic infection with hepatitis C virus (HCV) is caused by an inadequate immune response. Experimental data suggest that the impaired activation of Toll-like receptors (TLRs) 2 and 4 contributes to chronic infection. We assessed the distribution of three single-nucleotide polymorphisms (SNPs) in the TLR2 (Arg753Gln) and TLR4 (Asp299Gly/Thr399Ile) genes in individuals from north-east Croatia and their effect on the outcome of antiviral therapy. The study consisted of 60 chronically infected patients and 40 healthy subjects. TLR polymorphisms were determined by the PCR-based melting curve analysis. HCV genotyping was performed using the Linear Array Hepatitis C Virus Genotyping Test. Thirty-three patients were treated with standard interferon and ribavirin therapy, and their viral load was evaluated at weeks 28 and 53 after the beginning of therapy. The majority of chronic infections were caused by genotype 1 (77%), followed by genotypes 3 (15%) and 4 (7%). Patients with genotype 1 had higher viral loads than patients infected with other genotypes (P = 0.0428). Healthy individuals and patients with chronic infection had similar frequencies of TLR2-Arg753Gln and TLR4-Asp299Gly/Thr399Ile SNPs. Heterozygous and homozygous TLR4-Asp299Gly/Thr399Ile polymorphisms correlated with higher viral loads and delayed responses to antiviral therapy. We have provided the first evidence that TLR4 polymorphisms influence the success of antiviral therapy in our region. This suggests that therapeutic strategies should be adjusted not only according to HCV genotype but also to individual TLR polymorphism(s).
This is a preview of subscription content, log in to check access.
Access options
Buy single article
Instant access to the full article PDF.
US$ 39.95
Price includes VAT for USA
Subscribe to journal
Immediate online access to all issues from 2019. Subscription will auto renew annually.
US$ 199
This is the net price. Taxes to be calculated in checkout.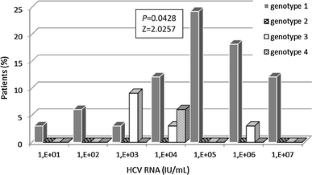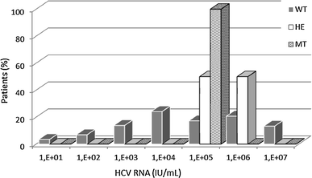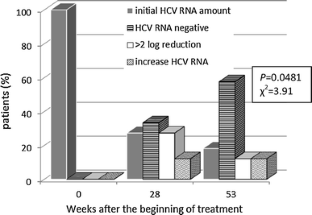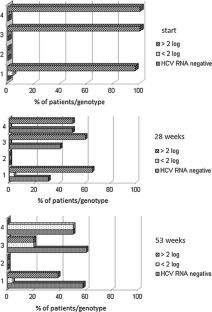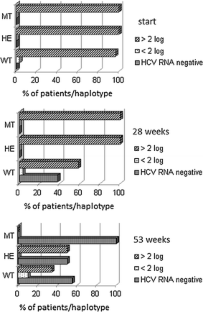 References
1.

Lang CA, Conrad S, Garrett L, Battistutta D, Cooksley WG, Dunne MP, Macdonald GA (2006) Symptom prevalence and clustering of symptoms in people living with chronic hepatitis C infection. J Pain Symptom Manage 31:335–344

2.

Hoofnagle JH (1997) Hepatitis C: the clinical spectrum of disease. Hepatology 26:15S–20S

3.

Rajendra A, Wong JB (2007) Economics of chronic hepatitis B and hepatitis C. J Hepatol 47:608–617

4.

Alter MJ (2007) Epidemiology of hepatitis C virus infection. World J Gastroenterol 13:2436–2441

5.

Chen SL, Morgan TR (2006) The Natural History of Hepatitis C Virus (HCV) Infection. Int J Med Sci 3:47–52

6.

Kosanović ML, Knežević J (2006) Epiemiological Characteristics of Individuals Tested for Hepatitis C at Zagreb Institute of Public Health [In Croatian]. HČJZ 2:1–3

7.

Vince A, Iščić-Beš J, Židovec Lepej S, Baća-Vrakela I, Bradarić N, Kurelac I, Vince DB (2006) Distribution of Hepatitis C Virus Genotypes in Croatia – A 10 Year Retrospective Study of Four Geographic Regions. Coll Antropol 30:139–143

8.

Chakravarti A, Dogra G, Verma V, Srivastava AP (2011) Distribution pattern of HCV genotypes & its association with viral load. Indian J Med Res 133:326–331

9.

Chevaliez S, Pawlotsky JM (2006) Hepatitis C Virus Serologic and Virologic Tests and Clinical Diagnosis of HCV-Related Liver Disease. Int J Med Sci 3:35–40

10.

Medzhitov R (2001) Toll-like receptors and innate immunity. Nat Rev Immunol 1:135–145

11.

Kawai T, Akira S (2006) TLR signaling. Cell Death and Differ 13:816–825

12.

Weltzler LM (2003) The role of Toll-like receptor 2 in microbial disease and immunity. Vaccine 21:S55–S60

13.

Kutukculer N, Yeniay BS, Aksu G, Berdeli A (2007) Arg753Gln polymorphism of the human toll-like receptor-2 gene in children with recurrent febrile infections. Biochem Genet 45:507–514

14.

Ogus AC, Yoldas B, Ozdemir T, Uguz A, Olcen S, Keser I, Coskun M, Cilli A, Yegin O (2004) The Arg753Gln polymorphism of the human toll-like receptor 2 gene in tuberculosis disease. Eur Respir J 23:219–223

15.

Lorenz E, Mira JP, Cornish KL, Arbour NC, Schwartz DA (2000) A Novel Polymorphism in the Toll-Like Receptor 2 Gene and Its Potential Association with Staphylococcal Infection. Infect Immunol. doi:10.1128/IAI.68.11.6398-6401.2000

16.

Schröder NW, Schumann RR (2005) Single nucleotide polymorphisms of Toll-like receptors and susceptibility to infectious disease. Lacent Infect Dis 5:156–164

17.

Kijpittayarit S, Eid AJ, Brown RA, Paya CV, Razonable RR (2007) Relationship between Toll-like Receptor 2 polymorphism and cytomegalovirus disease after liver transplantation. Clin Infect Dis 44:1315–1320

18.

Eid AJ, Brown RA, Paya CV, Razonable RR (2007) Association between toll-like receptor polymorphisms and the outcome of liver transplantation for chronic hepatitis C virus. Transplantation 84:511–516

19.

Lorenz E, Hallman M, Marttila R, Haataja R, Schwartz DA (2002) Association between the Asp299Gly polymorphisms in the Toll-like receptor 4 and premature births in the Finnish population. Pediatr Res 52:373–376

20.

Tal G, Mandelberg A, Dalal I, Cesar K, Somekh E, Tal A, Oron A, Itskovich S, Ballin A, Houri S et al (2004) Association between common Toll-like receptor 4 mutations and severe respiratory syncytial virus disease. J Infect Dis 189:2057–2063

21.

Badolato R, Fontana S, Barcella D, Moratto D, Dippolito C, Crovella S, Notarangelo LD, Duse M (2004) Toll-like receptor-4 genotype in children with respiratory infections. Allergy. doi:10.1111/j.1398-9995.2004.00523.x

22.

Radstake TRDJ, Franke B, Hanssen S, Netea MG, Welsing P, Barrera P, Joosten LAB, van Riel PLCM, van den Berg WB (2004) The Toll-like receptor 4 Asp299Gly functional variant is associated with decreased rheumatoid arthritis disease susceptibility but does not influence diseade severity and/or outcome. Arthritis Rheum. doi:10.1002/art.20114

23.

Kilding R, Akil M, Till S, Amos R, Winfield J, Iles MM, Wilson AG (2003) A biologically important single nucleotide polymorphism within the toll-like receptor-4 gene is not associated with rheumatoide arthritis. Clin Exp Rheumatol 21:340–342

24.

Orozco G, Morales S, González-Gay MÁ, González Rugeles CI, Ramírez Qintero G, Martín J (2005) Toll-like receptor 4 Asp299Gly polymorphism and reumatoid arthritis: a replicative study in three different populations. Inmunología 24:205–207

25.

Sánchez E, Orozco G, López-Nevot MA, Jiménez-Alonso J, Martín J (2004) Polymorphisms of toll-like receptor 2 and 4 genes in rheumatoid arthritis and systemic lupus erythematosus. Tissue Antigens 63:54–57

26.

Jaen O, Petit-Teixeira E, Kirsten H, Ahnert P, Semerano L, Pierlot C, Cornelis F, Boissier MC, Falgarone G (2009) No evidence of major effects in several Toll-like receptor gene polymorphisms in reumatoid arthritis. Arthritis Res Ther. doi:10.1186/ar2589

27.

Gao B, Jeong W, Tian Z (2008) Liver: An organ with predominant innate immunity. Hepatology. doi:10.1002/hep.22034

28.

Dolganiuc A, Garcia C, Kodys K, Szao G (2006) Distinct Toll-like receptor expression in monocytes and T cell in chronic HCV infection. World J Gastroenterol 12:1198–1204

29.

Njouom R, Caron M, Besson G, Ndong-Atome GR, Makuwa M, Pouillot R, Nkoghe D, Leroy E, Kazanji M (2012) Phylogeography, risk factors and genetic history of hepatitis C virus in Gabon, central Africa. PloS One. doi:10.1371/journal.pone.0042002

30.

Tićac B, Rukavina T (2007) Seological Diagnosis Of Hepatitis C Viral Infection—Situation In Primorsko-goranska County (in Croatian). Medicina 43:123–131

31.

Pine SO, McElrath MJ, Bochud PY (2009) Polymorphisms in TLR4 and TLR9 influence viral load in a seroincident cohort of HIV-1-infected individuals. AIDS. doi:10.1097/QAD.0b013e328330b489

32.

Speletas M, Merentiti V, Kostikas K, Liadaki K, Minas M, Gourgoulianis K, Germenis AE (2009) Association of TLR4-T399I polymorphism with chronic obstructive pulmonary disease in smokers. Clin Dev Immunol. doi:10.1155/2009/260286

33.

Vince A, Duvnjak M (2009) Treatment of naive patients with chronic hepatitis C. Acta Med Croatica 63:409–415

34.

Asselah T, Estrabaud E, Bieche I, Lapalus M, De Muynch S, Vidaud L, Saadoun D, Soumelis V (2010) Hepatitis C: viral and host factors associated with non-response to pegylated interferom plus rivavirin. Liver Int. doi:10.1111/j.1478-3231.2010.02283.x

35.

Friedman RM, Contente S (2010) Treatment of Hepatitis C Infections with Interferon: A Historical Perspective. Hepat Res Treat. doi:10.1155/2010/323926
Acknowledgements
This study was supported by the Institute of Public Health of Osijek-Baranja County. The authors declare that they have no conflict of interest. The authors also greatly appreciate the help received from Dr. Marcela Čović for revision of the article.
About this article
Cite this article
Perić, M., Bošnjak, Z., Šarkanj, B. et al. Polymorphisms of Toll-like receptors 2 and 4 in chronically infected hepatitis C patients from north-east Croatia. Arch Virol 160, 297–304 (2015). https://doi.org/10.1007/s00705-014-2283-0
Received:

Accepted:

Published:

Issue Date:
Keywords
Viral Load

Antiviral Therapy

High Viral Load

Thr399Ile Polymorphism

Monte Carlo Simulation Step