Abstract
The full-length genome sequence analysis of four coxsackievirus A24 (CV-A24) strains, detected in three paralytic and one post-asthmatic paralytic (Hopkins syndrome) cases, is reported here for the first time. A phylogenetic tree constructed on the basis of entire genomes displayed topology similar to that of the full-VP1 tree, classifying the study strains in genogroup CV-A24vGIV along with their temporal counterparts in strains from non-paralytic cases. The strains of the study formed a single genetic cluster C4 within CV-A24vGIV and showed 3.5–19.4 % nucleotide sequence divergence, with 2-4 novel nucleotide mutations in the 5′NCR and 3-8 unique amino acid substitutions in the polyprotein, with respect to the CV-A24 strains associated with non-paralytic cases. Among the nucleotide mutations, A299U was identified in the 5′NCRs of all of the study strains. CV-A24v strains of the same genogroup with few genomic variations but different disease manifestations need to be explored to investigate the molecular basis of evolution of neurovirulence.
Access options
Buy single article
Instant access to the full article PDF.
USD 39.95
Price includes VAT (USA)
Tax calculation will be finalised during checkout.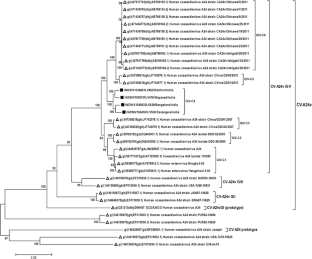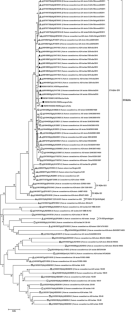 References
1.

Pallansch MA, Roos R (2007) Enteroviruses: polioviruses, coxsackieviruses, echoviruses and newer enteroviruses. In: Knipe DM, Howley PM (eds) Fields virology, 5th edn. Lippincott Williams & Wilkin, PA, USA, pp 839–893

2.

Fonseca MC, Sarmiento L, Resik S, Pereda N, Rodriguez H, Kouri V, Martinez PA, Pinon A, Limonta D, Mas P, Hung LH (2012) Isolation of coxsackievirus A24 variant from patients with hemorrhagic conjunctivitis in Cuba, 2008–2009. J Clin Virol 53:77–81

3.

Yin-Murphy M, Goh KT, Phoon MC, Yao J, Baharuddin I (1993) A recent epidemic of acute hemorrhagic conjunctivitis. Am J Ophthalmol 116:212–217

4.

Gopalkrishna V, Patil PR, Kolhapure RM, Bilaiya H, Fulmali PV, Deolankar RP (2007) Outbreak of acute hemorrhagic conjunctivitis in Maharashtra and Gujarat states of India, caused by Coxsackie virus A-24 variant. J Med Virol 79:748–753

5.

De W, Huanying Z, Hui L, Corina M, Xue G, Leng L, Hanri Z, Ling F, Yanling M, Huiqiong Z, Huan Z, Jing K, Caiyun L, Yoshida H, Changwen K (2012) Phylogenetic and molecular characterization of coxsackievirus A24 variant isolates from a 2010 acute hemorrhagic conjunctivitis outbreak in Guangdong, China. Virol J 9:41. doi:10.1186/1743-422X-9-41

6.

Ayoub EA, Shafik CF, Gaynor AM, Mohareb EW, Amin MA, Yassin AS, El-Refaey S, Genedy M, Kandeel A (2013) A molecular investigative approach to an outbreak of acute hemorrhagic conjunctivitis in Egypt, October 2010. Virol J 10:10–96

7.

Chaves SS, Lobo S, Kennett M, Black J (2001) Coxsackie virus A24 infection presenting as acute flaccid paralysis. Lancet 357:605

8.

Kelly H, Brussen KA, Lawrence A, Elliot E, Pearn J, Thorley B (2006) Polioviruses and other enteroviruses isolated from faecal samples of patients with acute flaccid paralysis in Australia, 1996-2004. J Paediatr Child Health 42:370–376. doi:10.1111/j.1440-1754.2006.00875.x

9.

Junttila N, Leveque N, Kabue JP, Cartet G, Mushiya F, Muyembe-Tamfum JJ, Trompette A, Lina B, Magnius LO, Chomel JJ, Norder H (2007) New enteroviruses, EV-93 and EV-94, associated with acute flaccid paralysis in the Democratic Republic of the Congo. J Med Virol 79:393–400. doi:10.1002/jmv.20825

10.

Tracy S, Oberste MS, Drescher KM (eds) (2008) Group B Coxsackieviruses, vol 323. Current Topics in Microbiology and Immunology. Springer, Verlag Berlin Heidelberg. doi:10.1007/978-3-540-75546-3

11.

Laxmivandana R, Yergolkar P, Gopalkrishna V, Chitambar SD (2013) Characterization of the non-polio enterovirus infections associated with acute flaccid paralysis in South-Western India. PLoS One 8

12.

Hopkins IJ (1974) A new syndrome: poliomyelitis-like illness associated with acute asthma in childhood. Aust Paediatr J 10:273–276

13.

Yin-Murphy M (1972) An epidemic of picornavirus conjunctivitis in Singapore. Southeast Asian J Trop Med Public Health 3:303–309

14.

Hanada K, Shiu SH, Li WH (2007) The nonsynonymous/synonymous substitution rate ratio versus the radical/conservative replacement rate ratio in the evolution of mammalian genes. Mol Biol Evol 24:2235–2241. doi:10.1093/molbev/msm152

15.

Yeo DS, Seah SG, Chew JS, Lim EA, Liaw JC, Loh JP, Tan BH (2007) Molecular identification of coxsackievirus A24 variant, isolated from an outbreak of acute hemorrhagic conjunctivitis in Singapore in 2005. Arch Virol 152:2005–2016
Acknowledgments
The authors thank the Indian Council of Medical Research, New Delhi, for supporting the first author (RL) with a research fellowship, Dr. D.T. Mourya, Director, NIV, Pune, for constant support during this study, Mr. Atul M. Walimbe for discussions on phylogenetic analysis, and Dr. Sarah Cherian for help in revising the manuscript. The authors also thank the entire team of personnel involved in the network of Polio Surveillance, India, especially all of the technical Staff of National Polio Laboratory, Bangalore, for providing data on AFP cases.
Electronic supplementary material
Below is the link to the electronic supplementary material.
Phylogenetic tree constructed on the basis of the 3C (nt 5460–6009) nucleotide sequences of CV-A24 strains using the neighbor-joining method and maximum composite likelihood model with 1000 bootstrap replications. ■ denotes strains from AFP cases of the present study, ▲ denotes strains from non-AFP cases from India and △ denotes strains from non-AFP cases from other countries.(TIFF 852 kb)
Venn diagram indicating the distribution of the novel mutations (nt / aa) detected in the 5′ NCR and polyprotein sequences of the study strains, identified by blastn or tblastn algorithms available on the NCBI website. The mutations are numbered with respect to the prototype Joseph strain (GenBank accession no. EF026081). Radical amino acid substitutions are underlined.(TIFF 3201 kb)
About this article
Cite this article
Laxmivandana, R., Yergolkar, P., Rajeshwari, M. et al. Genomic characterization of coxsackievirus type A24 strains associated with acute flaccid paralysis and rarely identified Hopkins syndrome. Arch Virol 159, 3125–3129 (2014). https://doi.org/10.1007/s00705-014-2129-9
Received:

Accepted:

Published:

Issue Date:
Keywords
Internal Ribosome Entry Site

Acute Flaccid Paralysis

Nucleotide Mutation

Amino Acid Sequence Diversity

Study Strain