Abstract
Dengue is currently one of the most important arthropod-borne diseases, causing up to 25,000 deaths annually. There is currently no vaccine to prevent dengue virus infection, which needs a tetravalent vaccine approach. In this work, we describe the cloning and expression in Escherichia coli of envelope domain III-capsid chimeric proteins (DIIIC) of the four dengue serotypes as a tetravalent dengue vaccine candidate that is potentially able to generate humoral and cellular immunity. The recombinant proteins were purified to more than 85 % purity and were recognized by anti-dengue mouse and human sera. Mass spectrometry analysis verified the identity of the proteins and the correct formation of the intracatenary disulfide bond in the domain III region. The chimeric DIIIC proteins were also serotype-specific, and in the presence of oligonucleotides, they formed aggregates that were visible by electron microscopy. These results support the future use of DIIIC recombinant chimeric proteins in preclinical studies in mice for assessing their immunogenicity and efficacy.
Access options
Buy single article
Instant access to the full article PDF.
US$ 39.95
Tax calculation will be finalised during checkout.
Subscribe to journal
Immediate online access to all issues from 2019. Subscription will auto renew annually.
US$ 119
Tax calculation will be finalised during checkout.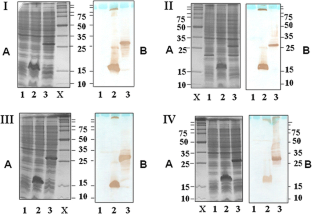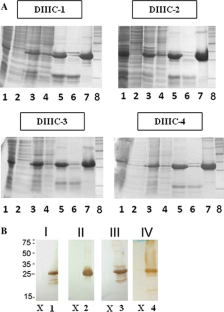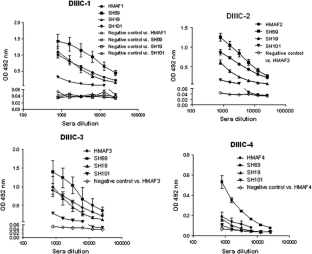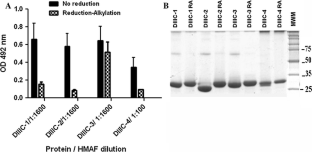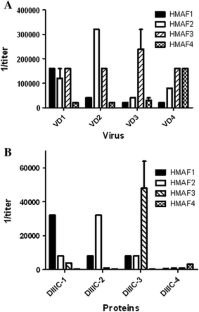 References
1.

Guzman A, Isturiz RE (2010) Update on the global spread of dengue. Int J Antimicrob Agents 36(Suppl 1):S40–S42

2.

Burke DS, Nisalak A, Johnson DE, Scott RM (1988) A prospective study of dengue infections in Bangkok. Am J Trop Med Hyg 38:172–180

3.

Sangkawibha N, Rojanasuphot S, Ahandrik S, Viriyapongse S, Jatanasen S, Salitul V, Phanthumachinda B, Halstead SB (1984) Risk factors in dengue shock syndrome: a prospective epidemiologic study in Rayong, Thailand. I. The 1980 outbreak. Am J Epidemiol 120:653–669

4.

Goncalvez AP, Engle RE, St CM, Purcell RH, Lai CJ (2007) Monoclonal antibody-mediated enhancement of dengue virus infection in vitro and in vivo and strategies for prevention. Proc Natl Acad Sci USA 104:9422–9427

5.

Halstead SB, Chow JS, Marchette NJ (1973) Immunological enhancement of dengue virus replication. Nat New Biol 243:24–26

6.

Halstead SB, Mahalingam S, Marovich MA, Ubol S, Mosser DM (2010) Intrinsic antibody-dependent enhancement of microbial infection in macrophages: disease regulation by immune complexes. Lancet Infect Dis 10:712–722

7.

Durbin AP, Whitehead SS (2010) Dengue vaccine candidates in development. Curr Top Microbiol Immunol 338:129–143

8.

Kuhn RJ, Zhang W, Rossmann MG, Pletnev SV, Corver J, Lenches E, Jones CT, Mukhopadhyay S, Chipman PR, Strauss EG, Baker TS, Strauss JH (2002) Structure of dengue virus: implications for flavivirus organization, maturation, and fusion. Cell 108:717–725

9.

Megret F, Hugnot JP, Falconar A, Gentry MK, Morens DM, Murray JM, Schlesinger JJ, Wright PJ, Young P, Van Regenmortel MH (1992) Use of recombinant fusion proteins and monoclonal antibodies to define linear and discontinuous antigenic sites on the dengue virus envelope glycoprotein. Virology 187:480–491

10.

Crill WD, Roehrig JT (2001) Monoclonal antibodies that bind to domain III of dengue virus E glycoprotein are the most efficient blockers of virus adsorption to Vero cells. J Virol 75:7769–7773

11.

Chin JF, Chu JJ, Ng ML (2007) The envelope glycoprotein domain III of dengue virus serotypes 1 and 2 inhibit virus entry. Microbes Infect 9:1–6

12.

Simmons M, Murphy GS, Hayes CG (2001) Short report: antibody responses of mice immunized with a tetravalent dengue recombinant protein subunit vaccine. Am J Trop Med Hyg 65:159–161

13.

Etemad B, Batra G, Raut R, Dahiya S, Khanam S, Swaminathan S, Khanna N (2008) An envelope domain III-based chimeric antigen produced in Pichia pastoris elicits neutralizing antibodies against all four dengue virus serotypes. Am J Trop Med Hyg 79:353–363

14.

Bernardo L, Izquierdo A, Alvarez M, Rosario D, Prado I, Lopez C, Martinez R, Castro J, Santana E, Hermida L, Guillen G, Guzman MG (2008) Immunogenicity and protective efficacy of a recombinant fusion protein containing the domain III of the dengue 1 envelope protein in non-human primates. Antiviral Res 80:194–199

15.

Hermida L, Bernardo L, Martin J, Alvarez M, Prado I, Lopez C, Sierra BL, Martinez R, Rodriguez R, Zulueta A, Perez AB, Lazo L, Rosario D, Guillen G, Guzman MG (2006) A recombinant fusion protein containing the domain III of the dengue-2 envelope protein is immunogenic and protective in nonhuman primates. Vaccine 24:3165–3171

16.

Hermida L, Rodriguez R, Lazo L, Silva R, Zulueta A, Chinea G, Lopez C, Guzman MG, Guillen G (2004) A dengue-2 Envelope fragment inserted within the structure of the P64k meningococcal protein carrier enables a functional immune response against the virus in mice. J Virol Methods 115:41–49

17.

Izquierdo A, Valdes I, Gil L, Hermida L, Gutierrez S, Garcia A, Bernardo L, Pavon A, Guillen G, Guzman MG (2012) Serotype specificity of recombinant fusion protein containing domain III and capsid protein of dengue virus 2. Antiviral Res 95:1–8

18.

Van der Most RG, Murali-Krishna K, Ahmed R, Strauss JH (2000) Chimeric yellow fever/dengue virus as a candidate dengue vaccine: quantitation of the dengue virus-specific CD8 T-cell response. J Virol 74:8094–8101

19.

Gil L, Lopez C, Blanco A, Lazo L, Martin J, Valdes I, Romero Y, Figueroa Y, Guillen G, Hermida L (2009) The cellular immune response plays an important role in protecting against dengue virus in the mouse encephalitis model. Viral Immunol 22:23–30

20.

Weiskopf D, Angelo MA, de Azeredo EL, Sidney J, Greenbaum JA, Fernando AN, Broadwater A, Kolla RV, De Silva AD, de Silva AM, Mattia KA, Doranz BJ, Grey HM, Shresta S, Peters B, Sette A (2013) Comprehensive analysis of dengue virus-specific responses supports an HLA-linked protective role for CD8+ T cells. Proc Natl Acad Sci USA 110:E2046–E2053

21.

Lazo L, Hermida L, Zulueta A, Sanchez J, Lopez C, Silva R, Guillen G, Guzman MG (2007) A recombinant capsid protein from Dengue-2 induces protection in mice against homologous virus. Vaccine 25:1064–1070

22.

Valdes I, Bernardo L, Gil L, Pavon A, Lazo L, Lopez C, Romero Y, Menendez I, Falcon V, Betancourt L, Martin J, Chinea G, Silva R, Guzman MG, Guillen G, Hermida L (2009) A novel fusion protein domain III-capsid from dengue-2, in a highly aggregated form, induces a functional immune response and protection in mice. Virology 394:249–258

23.

Wood WB (2011) Host specificity of DNA produced by Escherichia coli: bacterial mutations affecting the restriction and modification of DNA. J Mol Biol 16:118–133

24.

Novy RDDYKMR (2001) Overcoming the codon bias of E. coli for enhanced protein expression. Innovations 12:1–3

25.

Bullock WO, Fernandez JM, Short JMS (1987) XL1-Blue: a high efficiency plasmid transforming recA Escherichia coli strain with Beta-Galactosidase selection. Biotechniques 5:376–378

26.

Clarke DH, Casals J (1958) Techniques for hemagglutination and hemagglutination-inhibition with arthropod-borne viruses. Am J Trop Med Hyg 7:561–573

27.

Zulueta A, Hermida L, Lazo L, Valdes I, Rodriguez R, Lopez C, Silva R, Rosario D, Martin J, Guzman MG, Guillen G (2003) The fusion site of envelope fragments from each serotype of Dengue virus in the P64k protein, influence some parameters of the resulting chimeric constructs. Biochem Biophys Res Commun 308:619–626

28.

Towbin H, Staehelin T, Golden J (1979) Electrophoretic transfer of protein from polyacrylamide gel to nitrocellulose sheets procedure and some applications. Proc Natl Acad Sci USA 76:4350–4354

29.

Laemmli UK (1970) Cleavage of structural proteins during the assembly of the head of bacteriophage T4. Nature 227:680–685

30.

Marcos E, Gil L, Lazo L, Izquierdo A, Brown E, Suzarte E, Valdes I, Garcia A, Mendez L, Guzman MG, Guillen G, Hermida L (2013) Purified and highly aggregated chimeric protein DIIIC-2 induces a functional immune response in mice against dengue 2 virus. Arch Virol 158:225–230

31.

Jones CT, Ma L, Burgner JW, Groesch TD, Post CB, Kuhn RJ (2003) Flavivirus capsid is a dimeric alpha-helical protein. J Virol 77:7143–7149

32.

Valdes I, Gil L, Romero Y, Castro J, Puente P, Lazo L, Marcos E, Guzman MG, Guillen G, Hermida L (2011) The chimeric protein domain III-capsid of dengue virus serotype 2 (DEN-2) successfully boosts neutralizing antibodies generated in monkeys upon infection with DEN-2. Clin Vaccine Immunol 18:455–459

33.

Volk DE, Lee YC, Li X, Thiviyanathan V, Gromowski GD, Li L, Lamb AR, Beasley DW, Barrett AD, Gorenstein DG (2007) Solution structure of the envelope protein domain III of dengue-4 virus. Virology 364:147–154

34.

Heinz FX (1986) Epitope mapping of flavivirus glycoproteins. Adv Virus Res 31:103–168

35.

Roehrig JT, Johnson AJ, Hunt AR, Bolin RA, Chu MC (1990) Antibodies to dengue 2 virus E-glycoprotein synthetic peptides identify antigenic conformation. Virology 177:668–675

36.

Modis Y, Ogata S, Clements D, Harrison SC (2004) Structure of the dengue virus envelope protein after membrane fusion. Nature 427:313–319

37.

Klein DE, Choi JL, Harrison SC (2013) Structure of a dengue virus envelope protein late-stage fusion intermediate. J Virol 87:2287–2293

38.

Schmidt AG, Yang PL, Harrison SC (2010) Peptide inhibitors of flavivirus entry derived from the E protein stem. J Virol 84:12549–12554

39.

Simmons M, Nelson WM, Wu SJ, Hayes CG (1998) Evaluation of the protective efficacy of a recombinant dengue envelope B domain fusion protein against dengue 2 virus infection in mice. Am J Trop Med Hyg 58:655–662

40.

Lazo L, Zulueta A, Hermida L, Blanco A, Sanchez J, Valdes I, Gil L, Lopez C, Romero Y, Guzman MG, Guillen G (2009) Dengue-4 envelope domain III fused twice within the meningococcal P64k protein carrier induces partial protection in mice. Biotechnol Appl Biochem 52:265–271

41.

Vaughn DW, Green S, Kalayanarooj S, Innis BL, Nimmannitya S, Suntayakorn S, Endy TP, Raengsakulrach B, Rothman AL, Ennis FA, Nisalak A (2000) Dengue viremia titer, antibody response pattern, and virus serotype correlate with disease severity. J Infect Dis 181:2–9

42.

Konishi E, Kosugi S, Imoto J (2006) Dengue tetravalent DNA vaccine inducing neutralizing antibody and anamnestic responses to four serotypes in mice. Vaccine 24:2200–2207

43.

Clements DE, Coller BA, Lieberman MM, Ogata S, Wang G, Harada KE, Putnak JR, Ivy JM, McDonell M, Bignami GS, Peters ID, Leung J, Weeks-Levy C, Nakano ET, Humphreys T (2010) Development of a recombinant tetravalent dengue virus vaccine: immunogenicity and efficacy studies in mice and monkeys. Vaccine 28:2705–2715

44.

Roehrig JT, Volpe KE, Squires J, Hunt AR, Davis BS, Chang GJ (2004) Contribution of disulfide bridging to epitope expression of the dengue type 2 virus envelope glycoprotein. J Virol 78:2648–2652

45.

Huerta V, Chinea G, Fleitas N, Sarria M, Sanchez J, Toledo P, Padron G (2008) Characterization of the interaction of domain III of the envelope protein of dengue virus with putative receptors from CHO cells. Virus Res 137:225–234

46.

Lin B, Parrish CR, Murray JM, Wright PJ (1994) Localization of a neutralizing epitope on the envelope protein of dengue virus type 2. Virology 202:885–890

47.

Mason PW, Zugel MU, Semproni AR, Fournier MJ, Mason TL (1990) The antigenic structure of dengue type 1 virus envelope and NS1 proteins expressed in Escherichia coli. J Gen Virol 71(Pt 9):2107–2114

48.

Zidane N, Dussart P, Bremand L, Villani ME, Bedouelle H (2013) Thermodynamic stability of domain III from the envelope protein of flaviviruses and its improvement by molecular design. Protein Eng Des Sel 26:389–399

49.

Welsh RM, Rothman AL (2003) Dengue immune response: low affinity, high febrility. Nat Med 9:820–822

50.

Gil L, Bernardo L, Pavon A, Izquierdo A, Valdes I, Lazo L, Marcos E, Romero Y, Guzman MG, Guillen G, Hermida L (2012) Recombinant nucleocapsid-like particles from dengue-2 induce a functional serotype-specific cell-mediated immunity in mice. J Gen Virol 93:1204–1214

51.

Dejnirattisai W, Jumnainsong A, Onsirisakul N, Fitton P, Vasanawathana S, Limpitikul W, Puttikhunt C, Edwards C, Duangchinda T, Supasa S, Chawansuntati K, Malasit P, Mongkolsapaya J, Screaton G (2010) Cross-reacting antibodies enhance dengue virus infection in humans. Science 328:745–748
Electronic supplementary material
Below is the link to the electronic supplementary material.
About this article
Cite this article
Suzarte, E., Marcos, E., Gil, L. et al. Generation and characterization of potential dengue vaccine candidates based on domain III of the envelope protein and the capsid protein of the four serotypes of dengue virus. Arch Virol 159, 1629–1640 (2014). https://doi.org/10.1007/s00705-013-1956-4
Received:

Accepted:

Published:

Issue Date:
Keywords
Capsid Protein

Chimeric Protein

Dengue Hemorrhagic Fever

DENV Infection

Dengue Shock Syndrome