Abstract
The presence of transmitted HIV drug resistance (TDR) threatens the efficacy of antiretroviral treatment. We aimed to assess the changes in TDR prevalence over the last decade in Madrid, Spain, to verify the role of the patients' risk groups in these changes. We analysed the trends of TDR between 2000 and 2011 in a cohort of 1,022 naïve HIV-infected patients in Madrid, Spain, whose pol sequences were available. They included, among others, 369 heterosexuals, 340 men who have sex with men (MSM), and 90 injection drug users (IDUs). TDR was reported following the WHO mutation list. The TDR rate in the whole cohort was 8.3 %, being the highest in MSM (9.1 %) and the lowest in IDUs (4.4 %). Over time, this rate decreased significantly (to 5.4 % in 2009-2011) since the period 2004-2006, when it peaked (10.7 %). Heterosexuals and IDUs showed similar trends, but in the 2009-2011 period, the TDR rate among MSM rebounded to 9.0 % (being absent among IDUs). TDR stabilized in the last years (2007-2011) for nucleoside reverse transcriptase inhibitors. The risk group also determined differences in the mutational profile, sex distribution, proportion of immigrants, and viral variants. In conclusion, the risk group caused different HIV sub-epidemics, determined by the patients' profiles. Despite the general decreasing trend in TDR, we observed a non-significant increase in TDR rate among MSM, a tendency that needs confirmation. Periodic TDR surveillance is important to prevent the widespread distribution of resistance, especially in MSM, given the growing HIV/AIDS epidemic in this high-risk population.
Access options
Buy single article
Instant access to the full article PDF.
USD 39.95
Price excludes VAT (USA)
Tax calculation will be finalised during checkout.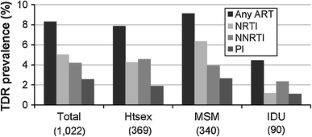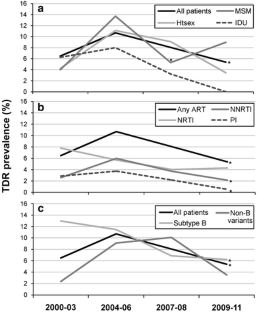 References
Sousa JD, Alvarez C, Vandamme AM, Müller V (2012) Enhanced heterosexual transmission hypothesis for the origin of pandemic HIV-1. Viruses 4:1950–1983

UNAIDS (2011) 2010 Report on the global AIDS epidemic http://www.unaids.org/documents/20101123_GlobalReport_em.pdf. Accessed May 28, 2013

SINIVIH (2012) Vigilancia Epidemiológica del VIH/Sida en España: Sistema de Información sobre Nuevos Diagnósticos de VIH y Registro Nacional de Casos de Sida. Secretaría del Plan Nacional sobre el Sida/Centro Nacional de Epidemiología. http://www.isciii.es/ISCIII/es/contenidos/fd-servicios-cientifico-tecnicos/fd-vigilancias-alertas/fd-enfermedades/fd-sida/Informe-VIH-sida-Junio-2012.pdf. Accessed May 28, 2013

Fisher M, Pao D, Brown AE, Sudarshi D, Gill ON, Cane P, Buckton AJ, Parry JV, Johnson AM, Sabin C et al (2010) Determinants of HIV-1 transmission in men who have sex with men: a combined clinical, epidemiological and phylogenetic approach. AIDS 24:1739–1747

Hughes GJ, Fearnhill E, Dunn D, Lycett SJ, Rambaut A, Leigh Brown AJ (2009) Molecular phylodynamics of the heterosexual HIV epidemic in the United Kingdom. PLOS Pathog 5:e1000590

von Wyl V, Kouyos RD, Yerly S, Böni J, Shah C, Bürgisser P, Klimkait T, Weber R, Hirschel B, Cavassini M et al (2011) The role of migration and domestic transmission in the spread of HIV-1 non-B subtypes in Switzerland. J Infect Dis 204:1095–1103

González-Alba JM, Holguín Á, García R, García-Bujalance S, Alonso R, Suárez A, Delgado R, Cardeñoso L, González R, García-Bermejo I et al (2011) Molecular surveillance 1 of HIV-1 in Madrid, Spain: a phylogeographic analysis. J Virol 85:10755–10763

Yebra G, Holguín Á, Pillay D, Hué S (2013) Phylogenetic and demographic characterization of HIV-1 transmission in Madrid, Spain. Infect Genet Evol 14:232–239

WHO (2012) World Health Organization HIV drug resistance report. http://www.who.int/hiv/pub/drugresistance/report2012/en/index.html. Accessed May 28, 2013

Vercauteren J, Wensing AM, van de Vijver DA, Albert J, Balotta C, Hamouda O, Kucherer C, Struck D, Schmit JC, Asjö B et al (2009) Transmission of drug-resistant HIV-1 is stabilizing in Europe. J Infect Dis 200:1503–1508

Dolling D, Sabin C, Delpech V, Smit E, Pozniak A, Asboe D, Brown AL, Churchill D, Williams I, Geretti AM et al (2012) Time trends in drug resistant HIV-1 infections in the United Kingdom up to 2009: multicentre observational study. BMJ 345:e5253

Bartmeyer B, Kuecherer C, Houareau C, Werning J, Keeren K, Somogyi S, Kollan C, Jessen H, Dupke S, Hamouda O (2010) Prevalence of transmitted drug resistance and impact of transmitted resistance on treatment success in the German HIV-1 Seroconverter Cohort. PLoS One 5:e12718

Colafigli M, Torti C, Trecarichi EM, Albini L, Rosi A, Micheli V, Manca N, Penco G, Bruzzone B, Punzi G et al (2012) Evolution of transmitted HIV-1 drug resistance in HIV-1-infected patients in Italy from 2000 to 2010. Clin Microbiol Infect 18:E299–E304

Frentz D, Boucher CA, van de Vijver DA (2012) Temporal changes in the epidemiology of transmission of drug-resistant HIV-1 across the world. AIDS Rev 14:17–27

Monge S, Guillot V, Álvarez M, Peña A, Viciana P, García-Bujalance S, Pérez-Elías MJ, Iribarren JA, Gutiérrez F, Itziar-Casado M et al (2012) Analysis of transmitted drug resistance in Spain in the years 2007-2010 documents a decline in mutations to the non-nucleoside drug class. Clin Microbiol Infect 18:E485–E490

Yebra G, de Mulder M, Pérez-Elías MJ, Pérez-Molina JA, Galán JC, Llenas-García J, Moreno S, Holguín Á (2011) Increase of transmitted drug resistance among HIV-infected sub-Saharan Africans residing in Spain in contrast to the native population. PLoS One 6:e26757

Wittkop L, Gunthard HF, de Wolf F, Dunn D, Cozzi-Lepri A, de Luca A, Kucherer C, Obel N, von Wyl V, Masquelier B et al (2011) Effect of transmitted drug resistance on virological and immunological response to initial combination antiretroviral therapy for HIV (EuroCoord-CHAIN joint project): a European multicohort study. Lancet Infect Dis 11:363–371

Bennett DE, Camacho RJ, Otelea D, Kuritzkes DR, Fleury H, Kiuchi M, Heneine W, Kantor R, Jordan MR, Schapiro JM et al (2009) Drug resistance mutations for surveillance of transmitted HIV-1 drug-resistance: 2009 update. PLoS One 4:e4724

Gifford RJ, Liu TF, Rhee SY, Kiuchi M, Hue S, Pillay D, Shafer RW (2009) The calibrated population resistance tool: standardized genotypic estimation of transmitted HIV-1 drug resistance. Bioinformatics 25:1197–1198

Kouyos RD, von Wyl V, Yerly S, Böni J, Rieder P, Joos B, Taffé P, Shah C, Bürgisser P, Klimkait T et al (2011) Ambiguous nucleotide calls from population-based sequencing of HIV-1 are a marker for viral diversity and the age of infection. Clin Infect Dis 52:532–539

Tamura K, Peterson D, Peterson N, Stecher G, Nei M, Kumar S (2011) MEGA5: molecular evolutionary genetics analysis using maximum likelihood, evolutionary distance, and maximum parsimony methods. Mol Biol Evol 28:2731–2739

Price MN, Dehal PS, Arkin AP (2010) FastTree 2–approximately maximum-likelihood trees for large alignments. PLoS One 5:e9490

ECDC (2011) European Centre for Disease Prevention and Control/WHO Regional Office for Europe. HIV/AIDS surveillance in Europe 2010. http://www.euro.who.int/__data/assets/pdf_file/0009/127656/e94500.pdf. Accessed May 28, 2013

Brenner BG, Roger M, Stephens D, Moisi D, Hardy I, Weinberg J, Turgel R, Charest H, Koopman J, Wainberg MA (2011) Transmission clustering drives the onward spread of the HIV epidemic among men who have sex with men in Quebec. J Infect Dis 204:1115–1119

Yerly S, Junier T, Gayet-Ageron A, Amari EB, von Wyl V, Gunthard HF, Hirschel B, Zdobnov E, Kaiser L (2009) The impact of transmission clusters on primary drug resistance in newly diagnosed HIV-1 infection. AIDS 23:1415–1423

Hué S, Gifford RJ, Dunn D, Fernhill E, Pillay D (2009) Demonstration of sustained drug-resistant human immunodeficiency virus type 1 lineages circulating among treatment-naive individuals. J Virol 83:2645–2654

Stadeli KM, Richman DD (2013) Rates of emergence of HIV drug resistance in resource-limited settings: a systematic review. Antivir Ther 18:115–123

MacArthur GJ, Minozzi S, Martin N, Vickerman P, Deren S, Bruneau J, Degenhardt L, Hickman M (2012) Opiate substitution treatment and HIV transmission in people who inject drugs: systematic review and meta-analysis. BMJ 345:e5945

Chaix ML, Descamps D, Wirden M, Bocket L, Delaugerre C, Tamalet C, Schneider V, Izopet J, Masquelier B, Rouzioux C et al (2009) Stable frequency of HIV-1 transmitted drug resistance in patients at the time of primary infection over 1996-2006 in France. AIDS 23(6):717–724

Hamers RL, Wallis CL, Kityo C, Siwale M, Mandaliya K, Conradie F, Botes ME, Wellington M, Osibogun A, Sigaloff KC et al (2011) HIV-1 drug resistance in antiretroviral-naive individuals in sub-Saharan Africa after rollout of antiretroviral therapy: a multicentre observational study. Lancet Infect Dis 11:750–759

Jain V, Sucupira MC, Bacchetti P, Hartogensis W, Díaz RS, Kallas EG, Janini LM, Liegler T, Pilcher CD, Grant RM et al (2011) Differential persistence of transmitted HIV-1 drug resistance mutation classes. J Infect Dis 203:1174–1181

Romero A, Sued O, Puig T, Esteve A, Pumarola T, Casabona J, González V, Matas L, Tural C, Rodrigo I et al (2011) Prevalence of transmitted antiretroviral resistance and distribution of HIV-1 subtypes among patients with recent infection in Catalonia (Spain) between 2003 and 2005. Enferm Infecc Microbiol Clin 29:482–489

Wainberg MA, Brenner BG (2012) The impact of HIV genetic polymorphisms and subtype differences on the occurrence of resistance to antiretroviral drugs. Mol Biol Int 2012:256982

Hemelaar J, Gouws E, Ghys PD, Osmanov S (2011) Global trends in molecular epidemiology of HIV-1 during 2000-2007. AIDS 25:679–689
Acknowledgements
This work was supported by grants from the Fondo de Investigaciones Sanitarias (FIS 09/00284). A. H. is supported by FIS and Agencia Laín Entralgo. R. D. is supported through Instituto de Salud Carlos III, grants FIS1101580 and RD12/0017. This study is included in the Subprograma de Inmigración y Salud, CIBERESP (Spain).
Conflict of interest
The authors declare that they have no conflict of interest.
About this article
Cite this article
Yebra, G., Delgado, R., Pulido, F. et al. Different trends of transmitted HIV-1 drug resistance in Madrid, Spain, among risk groups in the last decade. Arch Virol 159, 1079–1087 (2014). https://doi.org/10.1007/s00705-013-1933-y
Received:

Accepted:

Published:

Issue Date:

DOI: https://doi.org/10.1007/s00705-013-1933-y
Keywords