Abstract
Noroviruses belong to a genus of genetically diverse viruses within the family Caliciviridae and cause acute gastroenteritis in humans and animals. They are subdivided into genogroups, each of which further segregates into genotypes. Until recently, a new genotype was based on a defined pairwise distance cutoff of complete VP1 sequences, but with the increasing number of available norovirus sequences, this cutoff is no longer accurate, and sequences in the public database have been misclassified. In this paper, we demonstrate that the pairwise distance cutoff method can no longer be used and outline a phylogenetic approach to classify noroviruses. Furthermore, we propose a dual nomenclature using both ORF1 and VP1 sequences, as recombination is common and recognizing recombinant viruses may be relevant. With the continuing emergence of new norovirus lineages, we propose to coordinate nomenclature of new norovirus genotypes through an international norovirus working group.
This is a preview of subscription content, log in to check access.
Access options
Buy single article
Instant access to the full article PDF.
US$ 39.95
Price includes VAT for USA
Subscribe to journal
Immediate online access to all issues from 2019. Subscription will auto renew annually.
US$ 199
This is the net price. Taxes to be calculated in checkout.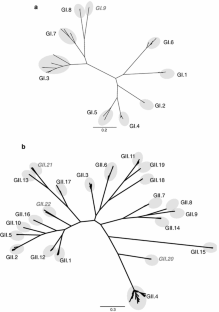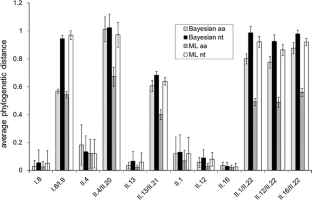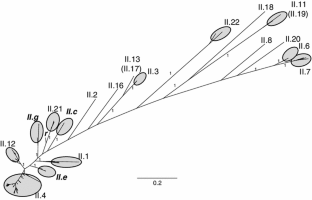 References
1.

Ando T, Noel JS, Fankhauser RL (2000) Genetic classification of "Norwalk-like viruses. J Infect Dis 181(Suppl 2):S336–S348

2.

Benson DA, Karsch-Mizrachi I, Clark K, Lipman DJ, Ostell J, Sayers EW (2012) GenBank. Nucleic Acids Res 40:D48–D53

3.

Bok K, Abente EJ, Realpe-Quintero M, Mitra T, Sosnovtsev SV, Kapikian AZ, Green KY (2009) Evolutionary dynamics of GII.4 noroviruses over a 34-year period. J Virol 83:11890–11901

4.

Buesa J, Collado B, Lopez-Andujar P, Abu-Mallouh R, Rodriguez Diaz J, Garcia Diaz A, Prat J, Guix S, Llovet T, Prats G, Bosch A (2002) Molecular epidemiology of caliciviruses causing outbreaks and sporadic cases of acute gastroenteritis in Spain. J Clin Microbiol 40:2854–2859

5.

Bull RA, Hansman GS, Clancy LE, Tanaka MM, Rawlinson WD, White PA (2005) Norovirus recombination in ORF1/ORF2 overlap. Emerg Infect Dis 11:1079–1085

6.

Bull RA, Tanaka MM, White PA (2007) Norovirus recombination. J Gen Virol 88:3347–3359

7.

Chhabra P, Walimbe AM, Chitambar SD (2010) Molecular characterization of three novel intergenotype norovirus GII recombinant strains from western India. Virus Res 147:242–246

8.

de Wit MA, Koopmans MP, Kortbeek LM, Wannet WJ, Vinje J, van Leusden F, Bartelds AI, van Duynhoven YT (2001) Sensor, a population-based cohort study on gastroenteritis in the Netherlands: incidence and etiology. Am J Epidemiol 154:666–674

9.

Duizer E, Schwab KJ, Neill FH, Atmar RL, Koopmans MP, Estes MK (2004) Laboratory efforts to cultivate noroviruses. J Gen Virol 85:79–87

10.

Eden JS, Bull RA, Tu E, McIver CJ, Lyon MJ, Marshall JA, Smith DW, Musto J, Rawlinson WD, White PA (2010) Norovirus GII.4 variant 2006b caused epidemics of acute gastroenteritis in Australia during 2007 and 2008. J Clin Virol 49:265–271

11.

Fankhauser RL, Monroe SS, Noel JS, Humphrey CD, Bresee JS, Parashar UD, Ando T, Glass RI (2002) Epidemiologic and molecular trends of "Norwalk-like viruses" associated with outbreaks of gastroenteritis in the United States. J Infect Dis 186:1–7

12.

Fauquet CM, Fargette D (2005) International Committee on Taxonomy of Viruses and the 3,142 unassigned species. Virol J 2:64

13.

Fourment M, Gibbs MJ (2006) PATRISTIC: a program for calculating patristic distances and graphically comparing the components of genetic change. BMC Evol Biol 6:1

14.

Glass RI, Noel J, Ando T, Fankhauser R, Belliot G, Mounts A, Parashar UD, Bresee JS, Monroe SS (2000) The epidemiology of enteric caliciviruses from humans: a reassessment using new diagnostics. J Infect Dis 181(Suppl 2):S254–S261

15.

Green J, Norcott JP, Lewis D, Arnold C, Brown DW (1993) Norwalk-like viruses: demonstration of genomic diversity by polymerase chain reaction. J Clin Microbiol 31:3007–3012

16.

Green K (2007) The noroviruses. In: Knipe DM, Howley PM et al (eds) Fields virology. Lippincott Williams & Wilkins, Philadelphia, pp 949–980

17.

Green KY (1997) The role of human caliciviruses in epidemic gastroenteritis. Arch Virol Suppl 13:153–165

18.

Green KY, Ando T, Balayan MS, Berke T, Clarke IN, Estes MK, Matson DO, Nakata S, Neill JD, Studdert MJ, Thiel HJ (2000) Taxonomy of the caliciviruses. J Infect Dis 181(Suppl 2):S322–S330

19.

Guindon S, Gascuel O (2003) A simple, fast, and accurate algorithm to estimate large phylogenies by maximum likelihood. Syst Biol 52:696–704

20.

Guindon S, Dufayard JF, Lefort V, Anisimova M, Hordijk W, Gascuel O (2010) New algorithms and methods to estimate maximum-likelihood phylogenies: assessing the performance of PhyML 3.0. Syst Biol 59:307–321

21.

Hale A, Mattick K, Lewis D, Estes M, Jiang X, Green J, Eglin R, Brown D (2000) Distinct epidemiological patterns of Norwalk-like virus infection. J Med Virol 62:99–103

22.

Hall TA (1999) BioEdit: a user-friendly biological sequence alignment editor and analysis program for Windows 95/98/NT. Nucl Acids Symp Ser 41:95–98

23.

Huelsenbeck JP, Ronquist F (2001) MRBAYES: Bayesian inference of phylogenetic trees. Bioinformatics 17:754–755

24.

Huhti L, Szakal ED, Puustinen L, Salminen M, Huhtala H, Valve O, Blazevic V, Vesikari T (2011) Norovirus GII-4 causes a more severe gastroenteritis than other noroviruses in young children. J Infect Dis 203:1442–1444

25.

Iturriza-Gomara M, Elliot AJ, Dockery C, Fleming DM, Gray JJ (2009) Structured surveillance of infectious intestinal disease in pre-school children in the community: 'The Nappy Study'. Epidemiol Infect 137:922–931

26.

Jiang X, Wang M, Wang K, Estes MK (1993) Sequence and genomic organization of Norwalk virus. Virology 195:51–61

27.

Kageyama T, Shinohara M, Uchida K, Fukushi S, Hoshino FB, Kojima S, Takai R, Oka T, Takeda N, Katayama K (2004) Coexistence of multiple genotypes, including newly identified genotypes, in outbreaks of gastroenteritis due to Norovirus in Japan. J Clin Microbiol 42:2988–2995

28.

Kroneman A, Verhoef L, Harris J, Vennema H, Duizer E, van Duynhoven Y, Gray J, Iturriza M, Bottiger B, Falkenhorst G, Johnsen C, von Bonsdorff CH, Maunula L, Kuusi M, Pothier P, Gallay A, Schreier E, Hohne M, Koch J, Szucs G, Reuter G, Krisztalovics K, Lynch M, McKeown P, Foley B, Coughlan S, Ruggeri FM, Di Bartolo I, Vainio K, Isakbaeva E, Poljsak-Prijatelj M, Grom AH, Mijovski JZ, Bosch A, Buesa J, Fauquier AS, Hernandez-Pezzi G, Hedlund KO, Koopmans M (2008) Analysis of integrated virological and epidemiological reports of norovirus outbreaks collected within the Foodborne Viruses in Europe network from 1 July 2001 to 30 June 2006. J Clin Microbiol 46:2959–2965

29.

Kroneman A, Vennema H, Deforche K, Avoort HV, Penaranda S, Oberste MS, Vinje J, Koopmans M (2011) An automated genotyping tool for enteroviruses and noroviruses. J Clin Virol 51:121–125

30.

Kuhn JH, Bao Y, Bavari S, Becker S, Bradfute S, Brister JR, Bukreyev AA, Chandran K, Davey RA, Dolnik O, Dye JM, Enterlein S, Hensley LE, Honko AN, Jahrling PB, Johnson KM, Kobinger G, Leroy EM, Lever MS, Muhlberger E, Netesov SV, Olinger GG, Palacios G, Patterson JL, Paweska JT, Pitt L, Radoshitzky SR, Saphire EO, Smither SJ, Swanepoel R, Towner JS, van der Groen G, Volchkov VE, Wahl-Jensen V, Warren TK, Weidmann M, Nichol ST (2013) Virus nomenclature below the species level: a standardized nomenclature for natural variants of viruses assigned to the family Filoviridae. Arch Virol 158:301–311

31.

Lauber C, Gorbalenya AE (2012) Toward genetics-based virus taxonomy: comparative analysis of a genetics-based classification and the taxonomy of picornaviruses. J Virol 86:3905–3915

32.

Lindesmith LC, Donaldson EF, Lobue AD, Cannon JL, Zheng DP, Vinje J, Baric RS (2008) Mechanisms of GII.4 norovirus persistence in human populations. PLoS Med 5:e31

33.

Noel JS, Ando T, Leite JP, Green KY, Dingle KE, Estes MK, Seto Y, Monroe SS, Glass RI (1997) Correlation of patient immune responses with genetically characterized small round-structured viruses involved in outbreaks of nonbacterial acute gastroenteritis in the United States, 1990 to 1995. J Med Virol 53:372–383

34.

Posada D (2009) Selection of models of DNA evolution with jModelTest. Methods Mol Biol 537:93–112

35.

R_Development_Core_Team (2008) R: A language and environment for statistical computing. R Foundation for Statistical Computing, Vienna

36.

Reuter G, Vennema H, Koopmans M, Szucs G (2006) Epidemic spread of recombinant noroviruses with four capsid types in Hungary. J Clin Virol 35:84–88

37.

Sayers EW, Barrett T, Benson DA, Bolton E, Bryant SH, Canese K, Chetvernin V, Church DM, Dicuccio M, Federhen S, Feolo M, Fingerman IM, Geer LY, Helmberg W, Kapustin Y, Krasnov S, Landsman D, Lipman DJ, Lu Z, Madden TL, Madej T, Maglott DR, Marchler-Bauer A, Miller V, Karsch-Mizrachi I, Ostell J, Panchenko A, Phan L, Pruitt KD, Schuler GD, Sequeira E, Sherry ST, Shumway M, Sirotkin K, Slotta D, Souvorov A, Starchenko G, Tatusova TA, Wagner L, Wang Y, Wilbur WJ, Yaschenko E, Ye J (2012) Database resources of the National Center for Biotechnology Information. Nucleic Acids Res 40:D13–D25

38.

Siebenga JJ, Vennema H, Renckens B, de Bruin E, van der Veer B, Siezen RJ, Koopmans M (2007) Epochal evolution of GGII.4 norovirus capsid proteins from 1995 to 2006. J Virol 81:9932–9941

39.

Takanashi S, Wang Q, Chen N, Shen Q, Jung K, Zhang Z, Yokoyama M, Lindesmith LC, Baric RS, Saif LJ (2011) Characterization of emerging GII.g/GII.12 noroviruses from a gastroenteritis outbreak in the United States in 2010. J Clin Microbiol 49:3234–3244

40.

Tuladhar E, Hazeleger WC, Koopmans M, Zwietering MH, Beumer RR, Duizer E (2012) Residual viral and bacterial contamination of surfaces after cleaning and disinfection. Appl Environ Microbiol 78:7769–7775

41.

van Beek J, Ambert-Balay K, Botteldoorn N, Eden JS, Fonager J, Hewitt J, Iritani N, Kroneman A, Vennema H, Vinje J, White PA, Koopmans M (2013) Indications for worldwide increased norovirus activity associated with emergence of a new variant of genotype II.4, late 2012. Euro Surveill 18:8–9

42.

van Duynhoven YT, de Jager CM, Kortbeek LM, Vennema H, Koopmans MP, van Leusden F, van der Poel WH, van den Broek MJ (2005) A one-year intensified study of outbreaks of gastroenteritis in The Netherlands. Epidemiol Infect 133:9–21

43.

Verhoef LP, Kroneman A, van Duynhoven Y, Boshuizen H, van Pelt W, Koopmans M (2009) Selection tool for foodborne norovirus outbreaks. Emerg Infect Dis 15:31–38

44.

Vinje J, Green J, Lewis DC, Gallimore CI, Brown DW, Koopmans MP (2000) Genetic polymorphism across regions of the three open reading frames of "Norwalk-like viruses". Arch Virol 145:223–241

45.

Wang QH, Costantini V, Saif LJ (2007) Porcine enteric caliciviruses: genetic and antigenic relatedness to human caliciviruses, diagnosis and epidemiology. Vaccine 25:5453–5466

46.

Wheeler JG, Sethi D, Cowden JM, Wall PG, Rodrigues LC, Tompkins DS, Hudson MJ, Roderick PJ (1999) Study of infectious intestinal disease in England: rates in the community, presenting to general practice, and reported to national surveillance. The Infectious Intestinal Disease Study Executive. BMJ 318:1046–1050

47.

WHO (1980) A revision of the system of nomenclature for influenza viruses: a WHO Memorandum. Bulletin of the World Health Organization 58(4):585–591

48.

Zheng DP, Ando T, Fankhauser RL, Beard RS, Glass RI, Monroe SS (2006) Norovirus classification and proposed strain nomenclature. Virology 346:312–323

49.

Zheng DP, Widdowson MA, Glass RI, Vinje J (2010) Molecular epidemiology of genogroup II-genotype 4 noroviruses in the United States between 1994 and 2006. J Clin Microbiol 48:168–177
Acknowledgements
We thank FBVE and Noronet network for collecting and sharing sequences, and Maarten Schippers (RIVM) for development of the R script.
Additional information
Disclaimer
The findings and conclusions in this report are those of the authors and do not necessarily represent the views of the US Centers for Disease Control and Prevention (CDC). This article received clearance through the appropriate CDC channels prior to submission.
Electronic supplementary material
Below is the link to the electronic supplementary material.
About this article
Cite this article
Kroneman, A., Vega, E., Vennema, H. et al. Proposal for a unified norovirus nomenclature and genotyping. Arch Virol 158, 2059–2068 (2013). https://doi.org/10.1007/s00705-013-1708-5
Received:

Accepted:

Published:

Issue Date:
Keywords
Typing Tool

ORF2 Sequence

Capsid Sequence

Standard Deviation Criterion

Orphan Cluster