Abstract
The Lassa virus nucleoprotein (NP) is a multifunctional protein that plays an essential role in many aspects of the viral life cycle, including RNA encapsidation, viral transcription and replication, recruitment of ribonucleoprotein complexes to viral budding sites, and inhibition of the host cell interferon response. While it is known that NP is capable of forming oligomers, both the oligomeric state of NP in mammalian cells and the significance of NP oligomerization for its various functions remain unclear. Here, we demonstrate that Lassa virus NP solely forms trimers upon expression in mammalian cells. Using a minigenome assay we show that mutants that are not able to form stable trimers are no longer functional during transcription and/or replication of the minigenome, indicating that NP trimerization is essential for transcription and/or replication of the viral genome. However, mutations leading to destabilization of the NP trimer did not impact the incorporation of NP into virus-like particles or its ability to suppress interferon-induced gene expression, two important functions of arenavirus NP.
Access options
Buy single article
Instant access to the full article PDF.
US$ 39.95
Tax calculation will be finalised during checkout.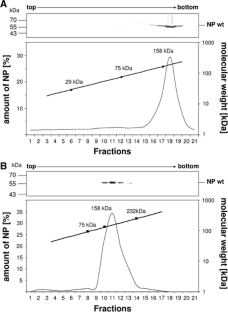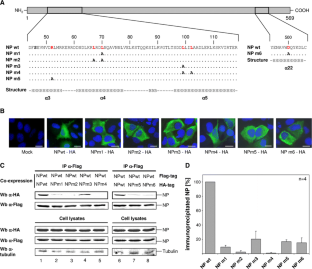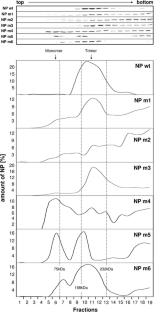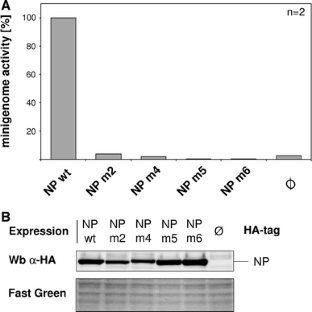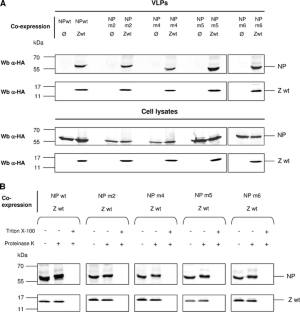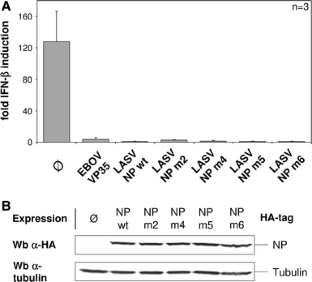 References
1.

Agnihothram S, Dancho B, Grant K, Grimes M, Lyles D, Nunberg J (2009) Assembly of arenavirus envelope glycoprotein GPC in detergent-soluble membrane microdomains. J Virol 83:9890–10790

2.

Basler CF, Wang X, Mühlberger E, Volchkov V, Paragas J, Klenk HD, Garcia-Sastre A, Palese P (2000) The Ebola virus VP35 protein functions as a type I IFN antagonist. Proc Natl Acad Sci USA 97:12289–12294

3.

Brunotte L, Kerber R, Shang W, Hauer F, Hass M, Gabriel M, Lelke M, Busch C, Stark H, Svergun DI, Betzel C, Perbandt M, Günther S (2011) Structure of the Lassa virus nucleoprotein revealed by X-ray crystallography, small-angle X-ray scattering, and electron microscopy. J Biol Chem 286:38748–38756

4.

Buchholz UJ, Finke S, Conzelmann KK (1999) Generation of bovine respiratory syncytial virus (BRSV) from cDNA: BRSV NS2 is not essential for virus replication in tissue culture, and the human RSV leader region acts as a functional BRSV genome promoter. J Virol 73:251–259

5.

Buchmeier MJ, De La Torre JC, Peters CJ (2007) Arenaviridae: the viruses and their replication. In: Knipe DM, Howley PM (eds) Fields virology. Lippincott Williams & Wilkins, pp 1791–1828

6.

Casabona JC, Levingston Macleod JM, Loureiro ME, Gomez GA, Lopez N (2009) The RING domain and the L79 residue of Z protein are involved in both the rescue of nucleocapsids and the incorporation of glycoproteins into infectious chimeric arenavirus-like particles. J Virol 83:7029–7039

7.

Clegg J (1992) Current progress towards vaccines for arenavirus-caused diseases. Vaccine 10:89–184

8.

DiCarlo A, Möller P, Lander A, Kolesnikova L, Becker S (2007) Nucleocapsid formation and RNA synthesis of Marburg virus is dependent on two coiled coil motifs in the nucleoprotein. Virol J 4:105

9.

Eichler R, Strecker T, Kolesnikova L, ter Meulen J, Weissenhorn W, Becker S, Klenk HD, Garten W, Lenz O (2004) Characterization of the Lassa virus matrix protein Z: electron microscopic study of virus-like particles and interaction with the nucleoprotein (NP). Virus Res 100:249–255

10.

Geisbert TW, Jones S, Fritz EA, Shurtleff AC, Geisbert JB, Liebscher R, Grolla A, Ströher U, Fernando L, Daddario KM, Guttieri MC, Mothe BR, Larsen T, Hensley LE, Jahrling PB, Feldmann H (2005) Development of a new vaccine for the prevention of Lassa fever. PLoS Med 2:e183

11.

Groseth A, Wolff S, Strecker T, Hoenen T, Becker S (2010) Efficient budding of the tacaribe virus matrix protein z requires the nucleoprotein. J Virol 84:3603–3611

12.

Günther S, Lenz O (2004) Lassa virus. Critical reviews in clinical laboratory sciences 41:339–429

13.

Hass M, Golnitz U, Müller S, Becker-Ziaja B, Günther S (2004) Replicon system for Lassa virus. J Virol 78:13793–13803

14.

Hastie K, Kimberlin C, Zandonatti M, MacRae I, Saphire E (2011) Structure of the Lassa virus nucleoprotein reveals a dsRNA-specific 3' to 5' exonuclease activity essential for immune suppression. Proc Natl Acad Sci USA 108:2396–2797

15.

Hastie KM, Liu T, Li S, King LB, Ngo N, Zandonatti MA, Woods VL Jr, de la Torre JC, Saphire EO (2011) Crystal structure of the Lassa virus nucleoprotein-RNA complex reveals a gating mechanism for RNA binding. Proc Natl Acad Sci USA 108:19365–19370

16.

Jacamo R, Lopez N, Wilda M, Franze-Fernandez MT (2003) Tacaribe virus Z protein interacts with the L polymerase protein to inhibit viral RNA synthesis. J Virol 77:10383–10393

17.

Jiang X, Dalebout TJ, Bredenbeek PJ, Carrion R Jr, Brasky K, Patterson J, Goicochea M, Bryant J, Salvato MS, Lukashevich IS (2011) Yellow fever 17D-vectored vaccines expressing Lassa virus GP1 and GP2 glycoproteins provide protection against fatal disease in guinea pigs. Vaccine 29:1248–1257

18.

Kerber R, Rieger T, Busch C, Flatz L, Pinschewer DD, Kummerer BM, Günther S (2011) Cross-species analysis of the replication complex of old world arenaviruses reveals two nucleoprotein sites involved in L protein function. J Virol 85:12518–12528

19.

Kimberlin CR, Bornholdt ZA, Li S, Woods VL Jr, MacRae IJ, Saphire EO (2010) Ebolavirus VP35 uses a bimodal strategy to bind dsRNA for innate immune suppression. Proc Natl Acad Sci USA 107:314–319

20.

Lee KJ, Novella IS, Teng MN, Oldstone MB, de La Torre JC (2000) NP and L proteins of lymphocytic choriomeningitis virus (LCMV) are sufficient for efficient transcription and replication of LCMV genomic RNA analogs. J Virol 74:3470–3477

21.

Levingston Macleod JM, D'Antuono A, Loureiro ME, Casabona JC, Gomez GA, Lopez N (2011) Identification of two functional domains within the arenavirus nucleoprotein. J Virol 85:2012–2023

22.

Lopez N, Jacamo R, Franze-Fernandez MT (2001) Transcription and RNA replication of tacaribe virus genome and antigenome analogs require N and L proteins: Z protein is an inhibitor of these processes. J Virol 75:12241–12251

23.

Martinez-Sobrido L, Giannakas P, Cubitt B, Garcia-Sastre A, de la Torre JC (2007) Differential inhibition of type I interferon induction by arenavirus nucleoproteins. J Virol 81:12696–12703

24.

Ortiz-Riano E, Cheng BY, de la Torre JC, Martinez-Sobrido L (2011) The C-terminal region of lymphocytic choriomeningitis virus nucleoprotein contains distinct and segregable functional domains involved in NP-Z interaction and counteraction of the type I interferon response. J Virol 85:13038–13048

25.

Ortiz-Riano E, Cheng BY, de la Torre JC, Martinez-Sobrido L (2012) Self-association of lymphocytic choriomeningitis virus nucleoprotein is mediated by its N-terminal region and is not required for its anti-interferon function. J Virol 86:3307–3317

26.

Ortiz-Riano E, Cheng BY, de la Torre JC, Martinez-Sobrido L (2012) D471G mutation in LCMV-NP affects its ability to self-associate and results in a dominant negative effect in viral RNA synthesis. Viruses 4:2137–2161

27.

Pinschewer D, Perez M, de la Torre J (2003) Role of the virus nucleoprotein in the regulation of lymphocytic choriomeningitis virus transcription and RNA replication. J Virol 77:3882–3889

28.

Qi X, Lan S, Wang W, Schelde L, Dong H, Wallat G, Ly H, Liang Y, Dong C (2010) Cap binding and immune evasion revealed by Lassa nucleoprotein structure. Nature 468:779–862

29.

Reid SP, Cardenas WB, Basler CF (2005) Homo-oligomerization facilitates the interferon-antagonist activity of the ebolavirus VP35 protein. Virology 341:179–189

30.

Ruigrok RW, Crepin T, Kolakofsky D (2011) Nucleoproteins and nucleocapsids of negative-strand RNA viruses. Curr Opin Microbiol 14:504–510

31.

Schlie K, Maisa A, Freiberg F, Groseth A, Strecker T, Garten W (2010) Viral protein determinants of Lassa virus entry and release from polarized epithelial cells. J Virol 84:3178–3188

32.

Schlie K, Maisa A, Lennartz F, Ströher U, Garten W, Strecker T (2010) Characterization of Lassa virus glycoprotein oligomerization and influence of cholesterol on virus replication. J Virol 84:983–992

33.

Shtanko O, Imai M, Goto H, Lukashevich IS, Neumann G, Watanabe T, Kawaoka Y (2010) A role for the C terminus of Mopeia virus nucleoprotein in its incorporation into Z protein-induced virus-like particles. J Virol 84:5415–5422

34.

Strecker T, Eichler R, Meulen J, Weissenhorn W, Klenk HD, Garten W, Lenz O (2003) Lassa virus Z protein is a matrix protein and sufficient for the release of virus-like particles [corrected]. J Virol 77:10700–10705

35.

Sutter G, Ohlmann M, Erfle V (1995) Non-replicating vaccinia vector efficiently expresses bacteriophage T7 RNA polymerase. FEBS Lett 371:9–12

36.

Ye Q, Krug RM, Tao YJ (2006) The mechanism by which influenza A virus nucleoprotein forms oligomers and binds RNA. Nature 444:1078–1082
Acknowledgments
We thank Thomas Strecker for critical manuscript review and Petra Neubauer-Rädel for expert technical assistance. We further thank Stephan Becker (Philipps University Marburg), Thomas Strecker (Philipps University Marburg) and Takashi Fujita (Kyoto University) for kindly providing plasmids. This work was supported by grants from the Deutsche Forschungsgemeinschaft (SPP1175 and SFB593), the "Stiftung zur Förderung von Forschung und Lehre am Fachbereich Medizin der Philipps-Universität Marburg", the "Studienstiftung des deutschen Volkes" (F.L.), the Schering Foundation (T.H.), the Canadian Institutes of Health Research (A.G.), and in part by the Intramural Research Program of the NIH, NIAID.
Opinions, interpretations, conclusions, and recommendations are those of the authors and are not necessarily endorsed by the National Institutes of Health.
About this article
Cite this article
Lennartz, F., Hoenen, T., Lehmann, M. et al. The role of oligomerization for the biological functions of the arenavirus nucleoprotein. Arch Virol 158, 1895–1905 (2013). https://doi.org/10.1007/s00705-013-1684-9
Received:

Accepted:

Published:

Issue Date:
Keywords
HEK293T Cell

Viral Life Cycle

Interferon Response

Odyssey Infrared Image System

Lassa Fever