Abstract
Powdery mildew is one of the most important cereal diseases worldwide. Genetic analysis has revealed that mutant alleles of the Mlo gene cause broad-spectrum resistance against this pathogen in barley. In this study, the possibility of inducing broad-spectrum powdery mildew resistance against this pathogen by RNAi of the barley Mlo ortholog in wheat was examined using virus-induced gene silencing (VIGS). A clear correlation was found between resistance and accumulation of Mlo-specific siRNAs, raising the possibility of designing powdery mildew resistance in wheat by RNA silencing using both transgenic and non-transgenic approaches.
Access options
Buy single article
Instant access to the full article PDF.
USD 39.95
Price excludes VAT (USA)
Tax calculation will be finalised during checkout.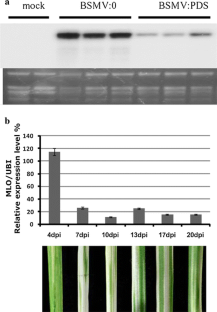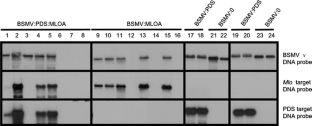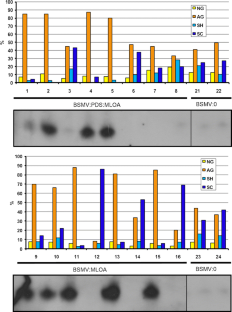 References
Bai Y, Pavan S, Zheng Z, Zappel NF, Reinstadler A, Lotti C, De Giovanni C, Ricciardi L, Lindhout P, Visser R, Theres K, Panstruga R (2008) Naturally occurring broad-spectrum powdery mildew resistance in a Central American tomato accession is caused by loss of mlo function. Mol Plant Microbe Interact 21:30–39

Baulcombe D (2004) RNA silencing in plants. Nature 431:356–363

Brodersen P, Sakvarelidze-Achard L, Bruun-Rasmussen M, Dunoyer P, Yamamoto YY, Sieburth L, Voinnet O (2008) Widespread translational inhibition by plant miRNAs and siRNAs. Science 320:1185–1190

Buschges R, Hollricher K, Panstruga R, Simons G, Wolter M, Frijters A, van Daelen R, van der Lee T, Diergaarde P, Groenendijk J, Topsch S, Vos P, Salamini F, Schulze-Lefert P (1997) The barley Mlo gene: a novel control element of plant pathogen resistance. Cell 88:695–705

Consonni C, Humphry ME, Hartmann HA, Livaja M, Durner J, Westphal L, Vogel J, Lipka V, Kemmerling B, Schulze-Lefert P, Somerville SC, Panstruga R (2006) Conserved requirement for a plant host cell protein in powdery mildew pathogenesis. Nat Genet 38:716–720

Devoto A, Hartmann HA, Piffanelli P, Elliott C, Simmons C, Taramino G, Goh CS, Cohen FE, Emerson BC, Schulze-Lefert P, Panstruga R (2003) Molecular phylogeny and evolution of the plant-specific seven-transmembrane MLO family. J Mol Evol 56:77–88

Elliott C, Zhou F, Spielmeyer W, Panstruga R, Schulze-Lefert P (2002) Functional conservation of wheat and rice Mlo orthologs in defense modulation to the powdery mildew fungus. Mol Plant Microbe Interact 15:1069–1077

Gan D, Zhang J, Jiang H, Jiang T, Zhu S, Cheng B (2010) Bacterially expressed dsRNA protects maize against SCMV infection. Plant Cell Rep 29:1261–1268

Hein I, Barciszewska-Pacak M, Hrubikova K, Williamson S, Dinesen M, Soenderby IE, Sundar S, Jarmolowski A, Shirasu K, Lacomme C (2005) Virus-induced gene silencing-based functional characterization of genes associated with powdery mildew resistance in barley. Plant Physiol 138:2155–2164

Holzberg S, Brosio P, Gross C, Pogue GP (2002) Barley stripe mosaic virus-induced gene silencing in a monocot plant. Plant J 30:315–327

Jorgensen JH (1992) Discovery, characterization and exploitation of Mlo powdery mildew resistance in barley. Euphytica 63:141–152

Konishi S, Sasakuma T, Sasanuma T (2010) Identification of novel Mlo family members in wheat and their genetic characterization. Genes Genet Syst 85:167–175

Panstruga R (2005) Discovery of novel conserved peptide domains by ortholog comparison within plant multi-protein families. Plant Mol Biol 59:485–500

Piffanelli P, Zhou F, Casais C, Orme J, Jarosch B, Schaffrath U, Collins NC, Panstruga R, Schulze-Lefert P (2002) The barley MLO modulator of defense and cell death is responsive to biotic and abiotic stress stimuli. Plant Physiol 129:1076–1085

Schweizer P, Pokorny J, Schulze-Lefert P, Dudler R (2000) Technical advance. Double-stranded RNA interferes with gene function at the single-cell level in cereals. Plant J 24:895–903

Scofield SR, Huang L, Brandt AS, Gill BS (2005) Development of a virus-induced gene-silencing system for hexaploid wheat and its use in functional analysis of the Lr21-mediated leaf rust resistance pathway. Plant Physiol 138:2165–2173

Varallyay E, Burgyan J, Havelda Z (2008) MicroRNA detection by northern blotting using locked nucleic acid probes. Nat Protoc 3:190–196
Acknowledgments
We thank Christophe Lacomme for providing the BSMV vector. V.E. is the recipient of a Bolyai Janos Felowship. This work was supported by GAK TRIPATOL.
Conflict of interest
The authors declare that they have no competing interests.
Electronic supplementary material
Below is the link to the electronic supplementary material.
About this article
Cite this article
Várallyay, É., Giczey, G. & Burgyán, J. Virus-induced gene silencing of Mlo genes induces powdery mildew resistance in Triticum aestivum . Arch Virol 157, 1345–1350 (2012). https://doi.org/10.1007/s00705-012-1286-y
Received:

Accepted:

Published:

Issue Date:

DOI: https://doi.org/10.1007/s00705-012-1286-y
Keywords
Powdery Mildew

Powdery Mildew Resistance

Barley Stripe Mosaic Virus

Systemic Leaf

Secondary Hypha