Access options
Buy single article
Instant access to the full article PDF.
US$ 39.95
Tax calculation will be finalised during checkout.
Subscribe to journal
Immediate online access to all issues from 2019. Subscription will auto renew annually.
US$ 119
Tax calculation will be finalised during checkout.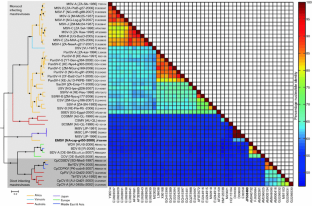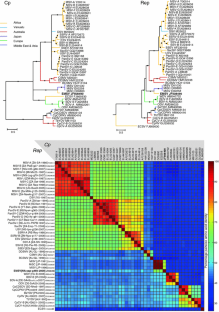 References
1.

Chatani M, Matsumoto Y, Mizuta H, Ikegami M, Boulton MI, Davies JW (1991) The nucleotide sequence and genome structure of the geminivirus miscanthus streak virus. J Gen Virol 72:2325–2331

2.

Guindon S, Gascuel O (2003) A simple, fast, and accurate algorithm to estimate large phylogenies by maximum likelihood. Syst Biol 52:696–704

3.

Gorbalenya AE, Koonin EV (1989) Viral proteins containing the purine NTP-binding sequence pattern. Nucleic Acids Res 11:8413–8440

4.

Horváth GV, Pettkó-Szandtner A, Nikovics K, Bilgin M, Boulton M, Davies JW, Gutiérrez C, Dudits D (1998) Prediction of functional regions of the maize streak virus replication-associated proteins by protein–protein interaction analysis. Plant Mol Biol 38:699–712

5.

Koonin EV, Ilyina TV (1992) Geminivirus replication proteins are related to prokaryotic plasmid rolling circle DNA replication initiator proteins. J Gen Virol 73:2763–2766

6.

Martin DP, Lemey P, Lott M, Moulton V, Posada D, Lefeuvre P (2010) RDP3: a flexible and fast computer program for analyzing recombination. Bioinformatics 26:2462–2463

7.

Nash TE, Dallas MB, Reyes MI, Buhrman GK, Ascencio-Ibañez JT, Hanley-Bowdoin L (9201) 1) Functional analysis of a novel motif conserved ac ross geminivirus Rep proteins. J Virol 85:1182–1192

8.

Owor BE, Shepherd DN, Taylor NJ, Edema R, Monjane AL, Thomson JA, Martin DP, Varsani A (2007) Successful application of FTA Classic Card technology and use of bacteriophage phi29 DNA polymerase for large-scale field sampling and cloning of complete maize streak virus genomes. J Virol Methods 140:100–105

9.

Shepherd DN, Martin DP, Lefeuvre P, Monjane AL, Owor BE, Rybicki EP, Varsani A (2008) A protocol for the rapid isolation of full geminivirus genomes from dried plant tissue. J Virol Methods 149:97–102

10.

Stanley J, Bisaro D, Briddon R, Brown J, Fauquet C, Harrison B, Rybicki E, Stenger D (2005) Geminiviridae. In: Fauquet CM, Mayo MA, Maniloff J, Desselberger U, Ball LA (eds) Virus Taxonomy. VIIIth report of the ICTV. Elsevier/Academic Press, London, pp 301–326

11.

Tamura K, Dudley J, Nei M, Kumar S (2007) MEGA4: molecular evolutionary genetics analysis (MEGA) software version 4.0. Mol Biol Evol 24:1596–1599

12.

Thompson JD, Higgins DG, Gibson TJ (1994) CLUSTAL W: improving the sensitivity of progressive multiple sequence alignment through sequence weighting, position-specific gap penalties and weight matrix choice. Nucleic Acids Res 22:4673–4680

13.

Varsani A, Shepherd DN, Dent K, Monjane AL, Rybicki EP, Martin DP (2009) A highly divergent South African geminivirus species illuminates the ancient evolutionary history of this family. Virol J 6:36

14.

Xie Q, Suarezlopez P, Gutierrez C (1995) Identification and analysis of a retinoblastoma binding motif in the replication protein of a plant DNA virus—requirement for efficient viral-DNA replication. EMBO J 14:4073–4082

15.

Yamashita S, Nonaka N, Namba S, Doi Y, Yora K (1985) Miscanthus streak virus, a geminivirus in Miscanthus sacchariflorus. Ann Phytopathol Soc Jpn 51:582–590

16.

Zhang Z, Schwartz S, Wagner L, Miller W (2000) A greedy algorithm for aligning DNA sequences. J Comput Biol 7:203–214
Acknowledgments
This work was funded by a grant from the National Foundation of Science of South Africa and a University of Cape Town block grant awarded to AV. PL is funded by GIS CRVOI through the EmerGe grant (N°PRAO/AIRD/CRVOI/08/03).
Electronic supplementary material
Below is the link to the electronic supplementary material.
About this article
Cite this article
Martin, D.P., Linderme, D., Lefeuvre, P. et al. Eragrostis minor streak virus: an Asian streak virus in Africa. Arch Virol 156, 1299–1303 (2011). https://doi.org/10.1007/s00705-011-1026-8
Received:

Accepted:

Published:

Issue Date:
Keywords
Dwarf Virus

Streak Virus

Current Geographical Distribution

Mastrevirus Species

Asian Virus