Abstract
Tomato spotted wilt virus (TSWV) infects numerous host plants and has three genome segments, called L, M and S. Here, we report the complete genome sequences of three Korean TSWV isolates (TSWV-1 to -3) infecting tomato and pepper plants. Although the nucleotide sequence of TSWV-1 genome isolated from tomato is very different from those of TSWV-2 and TSWV-3 isolated from pepper, the deduced amino acid sequences of the five TSWV genes are highly conserved among all three TSWV isolates. In phylogenetic analysis, deduced RdRp protein sequences of TSWV-2 and TSWV-3 were clustered together with two previously reported isolates from Japan and Korea, while TSWV-1 grouped together with a Hawaiian isolate. A phylogenetic tree based on N protein sequences, however, revealed four distinct groups of TSWV isolates, and all three Korean isolates belonged to group II, together with many other isolates, mostly from Europe and Asia. Interestingly, most American isolates grouped together as group I. Together, these results suggested that these newly identified TSWV isolates might have originated from an Asian ancestor and undergone divergence upon infecting different host plants.
Access options
Buy single article
Instant access to the full article PDF.
USD 39.95
Price excludes VAT (USA)
Tax calculation will be finalised during checkout.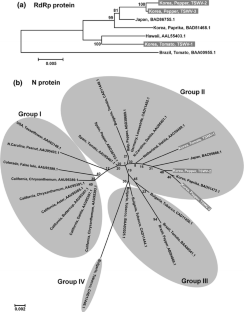 References
de Haan P, Wagemakers L, Peters D, Goldbach R (1990) The S RNA segment of Tomato spotted wilt virus has an ambisense character. J Gen Virol 71:1001–1007

de Haan P, Kormelink R, de Oliveira Resende R, van Poelwijk F, Peters D, Goldbach R (1991) Tomato spotted wilt virus L RNA encodes a putative RNA polymerase. J Gen Virol 72:2207–2216

Hanssen IM, Lapidot M, Thomma BP (2010) Emerging viral diseases of tomato crops. Mol Plant Microbe Interact 23:539–548

Heinze C, Letschert B, Hristova D, Yankulova M, Kauadjouor O, Willingmann P, Atanassov A, Adam G (2001) Variability of the N-protein and the intergenic region of the S RNA of Tomato spotted wilt tospovirus (TSWV). New Microbiol 24:175–187

Kim JH, Choi GS, Kim JS, Choi CK (2004) Characterization of Tomato spotted wilt virus from Paprika in Korea. Plant Pathol J 20:297–301

Kormelink R, de Haan P, Meurs C, Peters D, Goldbach R (1992) The nucleotide sequence of the M RNA segment of Tomato spotted wilt virus, a bunyavirus with two ambisense RNA segments. J Gen Virol 73:2795–2804

Milne RG, Francki RIB (1984) Should Tomato spotted wilt virus be considered as a possible member of the family bunyaviridae? Intervirology 22:72–76

Pappu HR, Jones RA, Jain RK (2009) Global status of tospovirus epidemics in diverse cropping systems: successes achieved and challenges ahead. Virus Res 141:219–236

Prins M, Goldbach R (1998) The emerging problem of tospovirus infection and nonconventional methods of control. Trends Microbiol 6:31–35

Tamura K, Dudley J, Nei M, Kumar S (2007) MEGA4: Molecular Evolutionary Genetics Analysis (MEGA) software version 4.0. Mol Biol Evol 24:1596–1599

Tsompana M, Abad J, Purugganan M, Moyer JW (2005) The molecular population genetics of the Tomato spotted wilt virus (TSWV) genome. Mol Ecol 14:53–66

Whitfield AE, Ullman DE, German TL (2005) Tospovirus-thrips interactions. Annu Rev Phytopathol 43:459–489
Acknowledgments
We thank Dr. T. L. Sit for reviewing the manuscript. This research was supported in part by grants from the Rural Development Administration (No. PJ006952), the Korea Institute of Planning and Evaluation for Technology of Food, Agriculture, Forestry and Fisheries (No. 710001-03), and the Korea Science and Engineering Foundation grant (No. 20100000126) funded by the Ministry of Education, Science, and Technology (MEST). JSL and WKC were supported by graduate and post-graduate research fellowships, respectively, from the MEST through the Brain Korea 21 Project.
Electronic supplementary material
Below is the link to the electronic supplementary material.
About this article
Cite this article
Lee, JS., Cho, W.K., Kim, MK. et al. Complete genome sequences of three tomato spotted wilt virus isolates from tomato and pepper plants in Korea and their phylogenetic relationship to other TSWV isolates. Arch Virol 156, 725–728 (2011). https://doi.org/10.1007/s00705-011-0935-x
Received:

Accepted:

Published:

Issue Date:

DOI: https://doi.org/10.1007/s00705-011-0935-x
Keywords