Abstract
The complete sequences of two double-stranded RNA segments from the fungus Heterobasidion parviporum were characterized. The larger segment (2,290 bp) contained an open reading frame encoding a putative RNA-dependent RNA polymerase (RdRp, 722 aa), while the smaller one (2,238 bp) encoded a putative coat protein of 659 aa. Based on phylogenetic analysis, the dsRNA segments constitute the genome of a new virus assigned to the family Partitiviridae and named Heterobasidion RNA virus 2 (HetRV2). The RdRp segment was clearly related to H. annosum P-type partitivirus (aa similarity of 59%) but was only distantly related to previously described viruses of H. parviporum (aa similarity 26–35%). The dsRNA could be experimentally transmitted to all five species of the Heterobasidion annosum sensu lato complex and two species of the H. insulare complex, indicating that horizontal transfer between these intersterile fungal species is possible.
This is a preview of subscription content,
to check access.
Access this article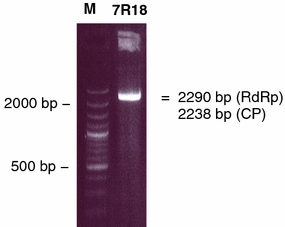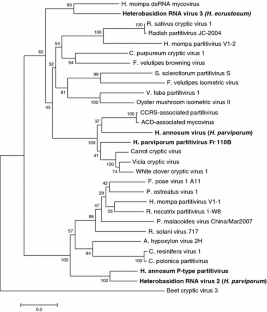 Similar content being viewed by others
References
Anagnostakis S, Day P (1979) Hypovirulence conversion in Endothia parasitica. Phytopathology 69:1226–1229

Brasier C, Buck K, Paoletti M, Crawford L, Kirk S (2004) Molecular analysis of evolutionary changes in populations of Ophiostoma novo-ulmi. Invest Agr Sist Y Rec For 13:93–103

Bruenn JA (1993) A closely related group of RNA-dependent RNA polymerases from double-stranded RNA viruses. Nucleic Acids Res 21:5667–5669

Charlton ND, Carbone I, Tavantzis SM, Cubeta MA (2008) Phylogenetic relatedness of the M2 double-stranded RNA in Rhizoctonia fungi. Mycologia 100:555–564

Coenen A, Kevei F, Hoekstra RF (1997) Factors affecting the spread of double-stranded RNA viruses in Aspergillus nidulans. Genet Res Camb 69:1–10

Dai YC, Korhonen K (2009) Heterobasidion australe, a new polypore derived from the Heterobasidion insulare compex. Mycoscience 50:353–356

Deng F, Xu R, Boland GJ (2003) Hypovirulence-associated double-stranded RNA from Sclerotinia homoeocarpa is conspecific with Ophiostoma novo-ulmi mitovirus 3a-Ld. Phytopathology 93:1407–1414

Garbelotto M, Otrosina WJ, Cobb FW, Bruns TD (1998) The European S and F intersterility groups of Heterobasidion annosum may represent sympatric protospecies. Can J Bot 76:397–409

Ghabrial SA, Ochoa WF, Baker TS, Nibert ML (2008) Partitiviruses: general features. In: Mahy BWJ, Van Regenmortel MHV (eds) Encyclopedia of virology, 5 vols. Elsevier, Oxford, pp 68–75

Huang S, Ghabrial SA (1996) Organization and expression of the double-stranded RNA genome of Helminthosporium victoriae 190S virus, a totivirus infecting a plant pathogenic filamentous fungus. Proc Natl Acad Sci USA 93:12541–12546

Ihrmark K (2001) Double-stranded RNA elements in the root rot fungus Heterobasidion annosum. Dissertation, Swedish University of Agricultural Sciences, Uppsala

Ihrmark K, Zheng J, Stenström E, Stenlid J (2001) Presence of double-stranded RNA in Heterobasidion annosum. For Pathol 31:387–394

Ihrmark K, Johannesson H, Stenström E, Stenlid J (2002) Transmission of double-stranded RNA in Heterobasidion annosum. Fungal Genet Biol 36:147–154

Ihrmark K, Stenström E, Stenlid J (2004) Double-stranded RNA transmission through basidiospores of Heterobasidion annosum. Mycol Res 108:149–153

Lakshman DK, Jian J, Tavantzis M (1998) A double-stranded RNA element from a hypovirulent strain of Rhizoctonia solani occurs in DNA form and is genetically related to the pentafunctional AROM protein of the shikimate pathway. Proc Natl Acad Sci USA 95:6425–6429

Lambden PR, Cooke SJ, Caul EO, Clarke IN (1992) Cloning of noncultivatable human rotavirus by single primer amplification. J Virol 66:1817–1822

Liu Y-C, Milgroom MG (1996) Correlation between hypovirus transmission and the number of vegetative incompatibility (vic) genes different among isolates from a natural population of Cryphonectria parasitica. Phytopathology 86:79–86

Liu Y, Linder-Basso D, Hillman B, Kaneko S, Milgroom M (2003) Evidence for interspecies transmission of viruses in natural populations of filamentous fungi in the genus Cryphonectria. Mol Ecol 12:1619–1628

Márquez LM, Redman RS, Rodriguez RJ, Roossinck MJ (2007) A virus in a fungus in a plant: three-way symbiosis required for thermal tolerance. Science 315:513–515

Melzer MS, Ikeda SS, Boland GJ (2002) Interspecific transmission of double-stranded RNA and hypovirulence from Sclerotinia sclerotiorum to S. minor. Phytopathology 92:780–784

Morris TJ, Dodds JA (1979) Isolation and analysis of double-stranded RNA from virus-infected plant and fungal tissue. Phytopathology 69:854–858

Müller MM, Kantola R, Kitunen V (1994) Combining sterol and fatty acid profiles for the characterization of fungi. Mycol Res 98:593–603

Otrosina WJ, Garbelotto M (2010) Heterobasidion occidentale sp. nov. and Heterobasidion irregulare nom. nov.: a disposition of North American Heterobasidion biological species. Fungal Biol 114:16–25

Pearson MN, Beever RE, Boine B, Arthur K (2009) Mycoviruses of filamentous fungi and their relevance to plant pathology. Mol Plant Pathol 10:115–128

Piri T, Korhonen K (2008) The effect of winter thinning on the spread of Heterobasidion parviporum in Norway spruce stands. Can J For Res 38:2589–2595

Rogers HJ, Buck KW, Brasier CM (1986) Transmission of double-stranded RNA and a disease factor in Ophiostoma ulmi. Plant Pathol 35:227–287

Stenlid J, Karlsson J-O (1991) Partial intersterility in Heterobasidion annosum. Mycol Res 95:1153–1159

Stenlid J, Karlsson J-O, Högberg N (1994) Inraspecific genetic variation in Heterobasidion annosum revealed by amplification of minisatellite DNA. Mycol Res 98:57–63

Tamura K, Dudley J, Nei M, Kumar S (2007) MEGA4: molecular evolutionary genetics analysis (MEGA) software version 4.0. Mol Biol Evol 24:1596–1599

Tokuda S, Hattori T, Dai YC, Ota Y, Buchanan PK (2009) Three species of Heterobasidion (Basidiomycota, Hericiales), H. parviporum, H. orientale sp. nov. and H. ecrustosum sp. nov. from East Asia. Mycoscience 50:190–202

Tuomivirta T, Hantula J (2003) Two unrelated double-stranded RNA molecule patterns in Gremmeniella abietina type A code for putative viruses of the families Totiviridae and Partitiviridae. Arch Virol 148:2293–2305

Tuomivirta TT, Uotila A, Hantula J (2002) Two independent double-stranded RNA patterns occur in the Finnish Gremmeniella abietina var. abietina type A. For Pathol 32:197–205

White TJ, Bruns T, Lee S, Taylor JW (1990) Amplification and direct sequencing of fungal ribosomal RNA genes for phylogenetics. In: Innis M, Gelfand DH, Sninsky JJ, White TJ (eds) PCR protocols—a guide to methods and applications. Academic Press, San Diego, pp 315–322

Woodward S, Stenlid J, Karjalainen R, Hutterman A (1998) Heterobasidion annosum: Biology, Ecology Impact and Control. CAB International, Wallingford
Acknowledgments
This study was financially supported by the Academy of Finland (Project 122565) and the Finnish Forest Research Institute. We thank Ms Marja-Leena Santanen, Ms Sonja Savin and Ms Sonja Sarsila for skillful technical assistance. The collectors of the Heterobasidion strains used in the transmission experiments (Y.C. Dai, T. Dogmus-Lehtijärvi, D. Goheen, T. Kirisits, K. Korhonen, A. Lehtijärvi, E. Motta, T. Piri and T. Yamaguchi) are also gratefully acknowledged.
Additional information
Nucleotide sequence data reported are available in the GenBank database under accession numbers HM565953 and HM565954.
About this article
Cite this article
Vainio, E.J., Keriö, S. & Hantula, J. Description of a new putative virus infecting the conifer pathogenic fungus Heterobasidion parviporum with resemblance to Heterobasidion annosum P-type partitivirus. Arch Virol 156, 79–86 (2011). https://doi.org/10.1007/s00705-010-0823-9
Received:

Accepted:

Published:

Issue Date:

DOI: https://doi.org/10.1007/s00705-010-0823-9
Keywords