Abstract
Melandrium yellow fleck bromovirus (MYFV) systemically infected Arabidopsis thaliana, although the susceptibility of several A. thaliana accessions to MYFV differed from their susceptibility to the other two bromoviruses infecting A. thaliana. We constructed full-length cDNA clones of MYFV genomic RNAs 1, 2, and 3 and determined their complete nucleotide sequences. Similar to Broad bean mottle bromovirus, (1) the 5′-terminal nucleotide of the MYFV genomic RNAs was adenine, and (2) the "D-arm" was absent from the tRNA-like structure in the 3′ untranslated regions (UTRs) of MYFV RNAs. As unique characteristics, MYFV RNA3 lacked the poly(A) tract in the intercistronic region and contained a directly repeated sequence of about 200 nucleotides and polypyrimidine tracts of heterogeneous lengths in the 5′ UTR. Co-infection experiments using RNA3 clones with or without the duplicated sequence demonstrated that the duplication contributed to the competitive fitness of the virus in Nicotiana benthamiana.
Access options
Buy single article
Instant access to the full article PDF.
US$ 39.95
Tax calculation will be finalised during checkout.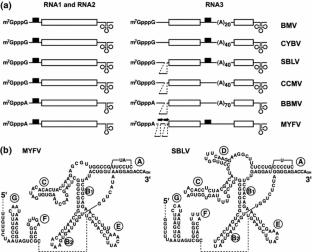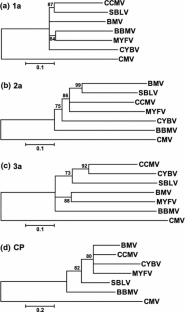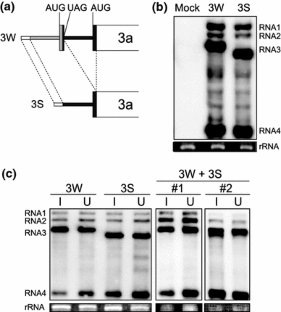 References
1.

Ahlquist P, Dasgupta R, Kaesberg P (1981) Near identity of 3′ RNA secondary structure in bromoviruses and cucumber mosaic virus. Cell 23:183–189

2.

Ahlquist P, Luckow V, Kaesberg P (1981) Complete nucleotide sequence of brome mosaic virus RNA3. J Mol Biol 153:23–38

3.

Ahlquist P, Dasgupta R, Kaesberg P (1984) Nucleotide sequence of the brome mosaic virus genome and its implications for viral replication. J Mol Biol 172:369–383

4.

Ahlquist P, French R, Janda M, Loesch-Fries LS (1984) Multicomponent RNA plant virus infection derived from cloned viral cDNA. Proc Natl Acad Sci USA 81:7066–7070

5.

Ahola T, den Boon JA, Ahlquist P (2000) Helicase and capping enzyme active site mutations in brome mosaic virus protein 1a cause defects in template recruitment, negative-strand RNA synthesis, and viral RNA capping. J Virol 74:8803–8811

6.

Allison RF, Janda M, Ahlquist P (1988) Infectious in vitro transcripts from cowpea chlorotic mottle virus cDNA clones and exchange of individual RNA components with brome mosaic virus. J Virol 62:3581–3588

7.

Allison RF, Janda M, Ahlquist P (1989) Sequence of cowpea chlorotic mottle virus RNAs 2 and 3 and evidence of a recombination event during bromovirus evolution. Virology 172:321–330

8.

Chalfie M, Tu Y, Euskirchen G, Ward WW, Prasher DC (1994) Green fluorescent protein as a marker for gene expression. Science 263:802–805

9.

Damayanti TA, Nagano H, Mise K, Furusawa I, Okuno T (1999) Brome mosaic virus defective RNAs generated during infection of barley plants. J Gen Virol 80:2511–2518

10.

Duggal R, Lahser FC, Hall TC (1994) cis-Acting sequences in the replication of plant viruses with plus-sense RNA genomes. Annu Rev Phytopathol 32:287–309

11.

Dzianott AM, Bujarski JJ (1991) The nucleotide sequence and genome organization of the RNA-1 segment in two bromoviruses: broad bean mottle virus and cowpea chlorotic mottle virus. Virology 185:553–562

12.

French R, Ahlquist P (1987) Intercistronic as well as terminal sequences are required for efficient amplification of brome mosaic virus RNA3. J Virol 61:1457–1465

13.

French R, Ahlquist P (1988) Characterization and engineering of sequences controlling in vivo synthesis of brome mosaic virus subgenomic RNA. J Virol 62:2411–2420

14.

Frohman MA (1990) RACE: Rapid amplification of cDNA ends In: Innis MA, Gelfand DH, Sninsky JJ, White TJ (eds) PCR protocols. Academic Press, San Diego, pp 28–38

15.

Fujisaki K, Hagihara F, Kaido M, Mise K, Okuno T (2003) Complete nucleotide sequence of spring beauty latent virus, a bromovirus infectious to Arabidopsis thaliana. Arch Virol 148:165–175

16.

Fujisaki K, Hagihara F, Kaido M, Mise K, Okuno T (2004) Identification and characterization of the SSB1 locus involved in symptom development by Spring beauty latent virus infection in Arabidopsis thaliana. Mol Plant Microbe Interact 17:967–975

17.

Fujisaki K, Iwahashi F, Kaido M, Okuno T, Mise K (2009) Genetic analysis of a host determination mechanism of bromoviruses in Arabidopsis thaliana. Virus Res 140:103–111

18.

Gubler U, Hoffman BJ (1983) A simple and very efficient method for generating cDNA libraries. Gene 25:263–269

19.

Hollings M, Horváth J (1981) Melandrium yellow fleck virus. In: CMI/AAB Descriptions of Plant Viruses. Holywell Press, Oxford, No. 236

20.

Iwahashi F, Fujisaki K, Kaido M, Okuno T, Mise K (2005) Synthesis of infectious in vitro transcripts from Cassia yellow blotch bromovirus cDNA clones and a reassortment analysis with other bromoviruses in protoplasts. Arch Virol 150:1301–1314

21.

Iwamoto T, Mise K, Mori K, Arimoto M, Nakai T, Okuno T (2001) Establishment of an infectious RNA transcription system for Striped jack nervous necrosis virus, the type species of the betanodaviruses. J Gen Virol 82:2653–2662

22.

Janda M, French R, Ahlquist P (1987) High efficiency T7 polymerase synthesis of infectious RNA from cloned brome mosaic virus cDNA and effects of 5′ extensions on transcript infectivity. Virology 158:259–262

23.

Jayasena KW, Randles JW (2004) A short insert in the leader sequence of RNA 3L, a long variant of Alfalfa mosaic virus RNA3, introduces two unidentified reading frames. Virus Genes 29:311–316

24.

Kroner P, Richards D, Traynor P, Ahlquist P (1989) Defined mutations in a small region of the brome mosaic virus 2 gene cause diverse temperature-sensitive RNA replication phenotypes. J Virol 63:5302–5309

25.

Kroner PA, Young BM, Ahlquist P (1990) Analysis of the role of brome mosaic virus 1a protein domains in RNA replication, using linker insertion mutagenesis. J Virol 64:6110–6120

26.

Kroner P, Ahlquist P (1992) RNA-based viruses In: Gurr SJ, McPherson MJ, Bowles DJ (eds) Molecular plant pathology; a practical approach vol 1. Oxford University Press, New York, pp 23–34

27.

Laemmli UK (1970) Cleavage of structural proteins during the assembly of the head of bacteriophage T4. Nature 227:680–685

28.

Lane LC (1981) Bromoviruses In: Kurstak E (ed) Handbook of plant virus infections and comparative diagnosis. Elsevier, North-Holland, Biomedical Press, New York, pp 333–376

29.

Langereis K, Mugnier MA, Cornelissen BJ, Pinck L, Bol JF (1986) Variable repeats and poly (A)-stretches in the leader sequence of alfalfa mosaic virus RNA 3. Virology 154:409–414

30.

Mise K, Allison RF, Janda M, Ahlquist P (1993) Bromovirus movement protein genes play a crucial role in host specificity. J Virol 67:2815–2823

31.

Navas-Castillo J, Albiach-Martí MR, Gowda S, Hilf ME, Garnsey SM, Dawson WO (1997) Kinetics of accumulation of citrus tristeza virus RNAs. Virology 228:92–97

32.

Pacha RF, Allison RF, Ahlquist P (1990) cis-Acting sequences required for in vivo amplification of genomic RNA3 are organized differently in related bromoviruses. Virology 174:436–443

33.

Pacha RF, Ahlquist P (1992) Substantial portions of the 5′ and intercistronic noncoding regions of cowpea chlorotic mottle virus RNA3 are dispensable for systemic infection but influence viral competitiveness and infection pathology. Virology 187:298–307

34.

Pogany J, Hung Q, Romero J, Nagy PD, Bujarski JJ (1994) Infectious transcripts from PCR-amplified broad bean mottle bromovirus cDNA clones and variable nature of leader regions in RNA3 segment. J Gen Virol 75:693–699

35.

Pogue GP, Marsh LE, Hall TC (1990) Point mutations in the ICR2 motif of brome mosaic virus RNAs debilitate in the (+)-strand replication. Virology 188:742–753

36.

Pogue GP, Hall TC (1992) The requirement for a 5′ stem-structure in brome mosaic virus replication supports a new model for viral positive-strand RNA initiation. J Virol 66:674–684

37.

Romero J, Dzianott AM, Bujarski JJ (1992) The nucleotide sequence and genome organization of the RNA2 and RNA3 segments in broad bean mottle virus. Virology 187:671–681

38.

Roossinck MJ, Bujarski J, Ding SW, Hajimorad R, Hanada K, Scott S, Tousignant M (2005) Family Bromoviridae. In: Fauquet CM, Mayo MA, Maniloff J, Desselberger U, Ball LA (eds) Virus taxonomy. Elsevier Academic Press, San Diego, pp 1049–1058

39.

Sacher R, Ahlquist P (1989) Effects of deletions in the N-terminal basic arm of brome mosaic virus coat protein on RNA packaging and systemic infection. J Virol 63:4545–4552

40.

Sasaki N, Fujita Y, Mise K, Furusawa I (2001) Site-specific single amino acid changes to Lys or Arg in the central region of the movement protein of a hybrid bromovirus are required for adaptation to a nonhost. Virology 279:47–57

41.

Schmitz I, Rao ALN (1996) Molecular study on bromovirus capsid protein; I Characterization of cell-to-cell movement-defective RNA3 variants of brome mosaic virus. Virology 226:281–293

42.

Sullivan ML, Ahlquist P (1999) A brome mosaic virus intergenic RNA3 replication signal functions with viral replication protein 1a to dramatically stabilize RNA in vivo. J Virol 73:2622–2632

43.

Smirnyagina E, Hsu YH, Chua N, Ahlquist P (1994) Second-site mutations in the brome mosaic virus RNA3 intercistronic region partially suppress a defect in coat protein mRNA transcription. Virology 198:427–436

44.

Valverde RA (1985) Spring beauty latent bromovirus: a new member of the bromovirus group. Phytopathology 75:395–398
Acknowledgments
We thank Dr. Rodrigo A. Valverde for MYFV-infected leaves of Nicotiana clevelandii and Dr. Yoshihiko Yonezawa for Melandrium album seeds. This work was supported in part by a Grant-in-Aid (19380027) for Scientific Research (B) and a Grant-in-Aid (18208004) for Scientific Research (A) from the Japan Society for the Promotion of Science.
Additional information
The DDBJ/EMBL/GenBank accession nos of MYFV RNA1, MYFV RNA2 and MYFV RNA3 determined in this study are AB444583, AB444584 and AB444585, respectively.
Electronic supplementary material
Below is the link to the electronic supplementary material.
About this article
Cite this article
Narabayashi, T., Iwahashi, F., Kaido, M. et al. Melandrium yellow fleck bromovirus infects Arabidopsis thaliana and has genomic RNA sequence characteristics that are unique among bromoviruses. Arch Virol 154, 1381–1389 (2009). https://doi.org/10.1007/s00705-009-0449-y
Received:

Accepted:

Published:

Issue Date:
Keywords
Alfalfa Mosaic Virus

Polypyrimidine Tract

Brome Mosaic Virus

Cowpea Chlorotic Mottle Virus

RNA3 Clone