Abstract
For the first time, this study analyzed the changes in observed soil temperature anomalies in detail at five stratified depths over various time scales in the Czech Republic. From 2000 to 2020, data from 49 weather stations were used, which also incorporated a unique 69-year series of soil temperature measurements from the Doksany station, where measurements have been obtained since 1952. First, climatological statistics for the observed soil temperatures at various depths and time scales were calculated. Second, a comprehensive analysis of soil temperature trends and their links with atmospheric variables was performed. Third, daily soil temperature anomalies (DSTs) at various depths were calculated through the use of standardized values (z‐DST scores). To demonstrate that precipitation triggered a drop in DSTs, we also applied a quantile-based analysis to rainfall-DST-coupled datasets. Compound air–soil heat events in the warm half-years were quantified. Finally, three critical soil temperature thresholds were established, and three minimum soil temperature, namely, lower than − 3 °C, − 5 °C, and − 7 °C were designated as being critical for wheat plants with low, moderate, and high frost tolerance, respectively. We found that the effects from soil warming at all depths and seasons have increased and that the risk of critical winter soil temperatures that cause stress-induced damage in wheat surprisingly increased over the study period. The risk of winterkill is between 28 and 39% in most wheat-planting areas. The most frequent intense long-lasting heat waves occurred in the postheading stage of winter wheat.
Access options
Buy single article
Instant access to the full article PDF.
USD 39.95
Price excludes VAT (USA)
Tax calculation will be finalised during checkout.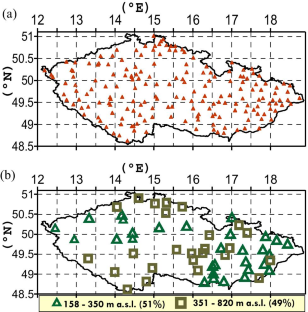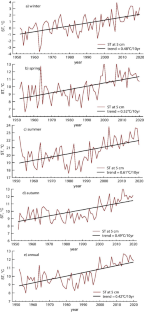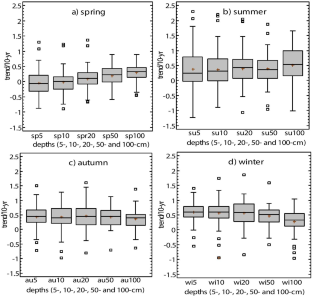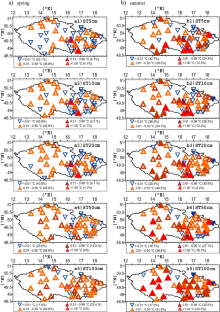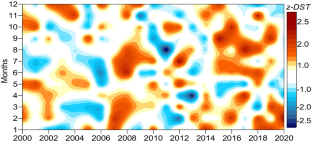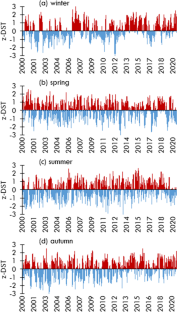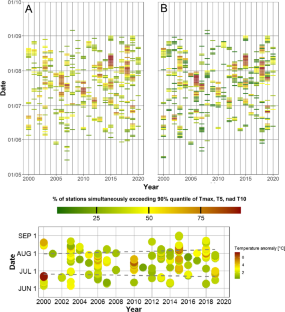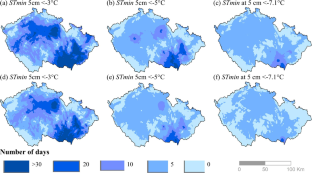 Data availability
The data that support the findings of this study is available from the corresponding author upon request.
References
Andrews CJ, Pomeroy MK, de la Roche IA (1974) Changes in cold hardiness of overwintering winter wheat. Can J Plant Sci 54(1):9–15. https://doi.org/10.4141/cjps74-002

Araghi A, Mousavi-Baygi M, Adamowski J (2017) Detecting soil temperature trends in Northeast Iran from 1993 to 2016. Soil and Tillage Research 174:177–192. https://doi.org/10.1016/j.still.2017.07.010

Beer C, Porada P, Ekici A, Brakebusch M (2018) Effects of short-term variability of meteorological variables on soil temperature in permafrost regions. Cryosphere 12:741–775. https://doi.org/10.5194/tc-12-741-2018

Brown P, DeGaetano AT (2011) A paradox of cooling winter soil surface temperatures in a warming northeastern United States. Agriculture and Forest Meteorology 151(7):947–956. https://doi.org/10.1016/j.agrformet.2011.02.014

Choler P (2018) Winter soil temperature dependence of alpine plant distribution: implications for anticipating vegetation changes under a warming climate. Perspectives in Plant Ecology, Evolution and Systematics 30:6–15. https://doi.org/10.1016/j.ppees.2017.11.002

Coufal V, Kott I, Možný M (1993) Teplota půdy v chladné části roku v období 1961–1990 na území České republiky. Národní klimatický program České republiky. 12 ČHMÚ Praha, 37p

De Luca P, Messori G, Faranda D, Ward PJ, Coumou D (2020) Compound warm–dry and cold–wet events over the Mediterranean. Earth Syst Dynam 11:793–805. https://doi.org/10.5194/esd-11-793-2020

Fang X, Luo S, Lyu S (2019) Observed soil temperature trends associated with climate change in the Tibetan Plateau, 1960–2014. Theoret Appl Climatol 135(1–2):169–181

Fowler DB, Byrns BM, Greer KJ (2014) Overwinter low-temperature responses of cereals: Analyses and Simulation. Crop Sci 54:1–11

Gholamhoseini M, Dolatabadian A, Habibzadeh F (2019) Ridge-furrow planting system and wheat straw mulching effects on dryland sunflower yield, soil temperature, and moisture. Yield, Soil Temperature, and Moisture. Agronomy Journal. 111(6). https://doi.org/10.2134/agronj2019.02.0097

Grillakis MG, Koutroulis AG, Papadimitriou LV, Daliakopoulos IN, Tsanis IK (2016) Climate-induced shifts in global soil temperature regimes. Soil Sci 181(6):264–272. https://doi.org/10.1097/SS.0000000000000156

Gustin RD (1981) Soil temperature environment of overwintering western corn rootworm eggs. Environ Entomol 10(4):483–487. https://doi.org/10.1093/ee/10.4.483

Jia D, Liu M, Li K et al (2021) Variations in the top-layer soil freezing/thawing process from 2009 to 2018 in the Maqu area of the Tibetan Plateau. Theor Appl Climatol 143:21–32. https://doi.org/10.1007/s00704-020-03382-2

He G, Wang Z, Ma X, He H, Cao H, Wang S, Dai J, Luo L, Huang M, Malhi SS (2017) Wheat yield affected by soil temperature and water under mulching in dryland. Agron J 109(6):2998–3006. https://doi.org/10.2134/agronj2017.04.0208

Hursh A, Ballantyne A, Cooper L, Maneta M, Kimball J, Watts J (2017) The sensitivity of soil respiration to soil temperature, moisture, and carbon supply at the global scale. Glob Change Biol 23(5):2090–2103. https://doi.org/10.1111/gcb.13489

Kayaci N, Demir H (2018) Numerical modelling of transient soil temperature distribution for horizontal ground heat exchanger of ground source heat pump. Geothermics 73:33–47. https://doi.org/10.1016/j.geothermics.2018.01.009

Knight JH, Minasny B, McBratney AB, Koen TB, Murphy BW (2018) Soil temperature increase in eastern Australia for the past 50 years. Geoderma 313:241–249. https://doi.org/10.1016/j.geoderma.2017.11.015

Kollet SJ, Cvijanovic I, Schüttemeyer D, Maxwell RM, Moene AF, Bayer P (2009) The influence of rain sensible heatand subsurface energy transport on the energy balance at the landsurface. Vadose Zone J 8:846–857. https://doi.org/10.2136/vzj2009.0005

Kolář P, Trnka M, Brázdil R, Hlavinka P (2014) Influence of climatic factors on the low yields of spring barley and winter wheat in Southern Moravia (Czech Republic) during the 1961–2007 period. Theoret Appl Climatol 117(3):707–721

Kosová K, Prášil IT (2011) Annual field crops. In: Storey K.B., Tanino K.K. (eds.): Temperature adaptation in a changing climate: Nature at risk. CAB International, Wallingford, the UK. ISBN: 9781845938222

Liao X, Su Z, Liu G, Zotarelli L, Cui Y, Snodgrass C (2016) Impact of soil moisture and temperature on potato production using seepage and center pivot irrigation. Agric Water Manag 165:230–236. https://doi.org/10.1016/j.agwat.2015.10.023

Liu Y, Wang L, Liu B, Henderson M (2016) Observed changes in shallow soil temperatures in Northeast China, 1960–2007. Climate Res 67:31–42. https://doi.org/10.3354/cr01351

Liu B, Liu L, Tian L, CAO W., Thu Y, Asseng S, (2014) Post-heading heat stress and yield impact in winter wheat of Chine. Glob Change Biol 20:372–381. https://doi.org/10.1111/gcb.12442

Mäkinen H, Gobin A, Rodríguez A et al (2018) Sensitivity of European wheat to extreme weather. Field Crop Res 222:209–217. https://doi.org/10.1016/j.fcr.2017.11.008

Meng X, Wang H, Wu Y, Long A, Wang J, Shi C, Ji X (2017) Investigating spatiotemporal changes of the land-surface processes in Xinjiang using high-resolution CLM3. 5 and CLDAS: Soil temperature

Miralles D, Teuling A, van Heerwaarden C et al (2014) Mega-heatwave temperatures due to combined soil desiccation and atmospheric heat accumulation. Nature Geosci 7:345–349. https://doi.org/10.1038/ngeo2141

Možný M, Potopová V, Türkott L, Musiolková M (2020) Risk of frost damage to winter wheat based on the probability assessment of lethal temperature (LT50) for the period 1991–2020 in the Czech Republic. Certified methodologies on a specialized map with professional content. Ministerstvo zemědělství ČR, Odbor environmentálních podpor PRV, Praha

Oni SK, Mieres F, Futter MN, Laudon H (2017) Soil temperature responses to climate change along a gradient of upland–riparian transect in boreal forest. Clim Change 143:27–41. https://doi.org/10.1007/s10584-017-1977-1

Onwuka B, Mang B (2018) Effects of soil temperature on some soil properties and plant growth. Advances in Plants & Agriculture Research 8(1):34–37. https://doi.org/10.15406/apar.2018.08.00288

Peltonen-Sainio P, Hakala K, Jauhiainen L (2011) Climate-induced overwintering challenges for wheat and rye in northern agriculture. Acta Agriculturae Scandinavice. Section B - Soil & Plant Science 61:75–83. https://doi.org/10.1080/09064710903535977

Peng X, Zhang T, Frauenfeld OW, Du R, Wei Q, Liang B (2020) Soil freeze depth variability across Eurasia during 1850–2100. Clim Change 158:531–549. https://doi.org/10.1007/s10584-019-02586-4

Potopová V, Boroneat C, Možný M, Soukup J (2016) Driving role of snow cover on soil moisture and drought developing during the growing season in the Czech Republic. Int J Climatol 36:3741–3758

Potopová V, Lhotka O, Možný M, Musiolková M (2021) Vulnerability of hop-yields due to compound drought and heat events over European key-hop regions. Int J Climatol 41(S1):E2136–E2158. https://doi.org/10.1002/joc.6836

Poschlod B, Zscheischler J, Sill, ann J, Wood Raul R, Ludwig R, (2020) Climate change effects on hydrometeorological compound events over southern Norway. Weather and Climate Extremes 28:100253. https://doi.org/10.1016/j.wace.2020.100253

Pramanik P, Chakrabarti B, Bhatia A, Singh SD, Maity A, Aggarwal P, Krishnan P (2018) Effect of elevated temperature on soil hydrothermal regimes and growth of wheat crop. Environ Monit Assess 190:217. https://doi.org/10.1007/s10661-018-6576-8

Prášil IT, Papazisis K, Janacek J, Prasilova P. (1994) Winter-hardiness of Czech and Slovak winter wheat cultivars. Rostlinná Výroba UZPI

Prášil IT, Prášilová P, Mařík P (2007) Comparative study of direct and indirect evaluations of frost tolerance in barley. Field Crop Res 102:1–8

Qian B, Gregorich EG, Gameda S, Hopkins DW, Wang XL (2011) Observed soil temperature trends associated with climate change in Canada. Journal of Geophysical Research: Atmospheres. 116(D2)

Raymond C, Horton RM, Zscheischler J. et al. (2020) Understanding and managing connected extreme events. Nat. Clim. Chang. doi.org/https://doi.org/10.1038/s41558-020-0790-4

Řehoř J, Brázdil R, Trnka M et al (2020) Regional effects of synoptic situations on soil drought in the Czech Republic. Theoret Appl Climatol 141:1383–1400. https://doi.org/10.1007/s00704-020-03275-4

Sanders-DeMott R, McNellis R, Jabouri M, Templer PH (2018) Snow depth, soil temperature and plant–herbivore interactions mediate plant response to climate change. J Ecol 106(4):1508–1519. https://doi.org/10.1111/1365-2745.12912

Sándor R, Barcza Z, Acutis M, Doro L, Hidy D, Köchy M, Minet J, Lellei-Kovács E, Ma S, Perego A, Rolinski S, Ruget F, Sanna M, Seddaiu G, Wu L, Bellocchi G (2017) Multi-model simulation of soil temperature, soil water content and biomass in Euro-Mediterranean grasslands: uncertainties and ensemble performance. Eur J Agron 88:22–40. https://doi.org/10.1016/j.eja.2016.06.006

Štěpánek P, Zahradníček P, Farda A (2013) Experiences with data quality control and homogenization of daily records of various meteorological elements in the Czech Republic in the period 1961–2010. Idöjárás 117(1):123–141

Tolasz R (ed) (2007) Atlas podnebí Česká. ČHMÚ, Univerzita Palackého v Olomouci, Praha-Olomouc, Climate Atlas of Czechia, p 254

Trnka M, Kocmánková E, Balek J, Eitzinger J, Ruget F, Formayer H, Hlavinka P, Schaumberger A, Horáková V, Možn´y M, Žalud Z, (2010) Simple snow cover model for agrometeorological applications. Agric for Meteorol 150:1115–1127. https://doi.org/10.1016/j.agrformet.2010.04.012

Trnka M, Kersebaum KC, Eitzinger J, Hayes M, Hlavinka P, Svoboda M, Dubrovský M, Semerádová D, Wardlow B, Pokorný E, Možný M, Wilhite D, Žalud Z (2013) Consequences of climate change for the soil climate in Central Europe and the central plains of the United States. Clim Change 120:405–418. https://doi.org/10.1007/s10584-013-0786-4

Trnka M, Brázdil R, Balek J, Semerádová D, Hlavinka P, Možný M, Štěpánek P, Dobrovolný P, Zahradníček P, Dubrovský M, Eitzinger J, Fuchs B, Svoboda M, Hayes M, Žalud Z (2015a) Drivers of soil drying in the Czech Republic between 1961 and 2012. Int J Climatol 35:2664–2675. https://doi.org/10.1002/joc.4167

Trnka M, Brázdil R, Možný M, Štěpánek P, Dobrovolný P, Zahradníček P, Balek J, Semerádová D, Dubrovský M, Hlavinka P, Eitzinger J, Wardlow B, Svoboda M, Hayes M, Žalud Z (2015b) Soil moisture trends in the Czech Republic between 1961 and 2012. Int J Climatol 35:3733–3747. https://doi.org/10.1002/joc.4242

Wang Y, Mao Z, Bakker MR, Kim JH, Brancheriau L, Buatois B, Leclerc R, Selli L, Rey H, Jourdan C, Stokes A (2018) Linking conifer root growth and production to soil temperature and carbon supply in temperate forest. Plant Soil 426:33–50. https://doi.org/10.1007/s11104-018-3596-7

Yang K, Zhang J (2018) Evaluation of reanalysis datasets against observational soil temperature data over China. Clim Dyn 50:317–337. https://doi.org/10.1007/s00382-017-3610-4

Yin W, Feng F, Zhao C, Yu A, Hu F, Chai Q, Gan Y, Guo Y (2016) Integrated double mulching practices optimizes soil temperature and improves soil water utilization in arid environments. Int J Biometeorol 60:1423–1437. https://doi.org/10.1007/s00484-016-1134-y

Yang Z, Zhang J, Wu L (2019) Spring soil temperature as a predictor of summer heatwaves over northwestern China. Atmospheric Science Letters 2(3):1–6. https://doi.org/10.1002/asl.887

Yu J, Meng J, Zeng Y, Cang J, Li Z (2010) Effect of temperature and soil moisture on winter wheat morphogenesis and overwinter survival rate. J Northeast Agric Univ. 2010–05

Zahraei A, Poodineh MR, Panjekoubi P, Hosseini SA (2020) Analysis of soil depth temperature changes in Iran according to classification of atmospheric circulation patterns. Modeling Earth Systems and Environment. https://doi.org/10.1007/s40808-020-00713-0

Zahradníček P, Brázdil R, Štěpánek P, Trnka M (2020) Reflections of global warming in trends of temperature characteristics in the Czech Republic, 1961–2019. Int J Climatol. https://doi.org/10.1002/joc.6791

Zhang S, Lövdahl L, Grip H, Tong Y, Yang X, Wang Q (2009) Effects of mulching and catch cropping on soil temperature, soil moisture and wheat yield on the Loess Plateau of China. Soil and Tillage Research 102(1):78–86. https://doi.org/10.1016/j.still.2008.07.019

Zhang S, Meurey C, Calvet JC (2019) Identification of soil-cooling rains in southern France from soil temperature and soil moisture observations. Atmos Chem Phys 19:5005–5020. https://doi.org/10.5194/acp-19-5005-2019

Zhang H, Wang E, Zhou D, Luo D, Zhang Z (2016) Rising soil temperature in China and its potential ecological impact. Sci Rep 6:35530. https://doi.org/10.1038/srep35530

Zheng D, Yang X, Mínguez MI et al (2018) Effect of freezing temperature and duration on winter survival and grain yield of winter wheat. Agric for Meteorol 260:1–8. https://doi.org/10.1016/j.agrformet.2018.05.011

Zscheischler J, Orth R, Seneviratne SI (2017) Bivariate return periods of temperature and precipitation explain a large fraction of European crop yields. Biogeosciences 14:3309–3320. https://doi.org/10.5194/bg-14-3309-2017
Acknowledgements
We would like to thank to prof. I. Prášil for sharing their experience on changes in overwintering winter wheat in the Czech Republic.
Funding
This work was supported by the national research projects MZe QK1910269 "Adaptation potential of common wheat in response to drought and extreme temperatures" and SS02030027 "Water systems and water management in the Czech Republic in conditions of the climate change".
Ethics declarations
Ethics approval
Not applicable.
Consent to participate
Not applicable.
Consent for publication
Not applicable.
Conflict of interest
The authors declare no competing interests.
Additional information
Publisher's note
Springer Nature remains neutral with regard to jurisdictional claims in published maps and institutional affiliations.
Supplementary Information
Below is the link to the electronic supplementary material.
About this article
Cite this article
Potopová, V., Tűrkott, L., Musiolková, M. et al. The compound nature of soil temperature anomalies at various depths in the Czech Republic. Theor Appl Climatol 146, 1257–1275 (2021). https://doi.org/10.1007/s00704-021-03787-7
Received:

Accepted:

Published:

Issue Date:

DOI: https://doi.org/10.1007/s00704-021-03787-7