Abstract
Gujarat is a semi-arid region where the monsoon is the principal element. Temporal analysis of precipitation and drought characteristics for the period of 146 years (1871–1872 to 2015-2016) covering Saurashtra, Kutch, and Diu regions of Gujarat, revealed long-term behavior. In the duration of 146 years, non-parametric trend identification techniques such as Mann-Kendall test and Sen's slope estimator show an increasing trend in southwest monsoon and annual rainfall. The annual rainfall concentration was computed by the precipitation concentration index (PCI). Its rough concentration in one-third of the year indicates strong irregularity in rainfall distribution, which is because of the monsoon climate. Seasonal analysis of annual rainfall shows extreme rainfall regime over study area which reveals that almost all rainfall occurred within 1 to 2 months. Drought events have been identified by various drought indicators viz. percentage departure (D%), rainfall anomaly index (RAI), and standardized precipitation index (SPI). Rainfall concentration and monthly heterogeneity are also related to each other by drought characteristics. The declining trend of southwest monsoon PCI implies serious impact on the agriculture and water resources over Saurashtra, Kutch, and Diu regions of Gujarat.
Access options
Buy single article
Instant access to the full article PDF.
US$ 39.95
Tax calculation will be finalised during checkout.
Subscribe to journal
Immediate online access to all issues from 2019. Subscription will auto renew annually.
US$ 119
Tax calculation will be finalised during checkout.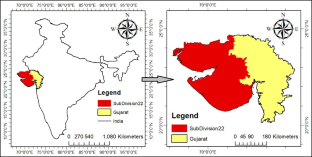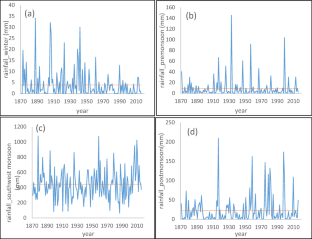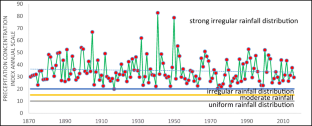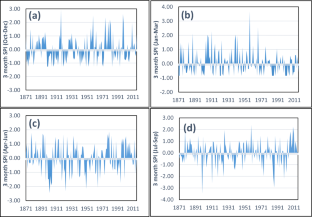 References
Abatan AA, Abiodun BJ, Gutowski WJ, Rasaq Balogun SO (2018) Trends and variability in absolute indices of temperature extremes over Nigeria: linkage with NAO. International Journal of Climatology 38(2):593–612

Abramowitz M, Stegun IA (1965) Handbook of mathematical functions. National Bureau of Standards, Washington, D.C.

Attri SD, Tyagi A (2010) Climate profile of India. Contribution to the Indian Network of Climate Change Assessment (National Communication-II), Ministry of Environment and Forests, Indian Meteorological Department

Awan JA, Bae DH, Kim KJ (2015) Identification and trend analysis of homogeneous rainfall zones over the East Asia monsoon region. International Journal of Climatology 35(7):1422–1433

Chaudhary S, Dhanya CT, Vinnarasi R (2017) Dry and wet spell variability during monsoon in gauge-based gridded daily precipitation datasets over India. Journal of Hydrology 546:204–218

Chowdhury RK, Beecham S (2010) Australian rainfall trends and their relation to the southern oscillation index. Hydrological Process 24(4):504–514

De Luis M, Raventos J, Gonzalez-Hidalgo JC, Sanchez JR, Cortina J (2000) Spatial analysis of rainfall trends in the region of Valencia (east Spain). International Journal of Climatology 20(12):1451–1469

De Luis M, Gonzalez-Hidalgo JC, Brunetti M, Longares LA (2011) Precipitation concentration changes in Spain 1946-2005. Natural Hazards and Earth System Sciences 11(5):1259–1265

Gosain AK, Rao S, Basuray D (2006) Climate change impact assessment on hydrology of Indian River basins. Current science, pp.346-353

Guhathakurta P, Saji E (2013) Detecting changes in rainfall patterns and seasonality index vis a vis increasing water scarcity in Maharashtra. J. Earth Syst. Sci. 122(3):639–649

Guhathakurta P, Menon P, Inkane P, Krishnan U, Sable S (2017) Trends and variability of meteorological drought over the districts of India using standardized precipitation index. Journal of Earth System Sciences 126:120

Hamed KH (2008) Trend detection in hydrologic data: the Mann-Kendall trend test under the scaling hypothesis. Journal of Hydrology 349(3-4):350–363

Hamed KH, Ramachandra Rao A (1998) A modified Mann-Kendall trend test for autocorrelated data. Journal of Hydrology 204(1-4):182–196

Hayes MJ, Svoboda MD, Wilhite DA, Vanyarkho OV (1999) Monitoring the 1996 drought using the standardized precipitation index. Bulletin of the American Meteorological Society 80(3):429–438

IPCC 2001: Climate change (2001) The scientific basis. Contribution of Working Group I to Third Assessment Report on Climate Change. Cambridge University Press.

IPCC 2007: Climate Change (2007) Impacts adaption, and vulnerability. Contribution of Working Group II to Third Assessment Report of the Intergovernmental Panel on Climate Change. Cambridge University Press, Cambridge, United Kingdom, and N.Y., U.S.A.

Jain SK, Kumar V (2012) Trend analysis of rainfall and temperature data for India. Current Science 102(1):37–49

Kendall MG (1975) Rank correlation methods. Griffin, London, UK

Kinney PL, O'Neill MS, Bell ML, Schwartz J (2008) Approaches for estimating effects of climate change on heat-related deaths: challenges and opportunities. Environmental Science Policy 11(1):87–96

Kothawale DR, Rajeevan M (2017) Monthly, seasonal and annual rainfall time series for all-India, research report 138, Indian Institute of Tropical Meteorology. Earth System Science Organization, Ministry of Earth Sciences, Pune, India

Kumar V, Jain SK, Singh Y (2010) Analysis of long-term rainfall trends in India. Hydrological Science Journal 55(4):484–496

Lal M (2001) Climatic change – Implications for India's water resources. Journal of Social and Economic Development, Institute for Social and Economic Change, Bangalore 3(1):57–81

Mann HB (1945) Nonparametric tests against trend. Econometrica 13(3):245–259

McKee TB, Doesken NJ, Kleist J (1993) The relationship of drought frequency and duration to time scales. Proceedings of 8th conference on Applied Climatology, vol. 17 American Meteorological Society, Boston, M.A., USA. 22: 179-184.

Mondal A, Khare D, Kundu S (2014) Spatial and temporal analysis of rainfall and temperature trend of India. Theoretical and Applied Climatology 122(1):143–158

Mooley DA, Parthasarathy B (1984) Fluctuations in all-India summer monsoon rainfall during 1871-1978. Climatic Change 6(3):287–301

O'Brien K, Leichenko R, Kelkar U, Venema H, Aandahl G, Tompkins H, Javed A, Bhadwal S, Barg S, Nygaard L, West J (2004) Mapping vulnerability to multiple stressors: climate change and globalization in India. Global Environmental Change 14(4):303–313

Oliver JE (1980) Monthly precipitation distribution: a comparative index. Professsional Geographer 32(3):300–309

Patel NR, Shete DT (2015) Analyzing precipitation using concentration indices for North Gujarat agro climatic zone, India. Aquatic Procedia 4:917–924

Pranab Kumar Sen (1968) Estimates of the regression coefficient based on Kendall's Tau. Journal of American Statistical Association 63(324):1379–1389

Preethi B, Mujumdar M, Kripalani RH, Prabhu A, Krishnan R (2017) Recent trends and tele-connections among South and East Asian summer monsoons in a warming environment. Climate Dynamics. 48:2489–2505. https://doi.org/10.1007/s00382-016-3218-0

Ramkar P, Yadav SM (2018) Spatiotemporal drought assessment of a semi-arid part of middle Tapi River Basin, India. International Journal of Disaster Risk Reduction 28:414–426

Ray K, Mohanty M, Chincholikar JR (2009) Climate variability over Gujarat, India. ISPRS Archives 38(8):W3

Sarker RP, Thapliyal V (1988) Climate change and variability. Mausam 39:127–138

Sheikh MM, Manzoor N, Ashraf J, Adnan M, Collins D, Hameed S, Manton MJ, Ahmed AU, Baidya SK, Borgaonkar HP, Islam N (2015) Trends in extreme daily rainfall and temperature indices over South Asia. International Journal of Climatology 35(7):1625–1637

Sonali P, Nagesh Kumar D (2013) Review of trend detection methods and their application to detect temperature changes in India. Journal of Hydrology 476:212–227

Sontakke NA, Nityanand S, Singh HN (2008) Instrumental period rainfall series of the Indian region (1813-2005): revised reconstruction, update and analysis. The Holocene 18(7):1055–1066

State Action Plan on Climate Change (SAPCC) (2014) Climate Change Department, Government of Gujarat.

Tabari H, Marofi S, Ahmadi M (2010) Long-term variations of water quality parameters in the Maroon River, Iran. Environmental Monitoring and Assessment 177:273–287

Tabari H, Marofi S, Aeini A, Hosseinzadeh Talee P, Mohammadi K (2011) Trend analysis of reference evapotranspiration in the western half of Iran. Agricultural and Forest Meteorology 151(2):128–136

Thapliyal V, Kulshreshtha SM (1991) Climate changes and trends over India. Mausam 42:333–338

Thomas J, Prasannakumar V (2016) Temporal analysis of rainfall (1871–2012) and drought characteristics over a tropical monsoon-dominated State (Kerala) of India. Journal of Hydrology 534:266–280

Thomas T, Jaiswal RK, Nayak PC (2015) Comprehensive evaluation of changing drought characteristics in Bundelkand region of Central India. Meteorology and Atmospheric Physics 127(2):163–182

Tigkas D, Vangelis H, Tsakiris G (2015) DrinC: a software for drought analysis based on drought indices. Earth Science Informatics 8(3):697–709. https://doi.org/10.1007/s12145-014-0178-y

Van Rooy MP (1965) A rainfall anomaly index (RAI) independent of time and space. Notes 14:43–48

Walsh RPD, Lawer DM (1981) Rainfall seasonality: description, spatial patterns, and change through time. Weather 36(7):201–208

Yue S, Hashino M (2003) Temperature trends in Japan 1900-1990. Theoretical and Applied Climatology 75:15–27

Yue S, Wang C (2004) The Mann-Kendall test modified by effective sample size to detect trend in serially correlated hydrological series. Water Resources Management 18(3):201–218
Acknowledgements
The homogeneous monthly rainfall data were developed by the Indian Institute of Tropical Meteorology (IITM), Pune, and were downloaded from the IITM web site (http://www.tropmet.res.in).
Ethics declarations
Competing interests
The authors declare no competing interests.
Additional information
Publisher's note
Springer Nature remains neutral with regard to jurisdictional claims in published maps and institutional affiliations.
About this article
Cite this article
Yadav, S.M., Bhagat, S.R. & Yadav, V.G. Temporal analysis of precipitation in Saurashtra, Kutch, and Diu sub-division of Western Indian region. Theor Appl Climatol 144, 521–533 (2021). https://doi.org/10.1007/s00704-021-03564-6
Received:

Accepted:

Published:

Issue Date: