Abstract
Previous studies indicate that the temperature changes from a day to the following day are not normally distributed either in winter or in summer. However, this study is the first to investigate the causes of the asymmetry in these temperature changes. We hypothesised that the asymmetries are driven by the passages of atmospheric fronts and by the radiative processes during anticyclonic circulation conditions. We used the maximum and minimum temperatures observed at the Praha-Karlov station, the records of front passages, and 7 different catalogues of circulation types over central Europe. We demonstrated that the asymmetries in the large temperature changes (5 °C and larger) were related to the passages of all three front types in winter and to the passages of cold fronts in summer. The asymmetries in the slight temperature changes (up to 3 °C) were mainly caused by cold advection from the north and the northeast in winter and by warm advection from the south, the southeast, and the east in summer. We suppose that our results can be generalized; that is, the passages of atmospheric fronts and cold/warm advection are the likely causes of the asymmetries of the day-to-day temperature changes elsewhere in Europe. The presented findings can be applied as a tool for the validation of climate model outputs.
Access options
Buy single article
Instant access to the full article PDF.
US$ 39.95
Tax calculation will be finalised during checkout.
Subscribe to journal
Immediate online access to all issues from 2019. Subscription will auto renew annually.
US$ 119
Tax calculation will be finalised during checkout.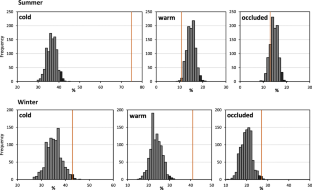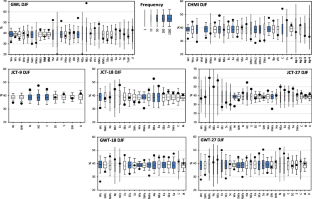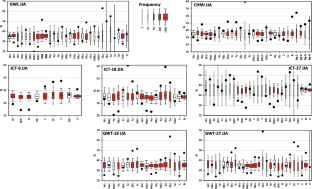 References
Alexander L, Perkins S (2013) Debate heating up over changes in climate variability. Environ Res Lett 8:041001

Beck C, Jacobeit J, Jones PD (2007) Frequency and within-type variations of large-scale circulation types and their effects on low-frequency climate variability in central Europe since 1780. Int J Climatol 27:473–491. https://doi.org/10.1002/joc.1410

Berry G, Reeder MJ, Jakob C (2011) A global climatology of atmospheric fronts. Geophys Res Lett 38(4). https://doi.org/10.1029/2010GL046451

Black E, Blackburn M, Harrison G, Hoskins B, Methven J (2004) Factors contributing to the summer 2003 European heatwave. Weather 59(8):217–223

Brádka J, Dřevikovský A, Gregor Z, Kolesár J (1961) Počasí na území Čech a Moravy v typických povětrnostních situacích. HMÚ, Praha

Cahynová M, Huth R (2009) Changes of atmospheric circulation in Central Europe and their influence on climatic trends in the Czech Republic. Theor Appl Climatol 96:57–68

Cavanaugh NR, Shen SSP (2015) The effects of gridding algorithms on the statistical moments and their trends of daily surface air temperature. J Clim 28:9188–9205

Cawley GC (2002) Mean daily surface level pressure anomaly charts by Grosswetterlagen index. University of East Anglia, Norwich, UK (available at http://theoval.sys.uea.ac.uk/∼gcc/projects/accord/experiments/experiment1a/report.html)

Domonkos P, Kyselý J, Piotrowicz K, Petrovic P, Likso T (2003) Variability of extreme temperature events in south–Central Europe during the 20th century and its relationship with large-scale circulation. Int J Climatol 23(9):987–1010

Fischer EM, Seneviratne SI, Lüthi D, Schär C (2007) Contribution of land-atmosphere coupling to recent European summer heat waves. Geophys Res Lett 34(6)

Folland C, Miller C, Bader D, Crowe M, Jones P, Plummer N, Richman M, Parker D, Rogers J, Scholefield P (1999) Workshop on indices and indicators for climate extremes, Asheville, NC, USA, 3–6 June 1997 breakout group C: temperature indices for climate extremes. Clim Chang 42:31–43

Hewson TD (1998) Objective fronts. Meteorol Appl 5(1):37–65

Huth R, Kyselý J, Dubrovský M (2001) Time structure of observed, GCM-simulated, downscaled, and stochastically generated daily temperature series. J Clim 14:4047–4061. https://doi.org/10.1175/1520-0442(2001)014<4047:TSOOGS>2.0.CO;2

Jones PD, Hulme M, Briffa KR (1993) A comparison of lamb circulation types with an objective classification scheme. Int J Climatol 13:655–663. https://doi.org/10.1002/joc.3370130606

Kyselý J (2008) Influence of the persistence of circulation patterns on warm and cold temperature anomalies in Europe: analysis over the 20th century. Glob Planet Chang 62:147–163. https://doi.org/10.1016/j.gloplacha.2008.01.003

Moberg A, Jones PD, Barriendos M, Bergström H, Camuffo D, Cocheo C, Davies TD, Demarée G, Martin-Vide J, Maugeri M, Rodriguez R, Verhoeve T (2000) Day-to-day temperature variability trends in 160- to 275-year-long European instrumental records. Journal of Geophysical Research: Atmospheres 105:22849–22868. https://doi.org/10.1029/2000JD900300

Perry A, Mayes J (1998) The lamb weather type catalogue. Weather 53(7):222–229

Philipp A, Bartholy J, Beck C, Erpicum M, Esteban P, Fettweis X, Huth R, James P, Jourdain S, Kreienkamp F, Krennert T, Lykoudis S, Michalides SC, Pianko-Kluczynska K, Post P, Álvarez DR, Schiemann R, Spekat A, Tymvios FS (2010) Cost733cat – a database of weather and circulation type classifications. Physics and Chemistry of the Earth, Parts A/B/C 35:360–373. https://doi.org/10.1016/j.pce.2009.12.010

Philipp A, Beck C, Huth R, Jacobeit J (2016) Development and comparison of circulation type classifications using the COST733 dataset and software. Int J Climatol 36:2673–2691

Rebetez M (2001) Changes in daily and nightly day-to-day temperature variability during the twentieth century for two stations in Switzerland. Theor Appl Climatol 69:13–21

Ryoo S-B, Kwon W-T, Jhun J-G (2004) Characteristics of wintertime daily and extreme minimum temperature over South Korea. Int J Climatol 24:145–160

Schneider SH (1972) Cloudiness as a global climatic feedback mechanism: the effects on the radiation balance and surface temperature of variations in cloudiness. J Atmos Sci 29(8):1413–1422

Schultz DM (2005) A review of cold fronts with prefrontal troughs and wind shifts. Mon Weather Rev 133(8):2449–2472

Stryhal J, Huth R, Sládek I (2017) Climatology of low-level temperature inversions at the Prague-Libuš aerological station. Theor Appl Climatol 127:409–420

Tomczyk AM, Bednorz B (2016) Heat waves in Central Europe and their circulation conditions. Int J Climatol 36(2):770–782

Tveito OE, Huth R (2016) Editorial. Circulation-type classifications in Europe: results of the COST 733 action. Int J Climatol 36:2671–2672

Werner PC, Gerstengarbe FW (2010) Katalog der Großwetterlagen Europas (1881–2009) nach Paul Hess und Helmut Brezowsky. PIK report, 119, 146

Wilks DS (2011) Statistical methods in the atmospheric sciences, 3rd ed. ed, international geophysics series. Elsevier/Academic Press, Amsterdam
Acknowledgements
We acknowledge the data providers the Czech Hydrometeorological Institute, the COST733 project 'Harmonisation and Applications of Weather Type Classifications for European regions' and the subjective Hess-Brezowsky catalogue of synoptic situations 'Grosswetterlagen'.
Funding
This study was supported by the Grant Agency of the Charles University, project 426216, and by the Czech Science Foundation, project 17-07043S.
Additional information
Publisher's note
Springer Nature remains neutral with regard to jurisdictional claims in published maps and institutional affiliations.
About this article
Cite this article
Piskala, V., Huth, R. Asymmetry of day-to-day temperature changes and its causes. Theor Appl Climatol 140, 683–690 (2020). https://doi.org/10.1007/s00704-020-03116-4
Received:

Accepted:

Published:

Issue Date: