Abstract
The present study is an attempt to investigate the spatial and temporal climatology of tropical cyclone (TC) activity in the Bay of Bengal (BoB) based on the Joint Typhoon Warning Centre (JTWC) best track data for the period 1972–2017. A total of 152 TCs, with a rate of 3.30 TCs per year, were formed in the BoB during the 46-year period. A large interannual variability was witnessed in TC activity with non-significant upward or downward trend in their frequency, intensity, duration, accumulated cyclone energy (ACE), and power dissipation index (PDI). Majority of TCs were formed between the 5° N to 16° N latitudes and made their landfall over the coasts of India, Bangladesh, Myanmar, and Sri Lanka. About two-thirds of annual TCs occurred during the post-monsoon season, whereas monthly distribution exhibited a unique bimodal pattern. The number of cyclonic storms (34–47 kt) showed a slightly increasing trend, whereas intense cyclonic storms (≥ 48 kt) showed a slightly decreasing trend. Additionally, about 40% and 11% of the TC events were found intensifying at 15 kt 24 h−1 and rapidly intensifying at 30 kt 24 h−1, respectively in the BoB. It is believed that the results of the present study will update the current knowledge which will assist the scientific community as well as academicians.
This is a preview of subscription content, log in to check access.
Access options
Buy single article
Instant access to the full article PDF.
US$ 39.95
Price includes VAT for USA
Subscribe to journal
Immediate online access to all issues from 2019. Subscription will auto renew annually.
US$ 199
This is the net price. Taxes to be calculated in checkout.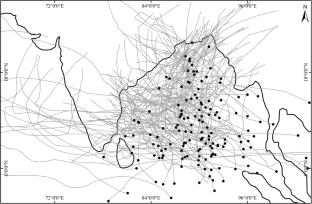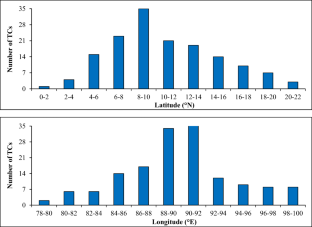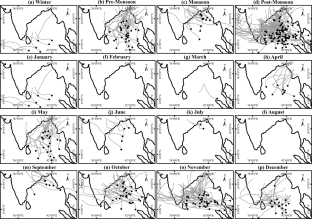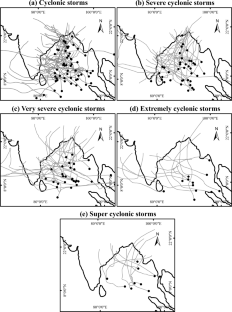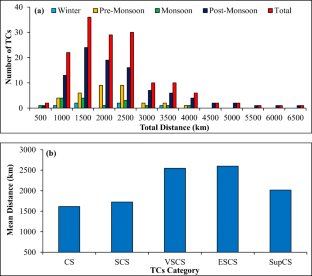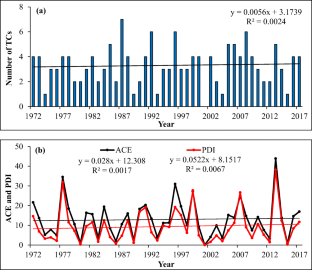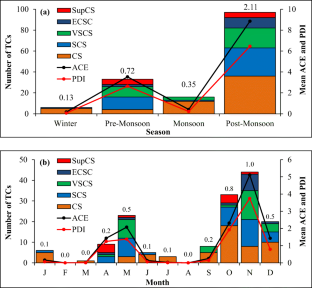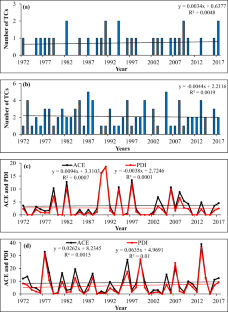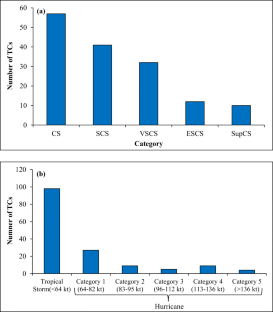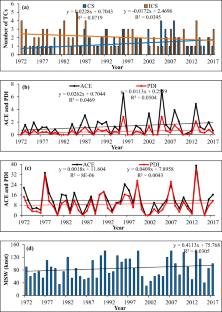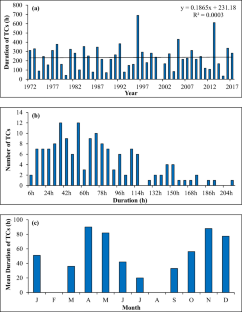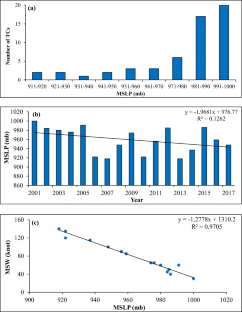 References
Ali MM, Jagadeesh PSV, Jain S (2007) Effects of eddies on Bay of Bengal cyclone intensity. EOS Trans Am Geophys Union 88:93–95

Bell GD, Halpert MS, Schnell RC, Higgins RW, Lawrimore J, Kousky VE, Tinker R, Thiaw W, Chelliah W, Artusa A (2000) Climate assessment for 1999. Bull Am Meteorol Soc 81:1328

Bhardwaj P, Pattanaik DR, Singh O (2019a) Tropical cyclone activity over Bay of Bengal in relation to El Niño-Southern Oscillation. Int J Climatol. https://doi.org/10.1002/joc.6165

Bhardwaj P, Singh O, Pattanaik DR, Klotzbach PJ (2019b) Modulation of Bay of Bengal tropical cyclone activity by the Madden-Julian oscillation. Atmos Res 229:23–38

Chittibabu PS, Dube K, Macnabb JB, Murty TS, Rao AD, Mohanty UC, Sinha PC (2004) Mitigation of flooding and cyclone hazard in Orissa, India. Nat Hazards 31:455–485

Chowdhury KMMH (2002) Cyclone preparedness and management in Bangladesh. In: BPATC (ed) Improvement of early warning system and responses in Bangladesh towards total disaster risk management approach. BPATC, Dhaka, pp 115–119

Chu JH, Sampson CR, Levine AS, Fukada E 2002 The joint typhoon warning center tropical cyclone best-tracks, 1945–2000. US Naval Research Laboratory Report NRL/MR/7540-02-16, pp 22

Elsberry RL (2014) Advances in research and forecasting of tropical cyclones from 1963–2013. Asia-Pac J Atmos Sci 50:3–16

Emanuel KA (2005) Increasing destructiveness of tropical cyclones over the past 30 years. Nature 436:686–688

Evan AT, Camargo SJ (2011) A climatology of Arabian Sea cyclonic storms. J Clim 24:140–158

Felton CS, Subrahmanyam B, Murty VSN (2013) ENSO-modulated cyclogenesis over the Bay of Bengal. J Clim 26:9806–9818

Frank WM (1987) Tropical cyclone formation. A global view of tropical cyclones, Office of Naval Research, pp 53–90

Fritz HM, Blount CD, Thwin S, Thu MK, Chan N (2009) Cyclone Nargis storm surge in Myanmar. Nat Geosci 2:448–449

Girishkumar MS, Ravichandran M (2012) The influences of ENSO on tropical cyclone activity in the Bay of Bengal during October–December. J Geophys Res 117:C02033

Gray WM (1979) Hurricanes: their formation, structure and likely role in the general circulation. In: Shaw DB (ed) Meteorology over the tropical oceans. Royal Meteorological Society, James Glaisher House, Grenville Place, Bracknell, Berks, RG 12 1BX, pp 155–218

Gutzler DS, Wood KM, Ritchie EA, Douglas AV, Lewis MD (2013) Interannual variability of tropical cyclone activity along the Pacific coast of North America. Atmosfera 26:149–162

IMD (2011) Tracks of cyclones and depressions over North Indian Ocean (from 1891 onwards) (Cyclone eAtlas - IMD, Version 2.0). Cyclone Warning and Research Centre, India Meteorological Department, Regional Meteorological Centre, Chennai

Kendall MG (1975) Rank correlation methods. Charles Griffin, London

Kikuchi K, Wang B (2010) Formation of tropical cyclones in the northern Indian Ocean associated with two types of tropical intraseasonal oscillation modes. J Meteorol Soc Jpn 88:475–496

Knapp KR, Kruk MC (2010) Quantifying interagency differences in tropical cyclone best-track wind speed estimates. Mon Weather Rev 138:1459–1473

Knapp KR, Kruk MC, Levinson DH, Diamond HJ, Neumann CJ (2010) The International Best Track Archive for Climate Stewardship (IBTrACS): unifying tropical cyclone data. Bull Am Meteorol Soc 91:363–376

Lin I-I, Chen C-H, Pun I-F, Liu WT, Wu C-C (2009) Warm ocean anomaly, air sea fluxes, and the rapid intensification of tropical cyclone Nargis (2008). Geophys Res Lett 36:L03817

Mann HB (1945) Non-parametric tests against trend. Econometrica 13:245–259

McBride JL (1995) Tropical cyclone formation. In: Elsberry RL (ed) Global perspectives on tropical cyclones, WMO/TD-No. 693, World Meteorological Organization, Geneva, pp 63–105

Neumann CJ (1993) Global overview. In: Global guide to tropical cyclone forecasting. World Meteorological Organization, Geneva, pp 1.1–1.56

Ng EKW, Chan JCL (2012) Interannual variations of tropical cyclone activity over the north Indian Ocean. Int J Climatol 32:819–830

Pattanaik DR (2005) Variability of oceanic and atmospheric conditions during active and inactive periods of storms over the Indian region. Int J Climatol 25:1523–1530

Pattanaik DR, Mohapatra M (2016) Seasonal forecasting of tropical cyclogenesis over the North Indian Ocean. J Earth Syst Sci 132:231–250

Peduzzi P, Chatenoux B, Dao H, Bono AD, Herold C, Kossin J, Mouton F, Nordbeck O (2012) Global trends in tropical cyclone risk. Nat Clim Chang 2:289–294

Pielke RA Jr, Rubiera J, Landsea C, Fernandez ML, Klein R (2003) Hurricane vulnerability in Latin America and the Caribbean: normalized damage and loss potentials. Nat Hazards Rev 4:101–114

Pielke RA Jr, Gratz J, Landsea CW, Collins D, Saunders MA, Musulin R (2008) Normalized hurricane damage in the United States: 1900–2005. Nat Hazards Rev 9:29–42

Rappaport EN, Jiing J-G, Landsea CW, Murillo ST, Franklin JL (2012) The joint hurricane test bed: its first decade of tropical cyclone research-to-operations activities reviewed. Bull Am Meteorol Soc 93:371–380

Rosenfeld D, Woodley WL, Khain A, Cotton WR, Carrio G, Ginis I, Golden JH (2012) Aerosol effects on microstructure and intensity of tropical cyclones. Bull Am Meteorol Soc 93:987–1001

Sengupta D, Goddalehundi BR, Anitha DS (2007) Cyclone induced mixing does not cool SST in the post-monsoon north Bay of Bengal. Atmos Sci Lett 9:1–6

Singh OP (2008) Indian Ocean dipole mode and tropical cyclone frequency. Curr Sci 94:29–31

Singh OP (2010) Recent trends in tropical cyclone activity in the North Indian Ocean. In: Charabi Y (ed) Indian Ocean tropical cyclones and climate change. Springer, Dordrecht, pp 51–54

Singh OP, Khan TMA, Rahman MS (2001) Has the frequency of intense tropical cyclones increased in the north Indian Ocean? Curr Sci 80:575–580

Wang C, Wang X, Weisberg RH, Black ML (2017) Variability of tropical cyclone rapid intensification in the North Atlantic and its relationship with climate variations. Clim Dyn 49:3627–3645

Yanase W, Satoh M, Taniguchi H, Fujinami H (2012) Seasonal and intraseasonal modulation of tropical cyclogenesis environment over the Bay of Bengal during the extended summer monsoon. J Clim 25:2914–2930

Yaukey PH (2014) Intensification and rapid intensification of North Atlantic tropical cyclones: geography, time of year, age since genesis, and storm characteristics. Int J Climatol 34:1038–1049

Zhao H, Raga GB (2015) On the distinct interannual variability of tropical cyclone activity over the eastern North Pacific. Atmosfera 28:161–178
Acknowledgments
The authors sincerely thank the anonymous reviewer and Editor-in-Chief for critical comments and constructive suggestions, which improved the overall quality of the manuscript. The authors are also thankful to JTWC for giving access to required data used in this study.
Additional information
Publisher's note
Springer Nature remains neutral with regard to jurisdictional claims in published maps and institutional affiliations.
About this article
Cite this article
Bhardwaj, P., Singh, O. Climatological characteristics of Bay of Bengal tropical cyclones: 1972–2017. Theor Appl Climatol 139, 615–629 (2020). https://doi.org/10.1007/s00704-019-02989-4
Received:

Accepted:

Published:

Issue Date: