Abstract
Monitoring the spatio-temporal variability of rainfall regimes in the Amazon basin is difficult because (1) time series of remote sensing–based rainfall estimates are still too short for long-time variability analysis and (2) rain gauge time series are not fully reliable and operational in their current state due to frequent gaps and zero values. The objective of this paper is to introduce a quality control and reconstruction procedure designed to produce a robust database of rain gauge–based daily rainfall in the Amazon basin. Despite the low density and heterogeneous spatial distribution of the rain gauges network, we eliminated unexpected values and produced accurate estimates using spatial and mathematical relationships with neighboring rain gauges. Three reconstruction methods were tested: the nearest neighbor approach (NN), the arithmetic mean with neighboring stations (AM), and the multiple imputation by chained equations used with the predictive mean matching procedure (MICE). The quality of the reconstruction has been assessed through the mean annual rainfall and the mean annual number of rainy days. We concluded that the AM approach performed better at the scale of the whole Amazon basin. This method has then been preferred to reconstruct the whole database of rainfall time series.
This is a preview of subscription content, log in to check access.
Access options
Buy single article
Instant access to the full article PDF.
US$ 39.95
Price includes VAT for USA
Subscribe to journal
Immediate online access to all issues from 2019. Subscription will auto renew annually.
US$ 199
This is the net price. Taxes to be calculated in checkout.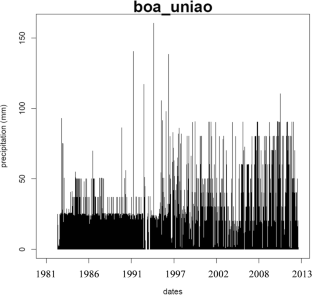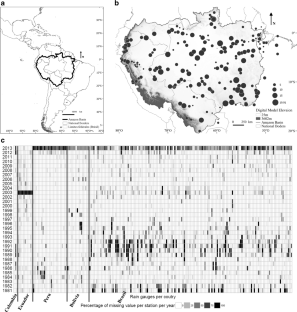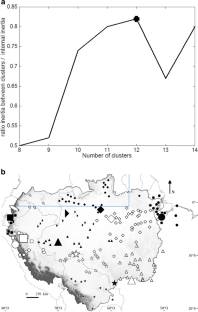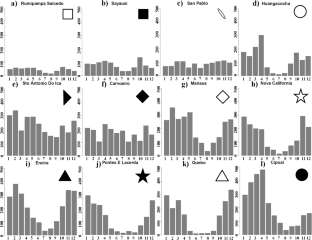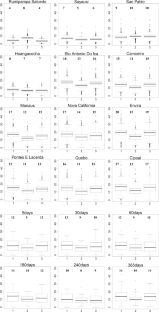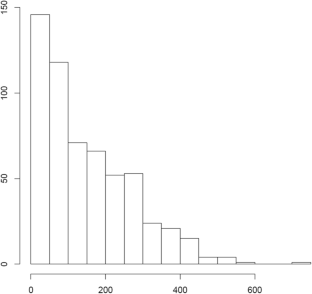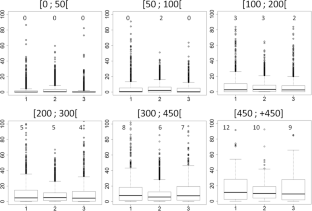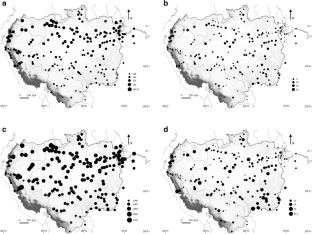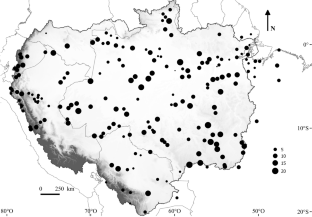 References
Aguilar E, Peterson TC, Obando PR, Frutos R, Retana JA, Solera M, Soley J, García IG, Araujo RM, Santos AR et al (2005) Changes in precipitation and temperature extremes in Central America and northern South America, 1961–2003. J Geophys Res 110(D23):107

Barbosa Santos E, Sérgio Lucio P, Silva CM (2015) Precipitation regionalization of the Brazilian Amazon. Atmos Sci Lett 16:185–192

Boyard-Micheau J (2013) Prévisibilité potentielle des variables climatiques à impact agricole en Afrique de l'est et application au sorgho dans la région du mt kenya. Thèse de doctorat. Université de Bourgogne, France

Brito, A.L., Paix, J.A., Yoshida, M.C.,et al (2014). Extreme rainfall events over the Amazon basin produce significant quantities of rain relative to the rainfall climatology. Atmos Climate Sci, 4: 179–191

Brunetti, M., Maugeri, M., and Nanni, T. (2006). Trends of the daily intensity of precipitation in Italy and teleconnections. Il Nuovo Cimento C 105

Camberlin P, Boyard-Micheau J, Philippon N, Baron C, Leclerc C, Mwongera C (2012) Climatic gradients along the windward slopes of Mount Kenya and their implication for crop risks. Part 1: climate variability. Int J Climatol 34:2136–2152

Campozano L, Sánchez E, Aviles A, Samaniego E (2015) Evaluation of infilling methods for time series of daily precipitation and temperature: the case of the Ecuadorian Andes. Maskana 5:99–115

Camps-Valls G, Bruzzone L (2009) Kernel methods for remote sensing data analysis. John Wiley & Sons, United Kingdom

Cardenas, R., and Krainski, E.T. (2011). Preenchimentos de falhas em bancos de dados meteorologicos diarios: comparação de abordagens. XVII Congresso Brasileiro de Agrometeorologia, Guarapari-Brasil

Carvalho LM, Jones C, Posadas AN, Quiroz R, Bookhagen B, Liebmann B (2012) Precipitation characteristics of the South American monsoon system derived from multiple datasets. J Clim 25:4600–4620

Caussinus H, Mestre O (2004) Detection and correction of artificial shifts in climate series. J R Stat Soc: Ser C: Appl Stat 53:405–425

Chen J, Del Genio AD, Carlson BE, Bosilovich MG (2008) The spatiotemporal structure of twentieth-century climate variations in observations and reanalyses. Part II: Pacific pan-decadal variability. J Clim 21:2634–2650

Cressie N, Chan NH (1989) Spatial modeling of regional variables. J Am Stat Assoc 84:393–401

Delahaye F, Kirstetter P-E, Dubreuil V, Machado LA, Vila DA, Clark R (2015) A consistent gauge database for daily rainfall analysis over the Legal Brazilian Amazon. J Hydrol 527:292–304

Dempster AP, Laird NM, Rubin DB (1977) Maximum likelihood from incomplete data via the EM algorithm. J R Stat Soc 39:1–38

Eischeid JK, Pasteris PA, Diaz HF, Plantico MS, Lott NJ (2000) Creating a serially complete, national daily time series of temperature and precipitation for the western United States. J Appl Meteorol 39:1580–1591

Espinoza Villar JC, Ronchail J, Guyot JL, Cochonneau G, Naziano F, Lavado W, De Oliveira E, Pombosa R, Vauchel P (2009) Spatio-temporal rainfall variability in the Amazon basin countries (Brazil, Peru, Bolivia, Colombia, and Ecuador). Int J Climatol 29:1574–1594

Espinoza JC, Chavez S, Ronchail J, Junquas C, Takahashi K, Lavado W (2015) Rainfall hotspots over the southern tropical Andes: spatial distribution, rainfall intensity, and relations with large-scale atmospheric circulation. Water Resour Res 51:3459–3475

Figueroa SN, Nobre CA (1990) Precipitation distribution over central and western tropical South America. Climanalise 5:36–45

Getirana AC, Espinoza JCV, Ronchail J, Rotunno Filho OC (2011) Assessment of different precipitation datasets and their impacts on the water balance of the Negro River basin. J Hydrol 404:304–322

Glasson-Cicognani, M., and Berchtold, A. (2010). Imputation des données manquantes: Comparaison de différentes approches. In 42èmes Journées de Statistique, Marseille-France

Hansen JW, Challinor A, Ines A, Wheeler T, Moron V (2006) Translating climate forecasts into agricultural terms: advances and challenges. Clim Res 33:27–41

Juárez RIN, Hodnett MG, Fu R, Goulden ML, von Randow C (2007) Control of dry season evapotranspiration over the Amazonian Forest as inferred from observations at a southern Amazon Forest site. J Clim 20:2827–2839

Liebmann B, Allured D (2005) Daily precipitation grids for South America. Bull Am Meteorol Soc 86:1567–1570

Liebmann B, Marengo J (2001) Interannual variability of the rainy season and rainfall in the Brazilian Amazon basin. J Clim 14:4308–4318

Little RJA, Rubin DB (2002) Statistical analysis with missing data. John Wiley & Sons, Inc, USA

Makhuvha T, Pegram G, Sparks R, Zucchini W (1997a) Patching rainfall data using regression methods: 1. Best subset selection, EM and pseudo-EM methods: theory. J Hydrol 198:289–307

Makhuvha T, Pegram G, Sparks R, Zucchini W (1997b) Patching rainfall data using regression methods. 2. Comparisons of accuracy, bias and efficiency. J Hydrol 198:308–318

Mestre O, Gruber C, Prieur C, Caussinus H, Jourdain S (2011) SPLIDHOM: a method for homogenization of daily temperature observations. J Appl Meteorol Climatol 50:2343–2358

Moron V, Robertson AW, Ward MN, Camberlin P (2007) Spatial coherence of tropical rainfall at the regional scale. J Clim 20:5244–5263

Ronchail J, Cochonneau G, Molinier M, Guyot J-L, De Miranda Chaves AG, Guimarães V, de Oliveira E (2002) Interannual rainfall variability in the Amazon basin and sea-surface temperatures in the equatorial Pacific and the tropical Atlantic Oceans. Int J Climatol 22:1663–1686

Silva V, Kousky V, Shi W, Higgins RW (2007) An improved gridded historical daily precipitation analysis for Brazil. J Hydrometeorol 8:847–861

Simões Reibota M, Gan MA, Porfirio da Rocha R, Ambrizzi T (2010) Regimes de precipitacao na America do sul. Rev Bras Meteorol 25:185–204

van Buuren S, Groothuis-Oudshoorn K (2011) MICE: multivariate imputation by chained equations in R. J Stat Softw 45:1–68

Vicente-Serrano SM, Beguería S, López-Moreno JI, García-Vera MA, Stepanek P (2010) A complete daily precipitation database for Northeast Spain: reconstruction, quality control, and homogeneity. Int J Climatol 30:1146–1163

Williams E, Dall' Antonia A, Dall' Antonia V, de Almeida JM, Suarez F, Liebmann B, Malhado ACM (2005) The drought of the century in the Amazon basin: an analysis of the regional variation of rainfall in South America in 1926. Acta Amazon 35:231–238

WMO (1989). Calculation of monthly and annual 30 year standard normal (World Meteorological Organization)

WMO (2007). Guide to the global observing system (World Meteorological Organization)

WMO (2011). Guide des pratiques climatologiques (World Meteorological Organization)
Acknowledgments
The authors would like to express their special thanks to Naurinete J. C. Barreto and George Ulguim Pedra for their help and discussions from the Meteorology Department of the Brazilian National Institute for the Space Research (INPE) and Cláudio Moisés Santos E. Silva from the Centro de Ciências Exatas e da Terra (CCET) in Natal University (Brazil).
Additional information
The artwork was created with R-cran, QGis, and Matlab software.
Publisher's note
Springer Nature remains neutral with regard to jurisdictional claims in published maps and institutional affiliations.
About this article
Cite this article
Michot, V., Arvor, D., Ronchail, J. et al. Validation and reconstruction of rain gauge–based daily time series for the entire Amazon basin. Theor Appl Climatol 138, 759–775 (2019). https://doi.org/10.1007/s00704-019-02832-w
Received:

Accepted:

Published:

Issue Date: