Abstract
The sultry phenomenon is considered one of the climactic events of south shorelines of Iran which are associated with humidity and high air temperature. The importance and necessity of this phenomenon on the subject of applied studies especially bioclimatology will be regarded if increasing of its severity leads to human discomfort as well as asthma and hard breathing. The main objective of this study was to conduct a comparative investigation into the estimation indices for sultry conditions in the southern half of Iran. To achieve research objectives, the hourly data for partial vapor pressure, air temperature, relative humidity, and wind speed were collected from 12 synoptic stations over a 15-year period (1995–2009). The following five indices were used to differentiate between sultry and non-sultry days: the actual vapor pressure more than or equal to 18.8 hPa (Scharlau criterion), equivalent temperature index (more than 56 °C), physiological deficit index (less than 45 hPa), the approximated heat stress index, and the sultry severity index (Castens-Lancaster criterion). To compare these indices, two quantitative and qualitative criteria were considered. The results obtained from quantitative analysis of these indices showed that the Scharlau and Castens-Lancaster criteria were the most coordinated indices in determining sultry conditions. Suitable coordination was obtained only in half the studied stations for the physiological deficit index of less than 45 hPa. The lowest coordination was between the approximated heat stress index and the equivalent temperature index of more than 56 °C. The results obtained from the qualitative evaluation of the sultry estimation indices showed that the Scharlau criterion was more capable of estimating sultry conditions since it exhibited such characteristics as robustness, tractability, transparency, sophistication, extendability, and dimensionality. In general, the conducted quantitative and qualitative analyses showed that the Scharlau criterion was the most appropriate, homogeneous, and concrete index for monitoring sultry conditions in southern Iran.
Access options
Buy single article
Instant access to the full article PDF.
USD 39.95
Price excludes VAT (USA)
Tax calculation will be finalised during checkout.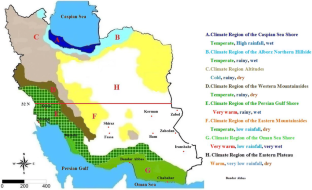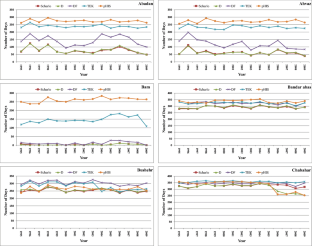 References
Berke T, Castens G (1929) Zur Kenntnis der Temperatur und Feuchtigkeit der Schiffsluft. In: Ann. d. Hydrogr. U. Mar. Met., 57, 169ff. (In German)

Blazejczyk K, Kunert A (2011) Bioclimatic principles of recreation and tourism in Poland. Monographies 13, Warsaw, 366 pp. (In Polish)

Blazejczyk K, Matzarakis A (2007) Assessment of bioclimatic differentiation of Poland based on the human heat balance. Geogr Pol 80(1):63–82

Castens G (1925) Über Tropenklimatologie, Tropenhygiene und den Lettow-Feldzug. Ann Hydrogr Marit Meteorol 5:177–187 (In German)

Dieterichs H (1957) Dauer and Haufigkeit schuler stunden in San Salvador. Arch Meteorol Geophys Bioklimatol Ser B 8(3–4):369–377 (In German)

Dufton AF (1929) The eupatheostat. J Sci Instrum 6:51–249

Endler C, Matzarakis A (2011) Climate and tourism in the Black Forest during the warm season. Int J Biometeorol 55(2):173–186

Falarz M (2005) Days with sultry weather in Poland. Geogr Rev 77(3):311–323 (In Polish)

Freedman DA (2005) Statistical models: theory and practice. Cambridge University Press, New York

Gelman A (2005) Analysis of variance? Why it is more important than ever. Ann Stat 33:1–53

Gelman A (2008) Variance, analysis of. The new Palgrave dictionary of economics, 2nd edn. Palgrave Macmillan, Basingstoke

Kalkstein LS, Valimont KM (1986) An evaluation of summer discomfort in the United States using a relative climatological index. Bull Am Meteorol Soc 67(7):842–848

Kamoutsis A, Matsoukis A, Chronopoulos K, Manoli E (2010) A comparative study of human thermal comfort conditions in two mountainous regions in Greece during summer. Global NEST J 12:401–408

Kaviyani MR (1981) Climatic study of sultry phenomenon in the coastal and southern regions of the country. J Iran Geogr 1(3):36–59 (In Persian)

Khoshakhlagh F, Hosseinpur Z, Hosseinpur M (2011) Statistical analysis of sultry phenomenon in Khuzestan province. In: 11th Geographers Congress of Iran, 15–16 September, Tehran, Iran. (In Persian)

Kozlowska-Szczesna T, Blazejczyk K, Krawczyk B (1997) Human Bioclimatology. Methods and applications. Monographies 1, Warsaw, 200 pp. (In Polish)

Lancaster A (1898) De la manière d'utiliser les observations hygrométriques. V Congr Int d'Hydrologie, Climatologie. Liège, 261–271. (In German)

Mahmoudi P, Tavousi T, Daneshmand H, Shabab Moghadam A (2014) Spatial classification of the sultry days in the southern half of Iran. J Spat anal Environ Hazards 1(2):47–63 (In Persian)

Mahmoudi P, Tavousi T, Shabab Moghadam A (2017a) Investigating temporal-spatial behavior of sultry days in southern half of Iran. J Geogr (Reg Plan) 7(4):89–101 (In Persian)

Mahmoudi P, Tavousi T, Shabab Moghadam A (2017b) Investigating trend of number of days changes of sultry days in southern half of Iran. J Zon Plan 7(26):55–68 (In Persian)

Masoodian SA (2012) Climate of Iran. Sharia -E- Tous Press, Mashhad 217 pp. (In Persian)

Matzarakis A, Mayer H (1997) Heat stress in Greece. Int J Biometeorol 41(1):34–39

Niedźwiedź T (ed) (2003) Meteorological glossary. Institute of Meteorology and Water Management, Warsaw (in Polish)

Pearson K (1895) Notes on regression and inheritance in the case of two parents. Proc R Soc Lond 58:240–242

Redmond K (1991) Climate monitoring and indices. In: Wilhite DA, Wood DA, Kay PA (eds) Drought management and planning: international drought information center, department of agricultural meteorology, vol 9(1). University of Nebraska-Lincoln, IDIC Technical Report Series, pp 29–33

Saaroni H, Ziv B (2003) The impact of a small lake on heat stress in a Mediterranean Urban Park: the case of Tel Aviv, Israel. Int J Biometeorol 47(3):156–165

Scharlau K (1943) Die Schwüle als meßbare Größe. In: Bioklimat Beibl 10, S.19–23. (In German)

Schoen C (2005) A new empirical model of the temperature-humidity index. J Appl Meteorol 44:1413–1420

Steadman RG (1979) The assessment of sultriness. Part I: a temperature-humidity index based on human physiology and clothing science. J Appl Meteorol 18:861–885

Stigler S (1989) Francis Galton's account of the invention of correlation. Stat Sci 4(2):73–79

Watts D, Kalkstein S (2004) The development of a warm – weather relative stress index for environmental application. J Appl Meteorol Climatol 43(3):503–513

Wereski S, Wereski S (2012) The methods of determining sultriness based on meteorological data from Lesko during the period 1981–2010. Rev Geophys 57(2):69–78 (In Polish)

Zarnowiecki G (2003) Sultry weather characteristics in KIELCE. Proceedings of the Fifth International Conference on Urban Climate, 1–5 September, Lodz, Poland

Zhao SL, Che SJ (2001) High temperature and muggy weather in Shijiazhuang City. Meteorol Mon 9:23–25 (In Chinese with English abstract)
Acknowledgments
The authors of the present article know their duty to thank Iran's Meteorology Organization for its cooperation and providing of the daily data of various variables from synoptic stations in the southern half of Iran for a 15-year time span. Also, we would like to express our utmost gratitude to the respected reviewers who judged the article and provided us with suggestions to elevate the quality of the article.
Additional information
Publisher's note
Springer Nature remains neutral with regard to jurisdictional claims in published maps and institutional affiliations.
About this article
Cite this article
Mahmoudi, P., Tavousi, T., Wereski, S. et al. Comparative evaluation of sultry indices in the mid-south of Iran. Theor Appl Climatol 137, 3041–3053 (2019). https://doi.org/10.1007/s00704-018-2742-8
Received:

Accepted:

Published:

Issue Date:

DOI: https://doi.org/10.1007/s00704-018-2742-8