Abstract
This study introduces a climatology of hourly precipitation for four first-order weather stations across Louisiana, investigates possible changes in the hourly precipitation distribution, and links winter (DJF) Gulf of Mexico (GOM) sea surface temperatures (SST) to the frequency of hours with precipitation. Results indicate that it precipitates between 431 and 457 h annually, equivalent to roughly 5% of the total annual hours, with distinct seasonal differences. For example, the duration of events is much longer in winter compared to summer, while the number of rainfall events is greater in summer. Using regression techniques, three of the four stations showed a statistically significant increase in 90th percentile hourly events and hourly intensity. At the same time, the frequency of light hourly events (0.254 mm, 1.27 mm, 2.54 mm) decreased. It was also determined that winter GOM SST significantly correlated with the number of hours with precipitation across coastal Louisiana, possibly related to the frequency of synoptic types such as frontal overrunning.
This is a preview of subscription content, log in to check access.
Access options
Buy single article
Instant access to the full article PDF.
US$ 39.95
Price includes VAT for USA
Subscribe to journal
Immediate online access to all issues from 2019. Subscription will auto renew annually.
US$ 199
This is the net price. Taxes to be calculated in checkout.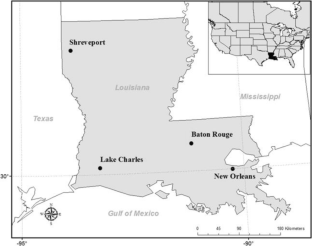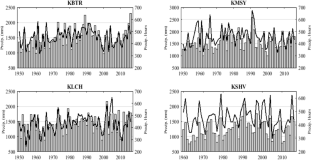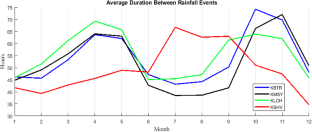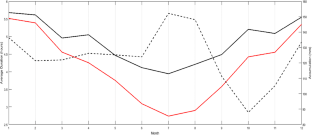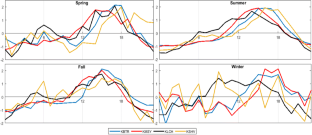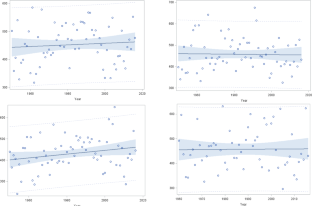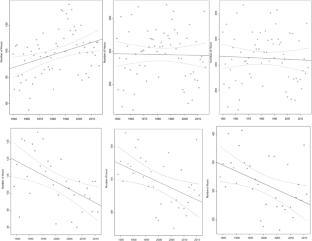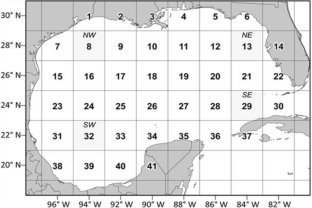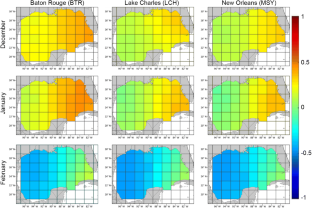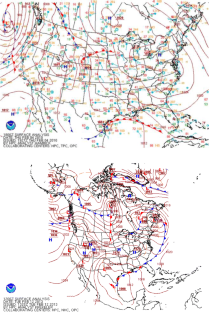 References
Allard J, Clarke JV III, Keim BD (2016) Spatial and temporal patterns of in situ sea surface temperatures within the Gulf of Mexico from 1901–2010. Am J Clim Chang 5(03):314–343

Atlas D, Chou SH, Byerly WP (1983) The influence of coastal shape on winter mesoscale air-sea interaction. Mon Weather Rev 111(2):245–252

Belville JD, Stewart NO (1983) Extreme rainfall events in Louisiana: the New Orleans type. In: Preprint, conference on hydrometeorology. American Meteorological Society, Boston, pp 284–290

Brooks HE, Stensrud DJ (2000) Climatology of heavy rain events in the United States from hourly precipitation observations. Mon Weather Rev 128(4):1194–1201

Burauskaite-Harju A, Grimvall A, Achberger C, Walther A, Chen D (2012) Characterising and visualizing spatio-temporal patterns in hourly precipitation records. Theor Appl Climatol 109(3–4):333–343

Chen H, Zhou T, Yu R, Li J (2009) Summer rain fall duration and its diurnal cycle over the US Great Plains. Int J Climatol 29(10):1515–1519

Eischeid JK, Diaz HF, Bradley RS, Jones PD (1991) A comprehensive precipitation data set for global land areas, US Department of Energy Monograph TR051. DOE/ER-69017T-H1, Washington DC

Faiers GE (1988) A synoptic weather type analysis of January hourly precipitation at Lake Charles, Louisiana. Phys Geogr 9(3):223–231

Freund RJ, Wilson WJ, Mohr DL (2010) Statistical methods. Academic Press, N.Y. 824 pages. (ISBN: 978-0-12-374970-3)

Fu S, Li D, Sun J, Si D, Ling J, Tian F (2016) A 31-year trend of the hourly precipitation over South China and the underlying mechanisms. Atmos Sci Lett 17(3):216–222

Groisman PY, Easterling DR (1994) Variability and trends of total precipitation and snowfall over the United States and Canada. J Clim 7(1):184–205

Groisman PY, Legates DR (1994) The accuracy of United States precipitation data. Bull Am Meteorol Soc 75(2):215–227

Groisman PY, Koknaeva VV, Belokrylova TA, Karl TR (1991) Overcoming biases of precipitation measurement: a history of the USSR experience. Bull Am Meteorol Soc 72(11):1725–1733

Groisman PY, Knight RW, Karl TR (2012) Changes in intense precipitation over the central United States. J Hydrometeorol 13(1):47–66

Hartmann DL, Tank AMK, Rusticucci M, Alexander LV, Brönnimann S, Charabi YAR, ... & Soden BJ (2013) Observations: atmosphere and surface. In Climate Change 2013 the Physical Science Basis: Working Group I Contribution to the Fifth Assessment Report of the Intergovernmental Panel on Climate Change. Cambridge University Press, Cambridge

Huang B, Thorne PW, Smith TM, Liu W, Lawrimore J, Banzon VF et al (2015) Further exploring and quantifying uncertainties for extended reconstructed sea surface temperature (ERSST) version 4 (v4). J Clim 29(9):3119–3142

Hudlow MD (1979) Mean rainfall patterns for the three phases of GATE. J Appl Meteorol 18(12):1656–1669

Iowa State University of Science and Technology (2017) Iowa Environmental Mesonet, College of Ag, Department of Agronomy, Iowa State University, Ames, IA mesonet.agron.iastate.edu/request/download.phtml.

Johnson GA, Meindl EA, Mortimer EB, Lynch JS (1984) Features associated with repeated strong cyclogenesis in the western Gulf of Mexico during the winter of 1982-83. Am Meteorol Soc:110–117

Kaplan A, Cane MA, Kushnir Y, Clement AC, Blumenthal MB, Rajagopalan B (1998) Analyses of global sea surface temperature 1856–1991. J Geophys Res Oceans 103(C9):18567–18589

Karl TR (Ed.) (2009) Global climate change impacts in the United States. Cambridge University Press, New York.

Karl TR, Knight RW (1998) Secular trends of precipitation amount, frequency, and intensity in the United States. Bull Am Meteorol Soc 79(2):231–241

Karl TR, Groisman PY, Knight RW, Heim RR Jr (1993) Recent variations of snow cover and snowfall in North America and their relation to precipitation and temperature variations. J Clim 6(7):1327–1344

Keim BD, Muller RA (1992) Temporal fluctuations of heavy rainfall magnitudes in New Orleans, Louisiana: 1871–1991. JAWRA J Am Water Resour Assoc 28(4):721–730

Keim BD, Muller RA (1993) Frequency of heavy rainfall events in New Orleans, Louisiana, 1900 to 1991. Southeast Geogr 33(2):159–171

Keim BD, Wilson AM, Wake CP, Huntington TG (2003) Are there spurious temperature trends in the United States Climate Division database?. Geophys Res Lett, 30(7). https://doi.org/10.1029/2002GL016295

Klein WH (1957) Principal tracks and mean frequencies of cyclones and anticyclones in the Northern Hemisphere. US Weather Bureau Research Paper, Washington.

Kunkel KE, Stevens LE, Stevens SE, Sun L, Janssen E, Wuebbles D, Konrad CEI, Fuhrman CM, Keim BD, Kruk MC, Billot A, Needham H, Shafer M, Dobson JG (2013) Regional climate trends and scenarios for the U.S. National Climate Assessment Part 2. Climate of the Southeast U.S. NOAA, Washington, D.C

Legates DR, DeLiberty TL (1993) Estimates of biases in precipitation gage measurements—an example using the United States raingage network. In 1994, Proceedings from the eighth symposium on meteorological observations and instrumentation: Anaheim, Calif., American Meteorological Society, p. 219

Lewis JK, Hsu SA (1992) Mesoscale air-sea interactions related to tropical and extratropical storms in the Gulf of Mexico. J Geophys Res Oceans 97(C2):2215–2228

Montgomery DC, Peck EA (1982) Introduction to linear regression analysis, 1992. Google Scholars.

National Oceanic and Atmospheric Administration (2017) Hourly precipitation database. National Centers for Environmental Information, Department of Commerce. https://www1.ncdc.noaa.gov/pub/data/cdo/documentation/PRECIP_HLY_documentation.pdf

Powell EJ, Keim BD (2015) Trends in daily temperature and precipitation extremes for the southeastern United States: 1948–2012. J Clim 28(4):1592–1612

R Core Team (2018). R: a language and environment for statistical computing. R Foundation for Statistical Computing, Vienna, Austria. URL: https://www.R-project.org/

Shapiro SS, Wilk MB (1965) An analysis of variance test for normality (complete samples). Biometrika 52(3/4):591–611

Trenberth KE (1998) Atmospheric moisture residence times and cycling: implications for rainfall rates and climate change. Clim Chang 39(4):667–694

Trenberth KE, Zhang Y (2017) How often does it really rain?. Bull Am Meteorol Soc, 99(2), pp.289-298. https://doi.org/10.1175/BAMS-D-17-0107.1

Trenberth KE, Dai A, Rasmussen RM, Parsons DB (2003) The changing character of precipitation. Bull Am Meteorol Soc 84(9):1205–1217

Trenberth KE, Zhang Y, Gehne M (2017) Intermittency in precipitation: duration, frequency, intensity, and amounts using hourly data. J Hydrometeorol 18(5):1393–1412

Trepanier JC, Roberts MJ, Keim BD (2015) Trends and spatial variability in dry spells across the south-central United States. J Appl Meteorol Climatol 54(11):2261–2272

Whittaker LM, Horn LH (1981) Geographical and seasonal distribution of North American cyclogenesis, 1958–1977. Mon Weather Rev 109(11):2312–2322

Yu R, Li J (2012) Hourly rainfall changes in response to surface air temperature over eastern contiguous China. J Clim 25(19):6851–6861

Zhai P, Zhang X, Wan H, Pan X (2005) Trends in total precipitation and frequency of daily precipitation extremes over China. J Clim 18(7):1096–1108
Additional information
Publisher's note
Springer Nature remains neutral with regard to jurisdictional claims in published maps and institutional affiliations.
About this article
Cite this article
Brown, V.M., Black, A.W. & Keim, B.D. Hourly rainfall climatology of Louisiana. Theor Appl Climatol 137, 2011–2027 (2019). https://doi.org/10.1007/s00704-018-2718-8
Received:

Accepted:

Published:

Issue Date: