Abstract
Air temperature measured by automated weather stations is used by growers and other stakeholders to inform their decisions that are affected by local weather conditions. Although modern systems record and transmit weather information remotely at regular time intervals, the spatial resolution of the data is unknown. This study aimed to determine the radius of influence (RI) of daily air temperature and to analyze the dynamic response of RI. An analysis based on the similarity between data recorded at two weather stations as a function of their distance was conducted using daily air temperature data for 158 weather stations in the Pacific Northwest (PNW). The results showed that the mean RI for minimum temperature (20 km) was significantly different from the RI calculated for maximum temperature (23 km). There was also both high spatial and temporal variability. We found that the landscape and season of the year were crucial factors that define the RI of air temperature recorded for a particular location. In flat regions, the RI was greater than in areas where the elevation varied over a short distance, and the RI was smaller during the summer than during any of the other seasons. The results showed that for complex terrain it is not possible to define a general RI for daily air temperature.
This is a preview of subscription content,
to check access.
Access this article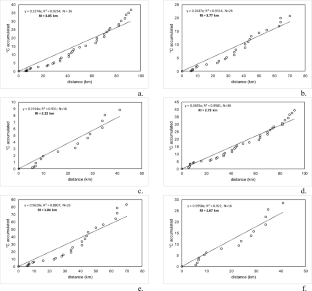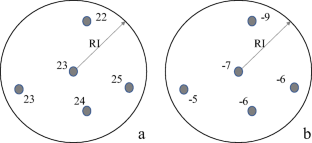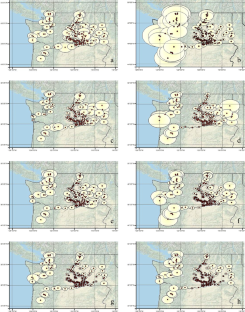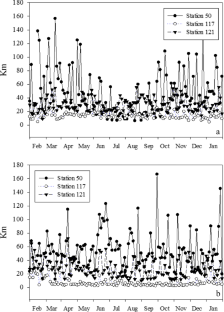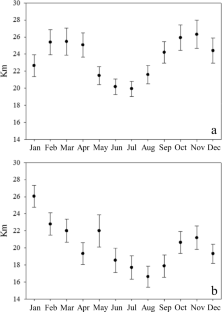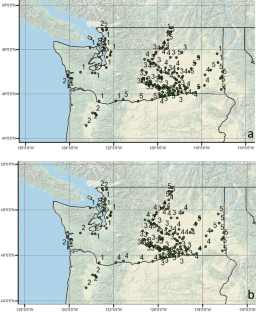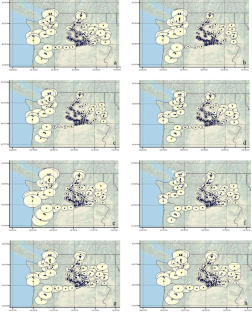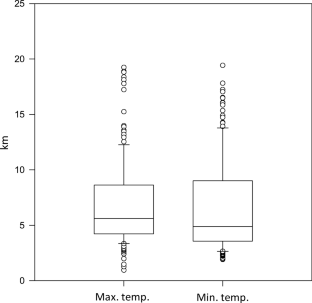 Similar content being viewed by others
References
Ashraf M, Loftis JC, Hubbard KG (1997) Application of geostatistics to evaluate partial weather station networks. Agric For Meteorol 84(3–4):255–271. https://doi.org/10.1016/s0168-1923(96)02358-1

Atkinson D, Porter JR (1996) Temperature, plant development and crop yields. Trends Plant Sci 1(4):119–124. https://doi.org/10.1016/s1360-1385(96)90006-0

De Camargo MBP, Brunini O, Pedro Junior MJ, Bardin L (2005) Variabilidade espacial e temporal de dados termopluviométricos diários da rede de estações agrometeorológicas do Instituto Agronômico (IAC). Bragantia 64(3):473–483. https://doi.org/10.1590/s0006-87052005000300018

Dorninger M, Whiteman CD, Bica B, Eisenbach S, Pospichal B, Steinacker R (2011) Meteorological events affecting cold-air pools in a small basin. J Appl Meteorol Climatol 50(11):2223–2234. https://doi.org/10.1175/2011jamc2681

Everitt BS, Landau S, Leese M, Stahl D (2011) Cluster analysis. Wiley series in probability and statistics. https://doi.org/10.1002/9780470977811

Gallo KP, Easterling DR, Peterson TC (1996) The influence of land use/land cover on climatological values of the diurnal temperature range. J Clim 9(November):2941–2944. https://doi.org/10.1175/1520-0442(1996)009<2941:tioluc>2.0.co;2

Gandin LS (1970) Objective analysis of meteorológical fields. Gidrometizdat, Leningrad, 287 pp. (In Russian). Translation by Montoya et al. (2000) in Spanish

Holtzer TO, Norman JM, Perring TM, Berry JS, Heintz JC (1988) Effects of microenvironment on the dynamics of spider-mite populations. Exp Appl Acarol 4(3):247–264. https://doi.org/10.1007/bf01196189

Hoogenboom G (2000) Contribution of agrometeorology to the simulations of crop production and its applications. Agric For Meteorol 103:137–157. https://doi.org/10.1016/s0168-1923(00)00108-8

Houze RA (2012) Orographic effects on precipitating clouds. Rev Geophys 50(1). https://doi.org/10.1029/2011rg000365

Hubbard KG (1994) Spatial variability of daily weather variables in the high plains of the USA. Agric For Meteorol 68(1–2):29–41. https://doi.org/10.1016/0168-1923(94)90067-1

Jamiyansharav, K., D. Ojima, and R. A. Pielke Sr. (2006). Exposure characteristics of the Mongolian weather stations, Atmos. Sci. Pap. 779, 75 pp., Colo. State Univ., Fort Collins

Li Y-B, Shi T, Yang Y-J, Wu B-W, Wang L-B, Shi C-E et al (2015) Satellite-based investigation and evaluation of the observational environment of meteorological stations in Anhui Province, China. Pure Appl Geophys 172(6):1735–1749. https://doi.org/10.1007/s00024-014-1011-8

Lindén J (2011) Nocturnal cool island in the Sahelian city of Ouagadougou, Burkina Faso. Int J Climatol 31(4):605–620. https://doi.org/10.1002/joc.2069

Lindén J, Esper J, Holmer B (2015) Using land cover, population, and night light data for assessing local temperature differences in Mainz, Germany. J Appl Meteorol Climatol 54(3):658–670. https://doi.org/10.1175/jamc-d-14-0124.1

Lohmann U, Sausen R, Bengtsson L, Cubasch U, Perlwitz J, Roeckner E (1993) The Köppen climate classification as a diagnostic tool for general circulation models. Clim Res 3:177–193. https://doi.org/10.3354/cr003177

Markowski P, Richardson Y (2010) Mesoscale meteorology in midlatitudes. Wiley. https://doi.org/10.1002/9780470682104

Mass C (2008) The weather of the Pacific Northwest. The University of Washington Press. 280 p

Matheron G (1963) Principles of geostatistics. Econ Geool 58(8):1246–1266. https://doi.org/10.2113/gsecongeo.58.8.1246

Milewska E, Hogg WD (2001) Spatial representativeness of a long-term climate network in Canada. Atmosphere-Ocean 39(2):145–161. https://doi.org/10.1080/07055900.2001.9649671

Mingguang R, Roth M (2009) Spatial variation of the canopy-level urban heat island in Singapore. In Proceedings of the seventh international conference on urban climate. June 29 to July 3, Yokohama, Japan

Mitchell SG, Montgomery DR (2006) Polygenetic topography of the Cascade Range, Washington State, USA. Am J Sci 306(9):736–768. https://doi.org/10.2475/09.2006.03

Orlowsky B, Seneviratne SI (2014) On the spatial representativeness of temporal dynamics at European weather stations. Int J Climatol 34(10):3154–3160. https://doi.org/10.1002/joc.3903

Ruget F et al (1995) Délimitation de zones aux potentialités équivalentes en France et dans la Communauté Européenne pour optimiser les réseaux d'expérimentation des variétés. In: Ruget F (ed) Blé et maïs. INRA, Avignon, p 30

Samach A, Wigge P (2005) Ambient temperature perception in plants. Curr Opin Plant Biol 8:483–486. https://doi.org/10.1016/j.pbi.2005.07.011

Şen Z (1997) Objective analysis by cumulative semivariogram technique and its application in Turkey. J Appl Meteorol 36:1712–1724. https://doi.org/10.1175/1520-0450(1997)036<1712:oabcst>2.0.co;2

Şen Z (1998) Point cumulative semivariogram for identification of heterogeneities in regional seismicity of Turkey. Math Geol 30(7):767–787. https://doi.org/10.1023/A:1021704507596

Şen Z, Habib ZZ (1998) Point cumulative semivariogram of areal precipitation in mountainous regions. J Hydrol 205(1–2):81–91. https://doi.org/10.1016/s0022-1694(97)00146-7

Shi T, Huang Y, Wang H, Shi C-E, Yang Y-J (2015) Influence of urbanization on the thermal environment of meteorological station: satellite-observed evidence. Adv Clim Chang Res 6(1):7–15. https://doi.org/10.1016/j.accre.2015.07.001

Thiebaux J (1994) Statistical data analysis for ocean and atmospheric. Sciences 1994. https://doi.org/10.1016/c2009-0-21352-3

Thomson AM, Brown RA, Ghan SJ, Izaurralde RC, Rosenberg NJ, Leung LR (2002) Elevation dependence of winter wheat production in eastern Washington state with climate change: a methodological study. Clim Chang 54(1/2):141–164. https://doi.org/10.1023/a:1015743411557

Whiteman C, Zhong S, Shaw W, Hubbe JM, Bian X (2001) Cold pools in the Columbia Basin. Weather Forecast 16(4):432–447

Wigge P (2013) Ambient temperature signalling in plants. Curr Opin Plant Biol 16:661–666. https://doi.org/10.1016/j.pbi.2013.08.004

World Meteorological Organization (WMO) (2008) Guide to meteorological instruments. WMO, Geneva

Zhao D, Wu J (2017) Contribution of urban surface expansion to regional warming in Beijing, China. J Appl Meteorol Climatol 56(6):1551–1559. https://doi.org/10.1175/jamc-d-17-0019.1
Additional information
Publisher's note
Springer Nature remains neutral with regard to jurisdictional claims in published maps and institutional affiliations.
Electronic supplementary material
About this article
Cite this article
Peña Quiñones, A.J., Chaves Cordoba, B., Salazar Gutierrez, M.R. et al. Radius of influence of air temperature from automated weather stations installed in complex terrain. Theor Appl Climatol 137, 1957–1973 (2019). https://doi.org/10.1007/s00704-018-2717-9
Received:

Accepted:

Published:

Issue Date:

DOI: https://doi.org/10.1007/s00704-018-2717-9
Keywords