Abstract
Using multiple datasets, including three grid datasets (ERA-Interim, WFDEI, and SURF) and one station dataset, we analyzed the climatological distributions and trends of daily maximum air temperature (DMAT) and number of heat days (NHD) over China from 1979 to 2012. In general, all the three grid datasets show the highest climatological DMAT and NHD values in Xinjiang and southeast China, and increasing trends of DMAT and NHD in most of China. Nevertheless, both the climatological condition and trend exhibit differences in detail among the three grid datasets. Using the observed grid dataset (SURF) as a reference, the results show that the WFDEI dataset is closer to SURF than ERA-Interim in characterizing climatological features of DMAT and NHD, and the values from ERA-Interim dataset are lower than the SURF in most part of China. Since the trends of NHD in WFDEI are smaller than those in the other two grid datasets, especially in the middle and lower beaches of the Yangtze River, ERA-Interim is better than WFDEI in representing the trends of NHD. In four regions: Chuanyu, Huanghuai, Xinjiang, and Southeast where the NHD occurs frequently and increases rapidly, the WFDEI is more reliable than ERA-Interim due to the fact that the changes of regional NHD in WFDEI are more consistent with those in observed datasets. Because there exist biases in the records of DMAT between the ERA-interim and WFDEI, it is better to adopt percentile index than absolute threshold to study the changes of China extreme air temperature when using reanalysis datasets.
This is a preview of subscription content, log in to check access.
Access options
Buy single article
Instant access to the full article PDF.
US$ 39.95
Price includes VAT for USA
Subscribe to journal
Immediate online access to all issues from 2019. Subscription will auto renew annually.
US$ 199
This is the net price. Taxes to be calculated in checkout.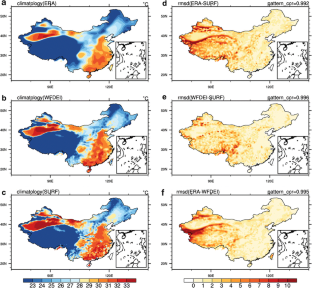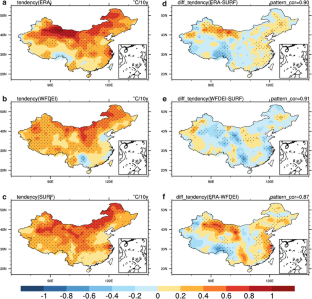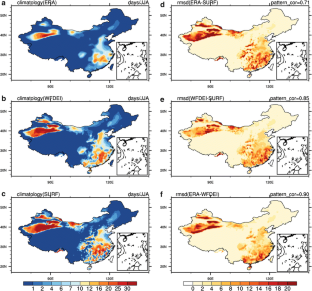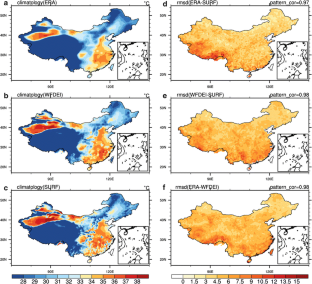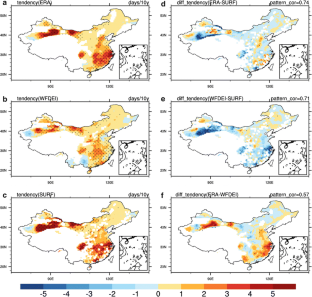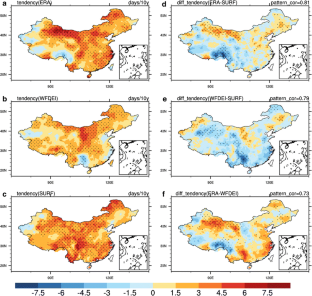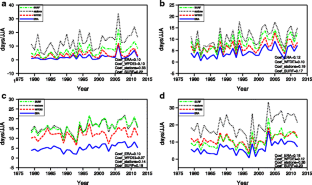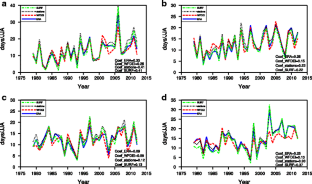 References
Bouchama A (2004) The 2003 European heat wave. Intensive Care Med 30(1):1–3. doi:10.1007/s00134-003-2062-y

Coumou D, Rahmstorf S (2012) A decade of weather extremes. Nat Clim Chang 2(7):491–496. doi:10.1038/nclimate1452

Dee DP, Uppala SM, Simmons AJ, Berrisford P, Poli P, Kobayashi S, Andrae U, Balmaseda MA, Balsamo G, Bauer P, Bechtold P, Beljaars ACM, vande Berg L, Bidlot J, Bormann N, Delsol C, Dragani R, Fuentes M, Geer AJ, Haimberger L, Healy SB, Hersbach H, Holm EV, Isaksen L, Kallberg P, Koehler M, Matricardi M, AP MN, Monge-Sanz BM, Morcrette JJ, Park BK, Peubey C, de Rosnay P, Tavolato C, Thepaut JN, Vitart F (2011) The ERA-interim reanalysis: configuration and performance of the data assimilation system. Q J R Meteorol Soc 137(656):553–597. doi:10.1002/qj.493

Ding T, Qian W, Yan Z (2010) Changes in hot days and heat waves in China during 1961-2007. Int J Climatol 30(10):1452–1462. doi:10.1002/joc.1989

Dunne JP, Stouffer RJ, John JG (2013) Reductions in labour capacity from heat stress under climate warming. Nat Clim Chang 3(6):563–566. doi:10.1038/nclimate1827

Gu S, Huang C, Bai L, Chu C, Liu Q (2016) Heat-related illness in China, summer of 2013. Int J Biometeorol 60(1):131–137. doi:10.1007/s00484-015-1011-0

Hu KM, Huang G, Qu X, Wu RG (2012) The impact of Indian ocean variability on high temperature extremes acorss the southern Yangtze River valley in last summer. Adv Atmos Sci 29(1):91–100

Hu KM, Huang G, Wu RG (2013) A strengthened influence of ENSO on August high temperature extremes over the southern Yangtze Valley since the late 1980s. J Clim 26(7):2205–2221. doi:10.1175/jcli-d-12-00277.1

Hu LS, Huang G, Qu X (2016) Spatial and temporal features of summer extreme temperature over China during 1960–2013. Theoretical and applied climatology. 1-13. doi: 10.1007/s00704-016-1741-x

Huang G (2006) The assessment and difference of the interdecadal variations of climate change in northern part of China with the NCEP/NCAR and ERA-40 reanalysis data. Clim Environ Res 11(3):310–320

IPCC (2013) The physical science basis contribution of working group I to the fifth assessment report of the intergovernmental panel on climate change. Cambridge University Press, Cambridge

Kharin VV, Zwiers FW, Zhang X, Hegerl GC (2007) Changes in temperature and precipitation extremes in the IPCC ensemble of global coupled model simulations. J Clim 20(8):1419–1444. doi:10.1175/jcli4066.1

Kilbourne EM (1997) Heat waves and hot environments. In: Noji EK (ed) In the public health consequences of disasters. Oxford University Press, New York, pp 245–269

Kjellstrom T, Holmer I, Lemke B (2009) Workplace heat stress, health and productivity - an increasing challenge for low and middle-income countries during climate change. Glob Health Action 2:46–51. doi:10.3402/gha.v2i0.2047

Li LJ, Wang B, Zhou TJ (2007) Contributions of natural and anthropogenic forcings to the summer cooling over eastern China: an AGCM study. Geophys Res Lett 34:L18807. doi:10.1029/2007GL030541

Li Q, Zhang H, Chen J, Li W, Liu X, Jones P (2009) A mainland China homogenized historical temperature dataset of 1951-2004. Bull Am Meteorol Soc 90(8):1062–1065. doi:10.1175/2009bams2736.1

Lu RY, Chen RD (2016) A review of recent studies on extreme heat in China. Atmos Ocean Sci Lett 9(2):114–121

Luber G, McGeehin M (2008) Climate change and extreme heat events. Am J Prev Med 35(5):429–435. doi:10.1016/j.amepre.2008.08.021

Peng SB, Huang JL, Sheehy JE, Laza RC, Visperas RM, Zhong XH, Centeno GS, Khush GS, Cassman KG (2004) Rice yields decline with higher night temperature from global warming. Proc Natl Acad Sci U S A 101(27):9971–9975. doi:10.1073/pnas.0403720101

Penner JE, Dong XQ, Chen Y (2004) Observational evidence of a change in radiative forcing due to the indirect aerosol effect. Nature 427:231–234

Perkins SE, Alexander LV, Nairn JR (2012) Increasing frequency, intensity and duration of observed global heatwaves and warm spells. Geophys Res Lett. 39. doi:10.1029/2012gl053361

Perkins SE, Pitman AJ, Sisson SA (2013) Systematic differences in future 20 year temperature extremes in AR4 model projections over Australia as a function of model skill. Int J Climatol 33(5):1153–1167. doi:10.1002/joc.3500

Qi L, Wang Y (2012) Changes in the observed trends in extreme temperatures over China around 1990. J Clim 25(15):5208–5222. doi:10.1175/jcli-d-11-00437.1

Ramanathan V, Carmichael G (2008) Global and regional climate changes due to black carbon. Nat Geosci 1(4):221–227. doi:10.1038/ngeo156

Ren GY, Zhou YQ (2014) Urbanization effect on trends of extreme temperature indices of national stations over mainland China, 1961-2008. J Clim 27(6). doi:10.10075/JCLI-D-13-00393.1

Robine JM, Cheung SLK, LeRoy S, Van Oyen H, Griffiths C, Michel JP, Herrmann FR (2008) Death toll exceeded 70,000 in Europe during the summer of 2003. Comptes Rendus Biologies 331(2):171–U175. doi:10.1016/j.crvi.2007.12.001

Santer BD, Wigley TML, Boyle JS, Gaffen DJ, Hnilo JJ, Nychka D, Parker DE, Taylor KE (2000) Statistical significance of trends and trend differences in layer-average atmospheric temperature time series. J Geophys Res-Atmos 105(D6):7337–7356. doi:10.1029/1999jd901105

Shi J, Ding YH, Cui LL (2009) Climatic characteristics of extreme maximum temperature in east China and its causes. Chin J Atmos Sci 33(2):347–358

Sun J (2012) Possible impact of the summer north Atlanic oscillation on extreme hot events in China. Atmos Ocean Sci Lett 5(3):231–234

Sun J, Wang H, Yuan W (2011) Decadal variability of the extreme hot event in China and its association with atmospheric circulations. Clim Environ Res 16(2):199–208

Sun Y, Zhang X, Zwiers FW, Song L, Wan H, Hu T, Yin H, Ren G (2014) Rapid increase in the risk of extreme summer heat in eastern China. Nat Clim Chang 4(12):1082–1085. doi:10.1038/nclimate2410

Wang Z, Ding Y, Zhang Q, Song Y (2012) Changing trends of daily temperature extremes with different intensities in China. Acta Meteorologica Sinica 26(4):399–409. doi:10.1007/s13351-012-0401-z

Weedon GP, Gomes S, Viterbo P, Shuttleworth WJ, Blyth E, Oesterle H, Adam JC, Bellouin N, Boucher O, Best M (2011) Creation of the WATCH forcing data and its use to assess global and regional reference crop evaporation over land during the twentieth century. J Hydrometeorol 12(5):823–848. doi:10.1175/2011jhm1369.1

Weedon GP, Balsamo G, Bellouin N, Gomes S, Best MJ, Viterbo P (2014) The WFDEI meteorological forcing data set: WATCH forcing data methodology applied to ERA-interim reanalysis data. Water Resour Res 50(9):7505–7514. doi:10.1002/2014wr015638

Wei K, Chen W (2009) Climatology and trend of high temperature extremes across China in summer. Atmos Ocean Sci Lett 2(3):153–158

Wen Han QZ, Zhang XB, Xu Y, Wang B (2013) Detecting human influence on extreme temperature in China. Geophys Res Lett 40(6). doi:10.1002/grl.50285

Wild M, Gilgen H, Roesch A, Ohmura A, Long CN, Dutton EG, Forgan B, Kallis A, Russak V, Tsvetkov A (2005) From dimming to brightening: decadal changes in solar radiation at Earth's surface. Science 308:847–850. doi:10.1126/science.1103215

WMO (2013) The global climate 2001–2010: A decade of climate extremes. WMO-No. 1103: 119pp. World Meteorological Organization, Switzerland

Xu WQ, Wang XL, Yang S, Cao L, Feng Y (2013) Homogenization of Chinese daily surface air temperatures and analysis of trends in the extreme temperature indices. J Geophys Res-Atmos 118(17):9708–9720. doi:10.1002/jgrd.50791

Yu RC, Zhou TJ (2007) Seasonality and three-dimensional structure of interdecadal change in the east Asian monsoon. J Clim 20:5344–5355. doi:10.1175/2007JCLI1559.1

Zander KK, Botzen WJW, Oppermann E, Kjellstrom T, Garnett ST (2015) Heat stress causes substantial labour productivity loss in Australia. Nature climate change, 5(7): 647−+. doi: 10.1038/nclimate2623

Zhang J, Liu ZY, Chen L (2015) Reduced soil moisture contributes to more intense and more frequent heat waves in northern China. Adv Atmos Sci 32:1197–1207. doi:10.1007/s00376-014-4175-3

Zhao TB, Fu ZB (2006) Preliminary comparison and analysis between ERA-40, NCEP-2 reanalysis and observations over China. Clim Environ Res 11(1):14–32

Zhao Y, Ducharne A, Sultan B, Braconnot P, Vautard R (2015) Estimating heat stress from climate-based indicators: present-day biases and future spreads in the CMIP5 global climate model ensemble. Environ Res Lett. doi:10.1088/1748-9326/10/8/084013

Zhao Y, Sultan B, Vautard R, Braconnot P, Wang HJ, Ducharne A (2016) Potential escalation of heat-related working costs with climate and socioeconomic changes in China. Proc Natl Acad Sci U S A 113(17):4640–4645. doi:10.1073/pnas.1521828113

Zhou YQ, Ren GY (2011) Changes in extreme temperature event frequency over mainland China, 1961-2008. Clim Res 50:125–139. doi:10.3354/cr01053

Zhou LM, Dickinson RE, Tian YH, Fang JY, Li QX, Kaufmann RK, Tucker CJ, Myneni RB (2004) Evidence for a significant urbanization effect on climate in China. Proc Natl Acad Sci U S A 101(26):9540–9544. doi:10.1073/pnas.0400357101
Acknowledgements
This research is supported by the National Natural Science Fundation of China (41425019 and 41661144016) and the public science and technology research funds projects of ocean (201505013).
About this article
Cite this article
Hu, L., Huang, G. & Hu, K. The performance of multiple datasets in characterizing the changes of extreme air temperature over China during 1979 to 2012. Theor Appl Climatol 133, 619–632 (2018). https://doi.org/10.1007/s00704-017-2215-5
Received:

Accepted:

Published:

Issue Date:
Keywords
Multiple datasets

Extreme air temperature

Root mean square difference

Trend differences