Abstract
Due to the lack of knowledge on dynamics of the North Atlantic Oscillation (NAO) prior to the last millennium, synchronized records of air temperature and precipitation variability are needed to understand large-scale drivers of the hydroclimate. Here, we use completely synchronized paleolimnological proxy-based records of air temperature and effective precipitation from two Scandinavian lakes with ∼2000-year sediment profiles. We show that the relationship between air temperature and precipitation (T/P ratio) is synchronous in both study sites throughout the records suggesting warm and dry conditions at ∼300–1100 CE and cold and wet conditions at ∼1200–1900 CE. Owing to the significantly increased air temperatures, the most recent T/P ratio has again turned positive. During the first millennium of the Common Era, the T/P mimics patterns in Southern Oscillation index, whereas the second millennium shows response to the NAO index but is also concurrent with solar irradiance shifts. Since our T/P reconstruction is mostly linked with the NAO, we propose the T/P ratio as an indicator of the NAO. Our results from the coherent records provide first-time knowledge on the long-term temperature-precipitation relationship in Northern Europe that increase understanding of the comprehensive hydroclimate system in the region and the NAO dynamics also further back in time.
This is a preview of subscription content, log in to check access.
Access options
Buy single article
Instant access to the full article PDF.
US$ 39.95
Price includes VAT for USA
Subscribe to journal
Immediate online access to all issues from 2019. Subscription will auto renew annually.
US$ 199
This is the net price. Taxes to be calculated in checkout.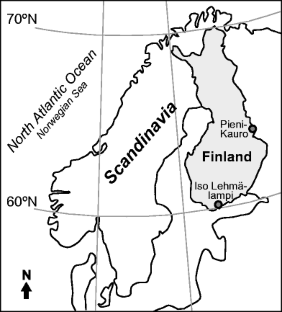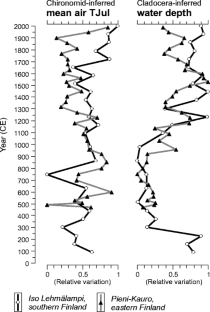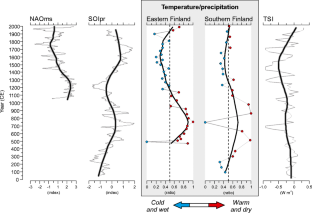 References
Alley RB, Marotzke J, Nordhaus WD et al (2003) Abrupt climate change. Science 299:2005–2010

Amsinck SL, Strzelczak A, Bjerring R, Landkildehus F, Lauridsen TL, Christoffersen K, Jeppesen E (2006) Lake depth rather than fish planktivory determines cladoceran community structure in Faroese lakes–evidence from contemporary data and sediments. Freshw Biol 51:2124–2142

Bradley RS, Hughes MK, Diaz HF (2003) Climate in Medieval time. Science 302:404–405

Brooks SJ (2006) Fossil midges (Diptera: Chironomidae) as palaeoclimatic indicators for the Eurasian region. Quat Sci Rev 25:1894–1910

Cook ER, Seager R, Kushnir Y et al (2015) Old world megadroughts and pluvials during the Common Era. Sci Adv 1:e1500561

D'Arrigo R, Wilson R, Jacoby G (2006) On the long-term context for late twentieth century warming. J Geophys Res 111:D03103

Goosse H, Renssen H, Timmermann A, Bradley RS (2005) Internal and forced climate variability during the last millennium: a model-data comparison using ensemble simulations. Quat Sci Rev 24:1345–1360

Grove JM (2001) The initiation of the "Little Ice Age" in regions around the North Atlantic. Clim Chang 48:53–82

Helama S, Holopainen J (2012) Spring temperature variability relative to the North Atlantic Oscillation and sunspots—a correlation analysis with a Monte Carlo implementation. Palaeogeogr Palaeoclimatol Palaeoecol 326:128–134

Helama S, Meriläinen J, Tuomenvirta H (2009) Multicentennial megadrought in northern Europe coincided with a global El Niño–Southern Oscillation drought pattern during the Medieval climate anomaly. Geology 37:175–178

Kalnay E, Kanamitsu M, Kistler R et al (1986) The NCEP/NCAR 40-year reanalysis project. Bull Am Meteorol Soc 77:437–472

Karl TR, Trenberth KE (2003) Modern global climate change. Science 302:1719–1723

Korhola A, Tikkanen M, Weckström J (2005) Quantification of Holocene lake-level changes in Finnish Lapland using a cladocera–lake depth transfer model. J Paleolimnol 34:175–190

Korhonen J (2007) Discharge and water level variations in lakes and rivers in Finland. Finnish Environ 45:1–120

Larocque I, Grosjean M, Heiri O, Bigler C, Blass A (2009) Comparison between chironomid-inferred July temperatures and meteorological data AD 1850–2001 from varved Lake Silvaplana, Switzerland. J Paleolimnol 41:329–342

Luoto TP (2009a) A Finnish chironomid- and chaoborid-based inference model for reconstructing past lake levels. Quat Sci Rev 28:1481–1489

Luoto TP (2009b) Subfossil Chironomidae (Insecta: Diptera) along a latitudinal gradient in Finland: development of a new temperature inference model. J Quat Sci 24:150–158

Luoto TP (2010) Hydrological change in lakes inferred from midge assemblages through use of an intralake calibration set. Ecol Monogr 80:303–329

Luoto TP, Helama S (2010) Palaeoclimatological and palaeolimnological records from fossil midges and tree-rings: the role of the North Atlantic Oscillation in eastern Finland through the Medieval climate anomaly and Little Ice Age. Quat Sci Rev 29:2411–2423

Luoto TP, Nevalainen L (2015) Late Holocene precipitation and temperature changes in northern Europe linked with North Atlantic forcing. Clim Res 66:37–48

Luoto TP, Nevalainen L (2016) Quantifying climate changes of the Common Era for Finland. Clim Dyn. doi:10.1007/s00382-016-3468-x

Luoto TP, Ojala AEK (2016) Meteorological validation of chironomids as a paleotemperature proxy using varved lake sediments. The Holocene. doi:10.1177/0959683616675940

Nevalainen L, Luoto TP (2012) Intralake training set of fossil Cladocera for paleohydrological inferences: evidence for multicentennial drought during the Medieval climate anomaly. Ecohydrology 5:834–840

Nevalainen L, Luoto TP, Sarmaja-Korjonen K (2008) Late Holocene water-level changes in Lake Iso Lehmälampi, southern Finland, reflected in subfossil cladocerans and chironomids. Studia Quaternaria 25:33–42

Nevalainen L, Helama S, Luoto TP (2013) Hydroclimatic variations over the last millennium in eastern Finland disentangled by fossil Cladocera. Palaeogeogr Palaeoclimatol Palaeoecol 378:13–21

Steinhilber F, Beer J, Fröhlich C (2009) Total solar irradiance during the Holocene. Geophys Res Lett 36:L19704

Thiéblemont R, Matthes K, Omrani NE, Kodera K, Hansen F (2015) Solar forcing synchronizes decadal North Atlantic climate variability. Nat Commun 6:8268

Trigo RM, Osborn TJ, Corte-Real JM (2002) The North Atlantic Oscillation influence on Europe: climate impacts and associated physical mechanisms. Clim Res 20:9–17

Trouet V, Esper J, Graham NE, Baker A, Scourse JD, Frank DC (2009) Persistent positive North Atlantic Oscillation mode dominated the Medieval climate anomaly. Science 324:78–80

Tudhope AW, Chilcott CP, McCulloch MT, Cook ER, Chappell J, Ellam RM, Lea DW, Lough JM, Shimmield GB (2001) Variability in the El Niño-southern Oscillation through a glacial-interglacial cycle. Science 291:1511–1517

Ulbrich U, Christoph M (1999) A shift of the NAO and increasing storm track activity over Europe due to anthropogenic greenhouse gas forcing. Clim Dyn 15:551–559

Walker IR, Cwynar LC (2006) Midges and palaeotemperature reconstruction—the North American experience. Quat Sci Rev 25:1911–1925

Wanner H, Solomina O, Grosjean M, Ritz SP, Jetel M (2011) Structure and origin of Holocene cold events. Quat Sci Rev 30:3109–3123

Yan H, Sun L, Wang Y, Huang W, Qium S, Yang C (2011) A record of the Southern Oscillation index for the past 2,000 years from precipitation proxies. Nat Geosci 4:611–614

Zawiska I, Luoto TP, Nevalainen L, Tylmann W, Jensen TC, Obremska M, Słowiński M, Woszczyk M, Schartau AK, Walseng B (2017) Climate variability and lake ecosystem responses in western Scandinavia (Norway) during the last millennium. Palaeogeogr Palaeoclimatol Palaeoecol 466:231–239
Acknowledgements
This study was funded by the Emil Aaltonen Foundation (no. 160156) and the Academy of Finland (no. 287547).
About this article
Cite this article
Luoto, T.P., Nevalainen, L. Temperature-precipitation relationship of the Common Era in northern Europe. Theor Appl Climatol 132, 933–938 (2018). https://doi.org/10.1007/s00704-017-2139-0
Received:

Accepted:

Published:

Issue Date: