Abstract
Coupled ocean atmosphere global climate models are increasingly being used for seasonal scale simulation of the South Asian monsoon. In these models, sea surface temperatures (SSTs) evolve as coupled air-sea interaction process. However, sensitivity experiments with various SST forcing can only be done in an atmosphere-only model. In this study, the Global Forecast System (GFS) model at T126 horizontal resolution has been used to examine the mechanism of El Niño-Southern Oscillation (ENSO) forcing on the monsoon circulation and rainfall. The model has been integrated (ensemble) with observed, climatological and ENSO SST forcing to document the mechanism on how the South Asian monsoon responds to basin-wide SST variations in the Indian and Pacific Oceans. The model simulations indicate that the internal variability gets modulated by the SSTs with warming in the Pacific enhancing the ensemble spread over the monsoon region as compared to cooling conditions. Anomalous easterly wind anomalies cover the Indian region both at 850 and 200 hPa levels during El Niño years. The locations and intensity of Walker and Hadley circulations are altered due to ENSO SST forcing. These lead to reduction of monsoon rainfall over most parts of India during El Niño events compared to La Niña conditions. However, internally generated variability is a major source of uncertainty in the model-simulated climate.
Access options
Buy single article
Instant access to the full article PDF.
US$ 39.95
Tax calculation will be finalised during checkout.
Subscribe to journal
Immediate online access to all issues from 2019. Subscription will auto renew annually.
US$ 119
Tax calculation will be finalised during checkout.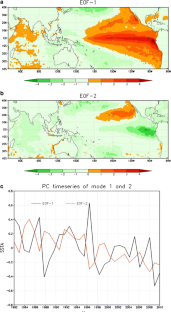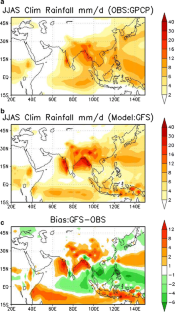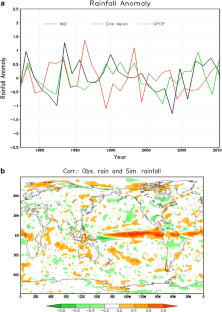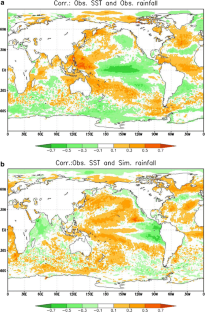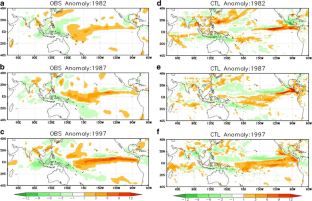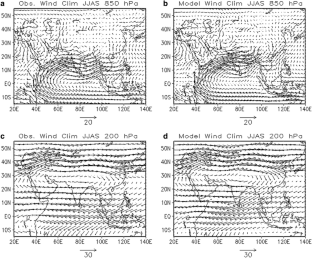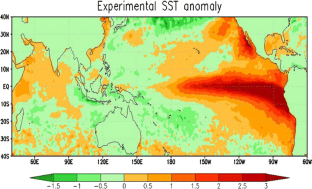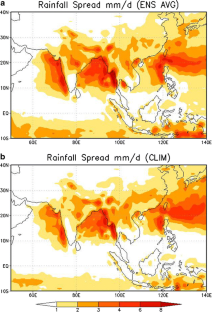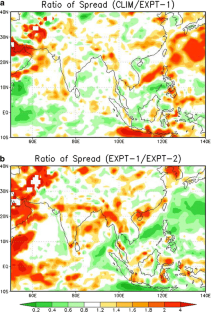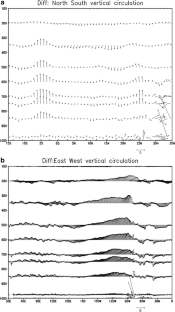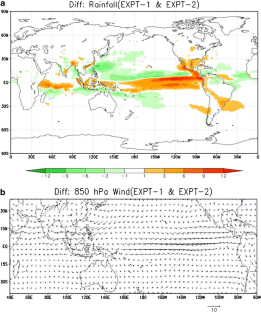 References
Acharya N, Kar SC, Mohanty UC, Kulkarni MA, Dash SK (2011) Performance of GCMs for seasonal prediction over India—a case study for 2009 monsoon. Theor Appl Climatol 105:505–520

Adler RF, Huffman GJ, Chang A, Ferraro R, Xie P, Janowiak J, Rudolf B, Schneider U, Curtis S, Bolvin D, Gruber A, Susskind J, Arkin P, Nelkin E (2003) The version-2 global precipitation climatology project (GPCP) monthly precipitation analysis (1979-present). J Hydrometeor 4:1147–1167

Angell JK (1981) Comparison of variations in atmospheric quantities with sea surface temperature variations in the equatorial Pacific. Mon Weather Rev 109:230–243

Annamalai H, Hamilton H, Sperber KR (2007) The South Asian summer monsoon and its relationship with ENSO in the IPCC AR4 simulations. J Clim 20:1071–1092

Ashok K, Guan ZY, Saji NH, Yamagata T (2004) Individual and combined influences of ENSO and the Indian Ocean Dipole on the Indian summer monsoon. J Clim 17:3141–3155

Chaudhari HS, Pokhrel S, Mohanty S, Saha SK (2013) Seasonal prediction of Indian summer monsoon in NCEP coupled and uncoupled model. Theor Appl Climatol 114(3):459–477

Dai A, Wigley TML (2000) Global patterns of ENSO-induced precipitation. Geophys Res Lett 27:1283–1286

Goswami BN (1994) Dynamical predictability of seasonal monsoon rainfall: problems and prospects. Proc Indian Natl Sci Acad 60:101–120

Goswami BN, Ajaya Mohan RS (2001) Intra-seasonal oscillations and inter-annual variability of the Indian summer monsoon. J Clim 14:1180–1198

Huffman GJ, Adler RF, Arkin P, Chang A, Ferraro R, Gruber A, Janowiak J, McNab A, Rudolf B, Schneider U (1997) The Global Precipitation Climatology Project (GPCP) combined precipitation dataset. Bull Amer Meteor Soc 78:5–20

Kar SC (2007) Global model simulations of interannual variability of the Indian summer monsoon using observed SST variability NCMRWF Research Report:2007/2

Kar SC, Sugi M, Sato N (1996) Simulation of the Indian summer monsoon and its variability using the JMA global model. Pap Meteorol Geophys 47(2):65–101

Kar SC, Sugi M, Sato N (2001) Interannual variability of the Indian summer monsoon and internal variability in the JMA global model simulation. J Meteorol Soc Japan 79(2):607–623

Klein SA, Soden BJ, Lau NC (1999) Remote sea surface temperature variations during ENSO: evidence for a tropical atmospheric bridge. J Clim 12:917–932

Kripalani RH, Kulkarni AA (1997) Climatic impact of El Niño and La Niña on the Indian monsoon: a new perspective. Weather 52:39–46

Krishna Kumar K, Rajgopalan B, Cane MK (1999) On the weakening relationship between the Indian monsoon and ENSO. Science 284:2156–2159

Krishnamurti TN, Kanamitsu M, Kiss WJ, Lee JD, Krueger AF, Winston JS (1973) Tropical east-west circulations during the northern winter. J Atoms Sci 30:780–787

Moorthi S, Pan HL, Caplan P (2001) Changes to the 2001 NCEP operational MRF/AVN global analysis/forecast system. NWS technical procedures bulletin, 484 pp. Available at www.nws.noaa.gov

Oort AH, Yienger JJ (1996) Observed interannual variability in the Hadley circulation and its connection to ENSO. J Clim 9:2751–2767

Pokhrel S, Chaudhari HS, Saha SK, Dhakate A, Yadav RK, Salunke K, Mahapatra S, Rao SA (2012) ENSO, IOD and Indian summer monsoon in NCEP climate forecast system. Clim Dyn 39:2143–2165

Rajeevan M, Bhate J, Kale J, Lal B (2006) High resolution daily gridded rainfall data for the Indian region: analysis of break and active monsoon spells. Curr Sci 91:296–306

Rasmusson EM, Carpenter TH (1983) The relationship between eastern equatorial Pacific sea surface temperature and rainfall over India and Sri Lanka. Mon Weather Rev 111:517–528

Ropelewski CF, Halpert MS (1987) Global and regional scale precipitation patterns associated with the El Niño/southern oscillation. Mon Weather Rev 115:1606–1626

Saha S, Moorthi S, Pan HL, Wu X, Wang J, Nadiga S, Tripp P, Kistler R, Woollen J, Behringer D (2010) The NCEP climate forecast system reanalysis. Bull Am Meteorol Soc 91(8):1015–1057

Saha SK, Halder S, Krishna Kumar K, Goswami BN (2011) Pre-onset land surface processes and 'internal' interannual variabilities of the Indian summer monsoon. Clim Dyn 36:2077–2089

Sahai AK, Sharmila S, Abhilash S, Chattopadhyay R, Borah N, Krishna RPM, Joseph S, Roxy M, De S, Pattnaik S, Pillai PA (2013) Simulation and extended range prediction of monsoon intraseasonal oscillations in NCEP CFS/GFS version 2 framework. Curr Sci 104(10):1394–1408

Shukla J (1987) Interannual variability of monsoon. In: Fein JS, Stephens PL (eds) Monsoons. Wiley, New York, pp 399–464

Sikka DR (1980) Some aspects of the large-scale fluctuations of summer monsoon rainfall over India in relation to fluctuations in the planetary and regional scale circulation parameters. Proc Ind Acad Sci (Earth Planet Sci) 89:179–195

Sinha P, Mohanty UC, Kar SC, Dash SK, Tippett M, Robertson A (2013b) Seasonal prediction of the Indian summer monsoon rainfall using canonical correlation analysis of the NCMRWF global model products. Int J Climatol 33(7):1601–1614. doi:10.1002/joc.3536

Sinha P, Mohanty UC, Kar SC, Dash SK, Kumari S (2013a) Sensitivity of the GCM driven summer monsoon simulations to cumulus parameterization schemes in nested RegCM3. Theor Appl Climatol 112(1–2):285–306

Smith TM, Reynolds RW, Peterson TC, Lawrimore J (2008) Improvements NOAA's historical merged land–ocean temp analysis (1880–2006). J Clim 21:2283–2296

Soman MK, Slingo J (1997) Sensitivity of the Asian summer monsoon to aspects of sea-surface-temperature anomalies in the tropical Pacific Ocean. Q J R Meteorol Soc 123:309–336

Sumant N (1994) On the dynamical basis for the Asian summer monsoon rainfall-El Niño relationship. J Clim 7:1750–1771. doi:10.1175/1520-0442(1994)007<1750:OTDBFT>2.0.CO;2

Wang C (2002) Atmospheric circulation cells associated with the El Niño-Southern Oscillation. J Clim 15:399–419

Wang C (2004) ENSO, Atlantic climate variability, and the Walker and Hadley circulations in the Hadley circulation: present, past and future edited by Henry F. Diaz, Raymond Bradley, Kluwer. Academic Publishers, Doddrecht

Wang B, Liu J, Kim HJ, Webster PJ, Yim SY, Xiang BQ (2013) Northern hemisphere summer monsoon intensified by mega-El Niño/southern oscillation and Atlantic multidecadal oscillation. Proc Natl Acad Sci U S A 14:5347–5352

Yadav RK (2009) Changes in the large-scale features associated with the Indian summer monsoon in the recent decades. Int J Climatol 29:117–133
Acknowledgements
This work was carried out as a part of the BIMSTEC Centre for Weather and Climate project of the Ministry of Earth Sciences at NCMRWF.
About this article
Cite this article
Joshi, S., Kar, S.C. Mechanism of ENSO influence on the South Asian monsoon rainfall in global model simulations. Theor Appl Climatol 131, 1449–1464 (2018). https://doi.org/10.1007/s00704-017-2045-5
Received:

Accepted:

Published:

Issue Date: