Abstract
Climate change is causing important shifts in the suitability of regions for wine production. Fine scale mapping of these shifts helps us to understand the evolution of vineyard climates, and to find solutions through viticultural adaptation. The aim of this study is to identify and map the structural and spatial shifts that occurred in the climatic suitability for wine production of the Cotnari wine growing region (Romania) between 1961 and 2013. Discontinuities in trends of temperature were identified, and the averages and trends of 13 climatic parameters for the 1961 to 1980 and 1981 to 2013 time periods were analysed. Using the averages of these climatic parameters, climate suitability for wine production was calculated at a resolution of 30 m and mapped for each time period, and the changes analysed. The results indicate shifts in the area's historic climatic profile, due to an increase of heliothermal resources and precipitation constancy. The area's climate suitability for wine production was modified by the loss of climate suitability for white table wines, sparkling wines and wine for distillates; shifts in suitability to higher altitudes by about 67 m, and a 48.6% decrease in the area suitable for quality white wines; and the occurrence of suitable climates for red wines at lower altitudes. The study showed that climate suitability for wine production has a multi-level spatial structure, with classes requiring a cooler climate being located at a higher altitude than those requiring a warmer climate. Climate change has therefore resulted in the shift of climate suitability classes for wine production to higher altitudes.
This is a preview of subscription content, log in to check access.
Access options
Buy single article
Instant access to the full article PDF.
US$ 39.95
Price includes VAT for USA
Subscribe to journal
Immediate online access to all issues from 2019. Subscription will auto renew annually.
US$ 199
This is the net price. Taxes to be calculated in checkout.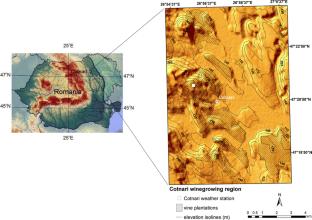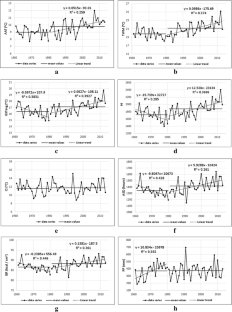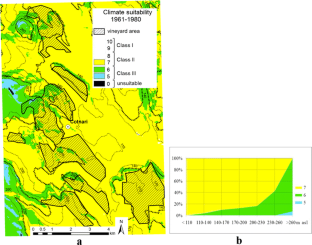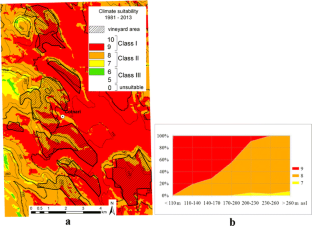 References
Branas J, Bernon G, Levadoux L (1946) Eléments de Viticultura Générale. Imp Dehan, Bordeaux

Busuioc A, Dobrinescu A, Bîrsan MV, Dumitrescu A, Orzan A (2015) Spatial and temporal variability of climate extremes in Romania and associated large-scale mechanisms. Int J Climatol 35:1278–1300. doi:10.1002/joc.4054

Coombe BG (1987) Influence of temperature on composition and quality of grapes. Acta Hortic 206:23–35. doi:10.17660/ActaHortic.1987.206.1

Constantinescu G (1967) Méthodes et principes de détermination des aptitudes viticoles d'une région et du choix des cépages appropriés. Bull OIV 40(440–441):1179–1205

Duchêne E, Schneider C (2005) Grapevine and climatic changes: a glance at the situation in Alsace. Agron Sustain Dev 25:93–99. doi:10.1051/agro:2004057

Dumitrescu A, Bojariu R, Bîrsan MV, Marin L, Manea A (2014) Recent climatic change in Romania from observational data (1961–2013). Theor Appl Climatol 122:111–119. doi:10.1007/s00704-014-1290-0

Dumitrescu A, Bîrsan MV (2015) ROCADA: a gridded daily climatic dataset over Romania (1961–2013) for nine meteorological variables. Nat Hazards 78:1045–1063. doi:10.1007/s11069-015-1757-z

Dunn MR, Lindesay JA, Howden M (2015) Spatial and temporal scales of future climate information for climate change adaptation in viticulture: a case study of user needs in the Australian winegrape sector. Aust J Grape Wine R 21(2):226–239. doi:10.1111/ajgw.12138

Entekhabi D (1997) Land surface processes: basic tools and concepts. In: Marani M and Rigon R (eds) Hydrometeorology and Climatology. Environmental Dynamics. Series, V, Venice, p. 3–46

Falcão LD, de Revel G, Perello MC, Moutsiou A, Zanus MC, Bordignon-Luiz MT (2007) A survey of seasonal temperatures and vineyard altitude influences on 2-Methoxy-3-isobutylpyrazine, C13-Norisoprenoids, and the sensory profile of Brazilian cabernet sauvignon wines. J Agric Food Chem 55(9):3605–3612. doi:10.1021/jf070185u

Falcão LD, Burin VM, Chaves ES, Vieira HJ, Brighenti E, Rosier JP, Bordignon-Luiz MT (2010) Vineyard altitude and mesoclimate influences on the phenology and maturation of Cabernet Sauvignon grapes from Santa Catarina State. J Int Sci Vigne Vin 44(3):135–150

Fisher RA, Yates F (1974) Statistical tables for biological, agricultural and medical research, 6th edn. Longman, London

Fraedrick K, Gerstengarbe FW, Werner PC (2001) Climate shifts during the last century. Clim Chang 50:405–417. doi:10.1023/A:1010699428863

Gaal M, Moriondo M, Bindi M (2012) Modelling the impact of climate change on the Hungarian wine regions using random forest. Appl Ecol Environ Res 10:121–140. doi:10.15666/aeer/1002_121140

Hannah L, Roehrdanz PR, Ikegami M, Shepard AV, Shaw MR, Tabor G, Zhi L, Marquet PA, Hijmans RJ (2013) Climate change, wine, and conservation. Proc Natl Acad Sci U S A 110(17):6907–6912. doi:10.1073/pnas.1210127110

Huglin P (1978) Nouveau mode d'évaluation des possibilités héliothermiques d'un milieu viticole. In: Proc Symp Int sur l'ecologie de la Vigne. Ministère de l'Agriculture et de l'Industrie Alimentaire, Contança, pp 89–98

IPCC (2013) Climate change 2013: the physical science basis. In: Stocker TF, Qin D, Plattner G-K, Tignor M, Allen SK, Boschung J, Nauels A, Xia Y, Bex V, Midgley PM (eds) Contribution of working group I to the fifth assessment report of the intergovernmental panel on climate change. Cambridge University Press, Cambridge, United Kingdom and New York, NY, p 1535

Irimia LM, Patriche CV, Quenol H, Planchon O, Sfîcă L (2013) Characteristics of the baseline climate of the Cotnari (Romania) wine growing region. Agron Res Mold 160(4):99–111. doi:10.1515/cerce-2015-0008

Irimia LM, Patriche CV, Quenol H (2014a) Analysis of viticultural potential and deliniation of homogeneous viticultural zones in a temperate climate region of Romania. J Int Sci Vigne Vin 48(3):145–167

Irimia L, Patriche C, Planchon O, Quenol H (2014b) Vague de froid européenne de février 2012 et impacts dans les vignobles de Cotnari (Roumanie). In: Quenol H (ed) Changement climatique et terroirs viticoles, Lavoisier, pp 229–243

Jacquet A, Morlat R (1997) Characterization of the climatic variability in the Loire Valley vineyard. Influence of landscape and physical characteristics of the environment. Agronomie 17(9/10):465–480. doi:10.1051/agro:19970904

Jones GV, Davis RE (2000) Climate influences on grapevine phenology, grape composition, and wine production and quality for Bordeaux, France. Am J Enol Vitic 51:249–261

Jones GV, White MA, Cooper OR, Storchmann K (2005) Climate change and global wine quality. Clim Chang 73:319–343. doi:10.1007/s10584-005-4704-2

Jones GV, Snead N, Nelson P (2004) Modeling viticultural landscapes: a GIS analysis of the terroir potential in the Umpqua Valley of Oregon. Geo Sci Can 31(4):167–178

Jones GV (2006) Climate and terroir: impacts of climate variability and change on wine. In: Macqueen RW, Meinert LD (eds) fine wine and terroir-the geoscience perspective. Geoscience Canada reprint series no. 9, geological Association of Canada. St. John's, Newfoundland, p 247

Karl TR, Jones PD, Knight RW, Kukla G, Plummer N, Razuvayev V, Gallo KP, Lindseay J, Charlson RJ, Peterson TC (1993) A new perspective on recent global warming: asymmetric trends of daily maximum and minimum temperature. Bull Amer Meteor Soc 6(74):1007–1023. doi:10.1175/1520-0477(1993)074<1007:ANPORG>2.0.CO;2

Kenny GJ, Harrison PA (1992) The effects of climate variability and change on grape suitability in Europe. J Wine Res 3(3):163–183

Kliewer WM, Lider LA (1970) Effect of day temperature and light intensity on growth and composition of Vitis vinifera L. fruits. J Am Soc Hortic Sci 95:766–769

Lacey MJ, Allen MS, Harris RLN, Brown WV (1991) Methoxypyrazines in sauvignon blanc grapes and wines. Am J Enol Vitic 42:103–108

Laget F, Tondut JL, Deloire A, Kelly MT (2008) Climate trends in a specific Mediterranean viticultural area between 1950 and 2006. J Int Sci Vigne 42(3):113–123

Lebon E (2002) Changements climatiques: Quelles conséquences pour la viticulture. In: 6emes Recontres Rhodaniennes. Institut Rhodanien, Orange, France, pp 31–36

Lobell DB, Field CB, Cahill KN, Bonfils C (2006) Impacts of future climate change on California perennial crop yields: model projections with climate and crop uncertainties. Agric Forest Met 141(2–4):208–218. doi:10.1016/j.agrformet.2006.10.006

Malheiro AC, Santos JA, Fraga H, Pinto JG (2010) Climate change scenarios applied to viticultural zoning in Europe. Clim Res 43:163–177. doi:10.3354/cr00918

Moriondo M, Jones GV, Bois B, Dibari C, Ferrise R, Trombi G, Bindi M (2013) Projected shifts of wine regions in response to climate change. Clim Change 119(3):825–839. doi:10.​1007/​s10584-013-0739-y/cr00918

Nemani RR, White MA, Cayan DR, Jones GV, Running SW, Coughlan JC (2001) Asymmetric warming over coastal California and its impact on the premium wine industry. Clim Res 19:25–34. doi:10.3354/Cr019025

Neumann PA, Matzarakis A (2011) Viticulture in southwest Germany under climate change conditions. Clim Res 47:161–169. doi:10.3354/cr01000

Oşlobeanu M, Macici M, Georgescu M, Stoian V (1991) Zonarea soiurilor de viţă de vie în România. Ceres, Bucureşti

Patriche CV, Irimia L, Condorachi D (2011) Aspects regarding the use of GIS for quantifying climatic factors influencing vineyards suitability. Annals of "Alexandru Ioan Cuza" University of Iasi, Tome LVII, section II-c, Geography, 61–68

Peel MC, Finlayson BL, McMahon TA (2007) Updated world map of the Köppen-Geiger climate classification. Hydrol Earth Syst Sci 11:1633–1644. doi:10.5194/hess-11-1633-2007

Pettitt AN (1979) A non-parametric approach to the change-point problem. J R stat. Soc Series C (Appl Statistics) 28(2):126–135. doi: 10.2307/2346729

Planchon O, Endlicher W (2014) Dynamique spatio-temporelle du climat de l'Europe centrale: analyse et impacts dans les régions viticoles. In: Quenol H (ed) Changement climatique et terroirs viticoles, Lavoisier, pp 115–146

Ramos MC, Jones GV, Martínez-Casasnovas JA (2008) Structure and trends in climate parameters affecting winegrape production in northeast Spain. Clim Res 38(1):1–15. doi:10.3354/cr00759

Riou C, Carbonneau A, Becker N, Calo A, Costacurta A, Castro R (1994) Le determinisme climatique de la maturation du raisin: application au zonage de la teneur en sucre dans la Communaute Europeenne. Office des Publications Officielles des Communautes Europeennes, Luxembourg

Sadras VO, Moran MA (2012) Elevated temperature decouples anthocyanins and sugars in berries of Shiraz and Cabernet Franc. Aust J Grape Wine Res 18(2):115–122. doi:10.1111/j.1755-0238.2012.00180.x

Santos JA, Malheiro AC, Pinto JG, Jones GV (2012) Macroclimate and viticultural zoning in Europe: observed trends and atmospheric forcing. Clim Res 51(1):89–103. doi:10.3354/cr01056

Schultz HR (2000) Climate change and viticulture: a European perspective on climatology, carbon dioxide, and UV-B effects. Aust J Grape and Wine Res 6:2–12. doi:10.1111/j.1755-0238.2000.tb00156.x

Seguin B, de Cortazar GI (2005) Climate warming: consequences for viticulture and the notion of «terroirs» in Europe. Proceedings 7th Int Symp vineyard physiology biotechnology. 21-25 juin Davis (USA) Acta Hortic, 689:61–70.doi: 10.17660/ActaHortic.2005.689.3

Sfîcă L, Niţă A, Iordache I, Ilie N (2015) Specific weather conditions on Romanian territory for Hess-Brezowsky westerly circulation type. 15th International Multidisciplinary Scientific Geo Conference SGEM 2015, SGEM2015 Conference Proceedings, ISBN 978–619–7105-38-4/ISSN 1314–2704, June 18–24, 4:1073–1080. doi: 10.5593/SGEM2015/B41/S19.138

Smart RE, Dry PR (1980) A climatic classification for Australian viticultural regions. Aust Grapegrow Winemak 17(196):8–16

Teodorescu Ş, Popa AI, Ghe S (1987) Oenoclimatul României. Ed Ştiinţifică şi Enciclopedică, Bucureşti

Tonietto J, Carbonneau A (2004) A multicriteria climatic classification system for grape-growing regions worldwide. Agric Forest Meteorol 124(1/2):81–97. doi:10.1016/j.agrformet.2003.06.001

Van Leeuwen C, Friant P, Choné X, Tregoat O, Koundouras S, Dubourdieu D (2004) Influence of climate, soil and cultivar on terroir. Am J Enol Vitic 55(3):207–217

Vršič S, Šuštar V, Pulko BT, Šumenjak TK (2014) Trends in climate parameters affecting winegrape ripening in northeastern Slovenia. Clim Res 58:257–266. doi:10.3354/cr01197

Webb LB, Whetton PH, Bhend J, Darbyshire R, Briggs PR, Barlow EWR (2012) Earlier wine-grape ripening driven by climatic warming and drying and management practices. Nat Clim Chang 2(4):259–264. doi:10.1038/nclimate1417

White MA, Diffenbaugh NS, Jones GV, Pal JS, Giorgi F (2006) Extreme heat reduces and shifts United States premium wine production in the twenty-first century. Proc Natl Acad Sci 103(30):11217–11222. doi:10.1073/pnas.0603230103

Winkler AJ, Cook JA, Kliewer WM, Lieder LA (1974) General Viticulture. Univ of California Press, Berkeley, California
Acknowledgments
This research was carried out with financial and logistic support from LIFE-ADVICLIM project (LIFE13 ENV/FR/001512): Adaptation of viticulture to climate change: high resolution observations of adaptation scenario for viticulture.
About this article
Cite this article
Irimia, L.M., Patriche, C.V., Quenol, H. et al. Shifts in climate suitability for wine production as a result of climate change in a temperate climate wine region of Romania. Theor Appl Climatol 131, 1069–1081 (2018). https://doi.org/10.1007/s00704-017-2033-9
Received:

Accepted:

Published:

Issue Date:
Keywords
Cotnari

Wine region

Wine

Temperature

Bioclimatic indices

Climate change