Abstract
This study examines the variability and change in the patterns of climatic extremes experienced in Indus-Delta of Sindh province of Pakistan, comprising regions of Karachi, Badin, Mohenjodaro, and Rohri. The homogenized daily minimum and maximum temperature and precipitation data for a 36-year period were used to calculate 13 and 11 indices of temperature and precipitation extremes with the help of RClimDex, a program written in the statistical software package R. A non-parametric Mann–Kendall test and Sen's slope estimates were used to determine the statistical significance and magnitude of the calculated trend. Temperatures of summer days and tropical nights increased in the region with overall significant warming trends for monthly maximum temperature as well as for warm days and nights reflecting dry conditions in the study area. The warm extremes and nighttime temperature indices showed greater trends than cold extremes and daytime indices depicting an overall warming trends in the Delta. Historic decrease in the acreage of major crops and over 33% decrease in agriculture credit for Sindh are the indicators of adverse impacts of warmer and drier weather on Sindh agriculture. Trends reported for Karachi and Badin are expected to decrease rice cultivation, hatching of fisheries, and mangroves forest surrounding these cities. Increase in the prevailing temperature trends will lead to increasingly hotter and drier summers resulting to constraints on cotton, wheat, and rice yield in Rohri and Mohenjodaro areas due to increased crop water requirements that may be met with additional groundwater pumping; nonetheless, the depleted groundwater resources would have a direct impact on the region's economy.
Access options
Buy single article
Instant access to the full article PDF.
US$ 39.95
Tax calculation will be finalised during checkout.
Subscribe to journal
Immediate online access to all issues from 2019. Subscription will auto renew annually.
US$ 119
Tax calculation will be finalised during checkout.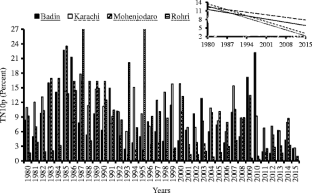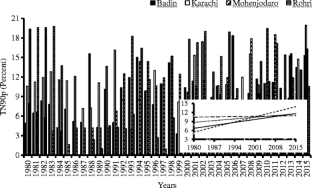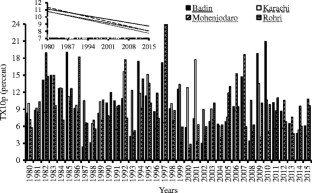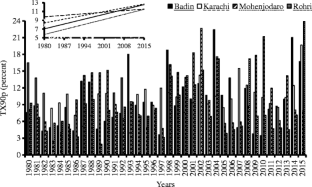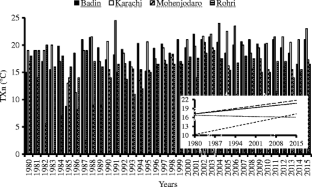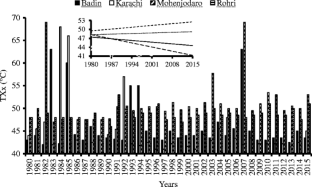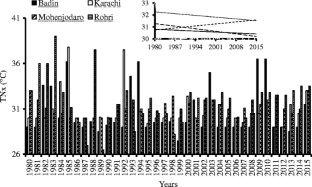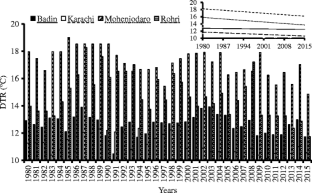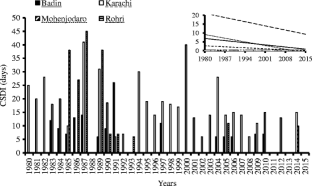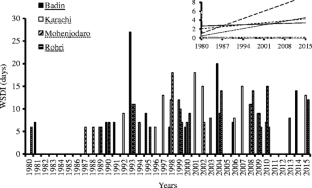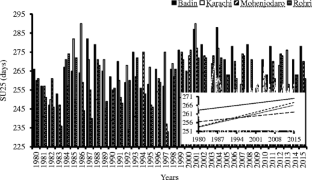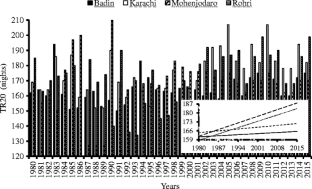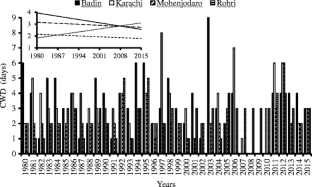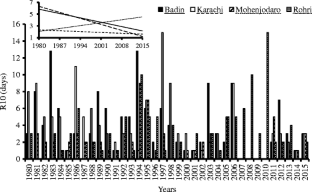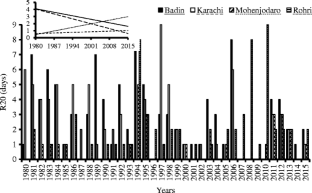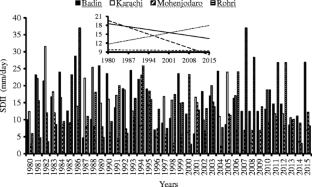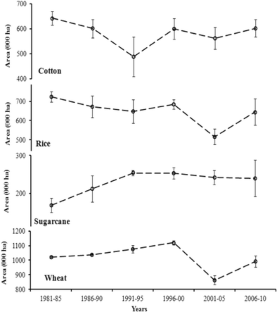 References
Abbas F (2013) Analysis of a historical (1981–2010) temperature record of the Punjab province of Pakistan. Earth Interactions 17:1–15

Abbas F, Ahmad A, Safeeq M, Ali S, Saleem F, Hammad HM, Farhad W (2014) Changes in precipitation extremes over arid to semiarid and sub-humid Punjab, Pakistan. Theor App Climatology 116(3–4):671–680

Asian Development Bank (ADB), World Bank (2010) Pakistan floods 2010 damage and needs assessment. Pakistan Development Forum, Islamabad – Pakistan. Published on 12 Nov 2010. To be accessed from http://reliefweb.int/report/pakistan/pakistan-floods-2010-preliminary-damage-and-needs-assessment

Aguilar E, Auer I, Brunet M, Peterson TC, Wieringa J (2003) Guidelines on climate metadata and homogenization. WCDMP-No.53. WMO-TD No. 1186, 51pp.: to be downloaded from: http://www.wmo.ch/pages/prog/wcp/wcdmp/wcdmp_series/documents/WCDMP-53.pdf

Aguilar E, Peterson TC, Obando PR, Frutos R, Retana JA, Solera M, Soley J, Garcia IG, Araujo RM, Santos AR, Valle VE, Brunet M, Aguilar L, Alvarez LA, Bautista M, Castanon C, Herrera L, Ruano E, Sinay JJ, Sanchez E, Oviedo GIH, Obed F, Salgado JE, Vazquez JL, Baca M, Gutierrez M, Centella C, Espinosa J, Martinez D, Olmedo B, Espinoza CEO, Nunez R, Haylock M, Benavides H, Mayorga R (2005) Changes in precipitation and temperature extremes in Central America and northern South-America, 1961–2003. J Geophys Res 110:1–15

Ahmad R, Qadir S, Ahmad N, Shah KH (2003) Yield potential and stability of nine wheat varieties under water stress conditions. International Journal of Agricultural Biology 5:7–9

Alexander LV, Hope P, Collins D, Trewin B, Lynch A, Nicholls N (2007) Trends in Australia's climate means and extremes: a global context. Aust Meteorol Mag 56(1):1–18

Athar HR, Ashraf M (2005) Photosynthesis under drought stress. In: Pessarakli M (ed) Handbook of photosynthesis. CRC Press, Taylor and Fransis group, New York, pp 793–804

Ayub Z (2010) Effect of temperature and rainfall as a component of climate change on fish and shrimp catch in Pakistan. J Transdiscipl Environ Stud 9(1):1–9

Bates BC, Kundzewicz ZW, Wu S, Palutikof JP, Editors. (2008) In: Climate change and water. Technical Paper of the Inter-governmental Panel on Climate Change 65. Geneva (Switzerland): IPCC Secretariat. p 105 http://www.ipcc.ch/pdf/technical-papers/climate-change-water-en.pdf

Bencze S, Balla K, Varga B, Veisz O (2010) Effect of climate extremes on the grain yield and quality of cereals. Acta Agron Hung 58 (suppl 1). doi:10.1556/AAgr.58.2010.Suppl.1.17

Beniston M, Diaz HF (2004) The 2003 heat wave a san example of summers in a greenhouse climate? Observations and climate model simulations for Basel, Switzerland. Glob Plan Ch 44:73–81

Beniston M, Stephenson DB (2004) Extreme climate events and their evaluation under changing climate conditions. Glob Plan Ch 44:1–9

Berger U, Rivera-Monroy VH, Doyle TW, Dahdouh-Guebas F, Duke NC, Fontalvo-Herazo ML, Hildenbrandt H, Koedam N, Mehlig U, Piou C, Twilley RR (2008) Advances and limitations of individual-based models to analyze and predict dynamics of mangrove forests: a review. Aquat Bot 89:260–274

Chaves MM, Maroco JP, Pereira JS (2003) Understanding plant responses to drought—from genes to whole plant. Funct Plant Biol 30:239–264

Dahdouh-Guebas F, Jayatissa LP, Di Nitto D, Bosire JO, LoSeen D, Koedam N (2005a) How effective were mangroves as a defence against the recent tsunami? Curr Biol 15:443–447

Dahdouh-Guebas F, Hettiarachchi S, Lo Seen D, Batelaan O, Sooriyar-achchi S, Jayatissa LP, Koedam N (2005b) Transitions in ancient inland freshwater resource management in Sri Lanka affect biota and human populations in and around coastal lagoons. Curr Biol 15:579–586

Dahdouh-Guebas F, Koedam N, Danielsen F, Sørensen MK, Olwig MF, Selvam V, Parish F, Burgess ND, Topp-Jorgensen E, Hiraishi T, Karunagaran VM, Rasmussen MS, Hansen LB, Quarto A, Suryadi-putra N (2006) Coastal vegetation and the Asian tsunami. Science 311:37–38

Danielsen F, Soerensen M, Olwig M, Selvam V, Parish F, Burgess N, Hiraishi T, Karunagaran V, Rasmussen M, Hansen L, Quarto A, Nyoman S (2005) The Asian tsunami: a protective role for coastal vegetation. Science 310:643

Donato DC, Kauffman B, Murdyarso D, Kurnianto S, Stidham M, Kanninen M (2011) Mangrove forests among the most carbon-rich forests in the tropics. Nat Geosci 4:293–297

Duke NC, Meynecke JO, Dittmann AM, Ellison AM, Aanger K, Berger U, Cannicci S, Diele K, Ewel KC, Field CD, Koedam N, Lee SY, Marchand C, Nordhaus I, Dahdouh-Guebas F (2007) A world without mangroves? Science 317:41–42

Easterling DR, Evans JL, Groisman PY, Karl TR, Kunkel KE, Ambenje P (2000) Observed variability and trends in extreme climate events: a brief review. Bull Am Meteorol Soc 81:417–425

Eslami-Andargoli L, Dale P, Sipe N, Chaseling J (2009) Mangrove expansion and rainfall patterns in Moreton Bay, Southeast Queensland, Australia. Estuar Coast Shelf Sci 85:292–298

Ewel KC, Twilley RR, Ong JE (1998) Different kinds of mangrove forests provide different goods and services. Glob Ecol Biogeogr 7:83–94

Fairhurst TH, Dobermann A (2002) Rice in the global food supply. Better Crops Intl 16:3–6

FMI (2002) Detecting Trends of Annual Values of Atmospheric Pollutants by the Mann–Kendall Test and Sen's Slope Estimates: The Excel Template Application MAKESENS. Finnish Meteorological Institute, 2002

Gilbert RO (1987) Statistical methods for environmental pollution monitoring. United States: Van Nostrand Reinhold Company, New York, NY, pp 336. Retrieved from http://www.osti.gov/scitech/servlets/purl/7037501

Gilman E, Ellison J, Jungblat V, VanLavieren H, Wilson L, Areki F, Brighouse G, Bungitak J, Dus E, Henry M, Sauni I Jr, Kilman M, Matthews E, Teariki-Ruatu N, Tukia S, Yuknavage K (2006) Adapting to Pacific Island mangrove responses to sea level rise and other climate change effects. Clim Res 32:161–176

Gilman E, Ellison J, Coleman R (2007a) Assessment of mangrove response to projected relative sea-level rise and recent historical reconstruction of shoreline position. Environ Monit Assess 124:112–134

Gilman EL, Ellison J, Duke NC, Field C (2008) Threats to mangroves from climate change and adaptation options: a review. Aquat Bot 89:237–250

Gleick PH, Wolff G, Chalecki EL, Reyes R (2002) The new economy of water: the risks and benefits of globalization and privatization of fresh water. A report of the Pacific Institute for Studies in Development, Environment, and Security, Oakland, California

Hansen LJ, Biringer J (2003) Building resistance and resilience to climate change. In: Hansen LJ, Biringer JL, Hoffmann JR (eds) Buying time: a user's manual for building resistance and resilience to climate change in natural systems, WWF Climate Change Program, Berlin, Germany, pp 9–14

IPCC (2007) Climate Change 2007: The Physical Science Basis. Contribution of Working Group I to the Fourth Assessment Report of the IPCC. In S. Solomon, D. Qin, M. Manning, Z. Chen, M. Marquis, K.B. Averyt, M. Tignor and H.L. Miller (eds) Cambridge, UK: Cambridge University Press. pp 996

Jaagus J (2006) Climatic changes in Estonia during the second half of the 20th century in relationship with changes in large-scale atmospheric circulation. Theor Appl Climatol 83:77–88

Jones PD, Horton EB, Folland CK, Hulme M, Parker DE, Basnett TA (1999) The use of indices to identify changes in climatic extremes. Clim Chang 42:131–149

Kathiresan K, Rajendran N (2005) Coastal mangrove forests mitigated tsunami. Estuar Coast Shelf Sci 65:601–606

Kendall MG (1955) Rank correlation methods. Griffin, London. 196 pp

Kioutsioukis I, Melas D, Zerefos C (2010) Statistical assessment of changes in climate extremes over Greece (1955–2002). Int J Climatol 30(11):1723–1737

Kostopoulou E, Jones PD (2005) Assessment of climate extremes in the Eastern Mediterranean. Meteorological and Atmospheric Physics 89:69–85

Kristensen E, Bouillon S, Dittmar T, Marchand C (2008) Organic carbon dynamics in mangrove ecosystems: a review. Aquat Bot 89:201–219

Lewis III RR (1992) Scientific perspectives on on-site/off-site, in-kind/out-of-kind mitigation. In: Kusler JA, Lassonde C (eds) Effective mitigation: mitigation banks and joint projects in the context of wetland management plans. Proceedings of the National Wetland Symposium, 24–27 June 1992, Palm Beach Gardens, FL, USA, p 101–106

Linnenluecke MK, Griffiths A (2010) Corporate sustainability and organizational culture. J World Bus 45:357–36

Li P, Chen J, Wu P (2011) Agronomic characteristics and grain yield of 30 spring wheat genotypes under drought stress and Nonstress conditions. Agron J 103:1619–1628

Liu T, Zhang S, Yu L, Bu, K, Yang J, Chang L (2016) Simulation of regional temperature change effect of land cover change in agroforestry ecotone of Nenjiang River Basin in China. Theor Appl Climatol 1–11. doi:10.1007/s00704-016-1750-9

Luo Q, Kathuria A (2013) Modelling the response of wheat grain yield to climate change: a sensitivity analysis. Theor Appl Climatol 111:173–182

Mann HB (1945) Non-parametric test against trend. Econometrica 13:245–259

Manton MJ (2010) Trends in climate extremes affecting human settlements. Curr Opin Environ Sustain 2(3):151–155

Mantua N, Tohver I, Hamlet A (2010) Climate change impacts on stream flow extremes and summertime stream temperature and their possible consequences for freshwater salmon habitat in Washington state. Clim Chang 102(1–2):187–223

Mullane R, Suzuki D (1997) Beach management plan for Maui. University of Hawaii Sea Grant Extension Service and County of Maui Planning Department, Maui, HI, USA

Mumby P, Edwards A, Arlas-Gonzalez J, Lindeman K, Blackwell P, Gall A, Gorczynska M, Harbone A, Pescod C, Renken H, Wabnitz C, Llewellyn G (2004) Mangroves enhance the biomass of coral reef fish communities in the Caribbean. Nature 427:533–536

Nagelkerken I, Blaber SJM, Bouillon S, Green P, Haywood M, Kirton LG, Meynecke JO, Pawlik J, Penrose HM, Sasekumar A, Somer-field PJ (2008) The habitat function of mangroves for terrestrial and marine fauna: a review. Aquat Bot 89:155–185

O'Toole JC, Cruz RT (1980) Response of leaf water potential, stomatal resistance, and leaf rolling to water-stress. Plant Physiol 65:428–432

Parker BR, Vinebrooke RD, Schindler DW (2008) Recent climate extremes alter alpine lake ecosystems. Proc Natl Acad Sci U S A 105(35):12927–12931. doi:10.1073/pnas.0806481105

Peterson TC, Manton MJ (2008) Monitoring changes in climate extremes—a tale of international collaboration. Bull Am Meteorol Soc 89(9):1266–1271

Qureshi S, McCornick PG, Sarwar A, Sharma BR (2010) Challenges and prospects for sustainable groundwater management in the Indus Basin, Pakistan. Water Resource Management 24(8):1551–1569

Rashid A, Saleem Q, Nazir A, Kazım HS (2003) Yield potential and stability of nine wheat varieties under water stress conditions. Int J Agric Biol 5(1):7–9

Rocklov J, Forsberg B (2009) Comparing approaches for studying the effects of climate extremes—a case study of hospital admissions in Sweden during an extremely warm summer. Glob Health Action 2. doi:10.3402/gha.v2i0.2034

Salmi T, Maatta A, Anttila P, Ruoho-Airola T, Amnell T (2002) Detecting trends of annual values of atmospheric pollutants by the Mann–Kendall test and Sen's slope estimates: The Excel template application MAKESENS. Finnish Meteorological Institute Rep. 31, 35 pp. [Available online at http://cdn.fmi.fi/legacy-fmi-fi-content/documents/MAKESENS_MANUAL

Sen PK (1968) Estimates of the regression coefficient based on Kendall's tau. J Amer Stat Assoc 63:1379–1389

Snedaker SC (1995) Mangroves and climate change in the Florida and Caribbean region: scenarios and hypotheses. Hydrobiologia 295:43–49

Song Y, Wang C, Ren G, Zhao Y, Linderholm HW (2015) The relative contribution of climate and cultivar renewal to shaping rice yields in China since 1981. Theor Appl Climatol 120:1–9

Subramanian D (2012) Water deficit condition affecting rice production—challenges and prospects. Crop Production Technologies, Dr. Peeyush Sharma (Ed.), ISBN: 978–953–307-787-1, In Tech, Available from: http://www.intechopen.com/books/crop-production-technologies/water-deficit-condition-affecting-rice-production-challenges-and-prospects

Tabari H, Talaee PH (2011) Temporal variability of precipitation over Iran: 1966–2005. J Hydrol 396(3):313–320

Tank A, Konnen GP (2003) Trends in indices of daily temperature and precipitation extremes in Europe, 1946–99. J Clim 16(22):3665–3680

Titus JG (1991) Greenhouse effect and coastal wetland policy: how Americans could abandon an area the size of Massachusetts at minimum cost. Environ Manag 15:39–58

Tiwari PR, Kar SC, Mohanty UC, Dey S, Kumari S, Sinha P (2016) Seasonal prediction skill of winter temperature over North India. Journal of Theoretical and Applied Climatology 124:15–29

Walters BB, Roonnback P, Kovacs JM, Crona B, Hussain SA, Badola R, Primavera JH, Barbier E, Dahdouh-Guebas F (2008) Ethnobiology, socio-economics and management of mangrove forests: a review. Aquat Bot 89:220–236

Wang WX, Vinocur B, Shoseyov O, Altman A (2001) Biotechnology of plant osmotic stress tolerance: physiological and molecular considerations. Acta Hortic 560:285–229

Wang J, Wang E, Liu DL (2011) Modelling the impacts of climate change on wheat yield and field water balance over the Murray–Darling Basin in Australia. Theor Appl Climatol 104:285–300

Welbergen JA, Klose SM, Markus N, Eby P (2008) Climate change and the effects of temperature extremes on Australian flying-foxes. Proc Royal Soc B-Biol Sci 275(1633):419–425. doi:10.1098/rspb.2007.1385

Williams CJR, Kniveton DR, Layberry R (2010) Assessment of a climate model to reproduce rainfall variability and extremes over Southern Africa. Theor Appl Climatol 99:9–27

Yang L, Qin Z, Tu L (2015) Responses of rice yields in different rice-cropping systems to climate variables in the middle and lower reaches of the Yangtze River, China. Food Security 7:951–963

You QL, Kang SC, Aguilar E, Yan YP (2008) Changes in daily climate extremes in the eastern and central Tibetan Plateau during 1961–2005. J Geophys Res Atmos 113(D7). doi:10.1029/ 2007jd009389

Zhang X, Yang F (2004) RClimDex (1.0) User Guide. Climate Research Branch Environment Canada (2004) available at etccdi.pacificclimate.org/RClimDex/RClimDexUserManual.doc accessed on 04 January 2017
Acknowledgements
A portion of the work presented in this article was produced from student research thesis. The Pakistan Meteorological Department is appreciated for providing time series data for this study.
About this article
Cite this article
Abbas, F., Rehman, I., Adrees, M. et al. Prevailing trends of climatic extremes across Indus-Delta of Sindh-Pakistan. Theor Appl Climatol 131, 1101–1117 (2018). https://doi.org/10.1007/s00704-016-2028-y
Received:

Accepted:

Published:

Issue Date: