Abstract
In this study, the performance of the Generalized LInear Modelling of daily CLImate sequence (GLIMCLIM) statistical downscaling model was assessed to simulate extreme rainfall indices and annual maximum daily rainfall (AMDR) when downscaled daily rainfall from National Centers for Environmental Prediction (NCEP) reanalysis and Coupled Model Intercomparison Project Phase 5 (CMIP5) general circulation models (GCM) (four GCMs and two scenarios) output datasets and then their changes were estimated for the future period 2041–2060. The model was able to reproduce the monthly variations in the extreme rainfall indices reasonably well when forced by the NCEP reanalysis datasets. Frequency Adapted Quantile Mapping (FAQM) was used to remove bias in the simulated daily rainfall when forced by CMIP5 GCMs, which reduced the discrepancy between observed and simulated extreme rainfall indices. Although the observed AMDR were within the 2.5th and 97.5th percentiles of the simulated AMDR, the model consistently under-predicted the inter-annual variability of AMDR. A non-stationary model was developed using the generalized linear model for local, shape and scale to estimate the AMDR with an annual exceedance probability of 0.01. The study shows that in general, AMDR is likely to decrease in the future. The Onkaparinga catchment will also experience drier conditions due to an increase in consecutive dry days coinciding with decreases in heavy (>long term 90th percentile) rainfall days, empirical 90th quantile of rainfall and maximum 5-day consecutive total rainfall for the future period (2041–2060) compared to the base period (1961–2000).
Access options
Buy single article
Instant access to the full article PDF.
US$ 39.95
Tax calculation will be finalised during checkout.
Subscribe to journal
Immediate online access to all issues from 2019. Subscription will auto renew annually.
US$ 119
Tax calculation will be finalised during checkout.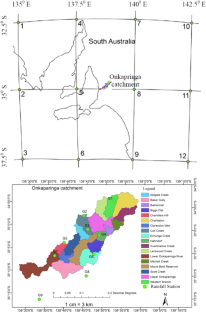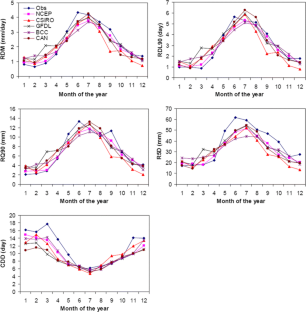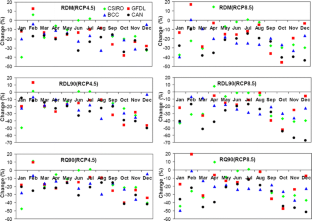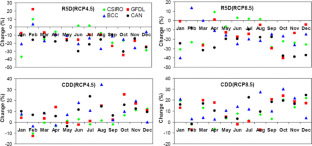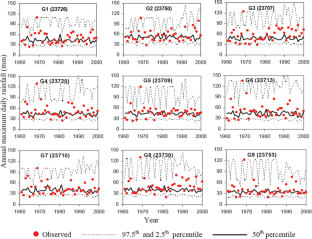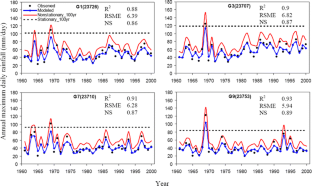 References
Aissaoui-Fqayeh I, El-Adlouni S, Ouarda T, St-Hilaire A (2009) Non-stationary lognormal model development and comparison with non-stationary GEV model. Hydrol Sci J 54:1141–1156

Alexander LV, Arblaster JM (2009) Assessing trends in observed and modelled climate extremes over Australia in relation to future projections. Int J Climatol 29:417–435

Alexander L, Zhang X, Peterson T, Caesar J, Gleason B, Klein Tank A, Haylock M, Collins D, Trewin B, Rahimzadeh F (2006) Global observed changes in daily climate extremes of temperature and precipitation. J Geophys Res Atmos (1984–2012):111

Alexander LV, Hope P, Collins D, Trewin B, Lynch A, Nicholls N (2007) Trends in Australia's climate means and extremes: a global context. Aust Meteorol Mag 56:1–18

Beecham S, Rashid M, Chowdhury RK (2014) Statistical downscaling of multi-site daily rainfall in a South Australian catchment using a Generalized Linear Model. Int J Climatol R Meteorol Soc 34. doi:10.1002/joc.3933

Chandler RE (2002) GLIMCLIM: generalised linear modelling for daily climate time series (software and user guide)

Chandler RE, Wheater HS (2002) Analysis of rainfall variability using generalized linear models: a case study from the west of Ireland. Water Resour Res 38:1–11. doi:10.1029/2001wr000906

Chu J, Xia J, Xu C-Y, Singh V (2010) Statistical downscaling of daily mean temperature, pan evaporation and precipitation for climate change scenarios in Haihe River, China. Theor Appl Climatol 99:149–161

Collins D, Della-Marta P, Plummer N, Trewin B (2000) Trends in annual frequencies of extreme temperature events in Australia. Aust Meteorol Mag 49:277–292

CSIRO BOM (2015) Climate change in Australia information for Australia's natural resource management regions: technical report. CSIRO and Bureau of Meteorology, Australia

El Adlouni S, Ouarda T, Zhang X, Roy R, Bobée B (2007) Generalized maximum likelihood estimators for the nonstationary generalized extreme value model. Water Resour Res 43:W03410. doi:10.1029/2005WR004545

Evans AD, Bennett JM, Ewenz CM (2009) South Australian rainfall variability and climate extremes. Clim Dyn 33:477–493. doi:10.1007/s00382-008-0461-z

Filliben JJ (1975) The probability plot correlation coefficient test for normality. Technometrics 17:111–117

Frei C, Schöll R, Fukutome S, Schmidli J, Vidale PL (2006) Future change of precipitation extremes in Europe: intercomparison of scenarios from regional climate models. J Geophys Res Atmos (1984–2012):111

Frich P, Alexander L, Della-Marta P, Gleason B, Haylock M, Klein Tank A, Peterson T (2002) Observed coherent changes in climatic extremes during the second half of the twentieth century. Clim Res 19:193–212

Frost AJ (2007) Australian application of a statistical downscaling technique for multi-site daily rainfall: GLIMCLIM. Model Simul Soc Aust N Z 553–559

Frost AJ, Charles SP, Timbal B, Chiew FHS, Mehrotra R, Nguyen KC, Chandler RE, McGregor JL, Fu G, Kirono DGC, Fernandez E, Kent DM (2011) A comparison of multi-site daily rainfall downscaling techniques under Australian conditions. J Hydrol 408:1–18. doi:10.1016/j.jhydrol.2011.06.021

Hashmi MZ, Shamseldin AY, Melville BW (2011) Comparison of SDSM and LARS-WG for simulation and downscaling of extreme precipitation events in a watershed. Stoch Env Res Risk A 25:475–484

Haylock M, Nicholls N (2000) Trends in extreme rainfall indices for an updated high quality data set for Australia, 1910-1998. Int J Climatol 20:1533–1541

Heneker TM, Cresswell D (2010) Potential impact on water resource availability in the Mount Lofty Ranges due to climate change. Technical report DFW 2010/03. Department for Water, Government of South Australia

Hennessy KJ, Suppiah A, Forland E, Zhai P (1999) Australian rainfall changes, 1910-1995. Australian Meteorology Magazine 48:1–13

Hu Y, Maskey S, Uhlenbrook S (2012) Downscaling daily precipittion over the Yellow River source region in China: a comparison of three statistical downscaling methods. Theor Appl Climatol 112:447–460. doi:10.1007/s00704-012-0745-4

Hu Y, Maskey S, Uhlenbrook S (2013) Downscaling daily precipitation over the Yellow River source region in China: a comparison of three statistical downscaling methods. Theor Appl Climatol 112:447–460

Huang J, Zhang J, Zhang Z, Xu CY, Wang B, Yao J (2011) Estimation of future precipitation change in the Yangtze River basin by using statistical downscaling method. Stoch Env Res Risk A 25:781–792

Huang J, Zhang J, Zhang Z, Sun S, Yao J (2012) Simulation of extreme precipitation indices in the Yangtze River basin by using statistical downscaling method (SDSM). Theor Appl Climatol 108:325–343. doi:10.1007/s00704-011-0536-3

Hundecha Y, Bárdossy A (2008) Statistical downscaling of extremes of daily precipitation and temperature and construction of their future scenarios. Int J Climatol 28:589–610

IPCC (2007) Change 2007: the physical science basis. Contribution of Working Group I to the Fourth Assessment Report of the Intergovernmental Panel on Climate Change. Cambridge University Press, Cambridge, UK and New York, NY USA

IPCC (2012) Managing the risks of extreme events and disasters to advance climate change adaptation. A special report of Working Groups I and II of the Intergovernmental Panel on Climate Change. Cambridge University Press, Cambridge, UK, and New York, NY, USA

Jeong DI, St-Hilaire A, Ouarda TBMJ, Gachon P (2012) Projection of future daily precipitation series and extreme events by using a multi-site statistical downscaling model over Montréal, Québec, Canada. Hydrol Res 44(1):147–168. doi:10.2166/nh.2012.183

Kharin VV, Zwiers FW, Zhang X, Hegerl GC (2007) Changes in temperature and precipitation extremes in the IPCC ensemble of global coupled model simulations. J Clim 20:1419–1444

Kigobe M, McIntyre N, Wheater H, Chandler R (2011) Multi-site stochastic modelling of daily rainfall in Uganda. Hydrol Sci J 56:17–33

King LM, Irwin S, Sarwar R, McLeod AIA, Simonovic SP (2012) The effects of climate change on extreme precipitation events in the upper Thames River basin: a comparison of downscaling approaches. Canadian Water Resources Journal 37:253–274

Klein Tank AMG, Zwiers FW, Zhang X (2009) Guidelines on analysis of extremes in a changing climate in support of informed decisions for adaptation. Climate data and monitoring WCDMP No72, WMO-TD No 1500, 56 pp

Kwon HH, Brown C, Lall U (2008) Climate informed flood frequency analysis and prediction in Montana using hierarchical Bayesian modeling. Geophys Res Lett 35:L05404. doi:10.1029/2007GL032220

Li Y, Cai W, Campbell E (2005) Statistical modeling of extreme rainfall in southwest Western Australia. J Clim 18:852–863

Liu W, Fu G, Liu C, Charles SP (2012) A comparison of three multi-site statistical downscaling models for daily rainfall in the North China Plain. Theor Appl Climatol. doi:10.1007/s00704-012-0692-0

López J, Francés F (2013) Non-stationary flood frequency analysis in continental Spanish rivers, using climate and reservoir indices as external covariates. Hydrol Earth Syst Sci 17:3189–3203

Mehrotra R, Sharma A, Srikanthan S, Frost AJ (2009) Comparison of statistical downscaling techniques for multisite daily rainfall conditioned on atmospheric variables for the Sydney region. Australian Journal of Water Resources 13:1–15

Mirshahi B, Onof C, Wheater HS (2008) Spatialtemporal daily rainfall simulation for a semi-arid area in Iran: a preliminary evaluation of generalised linear models. Sustainable Hydrology for the 21st Century, Proceedings of the 10th BHS National Hydrology Symposium, 2008, 145–152

Ouarda T, El-Adlouni S (2011) Bayesian nonstationary frequency analysis of hydrological variables 1. Wiley Online Library

Plummer N, Salinger MJ, Nicholls N, Suppiah R, Henessy KJ, Leighton RM, Trewin B, Lough JM (1999) Twentieth century trends in climate extremes over the Australian region and New Zealand. Climate Change 42:183–202

Rashid MM, Beecham S, Chowdhury RK (2014) Statistical characteristics of rainfall in the Onkaparinga catchment in South Australia. Journal of Water and Climate Change, IWA Publishing 6:352–372. doi:10.2166/wcc.2014.031

Rashid M, Beecham S, Chowdhury RK (2015) Statistical downscaling of CMIP5 outputs to rainfall and projections of future changes. Science of the Total Environment, Elsevier 530:171–182. doi:10.1016/j.scitotenv.2015.05.024

Rigby R, Stasinopoulos D (2005) Generalized additive models for location, scale and shape. J R Stat Soc: Ser C: Appl Stat 54:507–554

Sachindra D, Huang F, Barton A, Perera B (2014) Statistical downscaling of general circulation model outputs to precipitation—part 2: bias-correction and future projections. Int J Climatol 34:3282–3303. doi:10.1002/joc.3915

Sillmann J, Kharin V, Zhang X, Zwiers F, Bronaugh D (2013) Climate extremes indices in the CMIP5 multimodel ensemble: part 1. Model evaluation in the present climate. Journal of Geophysical Research: Atmospheres 118:1716–1733

Stasinopoulos DM, Rigby RA (2007) Generalized additive models for location scale and shape (GAMLSS) in R. J Stat Softw 23:1–46

Suppiah R, Hennessy KJ (1998) Trend in total rainfall, heavy-rain events and number of dry days in Australia, 1910-1990. Int J Climatol 10:1141–1164

Tebaldi C, Hayhoe K, Arblaster JM, Meehl GA (2006) Going to the extremes: an intercomparison of model-simulated historical and future changes in extreme events. Clim Chang 79:185–211. doi:10.1007/s10584-006-9051-4

Teng J, Chiew FH, Vaze J (2012) Will CMIP5 GCMs reduce or increase uncertainty in future runoff projections. American Geophysical Union–Fall Meeting, 3–7 December 2012, San Francisco, USA

Teoh KS (2003) Estimating the impact of current farm dams development on the surface water resources of the Onkaparinga River Catchment. DWLBC Report 2002/22, Department of Water, Land and Biodiversity Conservation, for the Government of South Australia

Themeßl MJ, Gobiet A, Heinrich G (2012) Empirical-statistical downscaling and error correction of regional climate models and its impact on the climate change signal. Clim Chang 112:449–468

Tisseuil C, Vrac M, Lek S, Wade AJ (2010) Statistical downscaling of river flows. J Hydrol 385:279–291

Tramblay Y, Neppel L, Carreau J, Najib K (2013) Non-stationary frequency analysis of heavy rainfall events in southern France. Hydrol Sci J 58:280–294

Tryhorn L, DeGaetano A (2011) A comparison of techniques for downscaling extreme precipitation over the northeastern United States. Int J Climatol 31:1975–1989

Villarini G, Smith JA, Serinaldi F, Bales J, Bates PD, Krajewski WF (2009) Flood frequency analysis for nonstationary annual peak records in an urban drainage basin. Adv Water Resour 32:1255–1266

Wang B, Yim S-Y, Lee J-Y, Liu J, Ha K-J (2014) Future change of Asian-Australian monsoon under RCP 4.5 anthropogenic warming scenario. Clim Dyn 42:83–100

Willems P, Olsson J, Arnbjerg-Nielsen K, Beecham S, Pathirana A, Gregersen IB, Madsen H, Nguyen VTV (2012) Impacts of climate change on rainfall extremes and urban drainage systems. IWA Publishing

Yang C, Chandler RE, Isham VS, Wheater HS (2005) Spatial-temporal rainfall simulation using generalized linear models. Water Resource Research 41:1–13. doi:10.1029/2004wr003739

Yang T, Li H, Wang W, Xu CY, Yu Z (2011) Statistical downscaling of extreme daily precipitation, evaporation, and temperature and construction of future scenarios. Hydrol Process 26:3510–3523
About this article
Cite this article
Rashid, M.M., Beecham, S. & Chowdhury, R.K. Simulation of extreme rainfall and projection of future changes using the GLIMCLIM model. Theor Appl Climatol 130, 453–466 (2017). https://doi.org/10.1007/s00704-016-1892-9
Received:

Accepted:

Published:

Issue Date:
Keywords
Extreme Rainfall

South Australia

Statistical Downscaling Model

General Circulation Model Output

Annual Maximum Daily Rainfall