Abstract
This paper appraises the association of lightning flash count (FC) with rainfall using the satellite-borne Lightning Imaging Sensor's (LIS) data along with gridded rainfall data (0.5o × 0.5o) for Indian summer monsoon seasons over 10 years (2001–2010). During strong El Nino years, 2002 and 2009, FCs were greater in magnitude by about 26.5 % and 37 %, than the long-term average, respectively, while during weak El Nino year (2004), it was more by 8 %. During the same years, the rainfall was deficient by about 10 % than the long-term average. Similarly, a rise in aerosol optical depth (AOD) over its average value (by about 15 % and 20 %) reduces the ratio of rainfall to FC (RLR) by 41 % and 44 % for strong El Nino years 2002 and 2009, respectively, and for weak El Nino year (2004), a 6.5 % rise in AOD lowers the RLR by 20 %. Bowen ratio more by 11 % and 17 % of its average value reduces the RLR by 41 % and 44 % for strong El Nino years 2002 and 2009, respectively, and, also, Bowen ratio higher by 8 % for 2004 declines RLR by 20 %. On the other hand, Bowen ratio less by 9 % and 6 % raises the RLR by 19 % and 56 % for moderate La Nina year (2007) and strong La Nina year (2010), respectively. Results for the daily rainfall, AOD and Bowen ratio over Indian regions, are discussed for strong El Nino and La Nina years. Correlations of FC with AOD and Bowen ratio of 0.66 and 0.71, respectively, while, that of FC with ONI of 0.56 indicates numerous (fewer) break days during El Nino (La Nina) years.
Access options
Buy single article
Instant access to the full article PDF.
US$ 39.95
Tax calculation will be finalised during checkout.
Subscribe to journal
Immediate online access to all issues from 2019. Subscription will auto renew annually.
US$ 119
Tax calculation will be finalised during checkout.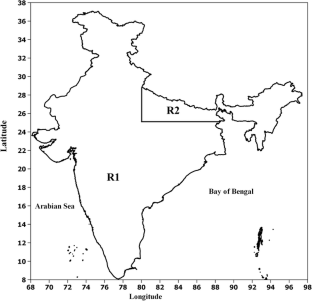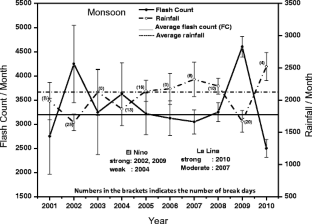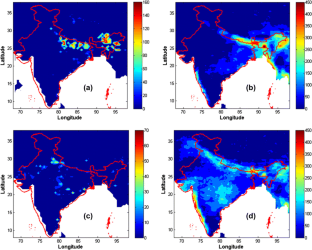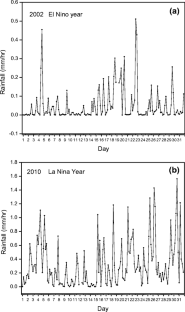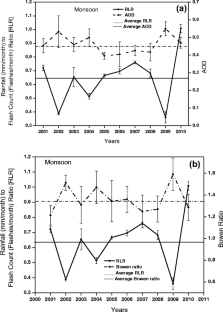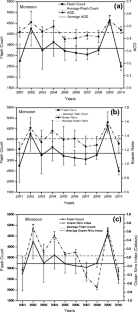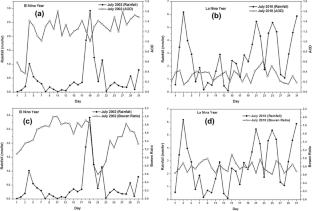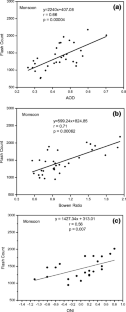 References
Boccippio D, Goodman SJ, Heckman S (2000) Regional differences in tropical lightning distribution. J Appl Meteorol 39:2231–2248

Boccippio D, Koshak WJ, Blakeslee RJ (2002) Performance assessment of the optical transient detector and lightning imaging sensor. Part I: Predicted diurnal variability. J Atmos Ocean Technol 19:1318–1332

Bond DW, Steiger S, Zhang R, Tie X, Orville RE (2002) The importance of NOx production by lightning in the tropics. Atmos Environ 36:1509–1519

Buechler, D.E., Wright, P.D., Goodman, S.J., 1990 Lightning and rainfall relationship during COHMEX. Conf. on Atmos. Electri., Kananaskis, Alberta, Canada. Amer Meteorol Soc 710–714

Cecil DJ, Buechler DE, Blakeslee RJ (2014) Gridded lightning climatology from TRMM-LIS and OTD: dataset description. Atmos Res 135-136:404–414

Christian, H.J., Blakeslee, R.J., Goodman, S.J., Mach, D.A., Stewart, M.F., et al., 1999 The Lightning Imaging Sensor. Proceeding of 11th Intl. Conf. on Atmos. Electri., NASA, Guntersville AL, 746–749

Curtis S, Adler RF (2003) Evolution of el Nino-precipitation relationship from satellite and gauges. J Geophys Res 108(D4):4153. doi:10.1029/2002JD002690

Goodman SJ, Buechler DE, Knupp K, Driscoll K, McCaul EW (2001) The 1997-98 el Nino event and related winter lightning variations in southeastern United States. Geophys Res Lett 27(4):541–554

Hamid EY, Kawasaki ZI, Mardiana R (2001) Impact of 1997-98 el Nino event on lightning activity over Indonesia. Geophys Res Let 28:147–150

Kandalgaonkar SS, Kulkarni JR, Tinmaker MIR, Kulkarni MK (2010) Land-ocean contrasts in lightning activity over the Indian region. Intl J Climatol 30:137–145 

Koren I, Martins JV, Remer LA, Afargan H (2008) Smoke invigoration versus inhibition of clouds over the Amazon. Science 321: 946–949. doi:10.1126/science.1159185

Kulkarni MK, Revadekar JV, Varikoden H (2013) About the variability in thunderstorm and rainfall activity over India and its association with el Nino and La Nina. Nat Hazards 69:2005–2019. doi:10.1007/s11069-013-0790-z

Kumar RP, Kamra AK (2012) Variability of lightning activity in south/southeast Asia during 1997–1998 and 2002–03 El Nino / La Nina events. Atmos Res 118:84–102. doi:10.1016/j.atmosres.2012.06.004

Lang TJ, Rutledge SA (2002) Relationship between convective storm kinematics, microphysics and lightning. Mon Wea Rev. 130:2492–2506

Ma M, Tao S, Zhu B, et al. (2005) The anomalous variation of the lightning activity in southern China during 1997/98 el Nino event. Sci China Earth Sci 48(9):1537–1547

Manohar GK, Kandalgaonkar SS, Tinmaker MIR (1999) Thunderstorm activity over India and the Indian southwest monsoon. J Geophys Res 104:4169–4188

Manoj MG, Devara PCS, Joseph S, Sahai AK (2012) Aerosol indirect effect during the aberrant Indian summer monsoon breaks of 2009. Atmos Environ 60:153–163

Mark L, Arlene L (2008) The influence of the el Nino-southern oscillation on cloud-to-ground lightning activity along the gulf coast. Part I : lightning climatology. Mon We Rev 136(7):2523–2542

Marshall JS, Radhakant S (1978) Radar precipitation map as lightning indicators. J Appl Meteorol 17:206–212

Pant GB, Parthasarathy B (1981) Some aspects of an association between the southern oscillation and Indian summer monsoon. Arch Meteorol Geophys Biokl B29:245–252

Petersen WA, Rutledge SA (1998) On the relationship between cloud-to-ground lightning and convective rainfall. J Geophys Res 103:14025–14040

Piepgrass MV, Krider EP, Moore CB (1982) Lightning and surface rainfall during Florida thunderstorm. J Geophys Res 87:11193–11201

Price C (1993) Global surface temperature and the atmospheric global circuit. Geophys Res Let 20:1363–1366

Qie X, Toumi R, Yuan T (2003) Lightning activities on the Tibetan plateau as observed by the lightning imaging sensor. J Geophys Res 108(D17):4551. doi:10.1029/2002JD003304

Rajeevan M, Gadgil S, Bhate J (2010) Active and break spells of the Indian summer monsoon. J Earth Syst Sci 119(3):229–247

Ramesh KP, Kamra AK (2013) Lightning activity associated with the dry and moist convections in the Himalayan regions. J Geophys Res 118:6246–6258. doi:10.1002/jgrd.50499

Rao KG (1986) Sensible heat fluxes during the active and break phases of the southwest monsoon over the Indian region. Bound Layer Meteorol 36:283–294

Rasmussen EM, Carpenter TH (1983) The relationship between equatorial pacific sea surface temperatures and rainfall over India and Sri Lanka. Mon Wea Rev. 111:517–528

Rosenfeld D (1999) TRMM observed first direct evidence of smoke from forest fires inhibiting rainfall. Geophys Res Let 26:3105–3108

Rosenfeld D, Lohmann U, Raga GB, Dowd CDO', Kulmala M, Fuzzi S, Reissell A, Andreae MO (2008) Flood or drought: how do aerosols affect precipitation? Science 321:1309–1313. doi:10.1126/science.1160606

Seity Y, Soula S, Savageot H (2001) Lightning and precipitation relationship in coastal thunderstorm. J Geophys Res 106(D19):22801–22816

Shackford CR (1960) Radar indication of a precipitation-lightning relationship in New England thunderstorms. J Meteor 17:15–19

Sikka DR (1980) Some aspects of the large scale fluctuations of summer monsoon rainfall over India in relation to fluctuations in the planetary and regional scale circulation parameters. Proc Indian Acad Sci Earth Planet Sci 89:179–195

Singh P, Nakamura K (2010) Diurnal variation in summer monsoon precipitation during active and break periods over Central India and southern Himalayan foothills. J Geophys Res 115:D12122. doi:10.1029/2009JD012794

Subrahmanyum MV, Dong-Xiao W (2011) Impact of latent heat flux on Indian summer monsoon during el Nino / La Nina years. J Trop Meteorol 17:430–440

Tapia A, Smith JA, Dixon M (1998) Estimation of convective rainfall from lightning observation. J Appl Meteorol 37(11):1497–1509

Tinmaker MIR, Aslam MY, Chate DM (2014) Climatology of lightning activity over the Indian seas. Atmosphere-Ocean 52:314–320. doi:10.1080/07055900.2014.941323

Tinmaker MIR, Aslam MY, Chate DM (2015) Lightning activity and its association with rainfall and convective available potential energy over Maharashtra, India. Nat Hazards 77:293–304. doi:10.1007/s11069-015-1589-x

Toumi R, Qie X (2004) Seasonal variation of lightning on the Tibetan plateau: a spring anomaly. Geophys Res Lett 31:L04115. doi:10.1029/2003GL018930

Trenberth KE (1997) The definition of el Nino. Bull Amer Met Soc 78:2771–2777

Wang C (2005) ENSO, Atlantic climate variability and Walker and Hadley circulation. Past and Future. Kluwer Academy, New York, pp. 173–202

Williams ER, Weber ME, Orville RE (1989) The relationship between lightning type and convective state of thundercloud. J Geophys Res 94:13213–13220

Williams ER (1992) The Schuman resonance: a global tropical thermometer. Science 256:1184–1187

Williams ER, Renno N (1993) An analysis of the conditional instability of the tropical atmosphere. Mon Wea Rev 121:21–36

Williams ER, Rosenfeld D, Madden N, Gerlach J, Gears N, Atkinson I, et al. (2002) Contrasting convective regimes over the Amazon : implications for cloud electrification. J Geophys Res 107:8082

Yoshida S, Morimoto T, Ushio T, et al. (2007) ENSO and convective activities in Southeast Asia and western Pacific. Geophys Res Let 34(21):L21806

Yuan, T., Di, Y., 2014. Variability of lightning and thunderstorm over eastern china and Indonesia on ENSO time scales. XV Intl. Conf. on Atmos. Electri., 15–20 June 2014, Norman, Oklahoma, USA, 1–4

Zipser E (1994) Deep cumulonimbus cloud systems in the tropics with or without lightning. Mon Wea Rev 122:1837–1851
Acknowledgments
The Indian Institute of Tropical Meteorology (IITM), Pune, is supported by the Ministry of Earth Sciences (MoES), Government of India, New Delhi. Authors are thankful to Dr. R. Krishnan, Director and Dr. G. Beig, Scientist-G, IITM, Pune, for their kind support and valuable guidance. The authors are grateful to the NASA GHCC for LIS data hosted on http://thunder.msfc.nasa.gov/ and to the NASA Giovanni for the surface heat fluxes on (http://disc.sci.gsfc.nasa.gov/giovanni/) over Indian regions. Also, the authors acknowledge the Climate Prediction Center for data of ONI (http://www.cpc.ncep.noaa.gov) and (http://mirador.gsfc.nasa.gov/cgi-bin/mirador/) for spatial variations of rainfall.
About this article
Cite this article
Tinmaker, M.I.R., Aslam, M.Y., Ghude, S.D. et al. Lightning activity with rainfall during El Nino and La Nina events over India. Theor Appl Climatol 130, 391–400 (2017). https://doi.org/10.1007/s00704-016-1883-x
Received:

Accepted:

Published:

Issue Date:
Keywords
Lightning activity

RLR

ONI

AOD

Bowen ratio