Abstract
We analyze the variability of sediment discharge and runoff in the Hekou–Longmen segment in the middle reaches of the Yellow River, China. Our analysis is based on Normalized Difference Vegetation Index (NDVI), sediment discharge, runoff, and monthly meteorological data (1961–2010). The climate conditions are controlled via monthly regional average precipitation and potential evapotranspiration (ET0) that are calculated with the Penman–Monteith method. Data regarding water and soil conservation infrastructure and their effects were investigated as causal factors of runoff and sediment discharge changes. The results indicated the following conclusions: (1) The sediment concentration, sediment discharge, and annual runoff, varied considerably during the study period and all of these factors exhibited larger coefficients of variation than ET0 and precipitation. (2) Sediment discharge, annual runoff, and sediment concentration significantly declined over the study period in a linear fashion. This was accompanied by an increase in ET0 and decline in precipitation that were not significant. (3) Within paired years with similar precipitation and potential evapotranspiration conditions (SPEC), all pairs showed a decline in runoff, sediment discharge, and sediment concentration. (4) Human impacts in this region were markedly high as indicated by NDVI, and soil and water measurements, and especially the soil and water conservation infrastructure resulting in an approximately 312 Mt year−1 of sediment deposition during 1960–1999.
This is a preview of subscription content, log in to check access.
Access options
Buy single article
Instant access to the full article PDF.
US$ 39.95
Price includes VAT for USA
Subscribe to journal
Immediate online access to all issues from 2019. Subscription will auto renew annually.
US$ 199
This is the net price. Taxes to be calculated in checkout.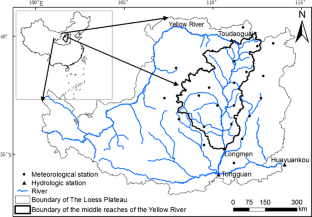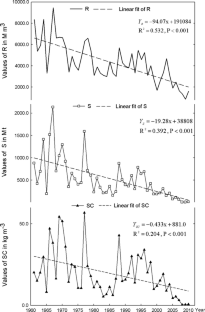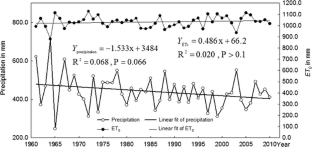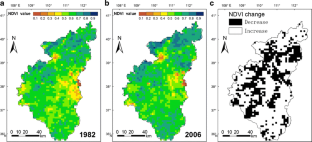 References
Allen RG, Pereira LS, Raes D, Smith M (1998) Crop evapotranspiration: guidelines for computing crop water requirements. FAO Irrigation and Drainage Paper No. 56. FAO, Rome, Italy

Bai P, Liu WH, Guo MJ (2014) Impacts of climate variability and human activities on decrease in streamflow in the Qinhe River, China. Theor Appl Climatol 117:293–301

Burrough PA, McDonnell RA (1998) Principles of geographical information systems. Oxford University Press, Oxford

Carlson TN, Gillies RR, Perry EM (1994) A method to make use of thermal infrared temperature and NDVI measurements to infer surface soil water content and fractional vegetation cover. Remote Sens Rev 9:161–173

Carriquiry JD, Sanchez A (1999) Sedimentation in the Colorado River delta and upper gulf of California after nearly a century of discharge loss. Mar Geol 158:125–145

Cong ZT, Yang DW, Gao B, Yang HB, Hu HP (2009) Hydrological trend analysis in the Yellow River basin using a distributed hydrological model. Water Resour Res 45:W00 A13

Fan ZX, Bräuning A, Thomas A, Li JB, Cao KF (2011) Spatial and temporal temperature trends on the Yunnan plateau (Southwest China) during 1961–2004. Int J Climatol 31:2078–2090

Fanos AM (1995) The impact of human activities on the erosion and accretion of the Nile Delta coast. J Coastal Res 11:821–833

Fu GB, Chen SL, Liu CM, Shepard D (2004) Hydro-climatic trends of the Yellow River basin for the last 50 years. Clim Chang 65:149–178

Gao P, Mu XM, Wang F, Li R (2011) Changes in streamflow and sediment discharge and the response to human activities in the middle reaches of the Yellow River. Hydrol Earth Syst Sc 15:1–10

Gates JB, Scanlon BR, Mu XM, Zhang L (2011) Impacts of soil conservation on groundwater recharge in the semi-arid Loess plateau. China. Hydrogeol J 19:865–875

He XH, Wu F, Gao YJ, Xu JH (2011) Years division of silt-discharge saltation of main tributaries in Hekou-Longmen reach Yellow River. 33: 19–23 (in Chinese)

He Y, Mu XM, Zhao GJ, Gao P (2015a) Variation of erosive rainfall and extreme rainfall based on processes of sediment discharge in the reach of Hekou—Tongguan, Yellow River. J Sediment Res 2:53–59

He Y, Wang F, Mu XM, Yan HT, Zhao GJ (2015b) An assessment of human versus climatic impacts on Jing River basin, Loess plateau, China. Adv Meteorol 2015:1–13

He Y, Wang F, Tian P, Mu XM, Gao P, Zhao GJ, Wu YP (2016) Impact assessment of human activities on runoff and sediment of Beiluo River in the Yellow River based on paired years of similar climate. Pol J Environ Stud 25:121–135

Journel AG, Huijbregts CJ (1978) Mining geostatistics. Academic Press, London

Li Z, Zheng FL, Liu WZ (2010) Analyzing the spatial temporal changes of extreme precipitation events in the Loess plateau from 1961 to 2007. J Nat Resour 25:291–299

Liu CM, Zheng HX (2004) Changes in components of the hydrological cycle in the Yellow River basin during the second half of the 20th century. Hydrol Process 18:2337–2345

Liu JX, Li ZG, Zhang XP, Li R, Liu XC, Zhang HY (2013) Responses of vegetation cover to the Grain for green program and their driving forces in the He-Long region of the middle reaches of the Yellow River. J arid land 5:511–520

Liu LL, Liu ZF, Ren XY, Fischer T, Xu Y (2011) Hydrological impacts of climate change in the Yellow River basin for the 21st century using hydrological model and statistical downscaling model. Quatern Int 244:211–220

Lørup JK, Refsgaard JC, Mazvimavi D (1998) Assessing the effect of land use change on catchment runoff by combined use of statistical tests and hydrological modelling: case studies from Zimbabwe. J Hydrol 205:147–163

Miao CY, Ni JR, Borthwick AGL (2010) Recent changes of water discharge and sediment load in the Yellow River basin, China. Prog Phys Geogr 34:541–561

Miao CY, Ni JR, Borthwick AGL, Yang L (2011) A preliminary estimate of human and natural contributions to the changes in water discharge and sediment discharge in the Yellow River. Glob Planet Chang 76:196–205

Mu XM, Basang C, Zhang L, Gao P, Wang F, Zhang XP (2007) Impact of soil conservation measures on runoff and sediment in Hekou-Longmen region of the Yellow River. J Sediment Res 2:36–41

Mu XM, Zhang XQ, Shao HB, Gao P, Wang F, Jiao JY, Zhu JL (2012) Dynamic changes of sediment discharge and the influencing factors in the Yellow River, China, for the recent 90 years. Clean–Soil Air Water 40:303–309

Nearing MA, Jetten V, Baffaut C, Cerdan O, Couturier A, Hernandez M, Le Bissonnais Y, Nichols MH, Nunes JP, Renschler CS, Souchère V, Van Oost K (2005) Modeling response of soil erosion and runoff to changes in precipitation and cover. Catena 61:131–154

Peterson TC, Easterling DR, Karl TR, Groisman P, Nicholls N, Plummer N, Torok S, Auer I, Böhm R, Gullett D, Vincent L, Heino R, Tuomenvirta H, Mestre O, Szentimrey T, Salinger J, Førland EJ, Hanssen-Bauer I, Alexandersson H, Jones P, Parker D (1998) Homogeneity adjustments of situ atmospheric climate data: a review. Int J Climatol 18:1493–1517

Ran DC (2006) Water and sediment variation and ecological protection measures in the middle reach of the Yellow River. Resour Sci 28:93–100

Ran DC, Liu B, Wang H, Luo QH, Ma Y (2006) Soil and water conservation measures and their benefits in runoff and sediment reductions of typical tributary in the middle of Yellow River. The Yellow River Water Conservancy Press, Zhengzhou, pp. 130–202

Ran DC, Liu LW, Zhao LY, Yu DG (1999) Water and soil conservation and ecological protection measures in the middle reach of the Yellow River. Yellow River 21:1–4

Ran DC, Luo QH, Liu B, Wang H (2004) Effect of soil retaining dams on flood and sediment reduction in middle reaches of Yellow River. J Hydraul Eng 5:7–13

Restrepo JD, Syvitski JPM (2006) Assessing the effect of natural controls and land use change on sediment yield in a major Andean River: the Magdalena Drainage Basin, Colombia. Ambio 35:65–74

Shangguan ZP, Zheng SX (2006) Ecological properties of soil water and effects on forest vegetation in the loess plateau. Int J Sust Dev World 13:307–314

Stow D, Petersen A, Hope A, Engstrom R, Coulter L (2007) Greenness trends of Arctic tundra vegetation in the 1990s: comparison of two NDVI data sets from NOAA AVHRR systems. Int J Remote Sens 28:4807–4822

Suo AN, Hong J, Lin Y, Ge JP (2005) Relationships between soil and water loss and landscape pattern on loess plateau. Chinese J Appl Ecol 16:1719–1723

Tucker CJ, Pinzon JE, Brown ME, Slayback DA, Pak EW, Mahoney R, Vermote EF, Saleous NE (2005) An extended AVHRR 8-km NDVI data set compatible with MODIS and SPOT vegetation NDVI data. Int J Remote Sens 26:4485–4498

Walling DE, Fang D (2003) Recent trends in the suspended sediment discharges of the world's rivers. Glob Planet Chang 39:111–126

Wang F, Mu XM, Hessel R, Zhang WS, Ritsema CJ, Li R (2013) Runoff and sediment discharge of the Yan River, China: changes over the last 60 yr. Hydrol Earth Syst Sc 17:2515–2527

Wang F, Mu XM, Li R, Jiao JY (2008) Change characteristic of the runoff and sediment under the similar precipitation condition in the Beiluohe River. J Water Resour Water Eng 19:36–40

Wang GX, Cheng GD (2000) Eco-environmental changes and causative analysis in the source regions of the Yangtze and Yellow River, China. Environmentalist 20:221–232

Xin ZB, Yu XX, Gan J, Wang XP, Li JH (2009) Vegetation restoration and its effects on runoff and sediment yield in Hekouzhen-Longmen section of the middle reaches of Yellow River. J Beijing For Univ 31:1–7

Xiong GS (1986) Reduction of sediment load by water and soil conservation works in middle and upper reaches of the Yellow River. Yellow River 4:3–7

Xu JX (2005a) Temporal variation of river flow renewability in the middle Yellow River and the influencing factors. Hydrol Process 19:1871–1882

Xu JX (2005b) The water fluxes of the Yellow River to the sea in the past 50 years, in response to climate change and human activities. Environ Manag 35:620–631

Xu JX (2009) Plausible causes of temporal variation in suspended sediment concentration in the upper Changjiang River and major tributaries during the second half of the 20th century. Quatern Int 208:85–92

Yang DW, Li C, Hu HP, Lei ZD, Yang SX, Kusuda T, Koike T, Musiake K (2004a) Analysis of water resources variability in the Yellow River of China during the last half century using historical data. Water Resour Res 40:W06502

Yang DW, Li C, Ni GH, Hu HP (2004b) Application of a distributed hydrological model to the Yellow River basin. Acta Geogr Sin 59:143–154

Zhou L, Kaufmann RK, Tian Y, Myneni RB, Tucker CJ (2003) Relation between interannual variations in satellite measures of northern forest greenness and climate between 1982 and 1999. J Geophys Res 108 ACL3:1–16

Zhu JZ, Hu JZ (2004) Rules of erosion & sediment yield and benefits of flood & sediment reduction of soil and Water conservation measures in the middle reaches of the Yellow River. Sci Soil Water Conserv 2:41–48

Zhu TX, Cai QG, Zeng BQ (1997) Runoff generation on a semi-arid agricultural catchment: field and experimental studies. J Hydrol 196:99–118
Acknowledgments
This research was supported by the National Science Foundation of China [41171420 and 41271295], the External Cooperation Program of BIC, Chinese Academy of Sciences [16146KYSB20150001], the European Commission Programme Horizon 2020 project [635750], the West Light Foundation of The Chinese Academy of Sciences [2013-165-04], and the National Key Basic Research Special Foundation of China [2014FY210100].
Ethics declarations
Conflict of interest
The authors declare that they have no conflicts of interest.
About this article
Cite this article
He, Y., Wang, F., Mu, X. et al. Human activity and climate variability impacts on sediment discharge and runoff in the Yellow River of China. Theor Appl Climatol 129, 645–654 (2017). https://doi.org/10.1007/s00704-016-1796-8
Received:

Accepted:

Published:

Issue Date:
Keywords
Normalize Difference Vegetation Index

Sediment Concentration

Potential Evapotranspiration

Annual Runoff

Middle Reach