Abstract
The interannual variability of daily frequency of rainfall [>1 mm/day] and heavy rainfall [>30 mm/day] is studied for the southwestern region of Madagascar, which is relatively arid compared to the rest of the island. Attention is focused on the summer rainy season from December to March at four stations (Morondava, Ranohira, Toliara and Taolagnaro), whose daily rainfall data covering the period 1970–2000 were obtained from the Madagascar Meteorological Service. El Niño Southern Oscillation (ENSO) was found to have a relatively strong correlation with wet day frequency at each station and, particularly, for Toliara in the extreme southwest. In terms of seasonal rainfall totals, most El Niño (La Niña) summers receive below (above) average amounts. An ENSO connection with heavy rainfall events was less clear. However, for heavy rainfall events, the associated atmospheric circulation displays a Southern Annular Mode-like pattern throughout the hemisphere. For ENSO years and the neutral seasons 1979/80, 1981/82 which had large anomalies in wet day frequency, regional atmospheric circulation patterns consisted of strong anomalies in low-level moisture convergence and uplift over and near southwestern Madagascar that made conditions correspondingly more or less favourable for rainfall. Dry (wet) summers in southern Madagascar were also associated with an equatorward (poleward) displacement of the ITCZ in the region.
This is a preview of subscription content, log in to check access.
Access options
Buy single article
Instant access to the full article PDF.
US$ 39.95
Price includes VAT for USA
Subscribe to journal
Immediate online access to all issues from 2019. Subscription will auto renew annually.
US$ 199
This is the net price. Taxes to be calculated in checkout.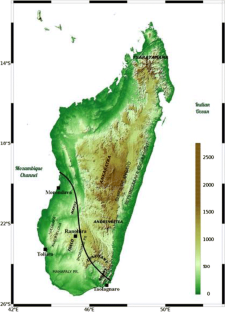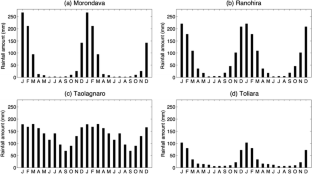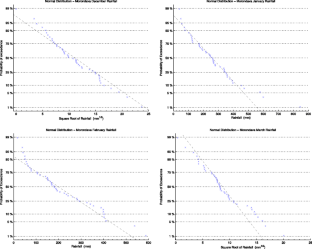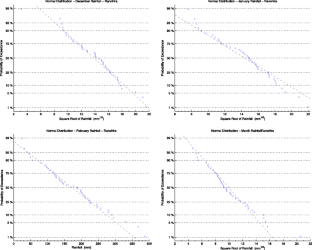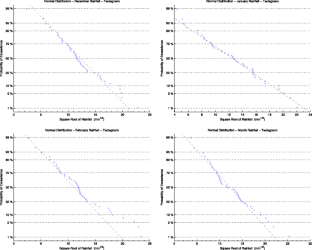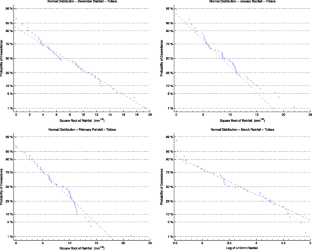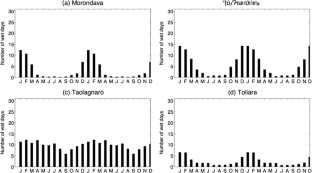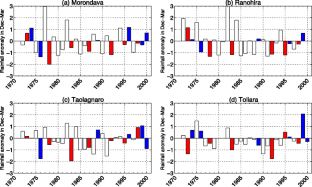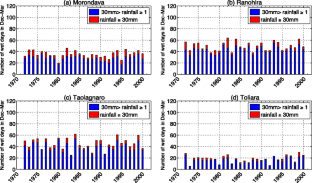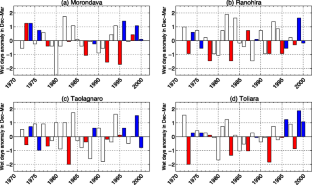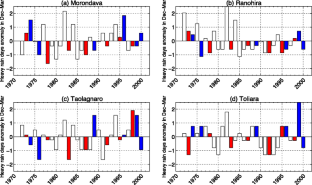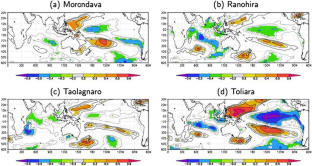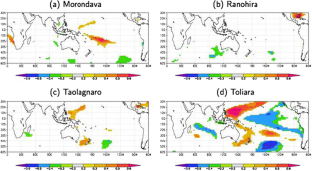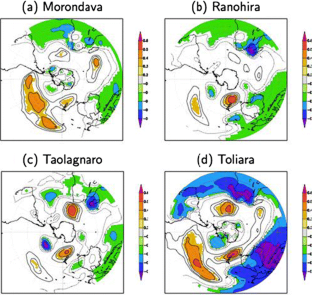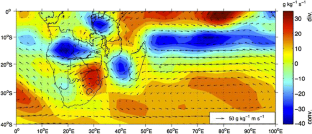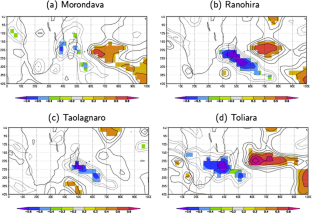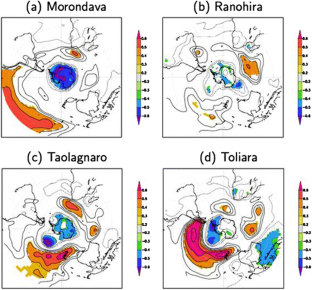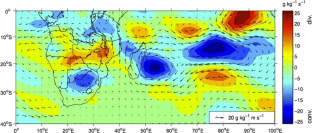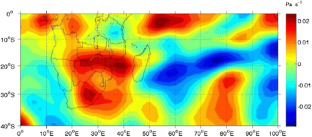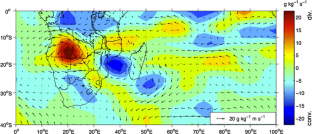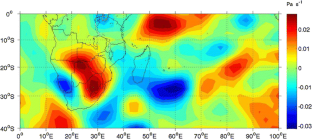 References
Behera SK, Yamagata T (2001) Subtropical SST dipole events in the southern Indian Ocean. Geophys Res Lett 28:327–330

Cook KH (2000) The South Indian convergence zone and interannual rainfall variability over southern Africa. J Clim 13:3789–3804

Cook KH (2001) A Southern Hemisphere wave response to ENSO with implications for southern Africa precipitation. J Atmos Sci 58:2146–2162

Fauchereau N, Pohl B, Richard Y, Reason CJC, Rouault M (2009) Recurrent daily OLR patterns in the Southern Africa/Southwest Indian Ocean region, implications for South African rainfall and teleconnections. Climate Dyn 32:575–591. doi:10.1007/s00382-008-0426-2

Hart NCG, Reason CJC, Fauchereau N (2013) Cloud bands over southern Africa: seasonality, contribution to rainfall variability and modulation by the MJO. Clim Dyn 41:1199–1212. doi:10.1007/s00382-012-1589-4

Jury MR, Parker BA, Raholijao N, Nassor A (1995) Variability of summer rainfall over Madagascar: climatic determinants at interannual scales. Int J Climatol 15:1323–1332

Kalnay E et al. (1996) The NCEP/NCAR 40-year reanalysis project. Bull Am Meteorol Soc 77:437–471

Klinman M, Reason CJC (2008) On the peculiar storm track of TC Favio during the 2006–2007 South West Indian Ocean tropical cyclone season and relationships to ENSO. Met Atmos Phys 100:233–242 Special Issue. doi:10.1007/s00703-008-0306-7

Lyon B, Mason S (2009) The 1997/98 summer rainfall season in southern Africa. Part II: model simulations and coupled model forecasts. J Clim 22:3802–3818

Manhique A, Reason CJC, Rydberg L, Fauchereau N (2011) ENSO and Indian Ocean sea surface temperatures and their relationships with tropical temperate troughs over Mozambique and the Southwest Indian Ocean. Int J Climatol 31:1–13. doi:10.1002/joc.2050

Mavume A, Rydberg L, Rouault M, Lutjeharms JRE (2009) Climatology and landfall of tropical cyclones in the South West Indian Ocean. West Indian Ocean J Mar Sci 8:15–36

Moron V, Robertson AW, Ward MN (2007) Spatial coherence of tropical rainfall at the regional scale. J Clim 20:5244–5263

Nassor A, Jury MR, Raholijao N (1997) Intra-seasonal climate variability of Madagascar. Part 2: evolution of flood events. Meteorog Atmos Phys 64:243–254

Pelleray H (1954) Quelques données de base en vue de l'étude des régimes hydrologiques de Madagascar. Mémoires de l'Institut scientifique de Madagascar 6(D):43–86

Ratnam JV, Behera SK, Masumoto Y, Yamagata T (2014) Remote effects of El Niño and Modoki events on the austral summer precipitation of southern Africa. J Clim 27:3802–3815

Reason CJC, Mulenga HM (1999) Relationships between South African rainfall and SST anomalies in the South West Indian Ocean. Int J Climatol 19:1651–1673

Reason CJC, Allan RJ, Lindesay JA, Ansell TJ (2000) ENSO and climatic signals across the Indian Ocean basin in the global context: part I, interannual composite patterns. Int J Climatol 20:1285–1327

Reason CJC (2002) Sensitivity of the southern African circulation to dipole SST patterns in the South Indian Ocean. Int J Climatol 22:377–393

Reason CJC, Keibel A (2004) Tropical Cyclone Eline and its unusual penetration and impacts over the southern African mainland. Weather Forecast 19(5):789–805

Reason CJC, Jagadheesha D (2005) A model investigation of recent ENSO impacts over southern Africa. Met Atmos Phys. Special Issue on Regional Climate Change and Variability 89:181–205. doi:10.1007/s00703-005-0128-9

Reason CJC, Rouault M (2005) Links between the Antarctic Oscillation and winter rainfall over western South Africa. Geophys Res Lett 32(7):L07705. doi:10.1029/2005GL022419

Reason CJC (2007) Tropical cyclone Dera, the unusual 2000/01 tropical cyclone season in the South West Indian Ocean and associated rainfall anomalies in southern Africa. Meteorol. Atmos Phys 97:181–188 Special Issue on Tropical Cyclones. doi:10.1007/s00703-006-0251-2

Singleton AT, Reason CJC (2007) Variability in the characteristics of cut-off low pressure systems over subtropical southern Africa. Int J Climatol 27:295–310

Smith TM, Reynolds RW, Peterson TC, Lawrimore J (2008) Improvements to NOAA's historical merged land-ocean surface temperature analysis (1880–2006). J Clim 21:2283–2296

Streten NA (1973) Some characteristics of satellite-observed bands of persistent cloudiness over the southern hemisphere. Mon Wea Rev 101:486–495

Thompson DWJ, Wallace JM (2000) Annular modes in the extratropical circulation. Part I: month-to-month variability. J Clim 13:1000–1016

Usman MT, Reason CJC (2004) Dry spell frequencies and their variability over southern Africa. Climate Res. 26:199–211

Xue Y, Smith TM, Reynolds RW (2003) Interdecadal changes of 30-yr SST normals during 1871–2000. J Clim 16:1601–1612

Weldon D, Reason CJC (2014) Variability of rainfall characteristics over the south coast region of South Africa. Theor Appl Climatol 115:177–185. doi:10.1007/s00704-013-0882-4
Acknowledgments
The first author is grateful to Carnegie WIO-RISE for the funding of her MSc research from which this manuscript is written.
About this article
Cite this article
Randriamahefasoa, T.S.M., Reason, C.J.C. Interannual variability of rainfall characteristics over southwestern Madagascar. Theor Appl Climatol 128, 421–437 (2017). https://doi.org/10.1007/s00704-015-1719-0
Received:

Accepted:

Published:

Issue Date:
Keywords
Indian Ocean

Tropical Cyclone

Southern Annular Mode

South West Indian Ocean

Cloud Band