Abstract
Rainfall in New South Wales (NSW), located in the southeast of the Australian continent, is known to be influenced by four major climate drivers: the El Niño/Southern Oscillation (ENSO), the Interdecadal Pacific Oscillation (IPO), the Southern Annular Mode (SAM) and the Indian Ocean Dipole (IOD). Many studies have shown the influences of ENSO, IPO modulation, SAM and IOD on rainfall in Australia and on southeast Australia in particular. However, only limited work has been undertaken using a multiple regression framework to examine the extent of the combined effect of these climate drivers on rainfall. This paper analysed the role of these combined climate drivers and their interaction on the rainfall in NSW using Bayesian Model Averaging (BMA) to account for model uncertainty by considering each of the linear models across the whole model space which is equal to the set of all possible combinations of predictors to find the model posterior probabilities and their expected predictor coefficients. Using BMA for linear regression models, we are able to corroborate and confirm the results from many previous studies. In addition, the method gives the ranking order of importance and the probability of the association of each of the climate drivers and their interaction on the rainfall at a site. The ability to quantify the relative contribution of the climate drivers offers the key to understand the complex interaction of drivers on rainfall, or lack of rainfall in a region, such as the three big droughts in southeastern Australia which have been the subject of discussion and debate recently on their causes.
Access options
Buy single article
Instant access to the full article PDF.
USD 39.95
Price excludes VAT (USA)
Tax calculation will be finalised during checkout.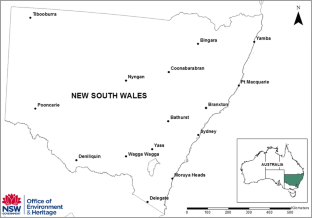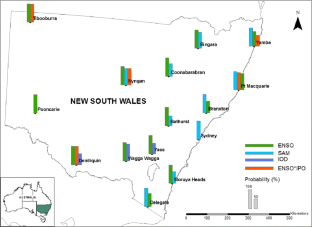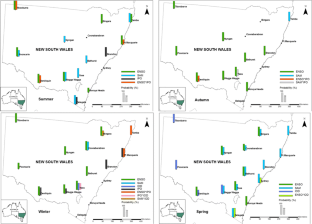 References
Amini SM, Parmeter CF (2011) Bayesian model averaging in R. J Econ Soc Meas 36(4):253–287

Ashcroft L, Karoly D, Gergis J (2013) Southeastern Australian climate variability 1860–2009: a multivariate analysis. Int J Climatol 34(6):1928–1944

Cai W, Van Rensch P (2012) The 2011 southeast Queensland extreme summer rainfall: a confirmation of a negative Pacific Decadal Oscillation phase? Geophys Res Lett 39, L08702. doi:10.1029/2011GL050820

Cai W, Van Rensch P, Cowan T, Sullivan A (2010) Asymmetry in ENSO teleconnection with regional rainfall, its multidecadal variability, and impact. J Clim 23(18):4944–4955

Cai W, Van Rensch P, Cowan T, Hendon H (2011) Teleconnection pathways of ENSO and the IOD and the mechanisms for impacts on Australian rainfall. J Clim 24:3910–3923. doi:10.1175/2011JCLI4129.1

Chu P, Zhao X (2004) Bayesian change-point analysis of tropical cyclone activity: the Central North Pacific case. J Clim 17(24):4893–4901

Cobb K, Westphal N et al (2013) Highly variable El Niño-Southern oscillation throughout the Holocene. Science 339(67):67–70. doi:10.1126/science. 1228246

Epstein E (1985) Statistical inference and prediction in climatology: Bayesian approach. American Meteorological Society, Boston

Folland CK et al (2002) Relative influences of the interdecadal Pacific oscillation and ENSO on the South Pacific convergence zone. Geophys Res Lett 29(13):21–1

Gallant A, Hennessy K, Risbey J (2007) Trends in rainfall indices for six Australian regions: 1910–2005. Aust Meteorol Mag 56:223–239

Hanley D, Bourassa M et al (2003) A quantitative evaluation of ENSO indices. J Climate 16:1249–1258. doi:10.1175/1520-0442(2003)16<1249:AQEOEI>2.0.CO;2

Haylock M, Nicholls N (2000) Trends in extreme rainfall indices for an updated high quality data set for Australia. International Journal Climatology 20:1533–1541

Hendon HH, Thompson DW, Wheeler MC (2007) Australian rainfall and surface temperature variations associated with the Southern Hemisphere annular mode. J Clim 20:2452–2467

Hennessy K, Suppiah R, Page C (1999) Australian rainfall changes, 1910–1995. Australian Meteorology Magazine 48:1–13

Ho M, Kiem A, Verdon-Kidd D (2012) The Southern Annular Mode: a comparison of indices. Hydrol Earth Syst Sci 16(3):967–982

Hoeting J, Madigan D, Raftery A, Volinsky C (1999) Bayesian Model Averaging: a tutorial. Stat Sci 382–401

Kaplan A, Cane M et al (1998) Analyses of global sea surface temperature 1856–1991. J Geophys Res 103(C9):18567–18

King A, Alexander L, Donat M (2013) Asymmetry in the response of eastern Australia extreme rainfall to low‐frequency Pacific variability. Geophys Res Lett 40(10):2271–2277

Latif M, Kleeman R, Eckert C (1997) Greenhouse warming, decadal variability, or El Niño? An attempt to understand the anomalous 1990s. J Clim 10(9):2221–2239

Lavery B, Kariko A, Nicholls N (1992) A historical rainfall data set for Australia. Aust Meteorol Mag 40:33–39

Maher P, Sherwood S (2014) Disentangling the multiple sources of large-scale variability in Australian wintertime precipitation. J Clim 27(17):6377–6392

Maity R, Nagesh Kumar D. 2006. Bayesian dynamic modeling for monthly Indian summer monsoon rainfall using El Niño–Southern Oscillation (ENSO) and Equatorial Indian Ocean Oscillation (EQUINOO). J Geophysical Res. Atmospheres (1984–2012), 111(D7).

Meneghini B, Simmonds I, Smith IN (2007) Association between Australian rainfall and the southern annular mode. Int J Climatol 27:109–121

Murphy B, Timbal B (2008) A review of recent climate variability and climate change in southeastern Australia. Int J Climatol 28(7):859–879

Nan S, Li J (2003) The relationship between the summer precipitation in the Yangtze River valley and the boreal spring Southern Hemisphere annular mode. Geophys Res Lett 30(24)

Nicholls N (2010) Local and remote causes of the southern Australian autumn-winter rainfall decline, 1958–2007. Climate Dynam 34(6):835–845

Nicholls N, Lavery B (1992) Australian rainfall trends during the twentieth century. Int J Climatol 12:153–163. doi:10.1002/joc.3370120204

Nicholls N, Lavery B, Frederiksen C, Drosdowsky W, Torok S (1996) Recent apparent changes in relationships between the El Niño-Southern oscillation and Australian rainfall and temperature. Geophys Res Lett 23(23):3357–3360

Nicholls N, Drosdowsky W, Lavery B (1997) Australian rainfall variability and change. Weather 52:66–72. doi:10.1002/j.1477-8696.1997.tb06274.x

Opoku-Ankomah Y, Cordery I (1993) Temporal variation of relations between New South Wales rainfall and the Southern Oscillation. Int J Climatol 13:51–64. doi:10.1002/joc.3370130104

Parker D, Folland C, Scaife A et al (2007) Decadal to interdecadal climate variability and predictability and the background of climate change. J Geophys Res 112, D18115. doi:10.1029/2007JD008411

Pepler A, Timbal B, Rakich C, Coutts-Smith A (2014a) Indian Ocean Dipole overrides ENSO's influence on cool season rainfall across the eastern seaboard of Australia. J Clim 27:3816–3826, doi: http://dx.doi.org/10.1175/JCLI-D-13-00554.1

Pepler A, Coutts-Smith A, Timbal B (2014b) The role of East Coast lows on rainfall patterns and inter-annual variability across the East Coast of Australia. Int J Climatol 34:1011–1021. doi:10.1002/joc.3741

Power S, Tseitkin F, Torok S, Lavery B, Dahni R, McAvaney B (1998) Australian temperature, Australian rainfall and the Southern Oscillation, 1910–1992: coherent variability and recent changes. Aust Meteorol Mag 47(2):85–101

Power S, Casey T, Folland C, Colman A, Mehta V (1999) Interdecadal modulation of the impact of ENSO on Australia. Climate Dynam 15:319–324

Power S, Haylock M, Colman R, Wang X (2006) The predictability of interdecadal changes in ENSO activity and ENSO teleconnections. J Clim 19(19):4755–4771

Raftery A (1995) Bayesian model selection in social research. Sociology Methodology 25:111–163

Raftery AE, Madigan D, Hoeting JA (1997) Bayesian model averaging for regression models. J Am Stat Assoc 92:179–191

Risbey J, Pook M, McIntosh P, Wheeler M, Hendon H (2009) On the remote drivers of rainfall variability in Australia. Mon Weather Rev 137:3233–3253

Speer M, Leslie L, Fierro A (2011) Australian east coast rainfall decline related to large scale climate drivers. Climate Dynam 36(7–8):1419–1429

Suppiah R (2004) Trends in the southern oscillation phenomenon and Australian rainfall and changes in their relationship. Int J Climatol 24(3):269–290

Suppiah R, Hennessy K (1998) Trends in total rainfall, heavy rain events and number of dry days in Australia, 1910–1990. Int J Climatol 18:1141–1164. doi:10.1002/(SICI)1097-0088(199808)18:10<1141::AID-JOC286>3.0.CO;2-P

Tapsoba D, Haché M, Perreault L, Bobée B (2004) Bayesian rainfall variability analysis in West Africa along cross sections in space-time grid boxes. J Clim 17(5):1069–1082

Todini E (1999) A Bayesian technique for conditioning radar precipitation estimates to rain-gauge measurements. Hydrol Earth Syst Sci 5(2):187–199

Ummenhofer C, England M, McIntosh P, Meyers G, Pook M, Risbey J, Taschetto A (2009) What causes southeast Australia's worst droughts? Geophys Res Lett 36(4), L04706. doi:10.1029/2008GL036801

Verdon D, Wyatt A, Kiem A, Franks S (2004) Multidecadal variability of rainfall and streamflow: Eastern Australia. Water Resour Res 40, W10201. doi:10.1029/2004WR003234

Verdon-Kidd D, Kiem A (2009) Nature and causes of protracted droughts in southeast Australia: comparison between the federation, WWII, and Big Dry droughts. Geophys Res Lett 36(22), L22707. doi:10.1029/2009GL041067

Wheeler M, Hendon H, Cleland S, Meinke H, Donald A (2009) Impacts of the Madden-Julian oscillation on Australian rainfall and circulation. J Clim 22(6):1482–1498

Whiting JP, Lambert MF, Metcalfe AV (2003) Modelling persistence in annual Australian point rainfall. Hydrol Earth Syst Sci 7(2):197–211

Zellner A (1986) On assessing prior distributions and Bayesian regression analysis with g-prior distributions. In: Goel PK, Zellner A (eds) Bayesian inference and decision techniques: essays in honor of Bruno de Finetti. North-Holland/Elsevier, Amsterdam, pp 233–243
About this article
Cite this article
Duc, H.N., Rivett, K., MacSween, K. et al. Association of climate drivers with rainfall in New South Wales, Australia, using Bayesian Model Averaging. Theor Appl Climatol 127, 169–185 (2017). https://doi.org/10.1007/s00704-015-1622-8
Received:

Accepted:

Published:

Issue Date:

DOI: https://doi.org/10.1007/s00704-015-1622-8
Keywords
Pacific Decadal Oscillation

Indian Ocean Dipole

Southern Oscillation Index

Southern Hemisphere Annular Mode

Bayesian Model Average