Abstract
Atlantic and Mediterranean air masses influence the climate over the Iberian System mountain range. The relatively short instrumental records in central Spain though limit any long-term assessment of these synoptic systems. We here evaluate the potential to analyze such changes using ring width data from Juniperus thurifera trees growing in the northwestern and southeastern regions of the Iberian System, exposed to Atlantic and Mediterranean cyclonic activity, respectively. Comparison of tree rings with regional precipitation, temperature, and Palmer Drought Severity Index (PDSI) data indicates that juniper trees contain information on late spring and early summer drought conditions. Calibration trials using spatially resolved, gridded climate data reveal that the northwestern sampling site is predominantly controlled by Atlantic weather, while the southeastern site mainly reflects Mediterranean climate patterns. The strength and position of the blocking Azores high during spring to early summer is of particular importance for the distinct growth reactions in the Iberian System. The climate signal is remarkably strong in the southeastern site, where we developed the longest and best-replicated juniper tree ring record of the Iberian Peninsula. Data from this site allowed the reconstruction of May-June PDSI variability back to the early eighteenth century, indicating severe drought (PDSI < −9) in southeastern Spain in 1782, 1828, 1869, 1981, and 2005. The new PDSI record coheres well with historical rogation ceremony data from eastern Spain, indicating that common information on past drought events is inherent in both proxy archives.
This is a preview of subscription content, log in to check access.
Access options
Buy single article
Instant access to the full article PDF.
US$ 39.95
Tax calculation will be finalised during checkout.
Subscribe to journal
Immediate online access to all issues from 2019. Subscription will auto renew annually.
US$ 119
Tax calculation will be finalised during checkout.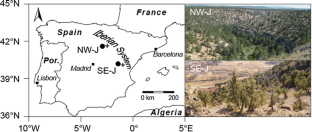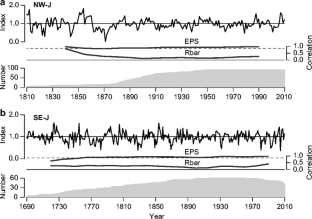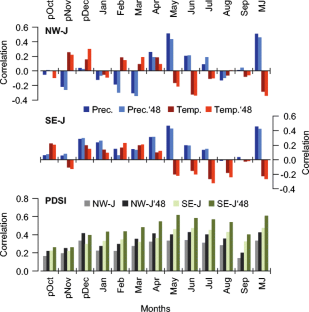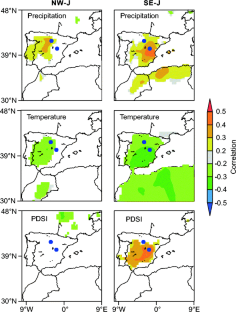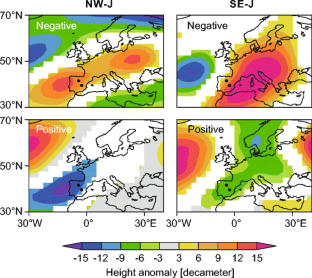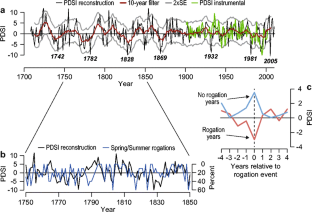 References
Altava-Ortiz V, Llasat M-C, Ferrari E, Atencia A, Sirangelo B (2011) Monthly rainfall changes in central and western Mediterranean basins, at the end of the 20th and beginning of the 21st centuries. Int J Climatol 31:1943–1958

Barriendos M (1997) Climatic variations in the Iberian peninsula during the late Maunder Minimum (AD 1675-1715): an analysis of data from rogation ceremonies. The Holocene 7:105–111

Camarero JJ, Olano JM, Parras A (2010) Plastic bimodal xylogenesis in conifers from continental Mediterranean climates. New Phytol 185:471–480

Camarero JJ, Rozas V, Olano JM (2014) Minimum wood density of Juniperus thurifera is a robust proxy of spring water availability in a continental Mediterranean climate. J Biogeogr. doi:10.1111/jbi.12271

Cook ER, Kairiukstis L (1990) Methods of dendrochronology: applications in the environmental sciences. Kluwer, Dordrecht

Cook ER, Peters K (1981) The smoothing spline: a new approach to standardizing forest-interior tree-ring width series for dendroclimatic studies. Tree-Ring Bull 41:45–53

Cook ER, Briffa KR, Meko DM, Graybill DA, Funkhouser G (1995) The 'segment length curse' in long tree-ring chronology development for palaeoclimatic studies. The Holocene 5:229–237

Cook ER, Woodhouse CA, Eakin CM, Meko DM, Stahle DW (2004) Long-term aridity changes in the western United States. Science 306:1015–1018

Dai A, Trenberth KE, Qian T (2004) A global dataset of Palmer Drought Severity Index for 1870–2002: relationship with soil moisture and effects of surface warming. J Hydrometeorol 5:1117–1130

DeSoto L, de La Cruz M, Fonti P (2011) Intra-annual patterns of tracheid size in the Mediterranean tree Juniperus thurifera as an indicator of seasonal water stress. Can J For Res 41:1280–1294

DeSoto L, Camarero JJ, Olano JM, Rozas V (2012) Geographically structured and temporally unstable growth responses of Juniperus thurifera to recent climate variability in the Iberian Peninsula. Eur J For Res 131:905–917

DeSoto L, Varino F, Andrade JP, Gouveia CM, Campelo F, Trigo RM, Nabais C (2014) Different growth sensitivity to climate of the conifer Juniperus thurifera on both sides of the Mediterranean Sea. Int J Biometeorol. doi:10.1007/s00484-014-0811-y

Domínguez-Castro F, Santisteban JI, Barriendos M, Mediavilla R (2008) Reconstruction of drought episodes for central Spain from rogation ceremonies recorded at the Toledo Cathedral from 1506 to 1900: a methodological approach. Glob Planet Chang 63:230–242

Domínguez-Castro F, Ribera P, García-Herrera R, Barriendos M (2010) A shift in the spatial pattern of Iberia droughts during the 17th century. Clim Past 6:553–563

Domínguez-Castro F, Ribera P, García-Herrera R, Vaquero JM, Barriendos M, Cuadrat JM, Moreno JM (2012) Assessing extreme droughts in Spain during 1750–1850 from rogation ceremonies. Clim Past 8:705–722

Esper J, Cook ER, Schweingruber FH (2002) Low-frequency signals in long tree-ring chronologies and the reconstruction of past temperature variability. Science 295:2250–2253

Esper J, Frank DC, Wilson RJS, Briffa KR (2005) Effect of scaling and regression on reconstructed temperature amplitude for the past millennium. Geophys Res Lett 32, doi: 10.1029/2004GL021236

Esper J, Frank DC, Büntgen U, Verstege A, Luterbacher J, Xoplaki E (2007) Long-term drought severity variations in Morocco. Geophys Res Lett 34, doi: 10.1029/2007GL030844

Esteban-Parra MJ, Rodrigo FS, Castro-Díez Y (1998) Spatial and temporal patterns of precipitation in Spain for the period 1880–1992. Int J Climatol 18:1557–1574

Gauquelin T, Bertaudiere V, Montes N, Badri W, Asmode JF (1999) Endangered stands of thuriferous juniper in the western Mediterranean basin: ecological status, conservation and management. Biodiv Conserv 8:1479–1498

Giorgi F, Lionello P (2008) Climate change projections for the Mediterranean region. Glob Plan Chang 63:90–104

IPCC (2013) Climate change 2013: the physical science basis. Cambridge University Press, Cambridge

Luterbacher J, Xoplaki E, Dietrich D, Rickli R, Jacobeit J, Beck C, Gyalistras D, Schmutz C, Wanner H (2002) Reconstruction of sea level pressure fields over the eastern north Atlantic and Europe back to 1500. Clim Dyn 18:545–561

Luterbacher J, Garcia-Herrera R, Allan R, et al (2012) A review of 2000 years of paleoclimatic evidence in the Mediterranean. In: Lionello P (ed) The climate of the Mediterranean region: from the past to the future. Elsevier, Amsterdam, pp 87–185

Luterbacher J, Werner J, Fleitmann D, Gonzalez-Rouco JF, McCarroll D, Wagner S, Zorita E, Gómez- Navarro J, Büntgen U, Esper J (2014) Hydroclimatic reconstructions over Europe and the Mediterranean. Pages Mag 22:38

Martín-Vide J, Barriendos M (1995) The use of rogation ceremony records in climatic reconstruction: a case study from Catalonia (Spain). Clim Chang 30:201–221

Montesinos D, Villar-Salvador P, García-Fayos P, Verdú M (2012) Genders in Juniperus thurifera have different functional responses to variations in nutrient availability. New Phytol 193:705–712

Olano JM, Eugenio M, García-Cervigón Morales AI, Folch M, Rozas V (2012) Quantitative tracheid anatomy reveals a complex environmental control of wood structure in continental Mediterranean climate. Int J Plant Sci 173:137–149

Palmer WC (1965) Meteorological drought. Research Paper 45, US Dept. Commerce, Washington

Panofsky HA, Brier GW (1958) Some applications of statistics to meteorology. Univ. Park, Pennsylvania

Rivas-Martínez S (1983) Pisos bioclimáticos de España. Lazaroa 5:33–43

Rodriguez-Puebla C, Encinas AH, Nieto S, Garmendia J (1998) Spatial and temporal patterns of annual precipitation variability over the Iberian Peninsula. Int J Climatol 18:299–316

Rozas V, DeSoto L, Olano JM (2009) Sex-specific, age-dependent sensitivity of tree-ring growth to climate in the dioecious tree Juniperus thurifera. New Phytol 182:687–697

Schweingruber FH (1983) Der Jahrring: Standort, Methodik, Zeit und Klima in der Dendrochronologie. Haupt Verlag, Bern

Trouet V, Esper J, Graham NE, Baker A, Scourse JD, Frank DC (2009) Persistent positive North Atlantic Oscillation mode dominated the Medieval Climate Anomaly. Science 324:78–80

Van der Schrier G, Briffa KR, Jones PD, Osborn TJ (2006) Summer moisture variability across Europe. J Clim 19:2818–2834

Vicente-Serrano SM, Cuadrat JM (2007) North Atlantic Oscillation control of drought in north-east Spain: evaluation since 1600 A.D. Clim Chang 85:357–379

Wigley TML, Briffa KR, Jones PD (1984) On the average of correlated time series, with applications in dendroclimatology and hydrometeorology. J Clim Appl Meteorol 23:201–213
Acknowledgments
We thank G. Sangüesa-Barreda and R. Hernández for the help in the field. This study was supported by the Mainz Geocycles Research Center. JJC received support from ARAID and projects CGL2011-26654 (Spanish Ministry of Economy) and 387-2011 (OAPN). FDC received support from the Prometeo Project, Secretariat of Higher Learning, Science, Technology and Innovation (Ecuador Government). UB received support from the Operational Program of Education for Competitiveness of Ministry of Education, Youth and Sports of the Czech Republic (Project: Building up a multidisciplinary scientific team focused on drought, No. CZ.1.07/2.3.00/20.0248).
Additional information
Revision submitted to Theoretical and Applied Climatology
About this article
Cite this article
Esper, J., Großjean, J., Camarero, J.J. et al. Atlantic and Mediterranean synoptic drivers of central Spanish juniper growth. Theor Appl Climatol 121, 571–579 (2015). https://doi.org/10.1007/s00704-014-1254-4
Received:

Accepted:

Published:

Issue Date:
Keywords
Tree Ring

Tree Ring Width

Palmer Drought Severity Index

Tree Ring Chronology

Site Chronology