Abstract
Based on daily temperature data from an urban station and four rural stations of Shijiazhuang area in Hebei Province, North China, we analyzed the trends of extreme temperature indices series of the urban station (Shijiazhuang station) and rural stations during 1962–2011 and the urbanization effect on the extreme temperature indices of the urban station. The results showed that the trends of annual extreme temperature indices of the urban station and the rural stations are significantly different in the recent 50 years. Urbanization effect on the long-term trends of hot days, cold days, frost days, diurnal temperature range (DTR), extreme maximum temperature, and extreme minimum temperature at the urban station were all statistically significant, reaching 1.10 days/10 years, −2.30 days/10 years, −2.55 days/10 years, −0.20 °C/10 years, 0.16 °C/10 years, and 0.70 °C/10 years, respectively, with the urbanization contributions to the overall trends reaching 100, 38.0, 42.2, 40.0, 94.1, and 47.0 %, respectively. The urbanization effect on trend of ice days was also significant, reaching −0.47 days/10 years. However, no significant urbanization effect on trends of minimum values of maximum temperature and maximum values of minimum temperature had been detected. The urbanization effects in the DTR and extreme minimum temperature series of Shijiazhuang station in wintertime were highly significant.
Access options
Buy single article
Instant access to the full article PDF.
USD 39.95
Price excludes VAT (USA)
Tax calculation will be finalised during checkout.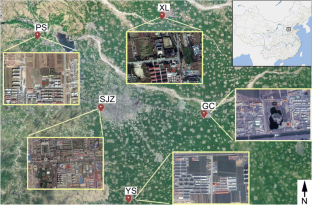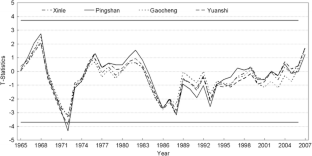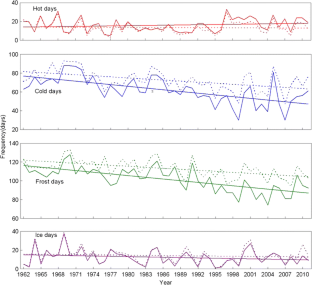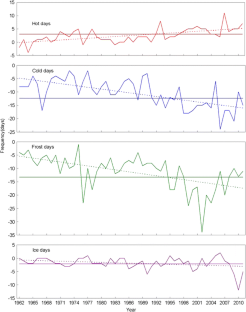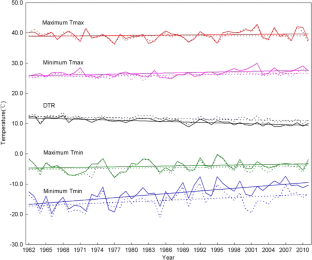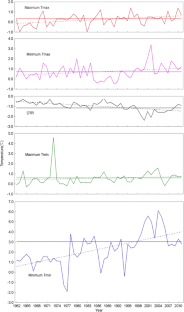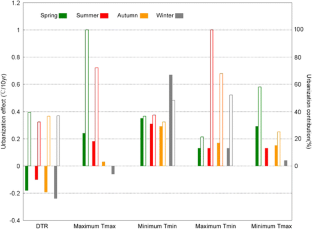 References
Alexander LV, Zhang X, Peterson TC et al (2006) Global observed changes in daily climate extremes of temperature and precipitation. J Geophys Res 111(3):D05109

Bian T (2010) Characteristics of urban climate and climate change in Shijiazhuang City. Master dissertation of Lanzhou University (in Chinese)

Choi J, Chung U, Yun JI (2003) Urban-effect correction to improve accuracy of spatially interpolated temperature estimates in Korea. J Appl Meteorol 42:1711–1719

Chu ZY, Ren GY (2005) Change in urban heat island magnitude and its effect on mean air temperature record in Beijing region. Acta Meteorol Sin 63(4):534–540 (in Chinese)

Chung U, Choi J, Yun JI (2004) Urbanization effect on observed change in mean monthly temperature between 1951–1980 and 1971–2000 in Korea. Clim Chang 66:127–136

Easterling DR, Horton B, Jones PD (1997) Maximum and minimum temperature trends for the globe. Science 277:364–367

Fujibe F (2008) Detection of urban warming in recent temperature trends in Japan. Int J Climatol 29:1811–1822

Jin W, Ren G, Qu Y (2012) Change in surface mean wind speed of Northeast China during 1971–2010. Arid Zone Res 29(4):648–653

Kalnay E, Cai M (2003) Impact of urbanization and land use change on climate. Nature 423:528–531

Karl TR, Diaz HF, Kukla G (1988) Urbanization: its detection and effect in the United States climate record. J Clim 1988(1):1099–1123

Karl TR, Kukla G, Razuvayev VN et al (1991) Global warming: evidence for asymmetric diurnal temperature changes. Geophys Res Lett 18:2253–2256

Li QX, Liu XN, Zhang HZ, Peterson TC, Easterling DR (2004) Detecting and adjusting on temporal inhomogeneity in Chinese mean surface air temperature data. Adv Atmos Sci 21(2):260–268

Plumner N (1996) Temperature variability and extreme over Australia: part 1-recent observed changes. Aust Meteorol Mag 45:233–250

Ren GY, Chu ZY, Chen ZH, Ren YY (2007) Implications of temporal change in urban heat island intensity observed at Beijing and Wuhan stations. Geophys Res Lett 34, L05711

Ren GY, Zhou YQ, Chu ZY, Zhou JX, Zhan AY, Guo J, Liu XF (2008) Urbanization effects on observed surface air temperature trends in North China. J Clim 21:1333–1350

von Storch H, Zwiers FW (2003) Statistical analysis in climate research. Cambridge University Press, New York, p 504

Wang Y, Liu XN, Ju XH (2007) Differences between automatic and manual observation. J Appl Meteorol Sci 18(6):849–855 (in Chinese)

Wei FY (2007) Diagnosis and forecasting methods of modern climatic statistics (version 2). China Meteorological, Beijing (in Chinese)

Yan ZW, Yang C, Jones PD (2001) Influence of inhomogeneity on the estimation of mean and extreme temperature trends in Beijing and Shanghai. Adv Atmos Sci 18(3):309–322

Yang X, Hou Y, Chen B (2011) Observed surface warming induced by urbanization in east China. J Geophys Res 116:D14113. doi:10.1029/2010JD015452

Zhai PM, Pan XH (2003) Trends in temperature extreme during 1951–1999 in China. Geophys Res Lett 30(17):1–4

Zhang AY, Ren GY, Zhou JX et al (2010) Urbanization effect on surface air temperature trends over mainland China. Acta Meteorol Sin 68(6):957–966 (in Chinese)

Zhang L, Ren GY, Liu J et al (2011) Urbanization effect on trends of extreme temperature indices at Beijing meteorological station. Chin J Geophys 54(5):1150–1159 (in Chinese)

Zhou YQ, Ren GY (2009) Urbanization effect on trends of maximum temperature, minimum temperature and diurnal temperature range in North China. Plateau Meteorol 28(5):1158–1166 (in Chinese)

Zhou YQ, Ren GY (2011) Change in extreme temperature events frequency over mainland China during 1961–2008. Clim Res 50(1–2):125–139
Acknowledgments
This study is financed by the Ministry of Science and Technology of China (Fund No. GYHY201206012).
About this article
Cite this article
Bian, T., Ren, G., Zhang, B. et al. Urbanization effect on long-term trends of extreme temperature indices at Shijiazhuang station, North China. Theor Appl Climatol 119, 407–418 (2015). https://doi.org/10.1007/s00704-014-1127-x
Received:

Accepted:

Published:

Issue Date:

DOI: https://doi.org/10.1007/s00704-014-1127-x
Keywords
Urban Heat Island

Diurnal Temperature Range

Urban Station

Rural Station

Urbanization Effect