Abstract
Haors are large, round-shaped floodplain depressions located in the North-Eastern region of Bangladesh. Extreme events such as heavy rainfall routinely affect the haor basin with flash floods. These haors are predicted to experience severe stress because of changes in rainfall and temperature patterns. The biotic community of the wetlands may not have enough time to adjust itself in such varying temperature and rainfall extremes. This paper evaluates various aspects of the future projections of rainfall and temperature extremes, including magnitudes and frequencies thereof. The impacts of extreme events are examined using Hadley Centre's high-resolution regional climate model known as PRECIS (Providing REgional Climates for Impact Studies). Daily temperature and rainfall simulations of the 17-member ensembles are generated through Hadley Centre Coupled Model (HadCM3). These simulations are used in Rclimdex—a software specially designed for this study. A total of 12 core climate indices are computed, analyzed, and statistically examined (Mann–Whitney U test) over the space of three time slices—(1) short (2020s, i.e., 2011–2040), (2) medium (2050s, i.e., 2041–2070), and (3) long (2080s, i.e., 2071–2098). Here, the 1980s (1971–2000) are considered as the baseline period. The study has found that the highest significant variability in both rainfalls and temperatures was during the pre-monsoon season when flash floods normally occur. Also, rainy days are projected to be less frequent albeit more intense where the deeply flooded haors are located. Though the annual total rainfall does not show any difference in spatial distribution (except for in magnitude), the seasonal patterns of most extreme events show that the probable affected areas have shifted from North-east to further North. In addition, a significant increase in both RX1 (1-day maximum rainfall) and RX5 (5-day maximum rainfall) are projected during the 2080's pre-monsoon season near Sunamganj. This projection also indicates the possible frequent occurrence of flash floods with high volumes. Probability distribution frequencies (PDF) show a rightward shift in time indicating an increase in the amount of total rainfall in the future. Exceptions are, however, found in case of PDFs for consecutive dry days (CDD) and consecutive wet days (CWD). The decrease in CWD is found to be more pronounced than that of CDD. All these projections made in this study are expected to contribute further in the advancements of the Master Planning of the haor area that was done by the government of Bangladesh in 2012.
This is a preview of subscription content,
to check access.
Access this article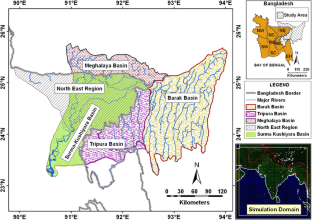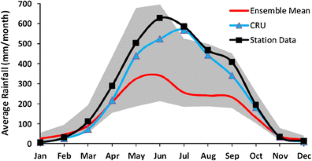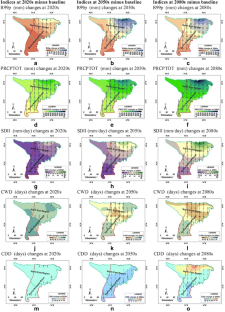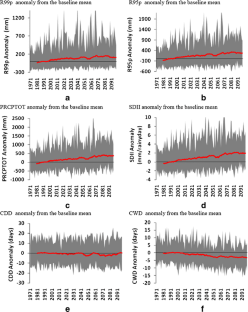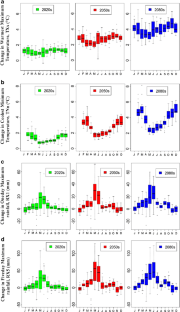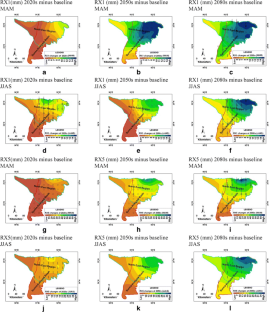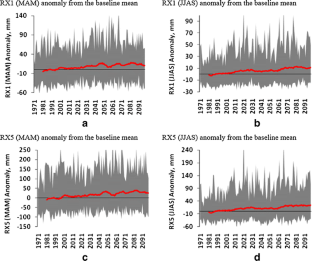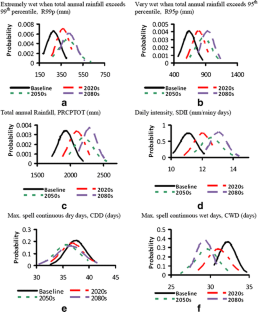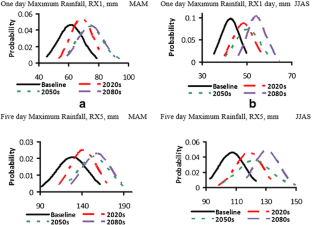 Notes
"Hotspots" refer to those regions already vulnerable to climate variability and likely to suffer substantial impacts in future from climate change, with poverty and vulnerability characteristics also being present.
References
Aguilar E et al (2005) Changes in rainfall and temperature extremes in Central America and Northern South America: 1961–2003. J Geophys Res 110, D233107. doi:10.1029/2005JD006119

Ahmed AU, Alam M (1999) Development of climate change scenarios with general circulation models. In: Huq S, Karim Z, Asaduzzaman M, Mahtab F (eds) Vulnerability and adaptation to climate change for Bangladesh. Kluwer Academic Publishers, Dordrecht, pp 13–20

Alexander LV et al (2006) Global observed changes in daily climate extremes of temperature and precipitation. J Geophys Res 111(5), D05109. doi:10.1029/2005JD006290

Bevanger K, Datta AK, Eid AT, Shirin M (2001) tanguar haor wetland biodiversity conservation project, an appraisal, NINA NIKU Project Report-16, pp 1–37

Bhaskaran B, Murphy JM, Jones RG (1998) Intra-seasonal oscillation in the Indian summer monsoon simulated by global and nested regional climate models, Mon. Weather Rev 126:3124–3134

CCC (2006) Bangladesh Climate Change Impacts and Vulnerability, Climate Change Cell, Department Of Environment; Comprehensive Disaster Management Programme, MoFDM. Government of the People's Republic of Bangladesh, Dhaka

CEGIS (2012) Master plan of haor area, Bangladesh Haor and Wetland Development Board (BHWDB), Summary Report, Volume II, Ministry of Water Resources, Government of the People's Republic of Bangladesh.

Choi G, Kwon WT, Boo KO, Cha YM (2008) Recent spatial and temporal changes in means and extreme events of temperature and precipitation across the Republic of Korea. J Korean Geogr Soc 43:681–700

Choi G et al (2009) Changes in means and extreme events of temperature and precipitation in the Asia-Pacific Network region, 1955–2007. Int J Climatol 29:1906–1925

Collins M, Booth BBB, Harris GR, Murphy JM, Sexton DMH, Webb MJ (2006) Towards quantifying uncertainty in transient climate change. Climate Dynam 27:127–147

Della-Marta PM, Luterbacher J, von Weissenfluh H, Xoplaki E, Brunet M, Wanner H (2007) Summer heat waves over western Europe 1880–2003: Their relationship to large scale forcings and predictability. Clim Dyn 29:251–275

Frich P et al (2002) Observed coherent changes in climate extremes during the second half of the twentieth century. Climate Res 19:193–212

Fung CF, Farquharson F, Chowdhury J (2006) Exploring the impacts of climate change on water resources-regional impacts at a regional scale: Bangladesh. Climate Variability and Change-Hydrological Impacts, Proceedings of the 5th FRIEND World Conference, vol 308. IAHS Publication, Havana, pp 389–393

Goubanova K, Li L (2007) Extremes in temperature and precipitation around the Mediterranean basin in an ensemble of future climate scenario simulations. Global and Planetary Change, 57(1):27–42

Griffiths GM et al (2005) Change in mean temperature as a predictor of extreme temperature change in the Asia-Pacific region. Int J Climatol 25:1301–1330

Hegerl GC, Zwier FW, Stott PA, Kharin VV (2004) Detectability of anthropogenic changes in annual temperature and precipitation extremes. J Climate 17:3683–3700

IPCC (2007) "Climate change" in the 4th Assessment Report of Intergovernmental Panel on Climate Change (IPCC), The Scientific Basis, Contribution of Working Group- I. Cambridge University Press, Cambridge, p 746

Islam AKMS, Hasan MA (2012) Climate induced changes of precipitation extremes over Bangladesh, Proceedings of 3rd International Conference on Environmental Aspects of Bangladesh (ICEAB 2012), pp 67–105

Islam MN, Rafiuddin M, Ahmed AU, Kolli RK (2008) Calibration of PRECIS in employing future scenarios in Bangladesh. Int J Climatol 28(5):617–628. doi:10.1002/joc.1559, Wiley InterScience

IUCN (2002) Bio-ecological zones of Bangladesh. International Union for Conservation of Nature and Natural Resources, Bangladesh, p 31

IWM (2007) Mathematical modelling along with hydrological studies & terrestrial survey under the haor rehabilitation scheme. Final report, Institute of Water Modelling, Bangladesh

Kiktev D et al (2003) Comparison of modeled and observed trends in indices of daily climate extremes. J Climate 16:3560–3571

Klein Tank AMG, KÖnnen GP (2003) Trends in indices of daily temperature and precipitation extremes in Europe, 1946–1999. J Climate 16:3665–3680

Klein Tank AMG et al (2006) Changes in daily temperature and precipitation extremes in central and south Asia. J Geophys Res 111(D16), D16105. doi:10.1029/2005JD006316

Kumar D et al (2013a) Impact of climate change on rainfall in Northwestern Bangladesh using multi-GCM ensembles. Int J Climatol. doi:10.1002/joc.3770

Kumar P et al (2013b) Downscaled climate change projections with uncertainty assessment over India using a high resolution multi-model approach. SciTotal Environ. doi:10.1016/j.scitotenv.2013.01.051

Luterbacher J, Dietrich D, Xoplaki E, Grosjean M, Wanner H (2004) European seasonal and annual temperature variability, trends, and extremes since 1500. Science 303(5663):1499–1503

Manton MJ et al (2001) Trends in extreme daily rainfall and temperature in Southeast Asia and the South Pacific: 1961–1998. Int J Climatol 21:269–284

May W (2004) Potential of future changes in the Indian summer monsoon due to greenhouse use warming: analysis of mechanisms in a global time-slice experiment. Climate Dynam 22(4):389–414

Moberg A, Sonechkin DM, Holmgren K, Datsenko NM, Karlèn W (2005) Highly variable northern hemisphere temperatures from low- and high-resolution proxy data. Nat 433:613–617

Moberg A et al (2006) Indices for daily temperature and precipitation extremes in Europe analyzed for the period 1901–2000. J Geophys Res 111:1–25

Mondal SM, Islam AKMS, Madhu MK (2012) Spatial and Temporal Distribution of Temperature, Rainfall, Sunshine and Humidity in Context of Crop Agriculture, Final report, Comprehensive Disaster Management Programme, Ministry of Food and Disaster Management, Government of the People's Republic of Bangladesh

New M et al (2006) Evidence of trends in daily climate extremes over Southern and West Africa. J Geophys Res 111, D14102. doi:10.1029/2005JD006289

Nowreen S et al (2012) An indicator of climate change in the south west region of Bangladesh. Int J Clim Chang: Impacts Response 4(3):47–60

Peterson TC et al (2002) Recent changes in climate extremes in the Caribbean region. J Geophys Res 107(D21):4601. doi:10.1029/2002JD002251

Revadekar JV et al (2012) Impact of altitude and latitude on changes in temperature extremes over South Asia during 1971–2000. J Climatol 33(1):199–209

Sen Roy S, Balling RC (2004) Trends in extreme daily precipitation indices in India. Int J Climatol 24:457–466

Shahid S (2009) Spatio-temporal variability of rainfall over Bangladesh during the time period 1969–2003. Asia Pac J Atmos Sci 45:375–389

Shahid S (2011) Trends in extreme rainfall events of Bangladesh. Theor Appl Climatol 104(3–4):489–499

SMRC (2009) Understanding the rainfall climatology and detection of extreme weather events in the SAARC region: Part II- Utilization of RCM data. SAARC Meteorological Research Centre (SMRC), Dhaka

Tebaldi C, Smith RL, Nychka D, Mearns LO (2005) Quantifying uncertainty in projections of regional climate change: A Bayesian approach to the analysis of multi-model ensembles. J Clim 18(10):1524–1540

Van Beers WCM, Kleijnen JPC (2004) Kriging interpolation in simulation: a survey, proceedings of the 2004 Winter Simulation Conference, Ingalls RG, Rossetti MD, Smith JS, Peters BA (eds), 5–8 December, Washington DC

Vincent LA et al (2005) Observed trends in indices of daily temperature extremes in South America: 1960–2000. J Climate 18:5011–5023

Wasimi SA (2009) Climate change trends in Bangladesh, Proceedings of the 2nd International Conference on Water and Flood Management, Dhaka, Bangladesh, 1: 203–210

World Bank (2010) Synthesis report on economics of adaptation to climate change: Bangladesh. World Bank, Washington, DC

Xoplaki E, González-Rouco JF, Luterbacher J, Wanner H (2003) Mediterranean summer air temperature variability and its connection to the large-scale atmospheric circulation and SSTs. Clim Dyn 20:723–739
Acknowledgments
The authors would like to acknowledge Met Office, Hadley Centre, UK, for providing input data and their support in using PRECIS. This work is fully funded by DFID under the research project "High-resolution Regional Climate Change Information for Bangladesh to inform Impact Assessments, Vulnerability indicators and Adaptation Policies" by Bangladesh University of Engineering and Technology in collaboration with Met Office Hadley Centre, UK.
About this article
Cite this article
Nowreen, S., Murshed, S.B., Islam, A.K.M.S. et al. Changes of rainfall extremes around the haor basin areas of Bangladesh using multi-member ensemble RCM. Theor Appl Climatol 119, 363–377 (2015). https://doi.org/10.1007/s00704-014-1101-7
Received:

Accepted:

Published:

Issue Date:

DOI: https://doi.org/10.1007/s00704-014-1101-7
Keywords