Abstract
This paper analyses the temporal and spatial changes in the amount and variability of rainfall in Scotland. The sequential Mann–Kendall test reveals that total annual precipitation has increased across Scotland since the 1970s with increasing trends in variability beginning between the mid-1960s and the mid-1970s. Whilst temporally consistent increasing trends in precipitation totals prevail in the West, many weather stations in the East have experienced subsequent trend turning points in the following two decades, explaining the larger magnitude of the trends in western Scotland in recent decades. Trend analyses on six measures of rainfall variability indicate an increase in rainfall variability during the period 1961–2000, as measured by the intra-annual variance, the winter to summer precipitation ratio and the annual cumulative sum range, with decreasing trends observed in the number of dry days. Periodicities associated with the North Atlantic Oscillation and the Atlantic Multidecadal Oscillation could explain the observed temporal variability of rainfall.
Access options
Buy single article
Instant access to the full article PDF.
US$ 39.95
Tax calculation will be finalised during checkout.
Subscribe to journal
Immediate online access to all issues from 2019. Subscription will auto renew annually.
US$ 119
Tax calculation will be finalised during checkout.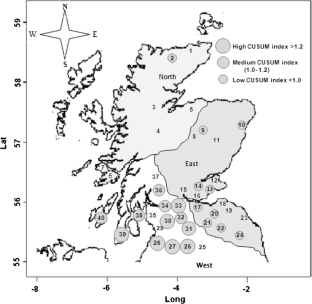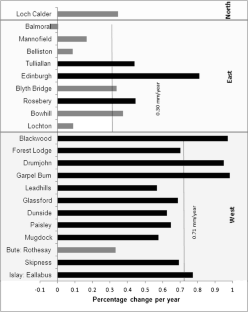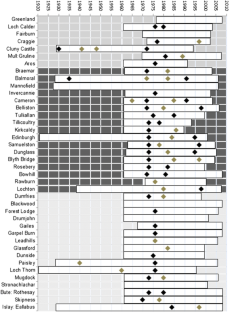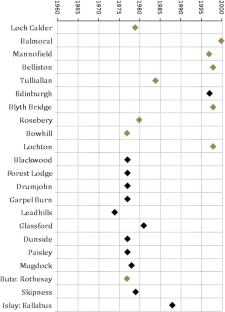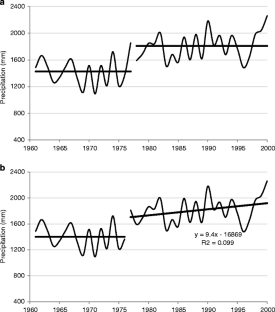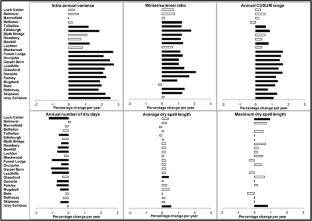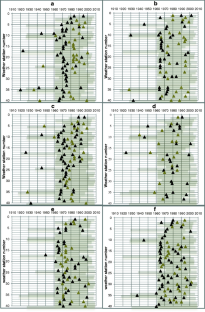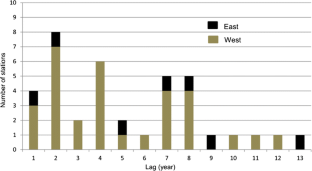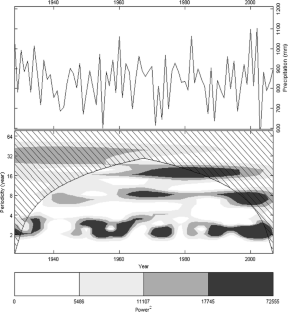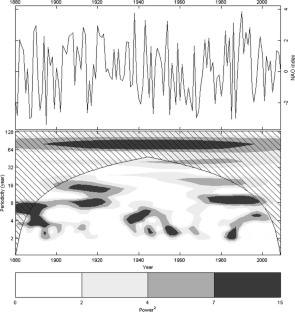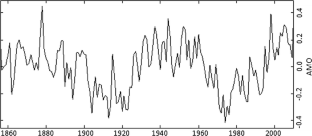 References
Arnell NW (1999) The effect of climate change on hydrological regimes in Europe: a continental perspective. Glob Environ Chang 9:5–23

Barnett C, Hossell J, Perry M, Procter C, Hughes G (2006) Patterns of climate change across Scotland: technical report. SNIFFER Project CC03. Scotland & Northern Ireland Forum for Environmental Research, Edinburgh

Bednorz E, Kossowski T (2004) Long-term changes in snow cover depth in eastern Europe. Clim Res 27:231–236

Beecham S, Chowdhury RK (2010) Temporal characteristics and variability of point rainfall: a statistical and wavelet analysis. Int J Climatol 30:458–473

Benestad RE, Melsom A (2002) Is there a link between the unusually wet autumns in southeastern Norway and sea-surface temperature anomalies? Clim Res 23:67–79

Bice D, Montanari A, Vučetić V, Vučetić M (2012) The influence of regional and global climatic oscillations on Croatian climate. Int J Climatol 32:1537–1557

Black AR, Burns JC (2002) Re-assessing the flood risk in Scotland. The Science of the Total Environment 294:169–184

Brönnimann S, Xoplaki E, Casty C, Pauling A, Luterbacher J (2006) ENSO influence on Europe during the last centuries. Clim Dyn 28:181–197

Brunetti M, Maugeri M, Nanni T (2001) Changes on total precipitation, rainy days and extreme events in northeastern Italy. Int J Climatol 21:861–871

Burn DH, Hag Elnur MA (2002) Detection of hydrologic trends and variability. J Hydrol 255:107–122

Burroughs WJ (2003) Weather cycles: real or imaginary? Cambridge University Press, Cambridge

Burt TP, Adamson JK, Lane AMJ (1998) Long-term rainfall and streamflow records for north central England: putting the Environmental Change Network site at Moor House, Upper Teesdale, in context. Hydrol Sci J 43:775–787

Burt TP, Horton BP (2007) Inter-decadal variability in daily rainfall at Durham (UK) since the 1850s. Int J Climatol 27:945–956

Butler CJ, Coughlin ADS, Fee DT (1998) Precipitation at Armagh Observatory 1838–1997. Biology and Environment: Proceedings of the Royal Irish Academy 98B:123–140

Enfield DB, Mestas-Nunez AM, Trimble PJ (2001) The Atlantic Multidecadal Oscillation and its relation to rainfall over river flows in the continental U.S. Geophys Res Lett 28:2077–2080

Fealy R, Sweeney J (2005) Detection of a possible change point in atmospheric variability in the North Atlantic and its effect on Scandinavian glacier mass balance. Int J Climatol 25:1819–1833

Fowler HJ, Kilsby CG (2002) Precipitation and the North Atlantic Oscillation: a study of climatic variability in Northern England. Int J Climatol 22:843–866

Gagnon AS, Gough WA (2005) Trends in the dates of ice freeze-up and break-up over Hudson Bay, Canada. Arctic 58:370–382

Gerstengarbe F-W, Werner PC (1999) Estimation of the beginning and end of recurrent events within a climate regime. Clim Res 11:97–107

Gleick PH, Adams DB (2000) Water: the potential consequences of climate variability and change. The report of the Water Sector Assessment Team of the National Assessment of the Potential Consequences of Climate Variability and Change For the U.S. Global Change Research Program, U.S. Geological Survey, U.S. Department of the Interior and the Pacific Institute for Studies in Development, Environment, and Security. Oakland, California

Gong D-Y, Shi P-J, Wang J-A (2004) Daily precipitation changes in the semi-arid region over northern China. J Arid Environ 59:771–784

Hamed KH (2008) Trend detection in hydrologic data: the Mann–Kendall trend test under the scaling hypothesis. J Hydrol 349:350–363

Hannaford J, Marsh T (2006) An assessment of trends in UK runoff and low flows using a network of undisturbed catchments. Int J Climatol 26:1237–1253. doi:10.1002/joc.1303

Helsel DR, Hirsch RM (2002) Statistical methods in water resources. Techniques of Water-Resources Investigations, Book 4, chapter A3

Hurrell JW (1995) Decadal trends in the North Atlantic Oscillation and relationships to regional temperature and precipitation. Science 269:676–679

Hurrell JW, Kushnir Y, Ottersen G, Visbeck M (2003) The North Atlantic oscillation: climatic significance and environmental impact. Geophysical Monograph Series 134:1–35

Hurrell JW, van Loon H (1997) Decadal variations in climate associated with the North Atlantic Oscillation. Clim Chang 36:301–326

Jones PD, Conway D (1997) Precipitation in the British Isles: an analysis of area-average data updated to 1995. Int J Climatol 17:427–438

Kampata JM, Parida BP, Moalafhi DB (2008) Trend analysis of rainfall in the headstreams of the Zambezi River Basin in Zambia. Phys Chem Earth 33:621–625

Karagiannidis AF, Bloutsos AA, Maheras P, Sachsamanoglou C (2008) Some statistical characteristics of precipitation in Europe. Theor Appl Climatol 91:193–204

Karpouzos DK, Kavalieratou S, Babajimopoulos C (2010) Trend analysis of precipitation data in Pieria region (Greece). European Water 30:31–40

Kizza M, Rodhe A, Xu CY, Ntale HK, Halldin S (2009) Temporal rainfall variability in the Lake Victoria Basin in East Africa during the twentieth century. Theor Appl Climatol 98:119–135

Knight JR, Folland CK, Scaife AA (2006) Climate impacts of the Atlantic Multidecadal Oscillation. Geophys Res Lett 33, L17706

Kundzewicz ZW, Robson AJ (2004) Change detection in hydrological records—a review of the methodology. Hydrol Sci J 49:7–19

Lazaro R, Rodrigo FS, Gutierrez L, Domingo F, Puigdefabregas J (2001) Analysis of a 30-year rainfall record (1967-1997) in semi-arid SE Spain for implications on vegetation. J Arid Environ 48:373–395. doi:10.1006/jare.2000.0755

Lopez A, Wilby RL, Fung F, New M (2011) Emerging approaches to climate risk management. In: Fung F, Lopez A, New M (eds) Modelling the impact of climate change on water resources. Wiley-Blackwell, Chichester, pp 128–135

Lorenzo MN, Iglesias I, Taboada JJ, Gómez-Gesteira M (2010) Relationship between monthly rainfall in northwest Iberian Peninsula and North Atlantic sea surface temperature. Int J Climatol 30:980–990

Ma LH, Han YB, Yin ZQ (2010) Possible influence of the 11-year solar cycle on precipitation in Huashan Mountain of China over the last 300 years. Earth Moon Planet 107:219–224

Macdonald N, Philips ID, Thorpe J (2008) Reconstruction of long-term precipitation records of Edinburgh: an examination of the mechanisms responsibility of temporal variability in precipitation. Theor Appl Climatol 92:141–154

Mansell MG (1997) The effects of climate change on rainfall trends and flooding risk in the West of Scotland. Nord Hydrol 28:37–50

Mason PJ (2010) Climate variability in civil infrastructure planning. Proceedings of ICE 163:74–80

Massei N, Laignel B, Deloffre J, Mesquita J, Motelay A, Lafite R, Durand A (2010) Long-term hydrological changes of the Seine River flow (France) and their relation to the North Atlantic Oscillation over the period 1950–2008. Int J Climatol 30:2146–2154

Mayes J (1996) Spatial and temporal fluctuations of monthly rainfall in the British Isles and variations in the mid-latitude westerly circulation. Int J Climatol 20:347–364

Mayes J (2000) Changing regional climatic gradients in the United Kingdom. Geogr J 166:125–138

Milly PCD, Betancourt J, Falkenmark M, Hirsch RM, Zbigniew W, Kundzewicz D, Lettenmaier DP, Stouffer RJ (2008) Stationarity is dead: whither water management? Science 319:573–574

Mitosek HT (1995) Climate variability and change within the discharge time series: a statistical approach. Clim Chang 29:101–116

Modarres R, Sarhadi A (2009) Rainfall trend analysis of Iran in the last half of the twentieth century. J Geophys Res 114 (D03101). doi:10.1029/2008JD010707

Murdoch J, Barnes JA (1974) Statistical tables for science, engineering, management and business studies, 2nd edn. Macmillan, London

Nasri M, Modarres R (2009) Dry spell trend analysis of Isfahan Province, Iran. Int J Climatol 29:1430–1438

Osborn TJ, Hulme M, Jones PD, Basnett TA (2000) Observed trends in the daily intensity of United Kingdom precipitation. Int J Climatol 20:347–364

Partal T, Kahya E (2006) Trend analysis in Turkish precipitation data. Hydrol Process 20:2011–2026

Phillips ID, McGregor GR (2002) The relationship between monthly and seasonal South-west England rainfall anomalies and concurrent North Atlantic sea surface temperatures. Int J Climatol 22:197–217

Schmidli J, Frei C (2005) Trends of heavy precipitation and wet and dry spells in Switzerland during the 20th century. Int J Climatol 25:753–771

Seleshi Y, Demaree GR, Delleur JW (1994) Sunspot numbers as a possible indicator of annual rainfall at Addis-Ababa, Ethiopia. Int J Climatol 14:911–923

Sen PK (1968) Estimation of the regression coefficient based on Kendall's tau. J Am Stat Assoc 63:1379–1389

Serra C, Burgueno A, Martinez MD, Lana X (2006) Trends in dry spells across Catalonia (NE Spain) during the second half of 20th century. Theor Appl Climatol 85:165–183

Smadi MM, Zghoul A (2006) A sudden change in rainfall characteristics in Amman, Jordan during the mid 1950s. Am J Environ Sci 2:84–91

Smith K (1995) Precipitation over Scotland, 1757-1992: some aspects of temporal variability. Int J Climatol 15:543–556

Sneyers R (1990) On statistical analysis of series of observations. Technical Note No 143. Geneva. Switzerland: World Meteorological Society

Sutton RT, Hodson DLR (2005) Atlantic Ocean forcing of the North American and European summer climate. Science 309:115–118

Sweeney JC, O'Hare GP (1992) Geographical variations in precipitation yields and circulation types in Britain and Ireland. Trans Inst Br Geogr 17:448–463

Tabony RC (1979) A spectral and filter analysis of long-period rainfall records in England and Wales. Meteorol Mag 108:97–118

Thomas RG (1993) Rome rainfall and sunspot numbers. J Atmos Terr Phys 55:155–164

Torrence C, Compo GP (1998) A practical guide to wavelet analysis. Bull Am Meteorol Soc 79:61–78

Tošić I (2004) Spatial and temporal variability of winter and summer precipitation over Serbia and Montenegro. Theor Appl Climatol 77:47–56

UK Meteorological Office (2006). MIDAS Land Surface Station data (1853-current), [internet]. NCAS British Atmospheric Data Centre. Available from http://badc.nerc.ac.uk/view/badc.nerc.ac.uk__ATOM__dataent_ukmo-midas

Waple AM (1999) The sun-climate relationship in recent centuries: a review. Prog Phys Geogr 23:309–328

Węglarczyk S (2009) On the stationarity of extreme levels of some Polish lakes. I. Preliminary results from statistical test. Limnological Reviews 9:129–138

Werritty A, Foster M (1998) Climate variability and recent changes in rainfall and river flows in Scotland. In: Lemmelä R, Helenius N (eds) Proceedings of the 2nd International Conference on Climate and Water Espoo, Finland, 17–20 August 1998. pp 1110–1119

Werrity A (2002) Living with uncertainty: climate change, river flows and water resource management in Scotland. Sci Total Environ 294:29–40

Worsley KJ (1979) On the likelihood ratio test for a shift in location of normal populations. J Am Stat Assoc 74:365–367

Yang Y, Tian F (2009) Abrupt change of runoff and its major driving factors in Haihe River catchment, China. J Hydrol 374:373–383

Yue S, Pilon P, Phinney B, Cavadias G (2002) The influence of autocorrelation on the ability to detect trend in hydrological series. Hydrol Process 16:1807–1829
Acknowledgments
The authors are thankful to the British Atmospheric Data Centre (BADC) for providing the daily precipitation data, which were downloaded from URL: http://badc.nerc.ac.uk/mybadc. The authors also wish to thank Dr Ewan MacArthur for answering our statistical queries and Ms Irina Foss for her help with the wavelet analyses. In addition, the authors thank all scientists who have made their R packages available online. A.S. Gagnon acknowledges financial support from the Scottish Alliance for Geoscience, Environment and Society (SAGES).
About this article
Cite this article
Afzal, M., Gagnon, A.S. & Mansell, M.G. Changes in the variability and periodicity of precipitation in Scotland. Theor Appl Climatol 119, 135–159 (2015). https://doi.org/10.1007/s00704-014-1094-2
Received:

Accepted:

Published:

Issue Date:
Keywords
North Atlantic Oscillation

Rainfall Variability

North Atlantic Oscillation Index

Total Annual Precipitation

Atlantic Multidecadal Oscillation