Abstract
The drought conditions over the seven sub-climatological regions in Vietnam are examined using three meteorological drought indices: de Martonne J, PED, and Standardized Precipitation Index (SPI). According to the seasonal probabilities of drought occurrence estimated by the de Martonne index, droughts mainly occur between November and March in all the sub-regions. The PED index and the SPI index generally show high probabilities of drought occurrence from April to August and from May to October, respectively. In the southern sub-regions of Vietnam, droughts more frequently occur in El Niño years and wet conditions are more frequently observed in La Niña years. However, such El Niño–Southern Oscillation influences are not clearly observed in the northern sub-regions. During 1961–2007, droughts significantly increased in the northern part of Vietnam. In the southern regions, PED shows increasing drought conditions while J and SPI show decreasing drought trends for almost all the stations.
Access options
Buy single article
Instant access to the full article PDF.
USD 39.95
Price excludes VAT (USA)
Tax calculation will be finalised during checkout.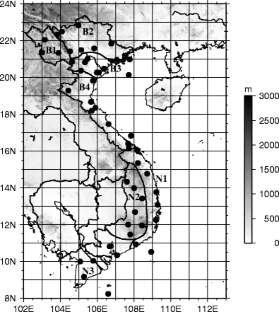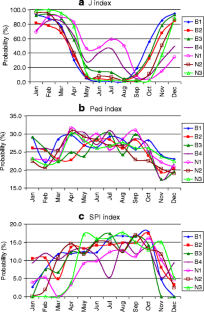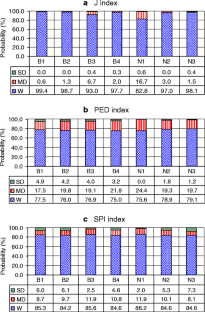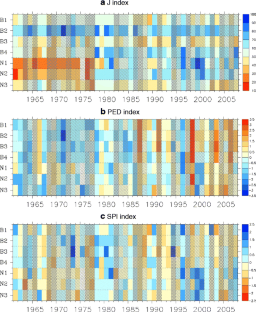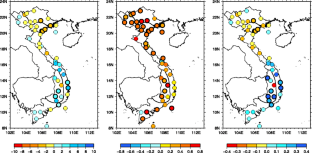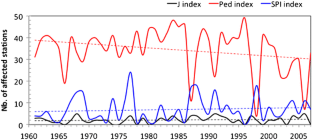 References
Alley WM (1984) The Palmer Drought Severity Index: limitations and assumptions. J Clim Appl Meteorol 23:1100–1109

de Martonne E (1926) Une nouvelle fonction climatologique: L'Indece d'aridite. La Meteorol 2:449–458

Endo N, Matsumoto J, Lwin T (2009) Trends in precipitation extremes over Southeast Asia. SOLA 5:168–171

Friedman D.G. (1957) The prediction of long-continuing drought in south and souhtwest Texas. Occational Papers in Meteorology, No.1, The Travelers Weather Research Center, Hartford, CT, 182 pp.

Heim RR (2002) A review of twentieth-century drought indices used in the United States. Bull Am Meteorol Soc 83:1149–1165

Juneng L, Tangang FT (2005) Evolution of ENSO-related rainfall anomalies in Southeast Asia region and its relationship with atmosphere–ocean variations in Indo-Pacific sector. Clim Dyn 25:337–350

Kendall MG (1975) Rank Correlation Methods. Charles Griffin, London, 272 pp

Kousky VE, Higgins RW (2007) An alert classification system for monitoring and assessing the ENSO Cycle. Wea. Forecast 22:353–371

Lyon B (2004) The strength of El Niño and the spatial extent of tropical drought. Geophys Res Lett 31, L21204. doi:10.1029/2004GL020901

McKee T.B., Doesken N.J., Kleist J. (1993) The relationship of drought frequency and duration to time scales. Preprints, Eighth Conference on Applied Climatology, January 17–22, Anaheim, California, pp. 179–184.

Morid S, Smakhtin VU, Moghaddasi M (2006) Comparision of seven meteorological indices for drought monitoring in Iran. Int J Climatol 26:971–985

Ngu ND, Hieu NT (2004) Vietnam Climate and Climatic Resources. Agriculture Publisher, Hanoi, 296 pp. (in Vietnamese)

Nguyen-Thi HA, Matsumoto J, Ngo-Duc T, Endo N (2012) A climatological study of tropical cyclone rainfall in Vietnam. SOLA 8:041–044

Oladipio EO (1985) A comparative performance analysis of three meteorological drought indices. Int J Climatol 5:655–664

Palmer W.C. (1965) Meteorological drought. Research Paper 45, U.S. Department of Commerce, Weather Bureau, Washington D.C., 58 pp.

Ped DA (1975) On indicators of droughts and wet conditions (in Russian). Proc USSR Hydrometeor Cent 156:19–39

Phan VT, Ngo-Duc T, Ho TMH (2009) Seasonal and interannual variations of surface climate elements over Vietnam. Clim Res 40:49–60

Rajagopalan B, Cook E, Lall U, Ray BK (2000) Spatiotemporal variability of ENSO and SST teleconnections to summer drought over the United States during the twentieth century. J Clim 13:4244–4255

Ropelewski CF, Halpert MS (1987) Global and regional scale precipitation patterns associated with the El Niño-Southern Oscillation (ENSO). Mon Weather Rev 115:1606–1626

Sen PK (1968) Estimates of the Regression Coefficient Based on Kendall's Tau. J Am Stat Assoc 63(324):1379–1389

Smakhtin V.U., Hughes D.A. (2004) Review, Automated Estimation and Analyses of Drought Indices in South Asia. IWMI Working Paper N 83 – Drought Series Paper N 1. IWMI: Colombo; 24.

Wu H, Hayes MJ, Welss A, Hu Q (2001) An evaluation the standardized precipitation index, the china-Z index and the statistical Z-score. Int J Climatol 21:745–758

Yen MC, Chen TC, Hu HL, Tzeng RY, Dinh DT, Nguyen TTT, Wong CJ (2011) Interannual variation of the fall rainfall in Central Vietnam. J Meteor Soc Japan 89A:259–270
Acknowledgments
This research was supported by the Vietnam Ministry of Science and Technology Foundation (DT.NCCB-DHUD.2011-G/10), the 11-P04-VIE DANIDA project, and the Vietnam National Foundation for Science and Technology Development (NAFOSTED, code 105.06-2013.03).
About this article
Cite this article
Vu-Thanh, H., Ngo-Duc, T. & Phan-Van, T. Evolution of meteorological drought characteristics in Vietnam during the 1961–2007 period. Theor Appl Climatol 118, 367–375 (2014). https://doi.org/10.1007/s00704-013-1073-z
Received:

Accepted:

Published:

Issue Date:

DOI: https://doi.org/10.1007/s00704-013-1073-z
Keywords
Tropical Cyclone

Drought Condition

Standardize Precipitation Index

Occurrence Probability

Drought Index