Abstract
For 50 years of long observation period (1960–2009), on a high level of statistical significance (95 %), a decreasing trend of annual precipitation amounts and an increasing trend of the number of rainy days during the year (64 %) were found. For the seasonal changes (V–X), similarly, there was found a statistically significant (94 %) decreasing precipitation amount trend and an increasing trend of the number of rainy days (50 %). As far as the intensity of maximum precipitation is concerned, a very statistically significant increasing trend (95 %) was found. Taking as the basis, the model for a trend, defined for the period of 1960–2009, the increase of weighted average interval values of maximum precipitation amounts (h ≥ 0.75 t 0.5) in the year 2059 was estimated to be about 26 %, in comparison with the starting year 1960. An increasing trend of maximum precipitation frequency in Wrocław was also proved. To a safe sewerage systems designing in Wrocław according to current standards (EN 752 2008; DWA-A118 2006), the precipitation frequency to the simulations of excessive accumulation occurrences to the land level should be changed.
Access options
Buy single article
Instant access to the full article PDF.
USD 39.95
Price excludes VAT (USA)
Tax calculation will be finalised during checkout.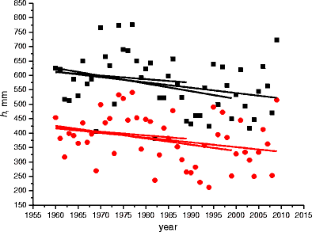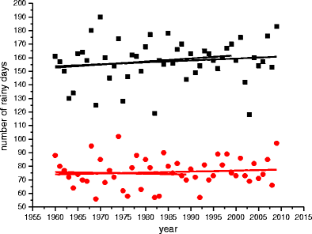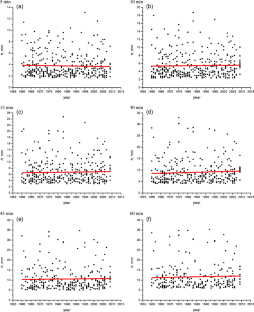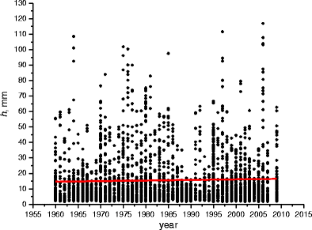 References
Arbeitsblatt DWA-A118 (2006) Hydraulische Bemessung und Nachweis von Entwässerungssystemen. DWA, Hennef

Arnbjerg-Nielsen K (2008) Quantification of climate change impacts on extreme precipitation used for design of sewer systems. 11th International Conference on Urban Drainage, 31 August - 5 September 2008, Edinburgh, Scotland

Buishand TA, De Martino G, Spreeuw JN, Brandsma T (2012) Homogeneity of precipitation series in the Netherlands and their trends in the past century. Int J Climatol. doi:10.1002/joc.3471

Dąbrowski W, Dąbrowska B (2012) The likely impact of climate change on sewerage systems dysfunction. Gaz Woda i Technika Sanitarna 86(1):17–20

De Toffol S, Laghari AN, Rauch W (2008) Quantification of climate change impacts on extreme precipitation used for design of sewer systems. Are extreme rainfall intensities more frequent? Analysis of trends in rainfall patterns relevant to urban drainage systems. 11th International Conference on Urban Drainage, 31 August - 5 September 2008, Edinburgh, Scotland

EN 752 (2008) Drain and sewer systems outside buildings. PKN, Warsaw

European Commission (2007) Combating climate change+the UE Leeds the waz. Europe on the move series

ExUS (Extremwertstatistische Untersuchung von Starkniederschlägen) in NRW (2010) Veränderung in Dauer, Intensität und Raum auf Basis beobachteter Ereignisse und Auswirkungen auf Eintretenswahrscheinlichkeit. Landesamt für Natur, Umwelt und Verbraucherschutz Nordrhein-Westfalen, Essen

Gerstengarbe F (2009) Klimawandel in Ballungsräumen: Das Beispiel Ruhrgebiet. Potsdam-Institut für Klimafolgenforschung (PIK). Vortrag im Bildungszentrum für die Entsorgungs- und Wasserwirtschaft GmbH, Essen, Germany

IPCC (2007) Summary for Policymakers. In: Climate Change 2007, Solomon S, Qin D, Manning M, Chen Z, Marquis M, Averyt KB, Tignor M and Miller HL (eds) The Physical Science Basis. Contribution of Working Group I to the Fourth Assessment Report of the Intergovernmental Panel on Climate Change Cambridge University Press, Cambridge, New York

Kaźmierczak B, Kotowski A (2012) Verification of storm water drainage capacity in hydrodynamic modeling. The Publishing House of Wrocław University of Technology, Wrocław

Kotowski A, Kaźmierczak B (2013) Probabilistic models of maximum precipitation for designing sewerage. J Hydrometeorol. doi:10.1175/JHM-D-13-01.1

Kotowski A, Kaźmierczak B, Dancewicz A (2010) The modelling of precipitations for the dimensioning of sewage systems. The Publishing House of the Civil Engineering Committee the Polish Academy of Sciences, Warsaw, Monograph no. 68

Kotowski A, Dancewicz A, Kaźmierczak B (2011) Accuracy of measurements of precipitation amount using standard and tipping bucket pluviographs in comparison to Hellmann rain gauges. Environ Prot Eng 37(2):23–34

Landerink G, Meijgaard E (2008) Increase in hourly precipitation extremes beyond expectations from temperature changes. Nat Geosci. doi:10.1038/ngeo262

Larsen AN, Gregorsen IB, Christensen OB, Linde JJ, Mikkelsen PS (2009) Potential future increase in extreme one-hour precipitation events over Europe due to climate change. Water Sci Technol. doi:10.2166/wst.2009.650

LFU (2009) Bemessung von Misch- und Regenwasserkanälen. Teil 1: Klimawandel und möglicher Anpassungsbedarf. Referat 66 des Bayerischen Landesamtes für Umwelt, Merkblatt Nr. 4.3/3

Nguyen VTV, Desramaut N, Nguyen TD (2008) Estimation of urban design storms in consideration of GCM-based climate change scenarios. International Conference on 'Water & Urban Development Paradigms: towards an integration of engineering, design and management approaches. CRC Press, Taylor & Francis Group, Leuven, pp 347–356

Olsson J, Berggren K, Olofsson M, Viklander M (2009) Applying climate model precipitation scenarios for urban hydrological assessment: a case study in Kalmar City Sweden. Atmos Res. doi:10.1016/j.atmosres.2009.01.015

Onof C, Arnbjerg-Nielsen K (2009) Quantification of anticipated future changes in high resolution design rainfall for urban areas. Atmos Res. doi:10.1016/j.atmosres.2009.01.014

Pińskwar I (2010) Projections of changes in precipitation extremes in Poland. The Publishing House of Committee on Water Resources Management of the Polish Academy of Sciences, Warsaw, Monograph no. 32

Schlünzen KH, Hoffmann P, Rosenhagen G, Riecke W (2010) Long-term changes and regional differences in temperature and precipitation in the metropolitan area of Hamburg. Int J Climatol. doi:10.1002/joc.1968

Schmidli J, Frei C (2005) Trends of heavy precipitation and wet and dry spells in Switzerland during the 20th century. Int J Climatol. doi:10.1002/joc.1179

Schmitt TG (2000) Kommentar zum Arbeitsblatt A 118 "Hydraulische Bemessung und Nachweis von Entwässerungssystemen". DWA, Hennef

Siekmann M, Pinnekamp J (2011) Indicator based strategy to adapt urban drainage systems in regard to the consequences caused by climate change. 12th International Conference on Urban Drainage, Porto Alegre/Brazil, 11–16 September 2011

Słyś D, Stec A (2012) Hydrodynamic modeling of the combined sewage system for the city of Przemyśl. Environ Prot Eng 38(4):99–112

Staufer P, Leckebusch G, Pinnekamp J (2010) Die Ermittlung der relevanten Niederschlags-charakteristik für die Siedlungsentwässerung im Klimawandel. KA - Korrespondenz Abwasser, Abfall (Jg. 57), H. 12

Sunyer MA, Madsen A (2009) A comparison of three weather generators for extreme rainfall simulation in climate change impact studies. 8th International Workshop on Precipitation in Urban Areas, 10–13 December 2009, St. Moritz, Switzerland, pp. 109–113

Willems P (2011) Revision of urban drainage design rules based on extrapolation of design rainfall statistics. 12th International Conference on Urban Drainage, Porto Alegre/Brazil, 11–16 September 2011
About this article
Cite this article
Kaźmierczak, B., Kotowski, A. The influence of precipitation intensity growth on the urban drainage systems designing. Theor Appl Climatol 118, 285–296 (2014). https://doi.org/10.1007/s00704-013-1067-x
Received:

Accepted:

Published:

Issue Date:

DOI: https://doi.org/10.1007/s00704-013-1067-x
Keywords