Abstract
East Asia summer rainfall is of great social–economic importance. Based on observations, reanalysis and simulations of 16 Coupled Models Intercomparison Project phase 5 (CMIP5) models, the responses of East Asia summer precipitation, as well as some relevant features, to global warming are investigated. The CMIP5 historical simulation reasonably reproduces the climatology of summer rainfall, the associated circulation, the moisture and its transportation, and the mid-troposphere horizontal advection of temperature as well. Under global warming, the rainfall enhancement is robustly projected in the state-of-the-art models over North China, Northeast China, northern coast of Japan and the Kuroshio. As well, the total summer rainfall over East Asia is consistently increased in the models. For the consistent responses, the moisture budget analysis based on the simulations shows that two factors are responsible: one is increased moisture. As East Asia is a climatological ascent region in northern summer, increased moisture induced by global warming leads to more moisture transported upward and thus the rainfall rise. The other is enhanced evaporation, which may be caused by surface warming and provides more precipitable water to the atmosphere column. Furthermore, the results may provide some implications to the long-term variability of East Asia summer rainfall over the last several decades.
Access options
Buy single article
Instant access to the full article PDF.
USD 39.95
Price excludes VAT (USA)
Tax calculation will be finalised during checkout.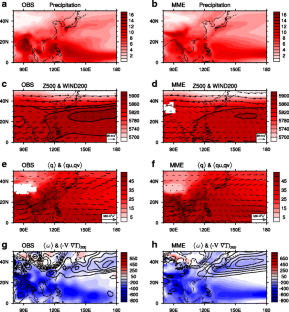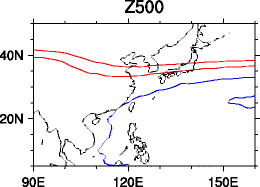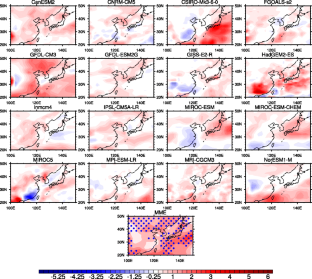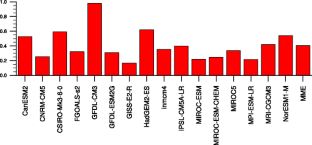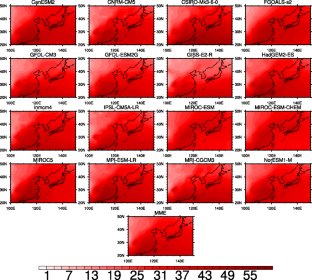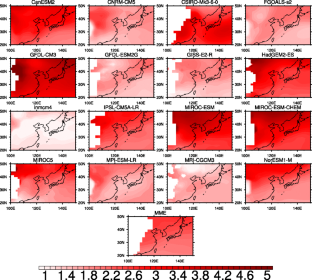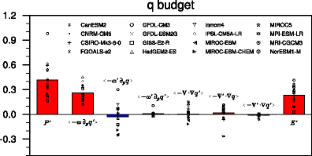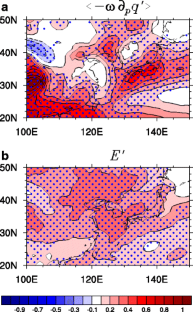 Reference
Bueh C (2003) Simulation of the future change of East Asian monsoon climate using the IPCC SRES A2 and B2 scenarios. Chin Sci Bull 48(10):1024–1030

Chou C, Neelin JD (2004) Mechanisms of global warming impacts on regional tropical precipitation. J Clim 17(13):2688–2701

Chou C, Neelin JD, Chen CA, Tu JY (2009) Evaluating the "rich-get-richer" mechanism in tropical precipitation change under global warming. J Clim 22(8):1982–2005

Ding Q, Wang B (2005) Circumglobal teleconnection in the Northern Hemisphere summer. J Clim 18(17):3483–3505

Huang R, Sun F (1992) Impact of the tropical western Pacific on the East Asian summer monsoon. J Meteor Soc Japan 70(1):243–256

Huang R, Zhang Z, Huang G, Ren B (1998) Characteristics of the water vapor transport in East Asian monsoon region and its differences from that of South Asian monsoon region in summer. Chinese J Atmos Sci 22(4):368–379

Huang R, Chen J, Huang G (2007) Characteristics and variations of the East Asian monsoon system and its impacts on climate disasters in China. Adv Atmos Sci 24(6):993–1023

Huang G, Qu X, Hu K (2011) The impact of the tropical Indian Ocean on the South Asian High in boreal summer. Adv Atmos Sci 28(2):421–432

Kalnay E, Kanamitsu M, Kistler R, Collins W, Deaven D, Gandin L, Iredell M, Saha S, White G, Woollen J (1996) The NCEP/NCAR 40-year reanalysis project. Bull Am Meteorol Soc 77(3):437–471

Kim D-W, Byun H-R (2009) Future pattern of Asian drought under global warming scenario. Theor Appl Climatol 98(1):137–150

Kosaka Y, Xie SP, Nakamura H (2011) Dynamics of interannual variability in summer precipitation over East Asia. J Clim 24(20):5435–5453

Kripalani R, Oh J, Chaudhari H (2007) Response of the East Asian summer monsoon to doubled atmospheric CO2: coupled climate model simulations and projections under IPCC AR4. Theor Appl Climatol 87(1):1–28

Liang XZ, Wang WC (1998) Association between China monsoon rainfall and tropospheric jets. Quart J Roy Meteor Soc 124(552):2597–2623

Liu Y, Hoskins B, Backburn M (2007) Impact of Tibetan orography and heating on the summer flow over Asia. J Meteor Soc Japan 85:1–19

Lu R, Fu Y (2010) Intensification of East Asian summer rainfall interannual variability in the twenty-first century simulated by 12 CMIP3 coupled models. J Clim 23(12):3316–3331

Qu X, Huang G (2012) Impacts of tropical Indian Ocean SST on the meridional displacement of East Asian jet in boreal summer. Int J Climatol 32(13):2073–2080

Sampe T, Xie SP (2010) Large-scale dynamics of the Meiyu-Baiu rainband: environmental forcing by the westerly jet. J Clim 23(1):113–134

Sun Y, Ding YH (2010) A projection of future changes in summer precipitation and monsoon in East Asia. Sci China Earth Sci 53(2):284–300

Tao SY, Chen LX (1987) A review of recent research on the East Asian summer monsoon in China. In: Chang CP, Krishnamurti TN (eds) Monsoon meteorology. Oxford University Press, Oxford, pp 60–92

Thomson AM, Calvin KV, Smith SJ, Kyle GP, Volke A, Patel P, Delgado-Arias S, Bond-Lamberty B, Wise MA, Clarke LE (2011) RCP4. 5: a pathway for stabilization of radiative forcing by 2100. Clim Chan 109(1):77–94

Wu R, Wang B (2002) A contrast of the East Asian summer monsoon–ENSO Relationship between 1962–77 and 1978–93. J Clim 15(22):3266–3279

Xie P, Arkin PA (1997) Global precipitation: a 17-year monthly analysis based on gauge observations, satellite estimates, and numerical model outputs. Bull Am Meteorol Soc 78(11):2539–2558

Zhang Q, Wu G, Qian Y (2002) The bimodality of the 100 hPa South Asia high and its relationship to the climate anomaly over East Asia in summer. J Meteor Soc Japan 80(4):733–744

Zhou T, Gong D, Li J, Li B (2009) Detecting and understanding the multi-decadal variability of the East Asian summer monsoon recent progress and state of affairs. Meteorol Z 18(4):455–467
Acknowledgments
We acknowledge the World Climate Research Program's Working Group on Coupled Modeling, which is responsible for CMIP, and we thank the climate modeling groups (listed in Table 1 of this paper) for producing and making available their model output. For CMIP, the U.S. Department of Energy's Program for Climate Model Diagnosis and Intercomparison provides coordinating support and led development of software infrastructure in partnership with the Global Organization for Earth System Science Portals. The study was supported by National Basic Research Program of China (973 Program) grants 2012CB955604, 2011CB309704,the National Natural Sciences Foundation of China grant 41205050, Open Research Fund Program of Plateau Atmosphere and Environment Key Laboratory of Sichuan Province grant PAEKL-2013-K2 and CityU Strategic Research grant 700278.
About this article
Cite this article
Qu, X., Huang, G. & Zhou, W. Consistent responses of East Asian summer mean rainfall to global warming in CMIP5 simulations. Theor Appl Climatol 117, 123–131 (2014). https://doi.org/10.1007/s00704-013-0995-9
Received:

Accepted:

Published:

Issue Date:

DOI: https://doi.org/10.1007/s00704-013-0995-9
Keywords