Abstract
The Trans-Himalaya region boasts an immense biodiversity which includes several threatened species and supports the livelihood of local human populations. Our aim in this study was to evaluate the impact of recent climate change on the biodiversity and human inhabitants of the upper Mustang region of the Trans-Himalaya, Nepal. We found that the average annual temperature in the upper Mustang region has increased by 0.13 °C per year over the last 23 years; a higher annual temperature increase than experienced in other parts of Himalaya. A predictive model suggested that the mean annual temperature will double by 2161 to reach 20 °C in the upper Mustang region. The combined effects of increased temperature and diminished snowfall have resulted in a reduction in the area of land suitable for agriculture. Most seriously affected are Samjung village (at 4,100 m altitude) and Dhey village (at 3,800 m) in upper Mustang, where villagers have been forced to relocate to an area with better water availability. Concurrent with the recent change in climate, there have been substantial changes in vegetation communities. Between 1979 and 2009, grasslands and forests in the Mustang district have diminished by 11 and 42 %, respectively, with the tree line having shifted towards higher elevation. Further, grasses and many shrub species are no longer found in abundance at higher elevations and consequently blue sheep (Pseduois nayaur) move to forage at lower elevations where they encounter and raid human crops. The movement of blue sheep attracts snow leopard (Panthera uncia) from their higher-elevation habitats to lower sites, where they encounter and depredate livestock. Increased crop raiding by blue sheep and depredations of livestock by snow leopard have impacted adversely on the livelihoods of local people.
Access options
Buy single article
Instant access to the full article PDF.
US$ 39.95
Tax calculation will be finalised during checkout.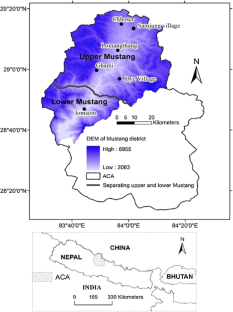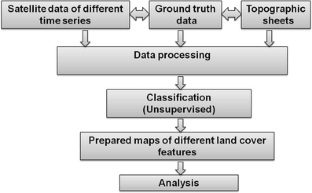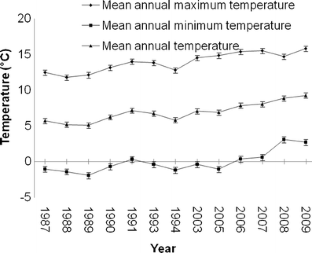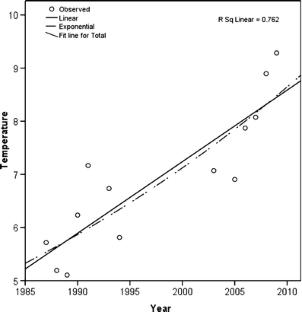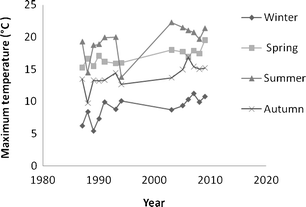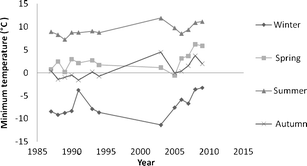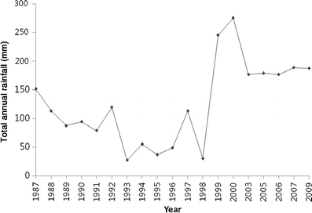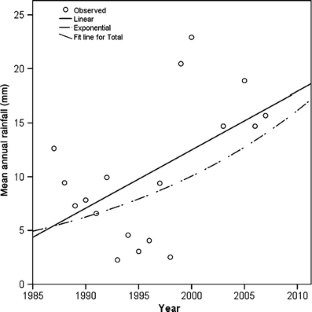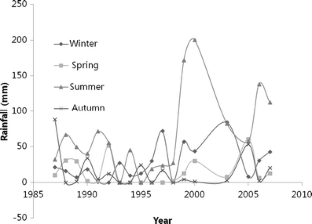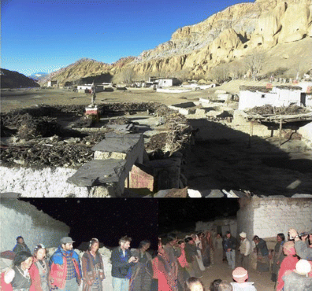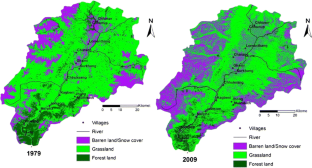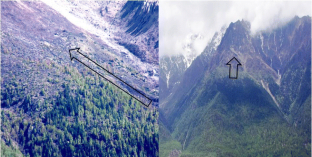 References
Agapiou A, Hadjimitsis DG, Papoutsa C, Alexakis DD, Papadavid G (2011) The importance of accounting for atmospheric effects in the application of NDVI and interpretation of satellite imagery supporting archaeological research: the case studies of Palaepaphos and Nea Paphos sites in Cyprus. Remote Sens 3:2605–2629

Aryal A, Gastaur S, Menzel S, Chhetri TB, Hopkins J (2010) Estimation of blue sheep population parameters in the Dhorpatan Hunting Reserve, Nepal. Int J Biodivers Conserv 2:51–56

Aryal A, Hipkins J, Ji W, Raubeinhimer D, Brunton D (2012a) Distribution and diet of brown bear in Annapurna Conservation Area, Nepal. Ursus 23:231–236

Aryal A, Raubenheimer D, Ji W, Brunton D (2012b) Blue sheep and snow leopard: prey population density, distribution and habitat use of a principal prey species determines the carrying capacity for the predator. Integr Zool. doi:10.1111/1749-4877.12004

Aryal A, Raubenheimer D, Sathyakumar S, Poudel BS, Ji W, Kunwar KJ, Kok J, Kohshima S, Brunton D (2012c) Conservation strategy for brown bear and its habitat in Nepal. Diversity 4:301–317

Xiros C, Topakas E, Christakopoulos P (2012) Hydrolysis and fermentation for cellulosic ethanol production. Wiley Interdiscip Rev Energ Env. doi:10.1002/wene.49

Bagchi S, Mishra C, Bhatnagar YV (2004) Conflicts between traditional pastoralism and conservation of Himalayan ibex (Capra sibirica) in the Trans-Himalayan mountains. Anim Conserv 7:121–128

Bates BC, Kundzewicz ZW, Wu S, Palutikof JP (2008) Climate change and water. Technical paper VI. Intergovernmental Pannel on Climate Change, Geneva, Switzerland, p 210

Beniston M (2003) Climate change in mountain regions: a review of possible impacts. Clim Chang 59:5–31

Berkes F (1999) Indigenous knowledge systems and resource management systems in the Canadian subarctic. In: Berkes F, Folke C (eds) Linking social and ecological systems. Cambridge University Press, Cambridge, UK, pp 98–128

Bhandari S, Phinn S, Gill T (2012) Preparing Landsat Image Time Series (LITS) for monitoring changes in vegetation phenology in Queensland Australia. Remote Sens 4:1856–1886

Bhattarai S, Chaudhary RP, Quave SL, Taylor RSL (2010) The use of medicinal plants in the Trans-Himalayan arid zone of Mustang district, Nepal. J Ethnobiol Ethnomed 6:14. doi:10.1186/1746-4269-6-14

Chaudhary P, Bawa KS (2011) Local perceptions of climate change validated by scientific evidence in the Himalayas. Biol Lett. doi:10.1098/rsbl.2011.0269

Chaudhary P, Rai S, Wangdi S, Mao A, Rehman N, Chettri S, Bawa KS (2011) Consistency of local perceptions of climate change in the Kangchenjunga Himalayas landscape. Curr Sci 101:504–513

Chetri M, Gurung CR. 2004. Vegetation composition, species performance and its relationship among livestock and wildlife in the grassland of Upper Mustang, Nepal. In: Jincheng Z, Xiangdong Z, Jianlin H, Zhihua C, editors. Yak Production in Central Asian Highlands, Proceedings of the Fourth International Congress on Yak. Sichuan, China: Sichuan Publishing Group, Sichuan Publication House of Science and Technology, pp 235–244.

Christensen M, Heilmann-Clausen J (2009) Forest biodiversity gradients and the human impact in Annapurna Conservation Area, Nepal. Biodivers Conserv 18:2205–2221

Comiso JC (2003) Warming trends in the Arctic from clear sky satellite observations. J Climate 16:3498–3510

Cruikshank J (2001) Glaciers and climate change: perspectives from oral tradition. Arctic 54:377–393

Cruz RV, Harasawa H, Lal M, Wu S, Anokhin Y, Punsalmaa B, Honda Y, Jafari M, Li C, Huu Ninh N (2007) In: Parry ML, Canziani OF, Palutikof JP, van der Linden PJ, Hanson CE (eds) Asia climate change 2007: impacts, adaptation and vulnerability. Contribution of Working Group II to the fourth assessment report of the Intergovernmental Panel on Climate Change. Cambridge University Press, Cambridge, UK, pp 469–506

Dong S, Lassoie J, Shrestha KK, Yan Z, Sharma K, Pariya D (2009) Institutional development for sustainable rangeland resource and ecosystem management in mountainous areas of northern Nepal. J Environ Manag 90:994–1003

Dubey B, Yadav R, Singh J, Chaturvedi R (2003) Upward shift of Himalayan pine in Western Himalaya, India. Curr Sci 85:1135–1136

Fox S (2002) These are things that are really happening: Inuit perspectives on the evidence and impacts of climate change in Nunavut. In: Krupnik I, Jolly D (eds) The earth is faster now: indigenous observations of Arctic environmental change. Arctic Research Consortium of the United States, Fairbanks, AK, USA, pp 12–53

Government of Nepal (2010) Mustang District profile. District Statistical Office, Government of Nepal, Mustang District, Nepal, p 87

Harsch MA, Hulme PE, McGlone MS, Duncan RP (2009) Are treelines advancing? A global meta-analysis of treeline response to climate warming. Ecol Lett 12:1040–1049

Hofer T, Messerli B (2006) Floods in Bangladesh: history, dynamics and rethinking the role of the Himalayas. United Nations University Press, Tokyo, Japan, ISBN 92 808 1121 5, (paperback), pp. xxx + 468 pp

IPCC (2001) Climate change 2001: synthesis report. Cambridge University Press, Cambridge, UK, pp 1–396

Klanderud K, Birks HJB (2003) Recent increases in species richness and shifts in altitudinal distributions of Norwegian mountain plants. Holocene 13:1–6

Locky H, Mackey B (2009) The nature of climate change: reunite international climate change mitigation efforts with biodiversity conservation and wilderness protection. Int J Wilderness 15(2):7–14

Ma X, Xu JC, Luo Y, Aggarwal SP, Li JT (2009) Response of hydrological processes to land cover and climate change in kejie watershed, Southwest china. Hydrol Process. doi:10.1002/hyp.7233

Menzel A, Sparks TH, Estrella N, Koch E, Aasa A, Ahas R, Alm-Kübler K, Bissolli P, Braslavská O, Briede A, Chmielewski FM, Crepinsek Z, Curnel Y, Dahl Å, Defila C, Donnelly A, Filella Y, Jatczak K, Måge F, Mestre A, Nordli Ø, Peñuelas J, Pirinen P, Remišová V, Scheifinger H, Striz M, Susnik A, Van Vliet AJH, Wielgolaski FE, Zach S, Zust A (2006) European phenological response to climate change matches the warming pattern. Glob Chang Biol 12:1969–1976

Mishra C, Wierenvan SE, Ketner P, Heitkonig MA, Prins HHT (2004) Competition between domestic livestock and wild bharal Pseudois nayaur in the Indian Trans-Himalaya. J Appl Ecol 41:344–354

Montgomery DC, Peck EA, Vining GG (2006) Introduction to linear regression analysis, 4th edn. Wiley, Hoboken, NJ, USA, pp 1–152

Moritz C, Patton JL, Conroy CJ, Parra JL, White GC, Beissinger SR (2008) Impact of a century of climate change on small-mammal communities in Yosemite National Park, USA. Science 322:261–264

Namgail T (2009) Mountain ungulates of the trans-Himalayan region of Ladakh, India. Int J Wilderness 15:35–40

Namgail T, Fox JL, Bhatnagar YV (2007) Habitat shift and time budget of the Tibetan argali: the influence of livestock grazing. Ecol Res 22:25–31

Nuttall M (2001) Indigenous peoples and climate change research in the Arctic. Indigenous Aff 4:26–34

Oli MK, Taylor IR, Rogers ME (1993) Diet of the snow leopard (Panthera uncia) in the Annapurna Conservation Area, Nepal. J Zool 231:365–370

Parmesan C (2006) Ecological and evolutionary responses to recent climate change. Annu Rev Ecol Evol Syst 37:637–669

Paudel KP, Andersen P (2010) Assessing rangeland degradation using multi temporal satellite images and grazing pressure surface model in Upper Mustang, Trans Himalaya, Nepal. Remote Sens Environ 114(6):1845–1855

Pounds JA, Bustamente MR, Coloma LA, Consuegra JA, Fogden MPL (2006) Widespread amphibian extinctions from epidemic disease driven by global warming. Nature 439:161–167

Riedlinger D, Berkes F (2001) Contributions of traditional knowledge to understanding climate change in the Canadian Arctic. Polar Rec 37:315–328

Schaller G (1998) Wildlife of the Tibetan Steppe. University of Chicago Press, Chicago, IL, USA, pp 1–373

Sharma E, Tsering K (2009) Climate change in the Himalayas: the vulnerability of biodiversity. Sustain Mt Dev 55:10–12

Sharma E, Chettri N, Tse-ring K, Shrestha AB, Jing F, Mool P, Eriksson M (2009) Climate change impacts and vulnerability in the Eastern Himalayas. ICIMOD, Kathmandu, Nepal, pp 1–27, ISBN 978 92 9115 136 3 (electronic)

Shrestha UB, Gautam S, Bawa KS (2012) Widespread climate change in the Himalayas and associated changes in local ecosystems. PLoS One 7:e36741

SPSS (2007) SPSS Inc. SPSS for windows, version 16.0. SPSS Inc, Chicago, IL, USA

USGS (2011) EarthExplore (satellite images). http://earthexplorer.usgs.gov/. Accessed 8 March 2011

Wichmann MC, Groeneveld J, Jeltscha F, Grimm V (2005) Mitigation of climate change impacts on raptors by behavioural adaptation: ecological buffering mechanisms. Glob Planet Chang 47:273–281

Wilkes A (2008) Towards mainstreaming climate change in grassland management: policies and practices on the Tibetan Plateau. Working paper no. 67. World Agroforestry Centre, Nairobi, Kenya, p 43

Xu J, Grumbine R, Shrestha A, Eriksson M, Yang X, Wang Y, Wilkes A (2009) The melting Himalayas: cascading effects of climate change on water, biodiversity, and livelihoods. Conserv Biol 23:520–530
Acknowledgments
We thank the National Trust for Nature Conservation/Annapurna Conservation Area Project for providing permission to conduct research. We thank Massey University Research Fund for providing financial support for the project. Thanks are extended to Shambhu Paudel, Funjok Gurung, Sonam Gurung, Doma Gurung, and Bikash Adhikari for their support in data collection and Amir Maharjan for his support to data entry. Special thanks to Saroj Koirala and Santosh Bhandari (GIS and remote sensing expert) for their generous assistance and instruction in running the satellite images and classification.
Appendix
Appendix
Table 4
About this article
Cite this article
Aryal, A., Brunton, D. & Raubenheimer, D. Impact of climate change on human-wildlife-ecosystem interactions in the Trans-Himalaya region of Nepal. Theor Appl Climatol 115, 517–529 (2014). https://doi.org/10.1007/s00704-013-0902-4
Received:

Accepted:

Published:

Issue Date:
Keywords
Land Cover Change

Local Livelihood

Participatory Rural Appraisal

Musk Deer

Snow Leopard